NEWS
Johnny Bush (1935-2020)
Texas Country Music Hall of Famer Johnny Bush, 85, died of pneumonia on October 16 in San Antonio, Texas. The Houston Chronicle reports, "John Bush Shinn III's story began in northeast Houston in Kashmere Gardens in a house with no electricity or running water on a street paved with oyster shells. He remembers wandering the streets at night as a kid hearing the R&B sounds coming from the Bronze Peacock nightclub, sounds that would course through his young mind along with the Western swing favored by his family. Both would play a formidable part in the music he'd make years later." He received his big break when Willie Nelson got him a job as drummer in Ray Price's band, the Cherokee Cowboys. He had his biggest Billboard single (#7) with the Marty Robbins song, "You Gave Me a Mountain." At the time he was reaching for stardom with his own song, "Whiskey River" (which became Willie Nelson's signature number), he was hit with a neurological disorder, adductor spasmodic dysphonia, that took almost three decades to diagnose and recover from.
LJ Eiffert reported on the Steel Guitar Forum that Doug Supernaw, 60, died October 19, but I haven't found any further information. On October 18, his wife wrote on Facebook: "Doug's cancer has spread to the brain and spine, and he is now under hospice care." PEOPLE reported in February 2019 that he had been diagnosed with two advanced forms of cancer, stage IV lung and bladder cancer, after he initially sought treatment for a severe cough. He was then in the hospital, awaiting more testing and determining a treatment path. He released an album of his re-recorded greatest hits in April 2017. It included "I Don't Call Him Daddy," "Not Enough Hours In The Night," "Reno," "What'll You Do About Me," and "Red And Rio Grande."
Country musician, songwriter, and producer Ray Pennington, 86, died October 7 in a fire at his home near Nashville. "The word we got was smoke was coming in the house," the fire chief told the Tennessean, "so Mr. Pennington walked out to the garage to see what was going on, and the golf cart was on fire. The smoke was so bad that his wife couldn't get to him." Two firefighters were transported for heat exhaustion while fighting the blaze. Website kentuckycountrymusic.com reports Ray was born Ramon Daniel Pennington in 1933 in Kentucky. He produced the final albums by Hawkshaw Hawkins on King Records. His songwriting provided hits for Roy Drusky ("Three Hearts in a Tangle"), Kenny Price ("Walking on New Grass" and "Happy Tracks)," Waylon Jennings ("I'm A Ramblin' Man"), and Ricky Skaggs ("Don't Cheat in Our Hometown"), among others. He co-founded Step One Records and produced Faron Young's final albums.
The family of Walt Cunningham hosted his memorial service at the Texas Troubadour Theater on October 10, to remember the renowned pianist/keyboardist/arranger who played on many hit records as a Nashville session musician. Walt died April 16, 2020. He had toured with Johnny Cash, Bob Luman, George Jones, Dolly Parton, and Sylvia.
CBC/Radio-Canada reports the death of Lucille Starr, 82, on September 4, after a long illness. Known as "Manitoba's queen of country music," she performed all over the world and was best known for "The French Song." The Winnipeg native was the first female Canadian country music singer to sell one million records, the first Canadian woman to be inducted into the Canadian Country Music Hall of Fame, and the first Canadian woman to perform at the Grand Ole Opry. She provided the singing and yodeling voice for Cousin Pearl on The Beverly Hillbillies TV show.
The Grand Ole Opry will bring back the Friday Night Opry on November 6. According to the Tennessean, all shows will follow a two-hour format. In addition, the Saturday Night Opry will continue its one-hour broadcast on Circle TV at 8 p.m. CT. The Opry is celebrating its 95th birthday this October.
The Country Music Hall of Fame is hosting BIG NIGHT (At the Museum) on its website on October 28 at 8:00 PM. The two-hour fundraiser, hosted by Marty Stuart, will generate support for the museum's exhibitions, collections preservation, and educational programming. The museum suffered significant financial losses during its six-month closure. But the pandemic made it possible for museum staff to safely remove historic instruments from exhibit cases and be played. BIG NIGHT (At the Museum) will broadcast performances previously filmed in various locations throughout the Hall of Fame, with artists and songs carefully matched to the instruments. They include Carlene Carter playing the 1928 Gibson L-5 guitar owned by her grandmother Maybelle Carter, Marty Stuart playing Lester Flatt's 1950 Martin D-28 guitar, Kane Brown singing a Randy Travis song while playing Randy's Gibson J-185KOA guitar, and Tim McGraw playing Keith Whitley's C.W. Parsons acoustic guitar.
Margie Singleton celebrated her 85th birthday by releasing a new EP, Never Mind. "Its title tune is a bass-heavy rumbler with an autobiographical lyric that she delivers with moxie," reports MusicRow. Margie and son Stephen Shelby Singleton were the songwriters. Margie, who has been active for seven decades, sang hit duets with George Jones and Faron Young, in addition to her songwriting and solo recording.
At the 2020 Billboard Music Awards in Los Angeles on October 14, Garth Brooks became the first country singer to receive the Icon Award, which honors outstanding artists who have achieved excellence in the recording studio and on the road. Neil Diamond, Stevie Wonder, Prince, Jennifer Lopez, Celine Dion, Cher, Janet Jackson and Mariah Carey were previous winners of the Icon Award, created in 2011.
The day after Terri Clark sang "I Was Country When Country Wasn't Cool" on the Grand Ole Opry, Barbara Mandrell wrote her a letter to thank her for singing Barbara's 1981 hit. Terri then posted on Instagram, "Today I went to my mailbox and found what my 13-year old self would have only dreamed about. A handwritten card from the legend who made the song a classic … thank YOU for being an early inspiration to me @barbaramandrellmusic"
St. Jude Children's Research Hospital presented Tyler Hubbard and Brian Kelley of Florida Georgia Line with the Angels Among Us Award on October 15. Previous recipients include Randy Owen, Brad Paisley, Darius Rucker, and Lady Antebellum. According to The Country Daily, Florida Georgia Line supports St. Jude families by taking part in the This Shirt Saves Lives social media campaign. Hearing "Angels Among Us" always makes me think of Becky Hobbs, who wrote the song that was a major hit for Alabama.
Faith Hill and Tim McGraw, both 53, have already voted in this year's general election, as has their youngest daughter, Audrey, 18. Faith tweeted a photo of the three of them, all wearing masks, with the caption, "Challenge accepted @michelleobama! My #VotingSquad and I voted together today."
NASHVILLE: An Auction to Benefit ACM Lifting Lives® COVID-19 Response Fund is the title of an auction to help country music's essential workers. Sounds Like Nashville reports bidding on a huge assortment of instruments, clothing, and more is open through October 29 at christies.com/Nashville. Taylor Swift donated a black autographed 2018 Gibson acoustic guitar, valued at $25,000-40,000. She played the guitar at the 2020 ACM Awards. Dolly Parton donated the dulcimer from her 50th Grand Ole Opry Anniversary in 2019. It is studded with Swarovski crystals and worth $50,000-100,000. "Seeing my country music community suffer due to the pandemic has broken my heart," Dolly said in a statement. "It was important to donate the dulcimer that was designed for my 50th Opry Anniversary so we can raise awareness and much needed funds to keep these folks on their feet before we can open the doors to our stages once again."
Lorenzo Molina Ruiz, 28, trumpet player for The Mavericks, gave the Tennessean an update about being attacked, supposedly for speaking Spanish. He and friend Orlando Morales went to Tony's Eat & Drink in Franklin on a double date. They were attacked while waiting in line at the bathroom. "I was protecting my head," Ruiz said. "As a trumpet player, I cannot take the chance of getting injured in my mouth." After police released photos and asked the public to help identify suspects, two men came forward to be interviewed. Because of conflicting accounts, police then asked for witnesses who might have cell phone videos.
Country Rewind Records has released Tex Ritter, The Songs of the West. Jim Farrell and Rex Allen Jr. co-produced the project. "Tex Ritter recorded these tracks for broadcast on the radio and these versions of the songs were never commercially released," Farrell says in a press release.
Country To Country (C2C) for the United Kingdom, Germany, and Holland is currently in the middle of 2020 Country Music Week, a full week (10/19-10/25) of free country music content across multiple platforms. Song Suffragettes celebrated with a special daytime performance October 19 at The Listening Room Café in Nashville. "It was an immediate yes," says Suffragettes founder Todd Cassetty about being asked to participate. "From our regular weekly livestreams, we know we already have a large U.K. fan base. We're certain this livestream will introduce even more of Europe's country music fans to our show and to some of the most talented women in country music today. It is an honor to kick off the first night — and day here in Nashville – of the 2020 Country Music Week." According to its press release, Song Suffragettes is a collective of female singer-songwriters that performs every Monday night and has showcased over 260 talented women out of more than 1,400 requests in its six-year existence.
Jennifer Nettles will receive the inaugural "CMT Equal Play Award" at tonight's 2020 CMT Music Awards, reports the Tennessean. She was selected "for her ongoing advocacy for women and diverse voices in the music industry, as she works tirelessly towards gender parity in country music and beyond." At the start of 2020, cable network CMT pledged to dedicate fifty percent of its music video airplay to female artists. A study had found that female artists received only 10 percent of country radio airplay in 2019.
Rock and Roll Hall of Famer Jerry Lee Lewis will celebrate his 85th birthday with a virtual livestream event on Tuesday, October 27. Whole Lotta Celebratin' Goin' On: 85 Years of The Killer will air at 7 p.m. CT via Jerry Lee Lewis's official Facebook and YouTube channels and JerryLeeLewis.com. Hosted by actor John Stamos, it will feature former President Bill Clinton, Elton John, Willie Nelson, and many others. It will be the first time in forty years that Jerry Lee has been in the same room with cousins Mickey Gilley and Jimmy Swaggart. The event will benefit World Vision, a Christian organization working to help communities lift themselves out of poverty. Zach Farnum/117 Entertainment, in association with Jeff Franklin and Tisha Fein, is the producer. Ringo Starr, Keith Richards, John Fogerty, Tanya Tucker, Kris Kristofferson, and Peyton Manning have recently been added.
A new statue of Loretta Lynn stands outside the Ryman Auditorium in Nashville. It is located on the venue's outdoor "Icon Walk" near the statues of Bill Monroe and Little Jimmy Dickens. The Tennessean reports Loretta, 88, was unable to attend the October 20 dedication ceremony, but she sent a statement that said, "Being a member of the Grand Ole Opry has been one of the greatest honors of my life. Many years I've stood on the stage of the Ryman Auditorium, and there's no place like it. Now they're unveiling the statue in my honor. It's like I'm going to get to be there for many more years to come."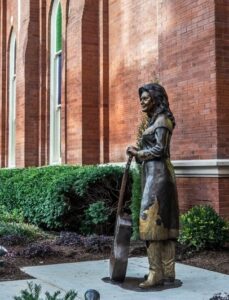 LETTERS
Erv Niehaus says, "It was a joy to read about Martha Carson. She is one of my favorite gospel singers. She really could belt out 'Satisfied'!"
Dominique 'Imperial' Anglares writes from France, "Thank you very much for that one. Greetings for the Mac Davis and W.S. Fluke Holland's tribute. I have seen Fluke on stage a couple of time backing Johnny Cash. He's part of the rock-a-billy legend. Bill Anderson and Earl White's memories were much appreciated. Keep the good work coming."
Les Leverett writes from Nashville, "Just finished reading your latest edition. Let me say that you always fill the void in the country music story. I thoroughly enjoyed every word. I remember Bob Powell, and need to call Bill Anderson and tell it to him an experience I had with him. He'd love it!"
Shirley Johnson writes, "First I would like to say how much I appreciate your newsletter which is often the only way we traditional country fans can get news on the artists we know and love. You are providing a wonderful service for us true country fans. Second, I would like to bring to your readers' attention a book I highly recommend to all those fans out there who remember the Louisiana Hayride. I was the president of the James O'Gwynn Fan Club for 30 years and would like to let his many fans know about this book which does a wonderful feature on James with loads of info on the history of the Hayride and the many, many country artists who graced the Hayride stage over the years. So many wonderful photos, so many memories. Fans will remember James for two of his biggest hits, 'My Name Is Mud' and 'House of Blue Lovers.' The title of the book is Cradle of the Stars: KWKH and the Louisiana Hayride by Joey Kent, Pelican Publishing 2019. Thanks again and keep up the good work."
Jenny Jones says, "Greetings from Texas. Really enjoyed the Newsletter. It was great as usual. There was so much News, it took a lot of reading time, but so much material was covered. We seem to be losing so many artists. You have kept all of us up to date. My long Pen Pal passed word along to me, back in August, about a book by JOEY KENT, that came out in 2019, entitled CRADLE OF THE STARS: KWKH & THE LOUISIANA HAYRIDE. My husband got it for my birthday this past August. I hope some of your readers have a copy and have got to enjoy it. I am sure any Country Fan will enjoy the book."
Cal Sharp writes from Nashville, "I hope you're staying safe in these troubled times. I'm healthy, but bored. All the clubs are closed, and I haven't played a gig since March, so I've been busy with graphic design. Anyhow, I'm wondering if you could give The Beast From the Back of the Bus a plug. It's at https://calsharp.com/beast.html
Jean Earle writes from England, "I love to read all your news about the country singers. The older the tales and stories the better. I remember many years ago, Faron told us about a meeting he had enjoyed with a new, young singer, Bill Anderson. Apparently, they were driving back together from some show, sitting in the back seat of their car and Bill said he had a new song he had just written and he offered to sing it for Faron."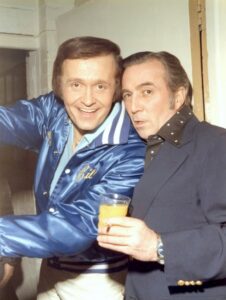 Lisa Ann Conrad says, "In reading about your book on Faron Young (which we ordered on Amazon), we noticed the mention of your country music newsletter. Please add my husband, Harold Conrad, to your mailing list."
John Krebs pleads, "Man O Man Dolly please don't do Playboy."
Ken Brown requests, "Please sign me up for your wonderful newsletter."
Mike McCloud writes, "I have a funny story about the song 'Hard to be Humble.' When I was a kid, I used to run around the house singing, 'OH Lord it's hard to be humble when you're perfect in every way.' My grandmother would tell me STOP singing that song! That's not nice. But I always thought the song was funny, so guess what? I sang it anyway. And still do. My other favorite is 'Baby Don't Get Hooked on Me.'"
Dave Barton wonders, "Have you been DVRing the Old Opry shows on RFD TV? Marty and Faron are on there a lot………..it's that Al Ganaway stuff they shot around '53/'54 at Vanderbilt's auditorium. It was shot on Film some of the color is ready good for the period. I love looking in the background and seeing how many of the musicians I can identify, like Ray Edenton, Erie Newton, Howdy Forester, even Shorty Lavender playing violin for Ray Price. Gordon Terry who started ROPE."
Greg Watson requests, "I would like to get your newsletter."
Mary Mitchell says, "Good article on my friend Bill Anderson. I recently took a little time to go back to my favorite place, Woodland Park, Colorado. I played the Audio Book. What a good listen. I recommend the Audio Book. Learned a lot of things."
Rick Belsher from Edmonton Alberta Canada writes, "Pondered the Martha Carson book review, about Faron. Seems that no matter how much research you do, how many people you talk to, someone will disagree. Too bad she couldn't have given you her side. Enjoy the newsletter."
Diane: I think her health was too poor for her to talk to me. It would have been great to record her memories.
IN THEIR OWN WORDS
What a shock to learn of the death of Johnny Bush. I'd called him in 2008 to talk about Marty Robbins. He didn't know Frankie Laine had changed the lyrics of "You Gave Me a Mountain" from "despised and disliked by my father" to "deprived of the love of a father." Both he and Elvis Presley used the newer version. I never did meet Johnny or see him live in concert. He died of pneumonia on Friday, October 16, 2020, at age 85.
Marty's first record was released around 1952. It was called "I'll Go On Alone," and when I heard that voice, it was so special, he sang so great. He had a voice unlike anything I'd ever heard in country music. It was still a country song, he had a steel guitar on there, but the voice was incredible. I was a very young man, and it just took Texas by storm that anyone could sing like that. Some parts of the country might have seen him on TV, but we didn't know what a new country artist looked like for maybe a year or so. We would have to wait till the Country Song Roundup came out. It would have printed lyrics and then pictures and stories about the artists.
I went to Nashville to record, probably in 1969. My record company was Stop Records, owned by Pete Drake and Tommy Hill. They had a song for me called "You Gave Me a Mountain." Frankie Lane was a pop singer and was always a great, great vocalist. At that time there were walls between country and pop and rock 'n' roll. And they said this would be a good song for you to do. I'd already done my crossover vocal on the Ed Ames song, and I'd recorded the Tommy Edwards thing. I had the type of voice that could sing that. I said, "By the way, who wrote that?" And they said, "Marty Robbins." I said, "Why hasn't he recorded it?" They said, "We don't know why, but he hasn't. Nobody has, except Frankie Laine."
Ralph Emery had an all-night show at WSM, and it was customary when you come to town, everybody would go spend the night with Ralph Emery. He'd get you to read commercials, and he'd play your records, and talk about what was going on. Just the thing to do in Nashville, back in those days. I went to see Ralph Emery that night, and Marty Robbins was there. Marty Robbins was a very nocturnal type person, he was so full of energy that he couldn't sleep. He would spend the night up at WSM with Ralph Emery, singing, playing the piano, talking and visiting. So I walked into the control room. After our pleasantries, Ralph said, "John, what are you doing in town?" I said, "I'm here to record." He said, "Do you know yet what you're gonna record?" I said, "One of his songs," and I pointed at Marty. Marty said, "Which one?" and I said, "It's a song called 'You Gave Me a Mountain.' Pete Drake has given me a record, but I haven't got a chance to listen to it yet." He said, "I'll sing it for you." So right on clear channel WSM, at two or three o'clock in the morning, at the piano, Marty Robbins sang to me, "You Gave Me a Mountain." I said, "Man, after I've heard you sing it, I don't know if I want to try it."
I used the record they gave me. I would like to listen to that "despised by my father." If that's in Marty's version, then I'm going to have to listen to that, because I didn't know that.
He was a tremendous entertainer. Even today I tell some of the young people, you didn't have the opportunity to hear Marty or see Marty live, I said, you missed it. I'd be working with Ray Price as a drummer or Willie Nelson, and Marty Robbins would be on the package show. When everybody else would go to get something to eat, I would go out in the audience and sit down and watch Marty Robbins perform.
Marty had a syndicated television show, and he invited me to do a guest appearance on his TV show. I would stay at a little hotel down there. Bobby Sykes might pick me up and carry me to WSIX studio, where Marty was filming his syndicated show. I sang two numbers. I remember he gave a little background, and in the kidding voice he had, he said, "And he gonna make it." To hear him say that, knowing he was my idol–just to hear him say something like that, it was the biggest thrill. He was the greatest entertainer that I ever witnessed.
One thing I do remember that stands out, I was still with Ray Price, and we were doing two shows, and I think we were way up northeast somewhere. It was cold, there was snow on the ground, and it was the last day of the tour, and it was Sunday, and we had to do two shows. So between the matinee and the night performance, Marty came in with his guitar, and he sat down, and it was just Ray Price, Marty Robbins and myself, and I think a few of the guys in the band, and he sang for a solid two hours. I wish I had that on tape because he sang songs–he knew a thousand Mexican songs, in Spanish. Ray said, "Where did you learn that?" He said, "Well, I would lay in bed at night with the window open, and we lived close to the railroad tracks, and these drunk Mexicans would be walking down the railroad track going home," and he said, "I'd hear these songs and I learned them." I don't know if he spoke fluent Spanish, but I know he sang those songs beautifully. And he played this little guitar, and he literally loved to sing. And write. That was his life. And racing. I never heard him talk about his kids; I never heard him talk about his wife. I didn't even know what his wife's name was or what she looked like.
He could really get a temper. Read Jerry Byrd's book. He was pretty close to Jerry Byrd, and Jerry Byrd says sometimes he could be a wild man in the studio. There's a whole chapter about Marty. I learned a lot of things about Marty by reading Jerry Byrd's book. That he could be a wild man, he was very temperamental, and right in the middle of a session, he'd say, "Okay, that's it. Just sign the timecard and get the hell out of here." It wasn't working, so he just–why waste our time, get out of here. If you signed the timecard, you got paid anyway. Then they'd go back to his office, and Jerry would tell him, "Why don't you just calm down? You're not doing yourself any good by getting this high strung."
Jerry Byrd said he was a wild man in the studio, and then if you talk to Eddie Kilroy, who produced a record on Marty Robbins, who is the chief cook and bottle washer on XM Radio Channel 13, Willie's Place. I'm gonna call him right now and tell him to get off his ass and call you. He said Marty was just the opposite of what Jerry Byrd said he was; he said he was a pussycat in the studio. So there's your balance right there.
Any way I can help on this thing I will be glad. Just to be a part of a Marty Robbins book is thrilling. I read Faron's book. I enjoyed it. There was a lot, a lot, a lot about Faron that I didn't know until I read your book. Any more help I can be, I will do, and I'll call Eddie Kilroy right now.
BOOK REVIEW – WHISKEY RIVER (TAKE MY MIND) by JOHNNY BUSH with RICK MITCHELL
I purchased the newly issued Whiskey River (Take My Mind) at the Ernest Tubb Record Shop in Nashville in 2007, while in town for my Faron Young book signing. I later called Johnny Bush and interviewed him for my Marty Robbins biography. He talked about recording Marty's "You Gave Me a Mountain," which was his biggest recording hit (1969). His biggest songwriting hit, thanks to Willie Nelson, was "Whiskey River." The book tells the story of how John Bush Shinn III grew up in Texas and gained fame as Johnny Bush. It's filled with stories of Lefty Frizzell, Ray Price, Willie Nelson, and other country greats. It's a well-written and candid book, describing the journey to the top and taking responsibility for mistakes made. What makes Johnny's story differ from the others of his generation is something that occurred in 1972. He had just recorded "Whiskey River" (before Willie did) and was on his way to superstardom, when he lost his voice. "I went out to do the show, and I felt a tightness in my throat," he wrote. "I couldn't understand it. Tried singing another song; it was like my vocal cords were just choking off. I got so exasperated that I went outside and just chucked my guitar into the air." He later learned the problem was spasmodic dysphonia. He eventually recovered—but his chance for superstardom has passed. "The simple truth is, it could have been a lot worse for me," he concluded. "I could have never got a break in this business. I could have spent my whole life pulling pipe in some oil patch, imagining myself onstage as a singer. Instead, I got to live my dream."
DON'T NEGLECT TO VOTE!!
November 3 is an important date for U.S. citizens. Please make the effort to vote. Don't think your vote doesn't matter or that polls predict accurate results. Instead, remember that many people in this world have no say over who governs them. You do have a say over who governs us. Let's make the most of that opportunity.