IN THE SPOTLIGHT — BOBBY GOLDSBORO — PART I
While waiting for my prearranged phone call from Bobby Goldsboro, I checked his website and read a recent article about the Florida native. Country fans will remember him best for his hits of "Honey" and "Watching Scotty Grow." He also wrote "With Pen in Hand," which reached the top ten for Johnny Darrell in 1968. In addition to songwriting and a solo recording career, which came after playing guitar for Roy Orbison in the early 1960s, Bobby hosted The Bobby Goldsboro Show on TV, ran a successful music publishing company, wrote children's books, and created the music for various TV shows, videos, and audio books. He developed a children's TV series in which he wrote the scripts, arranged the music, played all the instruments, and did the character voices. He has received six Grammy nominations, 27 BMI Songwriter awards, and he's a member of the Alabama Music Hall of Fame. He is now a painter.
I was amazed that one person could be so good at so many things and accomplish so much in his lifetime. That's the first thing I said when he called me. He responded, "I've been really blessed my whole life, and just kind of fell into doing things I enjoy doing. Like the music and the art. I was blessed in being able to have a career doing what I love to do."
He had thought about oil painting for 25 years or so. Whenever he did a concert somewhere, he and his wife, Dianne, would tour museums and art galleries. He would look at the paintings and say, "I'd love to try that." Finally, she said, "You're always talking about it. When are you going to do it?" He answered, "The day I turn 65, that's when I'll start painting."
Fourteen years ago, on his 65th birthday, "I went out and bought everything," he says, "Bought the paints, the brushes, the canvases, and I started painting." He didn't take any lessons. "It's kind of like writing a song," he muses. "I never studied music, either. I pretty much knew what the record was going to sound like before I recorded it. I had everything put together in my head–the violin parts and the background voices, what the piano line would be, the bass line, and things like that."
"I do the same thing with the painting," he explains. "I lay there at night, after my wife is asleep, and I'll paint in my head what I'm going to work on the next day. By the time I get out there, I already know what it's going to look like. It's a matter of getting the paints together and putting it on the canvas."
The COVID-19 pandemic hasn't changed life for the Goldsboros. He and Dianne have 123 acres in central Florida. "We're homebodies as it is," he says, "and when they suggested everybody stay home, that's what I was doing anyway. We get up and have coffee and watch the sun rise, and spend some time with our kitty cat, and then I head over to the studio, which is about fifty yards from my house, and I paint all day." Dianne calls him to the house for lunch, and then he returns to the studio and paints until three or four o'clock. "I wouldn't want to be doing anything else," he says, "so I've been able to continue my new career, regardless of the coronavirus."
Of course, I had to ask if he'd known Faron Young and Marty Robbins. He said he first met Faron when he was playing guitar for Roy Orbison. When Faron and Roy played back-to-back concerts at an event, they talked for a while and Bobby briefly met Faron. Years later, he was flying back from Los Angeles, he recalls, when "somebody bopped me on the head with a book, and I looked up, and it was Faron. He sat down, and we talked for a while." Bobby also met Marty during that period. "They were both huge, huge stars at the time," he says.
I asked how he ended up recording duets with Del Reeves. He told me they were both on the United Artists record label. Bobby was producing his own music, and he asked Del's producer, Bob Montgomery, to co-produce some things with him. Then, when he met Del, they hit it off and became good friends. Bob suggested the pair record an album together. "I was really in pop music, so I used a lot of chord changes that were not typical country changes," Bobby tells me. He suggested they do Del's verse with country backing, and then "when my verse comes in, we bring in the violins, we'll add some minor chords and change it up." The resulting album, Our Way of Life, earned a 1968 Grammy Awards nomination for "Best Country & Western Performance – Duo, Trio or Group."
This album, which came shortly before Bobby's #1 hit with "Honey," marked his unofficial introduction to the country music genre. "It was a fun project to do," Bobby recalls. "Del was about 6-5, I think, and I'm 5-8, so I had two big Coca Cola crates I'd stand on when we recorded together." Bobby remembers Del as being hilarious. "We laughed from the beginning to the end," he says. "We'd be singing, doing fine, and I'd look at him, and he'd make some goofy face, and that'd be the end of it. I'd fall out, and we would have to start over again. He was a great guy to work with."
During our conversation, I thought of two new careers Bobby should add to his collection. First is publishing his photography, which I'll discuss later. Second is that of public speaking. With his fast-paced delivery, pleasant speaking voice, and excellent stories, he pulls the listener along with him. "It's usually hard to shut me up once I start talking," he told me.
He packed so much information into our 17-minute phone call that I decided to do a two-part Spotlight. In my next newsletter, you'll learn about his painting and photography. For a preview of his work, go to https://www.bobbygoldsboro.com.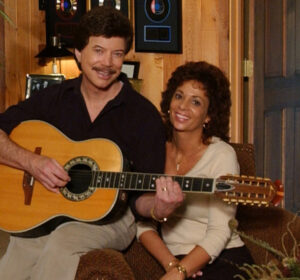 NEWS
Former Grand Ole Opry member Margie Bowes Wilburn, 79, died October 22, at home under hospice care, following a lengthy illness. The North Carolina native began her singing career in elementary school. Roy Acuff brought her to national attention. In 1959, she was voted "Most Promising Female Vocalist" in a popular magazine, and she had her biggest hit, "Poor Old Heartsick Me." In 1961, she married Doyle Wilburn of the Wilburn Brothers. They had one child. Neither remarried after their divorce. Doyle died in 1982 at age 52. Margie made her final Opry appearance in 1971. Her obituary says, "a 1995 automobile accident caused severe damage to a foot which, following several earlier surgeries, had to be amputated in 2004 to save her life. Since that time, Margie ran her publishing company from home, and took up other hobbies like writing and designing cards, and painting pictures."
Jerry Jeff Walker, 78, died of lung cancer October 23 in Austin, Texas. His health problems over the past several years included throat cancer, pneumonia, and a blood infection. CMT.com calls him "the songwriter and performer who long embodied Texas music." He wrote and recorded "Mr. Bojangles," a song about someone he met in a New Orleans jail. His 1973 landmark album, ¡Viva Terlingua!, captured the spirit of a live concert in a Texas dance hall. He published his memoir, Gypsy Songman, in 1999. He was known for his recordings of "Up Against the Wall Redneck Mother" and "Jaded Lover." Born in New York, he lived in Austin since the 1970s. He released his last album, It's About Time, in 2018.
Texas Country Music Hall of Fame member Billy Joe Shaver, 81, died October 28 after suffering a massive stroke. Born in Corsicana, Texas, in 1939, he was first exposed to country music when he went with his mother to a local nightclub where she worked. He left school after the eighth grade to help his uncles pick cotton, and he joined the U.S. Navy on his seventeenth birthday. He and Brenda Joyce Tindell married and divorced several times. Their only child, son Eddy, died in 2000 of a heroin overdose at age 38. Brenda died of cancer in 1999. Billy Joe's songwriting career got underway when Bobby Bare hired him in 1968, and he became friends with Kris Kristofferson and Willie Nelson. Waylon Jennings recorded his songs on the initial outlaw album, Honky Tonk Heroes. The Los Angeles Times reports he wrote "I'm Just an Old Chunk of Coal (But I'm Gonna Be a Diamond Someday)" after he became a born-again Christian. His recording career included "I Been to Georgia on a Fast Train" and "Old Five & Dimers Like Me."
One of Nashville's most sought-after session guitarists, J.T. Corenflos, died October 24 in Vanderbilt University Hospital in Nashville, after several years of coping with a lung disease. He was 56. The Terre Haute, Indiana, native performed on nearly 75 No. 1 records and hundreds of other songs and albums. In a Tribune-Star interview last year, he said his job was "to conjure catchy guitar lines in the studio that help turn a singer's song into a hit." Even before graduating from Terre Haute North High School, he'd moved to Nashville to pursue a music career. He played his last Nashville session on September 30.
The Nashville Songwriters Hall of Fame has announced its Class of 2020: Steve Earle ("Guitar Town" and "Copperhead Road"), Bobbie Gentry ("Ode To Billie Joe" and "Fancy"), Kent Blazy ("If Tomorrow Never Comes" and "Ain't Goin' Down ('Til The Sun Comes Up)"), Brett James ("Jesus Take The Wheel" and "When The Sun Goes Down"), and Spooner Oldham ("Cry Like A Baby" and "Sweet Inspiration"). Because of the pandemic, reports The Country Daily, the Class of 2020 will be inducted with next year's class on November 1, 2021, at the Music City Center in Nashville.
Stan Kesler, an important musician, songwriter, and producer in the Sun Record days and the Memphis birth of rock 'n' roll, died October 26 at age 92. The Memphis Commercial Appeal reports his "keen ear, innovative playing and studio smarts enhanced the careers of such rock and soul legends as Jerry Lee Lewis, James Carr, Sam the Sham and Elvis Presley." He died of bone cancer, after a long period of deteriorating health, while in a hospice facility in Murfreesboro, Tennessee. He learned to play pedal steel guitar while serving in the Marine Corps, after which he moved to Memphis in 1950. Elvis Presley recorded his "I'm Left, You're Right, She's Gone" and "I Forgot to Remember to Forget." Jerry Lee Lewis recorded "One Minute Past Eternity."
Bluegrass Today reports the death of Bill Torbert Jr., 81, a former member of Jimmy Martin's Sunny Mountain Boys, on October 24. He'd contracted COVID-19 in a nursing home. The Washington D.C. native started playing mandolin in the mid-1950s and belonged to several bands through the years. He continued playing, recording, and performing well into his 70s.
The University of Illinois Press (my publisher) has just published Unlikely Angel: The Songs of Dolly Parton, written by Lydia R. Hamessley, professor of music at Hamilton College. "Dolly Parton's success as a performer and pop culture phenomenon has overshadowed her achievements as a songwriter. But she sees herself as a songwriter first, and with good reason," says the back-cover blurb. "Hamessley's expert analysis and Parton's characteristically straightforward input inform this comprehensive look at the process, influences, and themes that have shaped the superstar's songwriting artistry."
In an Entertainment Tonight interview, Dolly Parton discusses why some people think her husband, Carl Dean, doesn't exist. "A lot of people have thought that through the years, because he does not want to be in the spotlight at all," she says. "It's just not who he is. He's like, a quiet, reserved person and he figured if he ever got out there in that, he'd never get a minute's peace and he's right about that." She adds, "He said, 'I didn't choose this world, I chose you, and you chose that world. But we can keep our lives separate and together.' And we do and we have. We've been together 56 years, married 54."
Steelplayer Steve Hinson and wife Becky are both fighting COVID-19, according to posts on the Steel Guitar Forum. Steve, longtime member of the Randy Travis band, is in the hospital ICU with pneumonia and blood clots in his lungs. He is improving, in that the ventilator and feeding tube have been removed. Becky is recovering at home.
During the CMA awards show on November 11, Charley Pride will be honored with the Willie Nelson Lifetime Achievement Award. This award is given to great country artists who are also humanitarians. Since Willie received the initial award in 2012, other recipients have included Dolly Parton, Johnny Cash, and Kenny Rogers.
The Country Daily reports Carrie Underwood continues her reign as the most decorated artist in CMT Music Awards history, with 22 awards. During the fan voted CMT Music Awards show on October 21, her video of "Drinking Alone" won Female Video of the Year and the top award, Video of the Year."
As part of the recent BIG NIGHT (At the Museum) fundraiser, Carlene Carter played the 1928 Gibson L-5 guitar that had belonged to her grandmother, Maybelle Carter. The Carter Family–consisting of Maybelle, her cousin Sara Carter, and Sara's husband, A.P. Carter–were inducted into the Country Music Hall of Fame in 1970. Carlene's father–Carl Smith–and stepfather–Johnny Cash–are also in the Hall of Fame. Both were married to her mother, June Carter Cash. Carlene, 65, lives near Madison, Tennessee, less than a mile from where she was born. "When I picked the guitar up, it felt so comfortable and so familiar," she told CMT.com in an interview. "Whenever I used to think about the guitar, I always thought it was hard to play and big, you know? I suddenly realized that night, that was because when I started learning to play, and Grandma would show me stuff, I was just a little kid. And that guitar was hard to play for a little person, and it felt big! So, to wear it as an adult, and as somebody that can play OK now, it felt so normal." As a child, she'd been too small to play with the fingerpicks Maybelle used. "So she taught me enough to be able to play the Carter scratch without picks on." When Carlene was a teenager, she says, "she taught me how to flatpick with the Carter scratch. And that is how I pretty much play now." Here is the 90-minute BIG NIGHT (At the Museum) show.
A hand injury forced Garth Brooks to reschedule a live interactive preview of his upcoming album, Fun. The event was slid five days after he injured several fingers on his left hand while working on his farm. "I kept trying–all the way up to showtime–to play, thinking it was going to eventually get better," he told The Country Daily. "And then finally just had to give in to the fact that I wasn't going to be able to play for tonight's show." He later called into The Bobby Bones Show, where he explained, "I was loading the chop saw. I was on the back end of it, which is the safe end of it. And the damn thing collapsed on me. When I felt it, I didn't want to see it, so I took my right hand and kinda felt my left hand and made sure all my parts were there, thank goodness."
According to Taste of Country, Dierks Bentley was inspired by Keith Urban to start releasing individual songs not on albums, to make sure the best songs get heard quickly. Keith had told Dierks, "I'm not a huge hunter or fisherman, but I do have a catch and release policy. I catch a hit and I release it." Dierks and his family went to Colorado for spring break in March and stayed there. He returns to Nashville for his musical obligations.
Curb Records has signed a previous client, Ray Stevens, for upcoming projects. "I'm excited to be back on Curb and look forward to having the help of a great team in my corner," Ray tells MusicRow. The first release is a 50th anniversary edition of Ray's # 1 hit, "Everything Is Beautiful," which earned him a Grammy for Best Contemporary Vocal Performance, Male in 1970.
Sam Williams, grandson of Hank Williams, has recorded a musical tribute to the sister who died in June in a car accident. On what would have been Katie Williams-Dunning's 28th birthday, he released "The World: Alone," a song he wrote a year ago. "I thought it would be interesting to take how my heart was feeling," he says in a press statement, "and compound it with my dream to tour Europe. I threw some cities into the verses and poured my heart out about wanting to show my love for the great world out there." After his sister's death, he realized he'd written the song "about how badly I wanted to show Katie the world. . .. One day I had an epiphany that she is with God and can see the entire world now, without my help." The Tennessean reminds us, "Sam Williams is the youngest grandson of Hank Williams and son of Hank Williams Jr. He's the latest in a third generation of Williams heirs to pen original music, following siblings Hank Williams III, Holly Williams and Hilary Williams."
Sam and Aaron Seifert, sons of Ray Benson, created a TV special to honor the 50th anniversary of Asleep At The Wheel and the legacy of Austin City Limits, reports The Statesman in Austin, Texas. Sam, who is the band's manager, has a background in audio production. Aaron has a background in video. The PBS special, which aired October 31, showcased the band's history through footage of the band's performances on Austin City Limits, beginning with the first episode of the TV show. Aaron said the hardest part was deciding which of more than 70 songs to include. "The Letter That Johnny Walker Read," "Miles and Miles of Texas," and "Get Your Kicks on Route 66" are on the special. Songs that had appeared multiple times, such as "Take Me Back to Tulsa" and "Choo Choo Boogie," were presented as a compilation instead of a single performance. Here is 50 Years of Asleep at the Wheel: A Retrospective.
The latest release from Country Rewind Records is Merle Travis, Sixteen Tons. "The talent that the man had has been greatly overlooked in my opinion, until now," says producer Rex Allen Jr. in a news release. "When I started listening to these tracks, I didn't just hear country. I heard more rockabilly and I heard New Orleans jazz." In 1955, Tennessee Ernie Ford recorded Travis's "Sixteen Tons," which became a multi-million seller.
Jerry Lee Lewis celebrated his 85th birthday on October 27 with Whole Lotta Celebratin' Goin' On: 85 Years of The Killer. A press release says it was the first time in nearly forty years that he was in the same room with his cousins, Mickey Gilley and Jimmy Swaggart. Mickey sang "Don't the Girls All Get Prettier" and Jimmy sang "Amazing Grace." Elton John, Keith Richards, Kris Kristofferson, and Ringo Starr were among those who offered birthday greetings. Willie Nelson sang "You Win Again," Andy Grammar sang "Great Balls of Fire," and John Fogerty sang "Whole Lotta Shakin' Goin' On." The evening was dedicated to the memory of Jerry Lee's late friend and confidant, Steve Bing. The event raised funds for World Vision, a Christian organization working to help communities lift themselves out of poverty.
Cowboys & Indians Magazine recently interviewed James Dupré, a former EMT-paramedic from Louisiana and a 2014 contestant on The Voice. He starred in the 2015 Randy Travis movie, The Price, and Rolling Stone named him one of "10 Country Artists You Need to Know." He tells Cowboys & Indians, "I knew Randy for a short while before his stroke in 2013, when we worked on a movie together. To know him then, and see him overcome so many obstacles since, has been nothing short of inspirational." When asked about being handpicked by Randy and Mary Travis as guest vocalist on the 2019 Music of Randy Travis tour, he marvels, "To be on stage, including the historic Ryman Auditorium, fronting his original band, singing those iconic songs while he's sitting there enjoying the show — it was like being in a dream. Thankfully, I wasn't expected to sound like Randy, because no one can."
Jeannie Seely was honored with the "Love From Music City Bill Anderson Icon Award" on October 29 at the Grand Inheritance in Gallatin, Tennessee. The Love From Music City gala is a fundraiser that brings businesses and people together "to help reach those in our local community and bring hope to those suffering abroad," according to a press release. "It is committed to providing for the physical, emotional and educational needs for children, Foster Kids, poverty-stricken families, and Veterans in need." Jeannie says, "This is a very special honor for me, receiving an award named for my friend Bill Anderson. It is always rewarding for me to be a part of anything supporting our neighbors in need, especially children."
Bryan and Jeffery Jones, sons of George Jones and Shirley Ann Corley (who were married from 1954 to 1968), have filed a lawsuit to clarify which copyrights they own, according to Outsider. WZTV-TV in Nashville reports the divorce gave their mother half the rights to all songs George wrote and Broadcast Music International published. At her 1991 death, those rights passed to her sons. Their attorney explains that multiple companies acquired the musical catalogs after the original publishing company was sold, and royalty payments to the sons have been handled incorrectly. The lawsuit also argues that the sons have an interest in eight master recordings discovered earlier this year, that George recorded in Sumner County in 1966. Those tapes are still under the jurisdiction of a Tennessee appellate court.
On Sunday November 1, Jeannie Seely and John Berry, accompanied by Robin Berry, sang the National Anthem before the running of the All American 400 at the Nashville Fairgrounds Speedway. According to a press release, the 36th All American 400 Race Weekend featured a mix of local classes and traveling series, bringing in top notch drivers from across the country.
In an essay for Glamour last week, LeAnn Rimes, 38, disclosed her most recent bout with psoriasis, which she has struggled with since age two. "By the time I was six," she says, "about 80% of my body was covered in painful red spots–everything but my hands, feet, and face. These weren't the days when there were commercials about psoriasis on TV or open discussions about skin conditions. No one was talking about this. And certainly not when I signed my first record deal at 11. . .. Onstage I'd often wear two pairs of pantyhose or jeans–even in 95-degree heat. Underneath my shirt, my whole stomach would be covered in thick scales that would hurt and bleed." She was in her 20s when she found a treatment that helped keep her skin clear. After making her psoriasis public, she says, "I think people thought I was making it up because they've never seen me with a flare-up." Stress from the pandemic has caused her to break out. She posted photos of her body to show the current red spots; she's tired of hiding. "This time is different," she says. "When you're hiding your physical body, there's so much that rolls over into your emotional and spiritual mental health. We're worthy without the makeup and the artifice. We're worthy of love without having to work for it."
During SiriusXM's Sundays with Seely on November 1, Jeannie Seely called Bill Anderson to wish him a happy 83rd birthday. He said he's fortunate to have all his kids and grandkids living in the Nashville area, and they were all coming over to celebrate his birthday. He'd been cleaning house for several days and was going to have a wienie roast in the back yard, with hotdogs, marshmallows, and lots of sweet iced tea. "I never get tired of having birthdays cuz it sure beats the alternative," he said.
LETTERS
Margie Singleton Walton writes, "Thank you for mentioning my new release of NEVER MIND in your newsletter. However, there is a mistake in the writers on it. It wasn't Shelby Singleton who is my co-writer. It is my son Stephen Shelby Singleton. That's who the S.S. Singleton is. If you would please correct that I would appreciate it. Thanks again for including me in your newsletter."
Donald Ewert says, "I just had my library order the book about Louisiana Hayride, Cradle of the Stars. One of my favorite country singers, James O'Gwynn, was on the Hayride."
John Krebs writes from Texas, "Thanks for another great newsletter, Diane, the Johnny Bush segment is great and his book was very good though quite depressing because just when his career was taking off that voice thing kicked in and ruined his life for a long long time. I had an autographed copy but that dang hurricane Harvey took it."
Douglas Joe Guy, CPO USN (Ret), says, "Hello from Knoxville Tennessee, Captain. You came to mind this evening while I was watching Marty singing El Paso and El Paso City on YouTube. A couple of years ago when I had just started writing, you gave my first book a plug in your newsletter and helped me immensely in my sales (and confidence.) I now have 19 books on Amazon. The Baird-Hunley Saga is a tale of two east Tennessee families that move from Tennessee to southern Italy and back between the 1930s and the 2000s. The protagonist is at the time a navy communicator assigned to setting up comms for a Marine Det in Afghanistan. I was writing that part and needed a name for the firebase and Spotify played El Paso City. I heard the song and solved my dilemma. FB El Paso City was born and wound up playing a pivotal part in the book–one portion of the saga and is referred to in the other 3 books. I'm still jonesing for your newsletter every few weeks, and they never disappoint in satisfying my craving. Take care and stay safe during this virus."
Joshua Burch says, "I would be very interested in receiving your newsletter. I love classic country music."
Frances G Miller requests, "Please add me to your email list."
Pejay Mirtschin writes from Australia, "So pleased to inform you that the 7th October edition of Diane's Country Music Newsletter arrived well two weeks ago and I have been in hospital for more than that time with a severe case of Hospital Acquired Pneumonia which has kept me very much out of action. I did not know until a few days ago that Joy my wife and my two brothers and my Daughter Jacky had been informed that I may not make it through the night. That was a heck of a shock for me but they said that me being the old fighter that I am I made it through. After my stay in Hospital I am so pleased to be home with my wife and being able to have a good rest things are looking up."
Dominique "Imperial" Anglares writes from France, "Thank you very much for the writing about Lucille Star, Johnny Bush, Margie Singleton and Jerry Lee Lewis as well as to the words of your readers. Yes, Joey Kent's book about The Louisiana Hayride is a great and much desirable one. An essential book to not miss for all who dig the Country music. Here's a little gift dated 1962 for Madam Shirley Johnson. I dig James' recorded work as did the late Virginia Franks, Tillman's wife. It was a great surprise to read her words."
IN THEIR OWN WORDS
Diane Jordon "introduced" me to Hal Willis in 2007 when she told me I should interview him for my Marty Robbins biography. Hal responded to my email and we talked in December 2007. He was a Canadian country singer, born Léonald Francis Gauthier, who built a musical career with his wife. Hal & Ginger Willis were inducted into the Canadian Country Music Hall of Fame in 2010. Hal died in Nashville in 2015, at age 82. Ginger had died in 2003.
Marty started his career at the big club there in Glendale, with Frankie Starr. He started to sing with Frankie. I don't know if Frankie is alive or not. I haven't seen Frankie in years. He was a good friend of mine. Frankie had been a boxer, tough as nails, but he wouldn't hurt a fly. He was quite a bit older than me and I'm 74. I was born in '33. I was 22 years old when I come to Nashville. He was 10-15 years older than me.
We were working McVann's Nightclub in New York state, in Buffalo. McVann's was a big club, the town casino, where all the big acts from Las Vegas and Hollywood would come to perform. They had a chorus line and they built a big show around Ginger and I. We had quite an act. There were six girl dancers that worked there all the year around. They had cute little outfits and they would dance around. When I was in the dressing room, I was taking my makeup off. Tony Odey, who was one of the best tap dancers, was the emcee. He came to tell me there were some guys who wanted to talk to me: "They'd like for you to go sit with them on your next break." I said okay. I went over, and they stood up, and I recognized him immediately as Webb Pierce. He had Doyle Wilburn–the Wilburn Brothers were touring with him at the time. Teddy wasn't there because he stayed at the motel because he didn't drink. Doyle drank. And so did Webb, to excess, let's be honest. He had worked the auditorium there in Buffalo that night and had asked somebody where he could go to listen to some good country music, and they'd sent him to McVann's.
He said you kids belong in Nashville. Webb Pierce was hotter than a cracker in those years, and coming from him that really meant a lot to me. He says when you get to Nashville, come and see me in my office and we'll see to it that you get some work. That was a great offer. We had that in mind, but we didn't want to come to Nashville, we didn't have much money.
A little later we moved to Nashville, and we immediately went to his office. That same night Roy Hall, who hung around the office there, he's the one that wrote "Great Balls of Fire" for Jerry Lee Lewis–Webb said Roy will find you some work. It didn't take but an hour. He got on the phone and we were booked at the Rainbow Room, which is a big club in Nashville.
One night Marty Robbins was in the audience there, and Hank Snow. They weren't sitting together; they were at separate tables. When we got off our show, we went down and we shook hands with both of them at both tables. Marty didn't drink; Marty drank 7-Up. He'd come to see a show, and he'd shake hands with everybody, and he'd buy everybody a drink. Marty was that kind of fellow. We sat down with him, and we sat down with Hank. Both of those two, by hook or crook, or by pure luck, are the ones who helped us the most.
Marty asked Ginger, are you kids here to stay? I said yes, if we can get enough work, we certainly will. He said, "I need a secretary. I just opened up an office over in the Cumberland Lodge Building on 7th Avenue." Which was right next to WSM in the Clarkson Hotel. You could see all the big stars at the Clarkson Hotel coffee shop all day long. Next to it was the Cumberland Lodge, and Marty had rented an office in there. He said, "Would you like to be a secretary to me" until you can find your way around, or whatever. He said it will give you some money. Of course, my wife said, "Yes, I'd love to, providing it doesn't interfere with our entertaining. If we need to go out for a week or ten days, then you're gonna have to do without a secretary, or hire somebody to replace me, because I'm not giving up my music to be a secretary." My wife had university degrees. He said, "Yes, you can go on the road any time you want, Ginger. When you come back, you'll have the keys. I'll put the stuff that needs to be looked at on your desk, and you can take care of it when you get back."
Marty was one of the biggest-hearted guys in the world, although you'd never know it. Any time one of his musicians would run into Marty, when they were off the road, they'd say, "Marty, can I have a hundred dollars advance on my pay?" Marty had a way of giving you some heck. He had a way of cocking his head to one side, and he'd say, "Now look, you guys work for me. I pay you good money. Good money! You haven't been home three days–and you want to borrow money. What are you doing with your money? Are you burning it in the back yard? Are you throwing it to the wind? What are you doing with the cash?" He'd reach in his pocket and he'd give it to them. I've never seen him turn one down. Never. But you knew if you was gonna ask Marty for a few bucks, he would give you some heck first. He was quite, quite a guy. But had a heart of gold.
I'd come in the office when my wife was working there–I'd go in there once or twice a day–and he'd be sitting on the couch. He had a couch in his office, and a couple of chairs for his guests. He'd call me in there–he always had an extra guitar–he'd say, "Hal, get that guitar and let's sing one." I'd get that old guitar there on the couch, and I'd sing him one and he'd sing me one, and he'd just laugh. I wrote a lot of funny stuff, and he would just slap his leg and just roll on the floor. Not a jealous bone in his body. You could tell in his eyes he admired you for what you were. He was top of the line, that's all there was to it.
Oh, yes, we saw him after Ginger stopped working for him. One time I was fixing to go on tour, and I needed $1,400 real quick like, and I said I'm gonna go see Marty. His office was on 17th Avenue by then. I started up the steps, and he was coming out the door. He loved to speak like Gabby Hayes. As soon as he saw me coming up the steps, he gave me that Gabby Hayes thing. I said, "Marty, I need to talk to you a minute. I need $1400 for about two weeks, and I'll have it right back to you. I need the money today." He cocked that head sideways and he looked at me with a little grin, and he said, "Hal, you're making enough money." I said, "I'm making a fair amount. I'm not making it like you are." He was giving me the same heck he'd give his musicians, but maybe not as heavy. I knew what he was doing; it didn't bother me. He opened the door and called upstairs to his steel player, "Hey, Jim!" Jim came over to the balcony and looked down. "Jim, we got any money in the publishing company?" "We got a little bit. What for?" "You got $1,400 in there?" Jimmy says, "Yeah, I think we do." He said, "I'm going to send Hal up there. You write him a check for $1,400 for a loan." I went upstairs, and Jimmy had the check ready. Two weeks later when I came off the tour, Marty was on tour so I gave it to Jimmy. The next time I saw Marty, I didn't have time to open my mouth and he said, "Thanks for bringing the cash back, Hal." He already knew. But this is the kind of guy he was. You can't help but love him. I don't go around borrowing money from everybody, but that one time I needed help, he was there to help. And that's Marty Robbins.
I can talk about Marty all day because I have the utmost respect for him and what he represented. Just a great man, that's all there is to it. If you ever get the book out, I sure would like to buy a copy of it.
BOOK REVIEW
I always enjoyed the Crook and Chase TV show on The Nashville Network (TNN). It began in 1986 and changed to Music City Tonight to replace Ralph Emery's Nashville Now in 1993. I don't know when I came across the book Crook & Chase: Our Lives, the Music, and the Stars. Lorianne Crook and Charlie Chase wrote it in 1995, with the help of Mickey Herskowitz, as their show was ending. They each have a chapter, complete with family photos, in which they introduce themselves. The remainder of the book is written as "we" speaking, with frequent individual quotes identified by name. The chapters group various singers into categories concerning topics such as bus stories, dressing rooms, unexpected events, and deaths. For example, "The Marriage-Go-Round" is the title of a chapter that discusses the divorces of Sandy and Garth Brooks, Janice and Vince Gill, and then the marriages of Nancy and George Jones, Jessi Colter and Waylon Jennings, and several others. An index would have been helpful to list all the people discussed in the book. It's an overall enjoyable read.