IN THE SPOTLIGHT — BOBBY GOLDSBORO — PART II
My last newsletter gave an update on Bobby Goldsboro. This week, we'll talk about his "after-65" career as an oil painter. When I asked if he still performs concerts, he said he hadn't booked any for the past year because he wanted to spend time on his commissioned paintings. As a result, he wasn't affected by pandemic shutdowns. "I've got several commissioned paintings still in the works that I've got to finish," he says. "I don't want to have to go out on the road for two weeks and let the paintings sit here. It's been a blessing that I didn't have to cancel any concerts, because I hadn't taken any. I've put everything on hold as far as concerts were concerned."
He has completed 25-30 commissioned paintings. "I love to do it, but it takes a lot of time," he says. Ray Stevens commissioned Bobby to create a life-size painting to hang in the Ray Stevens CabaRay Showroom. The 8 ft. by 4 ft. oil painting shows Ray onstage. Bobby and Dianne drove the painting to Nashville in a big van, and it was hung in time for the opening of Ray's new nightclub in January 2018.
Bobby has received attention from NASA for his paintings. It began when someone gave him a book on the NASA Hubble Space Telescope. "When I saw these beautiful pictures, I said these would make great paintings," he recalls, "so I started doing them." He painted seven of the photos that came back from the Hubble. When NASA was preparing The Hubble at 25, a video series featuring the telescope's first 25 years in space, someone called Bobby to participate. For a segment featuring his paintings, they interviewed him and filmed his paintings at Gallery on Fifth in Naples, Florida. The Gateway Bank of Central Florida in Ocala purchased 28 paintings from Bobby's collection. "They decorated their whole new bank with my artwork," he says.
I asked if he normally paints from photographs. He said yes, explaining, "If I'm going to paint a bison, I like to be there and get the shot of the bison I want to paint. You can't get an animal to pose for you, but if you can get the shot you want, you can put him in any background you want." He and Dianne spend several months each year in Jackson Hole, Wyoming. They had to cancel their trip this year but plan to go next year. They rent a house with a view of the Grand Teton mountain range and a fifteen-minute drive from where the bison and elk roam. "I know their habits," Bobby says. "I studied them so much that I can say, tomorrow they're going to be over in another valley from where they were today. I'll sit there, I may have to wait a couple hours, and sure enough, you see one head come up over the hill, and then there's three, and then there's ten. All of a sudden, there's a herd." He and Dianne sit quietly in their car as the herd grazes around them. "They never stay still," Bobby says. "They constantly move and graze. They don't care if you're parked there, as long as you're quiet and still. I've gotten so many incredible close-up shots, of their eyes, their fur, their horns. I love to do a lot of detail in my paintings."
Bobby describes a morning when he was alone in the middle of a herd of bison. He'd sat there for an hour and a half, occupying himself by taking shots of birds flying by, and suddenly his car was completely surrounded by grazing bison. He had to change from his telephoto lens to a regular lens. It felt surreal to be "right in the middle of a hundred and fifty huge beasts, that any one of them could flip the car over. I got some incredible shots."
While they were driving in Yellowstone National Park one day, Dianne yelled, "Grizzly!" She grabbed the camera and started taking photos. "We got some incredible shots of a grizzly bear that was feeding on something," Bobby says. "That's why we love this place, because you never know what you're going to see." One morning, they were looking out the window of their house when a wolf walked past the window. They jumped in the car and followed his footprints. Dianne had the camera pointed out the open car window as they came to a field. "All of a sudden he popped his head up and started looking around," Bobby says, "and she got some great shots of the wolf. I came back and painted the wolf."
"To me, it's more exciting to be staring at a wolf than it is to be onstage," he comments. "I did that for more than fifty years. I'm 79 now, so I like to think I've got some more time, but I try to make the most of every day." He has never texted in his life and never played a video game. Not doing things like that gives him more time to do the things he enjoys doing.
"I've got thousands of photos of bison and elk and the grizzly bear," he told me. "I've got some I'm really proud of." As does Dianne. "She's a great photographer now, because we've taken so many shots, and she gets better every time we go out. She's taken several that I've painted." When I suggested he could make a business of selling photographs, and perhaps publish a book of wildlife photos, he said they have talked about doing that. "But I love the painting so much," he says. "It's one thing to get the shots you want, on camera. To duplicate it on canvas, that to me is even better."
Bobby and Dianne are both in good health. "There's nothing we want to do that we can't do because of our age," Bobby says. "Until somebody tells me how old I am, I never think about how old I am. We're blessed in that way, so we keep forging ahead and enjoying life."
He concludes with, "My wife and I try to enjoy every moment. We go on trips together, we have a picnic and go on a hike, things like that. I wish the world could be as happy as we are. I don't think there's been any time in my life that I was happier than I am right now."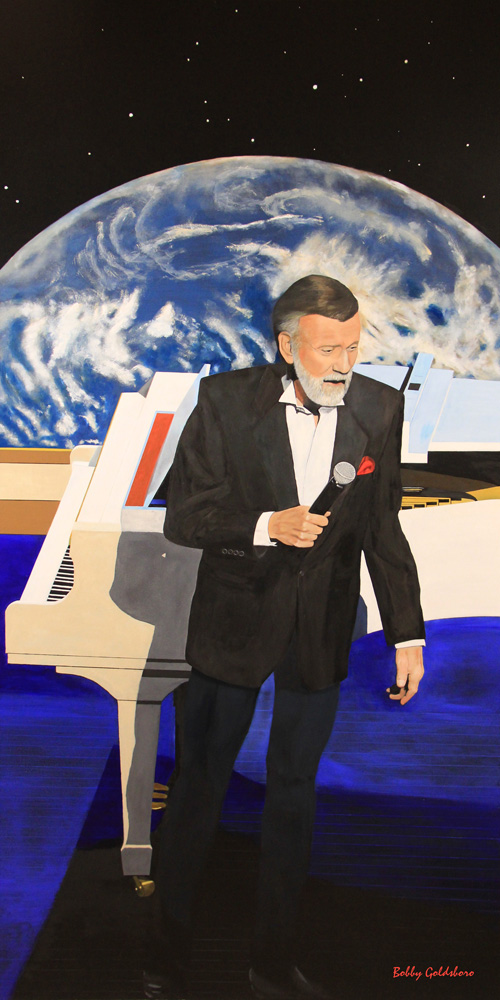 NEWS
Doug Supernaw was diagnosed in February 2019 with Advanced Stage IV lung and bladder cancer. It spread to his brain and spine, and he went into hospice care last month. I'd heard a report that he died several days later, but that was incorrect. He died peacefully at home in Texas on November 13, at age 60. Born in 1960 in Bryan, Texas, he was best known for his 1993 No. 1 recording of "I Don't Call Him Daddy."
The newest Entertainer of the Year for the Country Music Association is Eric Church, 43, on his fifth nomination. He was competing against Luke Combs, Miranda Lambert, Carrie Underwood, and Keith Urban. Garth Brooks, who won the award for the seventh time last year, pulled his name from consideration in 2020.
Charley Pride, 86, accepted the Willie Nelson Lifetime Achievement Award from Jimmie Allen, 34, during the 2020 CMA Awards show on November 11. Before the award presentation, the pair sang "Kiss an Angel Good Morning." Charley had been named CMA Entertainer of the Year in 1971. According to Taste of Country, Jimmie said, "I remember four years ago, before I got a record deal or anything, I spent my last $100 to come see Mr. Pride play at the 50th CMA Awards." He marveled, "So, four years later, to be able to present him with an award and stand here next to him, and to have a song with him …Imagine one of the biggest dreams you have, and accomplishing that. That happened for me tonight."
The CMA Awards show included four standalone tributes to country stars lost in 2020. An opening medley honored Charlie Daniels, 83, who died July 6. Jon Pardi sang "Pickup Man" in honor of Joe Diffie, 61, who died March 29. Little Big Town sang "Sweet Music Man" to pay tribute to Kenny Rogers, who died March 20 at age 81. Reba McEntire and Darius Rucker sang "In the Ghetto" in honor of its writer, Mac Davis, who died September 29 at age 78. The Tennessean reports Jason Isbell and Amanda Shires turned in their memberships with the Country Music Association, due to the CMA's "failure" to acknowledge the deaths of John Prine, Billy Joe Shaver, and Jerry Jeff Walker. Others complained also, pointing out there had been time to commemorate the 40th anniversary of the Urban Cowboy movie. There appears to have been no mention of Jan Howard, who died March 28 at age 91.
At least five acts canceled appearances at the CMA Awards show due to COVID-19 exposures. Lady A had been scheduled for a song with co-host Darius Rucker. Rascal Flatts, scheduled to perform "Bless this Broken Road," announced a member of the band tested positive for COVID-19. Jenee Fleenor, current CMA Musician of the Year, tested positive for COVID-19. The Tennessean reports she had planned to play her fiddle in the Charlie Daniels tribute. Lee Brice and Florida Georgia Line also canceled.
Variety reports this year's CMA Awards show, hosted by Reba McEntire and Darius Rucker, drew the smallest audience in the show's history. Its 7.1 million viewers represent a 30% decrease from last year. The previous smallest audience was 10.1 million viewers two years ago. Awards shows have been down across the board this past year. The Oscars fell 20%, the Emmys 9%, the ACM Awards 30%, and the Billboard Music Awards 55%.
Singer/songwriter Elton Williams, 80, of Stanton, Texas, died November 12. He was born April 19, 1940, in Jones County. His obituary says he graduated from Eastland High School and served in the United States Army. He was a longtime musician playing the guitar and bass guitar. He wrote the song, "Green Snakes on the Ceiling," which was recorded by Johnny Bush.
"Oh Pandemic" is the new release by Linda Gail Lewis, 73, sister of Jerry Lee Lewis, 85. Both are members of the Rockabilly Hall of Fame. A press release calls her song "a soulful, blues-filled track" with "sleek guitar riffs throughout, and steady drums layered with a traditional bass foundation." Linda Gail "affirms the universal feeling of grief and loss caused by the virus, while declaring her resilience and resistance to its impacts on humanity's morale, attempting to uplift her listeners." Her official recording debut came in 1963 when she performed as Jerry Lee's duet partner for Sun Records.
The New England Journal of Medicine listed the Dolly Parton COVID-19 Research Fund as supporting research on the COVID-19 vaccine being developed by biotechnology company Moderna, reports MusicRow. Dolly donated $1 million to COVID-19 research at Nashville's Vanderbilt University Medical Center in April. Moderna is applying to the US Food and Drug Administration for Emergency Use Authorization to produce the vaccine that has proven to be 94.5% effective.
Sounds Like Nashville reports Garth Brooks appeared November 13 as substitute host of Ellen, the award-winning daytime talk show hosted by Ellen DeGeneres. He mostly followed the script, while substituting an audience-participation songwriting session for Ellen's dance portion. The production crew put together a montage that highlighted moments Ellen had shared with other country singers who made guest appearances throughout the years.
As an update to the Dolly Parton comment that she would like to celebrate her 75th birthday by being on the January 2021 cover of Playboy magazine, TMZ reports Playboy honchos "would love to shoot Dolly again, and she knows all she has to do is say the word, and it's on!" She has clarified that she will only pose if it is in good taste.
The Snow Owls were the first duo unmasked on The Masked Singer TV show last week. When they took off their white feathery masks, Clint Black, 58, and Lisa Hartman Black, 64, were revealed.
LETTERS
Ron Oates, The Lone Arranger, writes from Nashville, "My dear fifty-year friend, Diane Jordan, shared your newsletter featuring Bobby Goldsboro. I really enjoyed part one of the interview and look forward to part two. I actually began my career with a Bobby Goldsboro album. Larry Butler brought me to Nashville at the end of October 1969. Larry was an A&R producer for Capitol at that time and he was able to get me on demo sessions for Pete Drake, Bill Denny, and Ron Chancey. The first album I ever played piano (and celeste) on was a Bobby Goldsboro project… yes, with 'Watching Scotty Grow' in the song mix. That did not hurt this fledgling new guy in town. The next thing I knew, I was flying out with Bobby to play piano and conduct the orchestra on his shows. Thank you, Larry Butler and Bob Montgomery. I have now begun my 52nd year in this Nashville recording industry and still working… producing, arranging, playing piano, and songwriting and composing. I'm thankful every day. My reason for reaching out to you is to ask how I sign up to receive your newsletter. I enjoyed reading the copy Diane shared with me."
Moragh Carter writes from the United Kingdom, "Thanks for yet another great newsletter. It was good to see you mention Hal Willis, who was virtually unknown here in the UK, in spite of his many talents. I first met Hal in Nashville in 2009, after being introduced to him by Jack Blanchard and Misty Morgan, who knew him well. He invited me to come and stay at his home the next time I came to Nashville, so in 2010 I stayed there for six nights, with a door key to come and go as I pleased. I also met his long-time friend, Irma Young. I continued to visit them every year, and I last saw Hal in 2014. In 2015 I had arrived in the States, but was still in Florida, when I received word he had died. I was sad that I was unable to see him one last time. Hal lodged with Irma for the last few years of his life and she cared for him, through his increasing dementia, right up until his last admission to hospital. I continued to visit Irma after Hal's death, and I kept in touch with her until her death in 2019 at the age of 92. In spite of his increasing loss of memory, Hal always recognized my voice on the phone when I called. Hal was inducted into the Canadian Country Music Hall of Fame about a month before Jack and Misty's induction into the Buffalo Music Hall of Fame, which I was honoured to able to attend with them. I continue to look forward to your newsletters."
Donald Ewert says, "I was sorry to hear of the death of Margie Bowes. Although I had heard of her I never heard her sing until seeing the video of her singing 'Big City' on YouTube. So, I just became a fan this past year. I even wrote her a letter. I hope she got to read it. May she Rest in Peace."
Ron Baker requests, "Please subscribe me to your country music newsletter."
Pejay Mirtschin writes from Nathalia, Victoria, Australia, "So Pleased to let you know that November's edition of Diane's Country Music Newsletter has arrived safe. I am writing this letter as Joy plays a great Boxcar medley for my entertainment. Now since the last newsletter I have had 9 days home from hospital then I have had another 10 days in hospital with a severe ulcer on my right lower leg plus the hospital has been trying to sort my pain medication out. Now anyone who says I have a love for hospital food has it all wrong. After this stay for 10 days, I can assure you I ain't going back no way. Anyway, I am so pleased your Country Music Newsletter has arrived so I can have a good read while convalescing."
Nobuhiko Ogino writes from Japan, "I enjoy to read your newsletter. I run a country music CD production, live music and guitar class in Japan. In August of this year, I created Marty Robbins' tribute album with a singer named Slim Sato and my guitar: https://youtu.be/eUVqXUelSDc"
Jenny Jones in Texas says, "Your Newsletter was so full of info, and there was so much News. I have read many of your Newsletters, but this one really gave me lots to keep me busy. I was glad to see the note from my dear friend Shirley Johnson. Thank you for including her words. It brought back many memories for me. She and I shared memories of James OGynn and BILLY WALKER. I heard from Betty Walker's daughter in the mail yesterday. It had been some time since I heard from her, as she has been ill for some time. She is doing better now, and it was good hearing from her. Hope we can keep in touch again more regular now. Those who were acquainted with Betty and BILLY will be happy to know Kelly is progressing, after a long bout of several health problems."
IN THEIR OWN WORDS
Although I never met Johnny Bush or saw him live in concert, I did talk to him twice. The first time was in 2008 for an interview about Marty Robbins. The comments below are from our telephone conversation in 2018, when I profiled him for my newsletter. Johnny died of pneumonia on Friday, October 16, at age 85.
My dysphonia has never gone, but the way we treat that, we treat the symptoms with Botox. About every three or four weeks, I get an injection, and it keeps me going. Without that, I wouldn't be able to speak or sing or anything. Dysphonia is a neurological disorder.
Botox is a lethal poison. What is does–it's like cobra venom–it attacks the respiratory system where you can't breathe. Cobra venom or rattlesnake venom, that's how it kills you, it renders you unable to breathe. It's a paralyzing agent.
My doctor is Dr. Blake Simpson at the UT Voice Center of the University of Texas Health Science Center in San Antonio. He goes down the throat to inject the Botox. He gives you just enough to paralyze the muscles that are causing the spasms, so they don't spasm. You can be normal for about four or five weeks, and when it starts happening again, you go back to him for a quick treatment, and he'll send you on your way. We've been doing that now since the early 2000s.
We finally found the proper dosage. First of all, you experiment. It's like anything else, if you don't use it, you lose it. If your arm or your leg has been in a cast for a certain time–we had to experiment with the dosage. If they give you too much, you speak with a breathy voice. Three and a half units on each side works for me. As long as I do that every 3-4 weeks, I stay on an even keel to where I don't lose it. It took a while to experiment.
I tell people, that's my calling now, to help people with this. Because you feel so isolated. When you can't communicate, it's quite devastating, and you become a recluse. You won't go out anywhere; you don't want to go out.
The main thing, if they're having a voice problem–I've been through thirty years of it–I know the lost feeling they have. If they will contact me through the website, I want them to know there is light at the end of the tunnel. If it is spasmodic dysphonia, help is on the way. Mine is adductor spasmodic dysphonia.
I'll be 83 years old this month, and I'm still working as much as I ever did. And I'm making a lot more money than I ever did. We're doing very well, I think. People show up and are surprised. "You're still working?" "What else would I be doing?"
My brother, a retired Baptist minister, asked when I plan to retire. I said, "From what? All I do is play music and play golf. Which one do you want me to quit first?" People retire from jobs they hate. If you got a job you love, it's not work. Why retire from something you like doing?
BOOK REVIEW
God Bless the U.S.A: Biography of a Song is the title of Lee Greenwood's autobiography, written in 1993 with co-author Gwen Ford McLin. The copy in my bookcase is autographed by Lee: "To Diane–Thanks for your service to the nation." Although I've never met him, my sister did, in 1993. Thanks, Kayo, for the book! Born in 1942 as the son of a WWII Navyman, Lee grew up in California and spent several decades trying to establish a music career, sometimes taking whatever odd jobs he could find to support his family. In 1983, he had just obtained a record contract and moved to Nashville when he wrote "God Bless the U.S.A." in reaction to the Soviet shootdown of Korean airliner KAL 007 for violating Soviet space. He says the song "started with an idea that evolved from my childhood days growing up on a farm" and "also stemmed from the respect, honesty, and patriotism that my mother and grandparents taught me." Whereas the first half of this "biography of a song" explains the roots of the song in Lee's early life, the second half of the book tells how it changed his life and allowed him to compensate for being rejected for military service because he was married and a father at age 18. Lee rerecorded "God Bless the U.S.A." in 2001, after the 9-11 attacks, and it became a hit again. The song is now part of the musical fabric of our nation. I most recently heard it performed last week during the local Veterans Day ceremony.