PUBLICATION ANNOUNCEMENT – AUDIOBOOK OF LIVE FAST, LOVE HARD: THE FARON YOUNG STORY
Live Fast, Love Hard: The Faron Young Story is now an audiobook!!! I am so excited to finally have Faron's story available to the public for download and listening. My effusive thanks go to Frank Gerard for making it happen.
Frank is an experienced audiobook narrator and producer, having recorded his 100th audiobook last year. He is a huge country music fan who subscribes to my newsletter and has read Faron's biography three times. He calls it "one of my favorite books ever." He emailed me in April and asked, "Have you ever thought of turning the Faron Young book into an audiobook?"
In addition to being a narrator and voice actor, Frank is an established newspaper publisher. Ten years ago, as a hobby, he decided to buy a microphone and have some fun experimenting with voiceovers. He started doing radio commercials for small radio stations, and his voiceover business has grown beyond his wildest dreams. Five years ago, he began recording audiobooks.
One day he was grumbling about the boring book he was recording, and his wife asked him, if he could record any book, what would it be? He told her it would be the Faron Young book that was on his bookshelf. She said, "Do they have an audiobook?" He said, "I don't know. I get a newsletter from the author every month." She said, "Why don't you ask?" So he did.
I had previously checked into having a CD audiobook made, but that would require a lot of work and expense, for an unknown return. I hadn't considered a downloadable one. As Frank recalls, "You thought, like a lot of authors think, it's expensive to produce an audiobook. I was able to explain to you it's really not, and then it worked out well." He mentioned the exploding popularity of downloadable audiobooks: "Over 70,000 audiobooks were published in 2020. That is double the number from a few years earlier. This growth shows no sign of slowing down."
He told me to contact ACX, which is owned by Amazon, and set up an account. After doing that, I submitted the book and requested Frank as the narrator. Authors and narrators generally interview and negotiate with each other to find a match. ACX handles the contracts, does the publishing, and monitors sales and statistics. Of course, they also take most of the proceeds. Frank and I will split the royalties we receive.
Frank is a stickler for audiobook quality. He records from a professional recording studio in his Connecticut home. He has a proofer/editor who listens to the entire audiobook from start to finish, matching it to the written text, and then sends him a list of errors, one chapter at a time, for him to make corrections. You can learn more about Frank and his work by going to his website at FrankGerardVoice.com.
After recording Faron's biography, Frank says, "It is the most enjoyable audiobook I've ever recorded. It was like being in the middle of a great movie that you don't want to end." He adds, "When you're embracing the character, and when I'm reading all of his words and I'm talking—not exactly in his voice, but in his spirit, trying to embrace his personality, it's hard to do that and not want to say, 'Stop it, Faron!' There were so many times in the book I wanted to shake Faron and say, 'Stop it. Be nice to Hilda. Be nice to your family. Slow down on the drinking. You've got so much talent, so much talent, and it's going to waste.'"
Frank, 60, a Northeast Ohio native, has lived in New England most of his adult life. He has been happily married for 32 years and is the father of two adult daughters. His goal is to narrate more country music biographies and memoir audiobooks. "There are so many terrific bios out there that don't have an audiobook, and so many legends who have yet to have their story written and recorded," he says. "I hope to bring those stories to life one day, as I did for the folks in Faron Young's world, thanks to you, Diane."
The audiobook can be found on Audible, on Amazon, and supposedly on iTunes. Please spread the word, review the audiobook on these sites, and send me an email to let me know what you think.
NEWS
Tom T. Hall (1936-2021)
Country Music Hall of Fame member Tom T. Hall died Friday, August 20, at his home in Franklin, Tennessee. He was 85. The Olive Hill, Kentucky, native wrote his first song at age nine. He quit school, worked at a garment factory and a radio station, and played bluegrass music, before he joined the U.S. Army in 1957 and was sent to Germany. He moved to Nashville in 1964. He once told The Tennessean he was happy to move to a city with a great newspaper and a great bar (Tootsies Orchid Lounge). He said, "What else could a songwriter want?" His first No. 1 by another artist was Johnnie Wright's "Hello Vietnam" in 1965. His last was Alan Jackson's "Little Bitty" in 1996. Of course, there was Jeannie C. Riley's "Harper Valley PTA" in 1968. Some of his own many hits were "Ballad of Forty Dollars," "(Old Dogs, Children and) Watermelon Wine," "A Week in a Country Jail," "The Year That Clayton Delaney Died," "I Like Beer," and "Salute to a Switchblade." The Tennessean reports he gave his final public performance in 2011. He was elected to the Nashville Songwriters Hall of Fame in 1978, the Country Music Hall of Fame in 2008, and the Songwriters Hall of Fame in 2019. His wife, Dixie Hall, died in 2015, three years before Tom T. and Dixie Hall entered the Bluegrass Hall of Fame.
Don Everly (1937-2021)
Country Music Hall of Fame member Don Everly, 84, died August 21 at his home in Nashville. He was born Isaac Donald Everly on February 1, 1937, in Brownie, Kentucky. He and brother Phil performed on the radio with their parents before they were out of elementary school; their father had a radio show in Shenandoah, Iowa, in 1945. The family moved to Knoxville and then Nashville to further the brothers' career. Their hits included "Bye Bye Love," "Wake Up, Little Susie," "Bird Dog," and "All I Have To Do Is Dream." They were in the inaugural class inducted by the Rock and Roll Hall of Fame in 1986. The Everly Brothers joined the Country Music Hall of Fame in 2001. Phil died in 2014.
Nanci Griffith, 68, died August 13 in Nashville. She died of undisclosed causes, and NPR reports, "It is Nanci's wish that no statement or press release happen for a week following her passing." She survived breast cancer in 1996 and thyroid cancer in 1998. Nanci Caroline Griffith was born in 1953, in Seguin, Texas, and raised in Austin. She began singing as a teenager, with Loretta Lynn as a major inspiration. Nanci moved to Nashville in 1985, where she collaborated with artists like John Prine, Emmylou Harris, and Lyle Lovett. Kathy Mattea had a hit with her "Love at the Five and Dime"; Suzy Bogguss hit with "Outbound Plane," which Nancy wrote with Tom Russell. "Lone Star State of Mind" was Nanci's highest-charting Billboard song. She received a Lifetime Achievement Trailblazer Award from the Americana Music Association in 2008. Terry Ruud, founding member of The Back Behind the Barn Boys in Minnesota, wrote "Radio Star" about her in the 1980s. He says, "I wrote this for her, trying to capture the light-hearted, fun-filled spirit she creates when she throws herself into her music. This is the ultimate Thank You to a radio star who really isn't one but deserves to be."
A well-known Arizona musician, Ray Harrison, experienced a massive stroke and died on August 3. Ray was born to a musical family in San Antonio, Texas. The youngest of three boys, he played his first gig at age eight. His older brothers played fiddle and steel guitar; they didn't have a rhythm player, so that slot went to him. Ray later switched to bass guitar and started singing. His influences ranged from Ernest Tubb and Hank Williams to Nat King Cole and Frank Sinatra. He joined the Navy out of high school and performed all over the world, either with the ship's band or with his own band in local nightclubs. He retired from the U.S. Navy as a sonar technician senior chief petty officer. In recent years, Ray formed a trio and played in and around Tucson and Phoenix, Arizona. He also performed at various steel guitar shows around the United States, and he was part of the Marty Robbins tribute band.
The Country Music Hall of Fame has announced its 2021 honorees. Reba McEntire made the announcement during a livestream presentation on August 16. The Judds, Naomi and Wynonna, will be inducted as Modern Era artists, Ray Charles as the Veteran artist, and there was a tie for the third category. Drummer Eddie Bayers and steel guitarist Pete Drake were both selected in the Recording and/or Touring Musician field.
Author James Patterson is famous for novels such as Along Came a Spider, Kiss the Girls, and The Murder House. CMT.com reports he and Dolly Parton have joined forces for the upcoming novel, Run, Rose, Run, which will be released in March. The book is a thriller about a young singer songwriter: "Nashville is where she's come to claim her destiny. It's also where the darkness she's fled might find her. And destroy her." Dolly announced on Instagram, "I also have a new CD to go along with the book, based on its characters and situations. I hope you enjoy the book and the songs as much as we've enjoyed putting it together."
Audrey McGraw, 19-year-old daughter of Tim McGraw and Faith Hill, made her acting debut in Tim's latest music video, titled "7500 OBO." It's a pretty good song–about a man who wants to sell his 2006 F-150 because it reminds him of his ex-lover. The video, however, tells a different story; it's from the perspective of a teenage girl (Audrey), who is apparently heartbroken after her love moves away. "7500 OBO" is from Tim's 16th studio album, Here on Earth, released last year. PEOPLE reminds us, "Tim, 54, and Hill, 53, are also proud parents to daughters Gracie, 24, and Maggie, 23."
Talking about her early days in Nashville, new Grand Ole Opry member Carly Pearce tells CMT's Cody Alan, "I cleaned Airbnbs in Nashville for a few years, and people are NASTY! I would clean these massive homes for bachelor and bachelorette parties, and I would have to bake cookies for them. . .. I think the most memorable is just how disgusting people are. Like, it forever changed my thought on how I leave a hotel room, or how I leave an Airbnb, or how I leave a fitting room because somebody has to clean that up." She jokes, "The things that I saw may have scarred me." She moved to Nashville with a high school diploma that came in the mail because she was homeschooled. "I did get my diploma. I feel like people need to know that," she says.
Sounds Like Nashville reports Tanya Tucker, 62, has canceled her six August concerts. She tells fans via Instagram that she needs more time to recover from her July hip surgery. "Hey Y'all, I'm sorry to say but I haven't been given the green light to travel and perform just yet," she says. "My Dr. wants me to continue with more PT in order to fully recover."
Jason Isbell, 42, spoke to MSNBC about his decision to require COVID vaccination cards or negative tests as a way to keep people safe. He wants to keep those who were left out of work during the pandemic back at their jobs. "I think it's up to all of us to do what we can to keep the music business running," he says. "I'm all for freedom, but I think if you're dead, you don't have any freedoms at all so it's probably important to stay alive before you start questioning your liberty. It's life and then it's liberty and then it's the pursuit of happiness." He adds that he's not telling anybody to get a vaccination or a negative test, but those who don't, can't come to the show.
When Billy Bob's Texas in Fort Worth booked Jason Isbell and the 400 Unit and agreed to enforce his Covid vaccination policy, the venue's general manager says he spent the next few days being called "Hitler." Marty Travis tells Rolling Stone, "Man, it is Uproar City down here, like I ripped a picture of the pope in half." Jason's team says he moved his August 13 concert from Panther Island Pavilion in Fort Worth to Billy Bob's, and he canceled a show in Houston when the Cynthia Woods Mitchell Pavilion wouldn't abide by his Covid policy. However, according to Saving Country Music, the problem was trying to implement the policy on short notice. Both the Cynthia Woods Mitchell Pavilion and the Panther Island Pavilion support the policy but couldn't make the necessary changes that quickly.
A new Elvis Presley box set will be released in November—as a four-CD collection, digitally, and as a two-LP vinyl set. Elvis: Back in Nashville collects 82 original recordings from Elvis's final Nashville recording sessions in May-June 1971 and strips them of all overdubs. Rolling Stone reports this is a follow-up to last year's box set, From Elvis in Nashville, which chronicled his night-to-morning sessions at RCA Studio A in 1970.
Mark Chesnutt, 57, and his wife, Tracie, both tested positive for COVID-19 as he recovers from major back surgery, reports Taste of Country. Mark tweeted, "Just wanted to give everybody a little update. I am currently on the mend from my back surgery. But, while doing so, my wife Tracie and I have tested positive for COVID-19! Thank you all for the continuous prayers." Mark and Tracie have been married since 1992. Mark's hit songs include "Too Cold at Home," "Going Through the Big D," "It's a Little Too Late," and "I Don't Wanna Miss a Thing."
Variety reports a conversation with Reba McEntire, 66, about her recovery from COVID-19, which she and boyfriend Rex Linn contracted despite being vaccinated. She'd thought she had a sinus infection, because she wasn't sick enough to be hospitalized. She lay on the couch for two or three days, watching her favorite shows on Netflix and Prime Video and Hulu. "But when I lost my sense of smell, I was kind of like, 'Wait a minute, maybe I have COVID, the Delta variant.'" Not being able to smell her dog was the clue. "So I tested and sure enough, I did," she says. "It was a shock to me, because my good friend Red Steagall, in December he got it, and he was in the hospital." She urges readers to keep taking COVID-19 seriously, especially with the more-transmissible Delta variant sweeping the nation. Her recovery is now complete, including her sense of smell. "You know what, last night I smelled something and I went, oh my gosh," she says. "What you take for granted all the time, with your sense of taste and smell. Thank God I didn't lose my sense of taste, because I'm a foodie. Oh, I love to eat."
A recent court ruling brings the Kelly Clarkson/Brandon Blackstock divorce one step closer to being finalized. TMZ reports that Kelly was on the set of The Voice when she received an email that the judge had ruled the couple's prenuptial agreement was valid. The prenup states that whatever each partner acquired during their seven-year marriage belonged solely to that person. Kelly's money paid for their ranch in Montana, which Kelly has long wanted to sell. But Brandon currently lives there; he plans to change careers from talent agent to full-time rancher. His lawyers objected to the sale, saying he had a legal right to be there until the prenup challenge was decided. The couple's former 20,000-square-foot mansion in Tennessee sold in June, and Kelly's former mansion in California is listed for sale for almost $9 million. She recently purchased a new mansion in an exclusive area of Los Angeles.
Following her performance at the 23rd Annual Texas Country Music Hall of Fame event in Carthage, Texas on August 14, Jeannie Seely received a surprise. The Hall of Fame president, Tommie Ritter Smith, presented her with a Proclamation from Texas Governor Gregg Abbott that made her an Honorary Texan. The title acknowledged Jeannie's contributions to the Texas music community, which a press release listed as "including her beautiful display in the museum, her affiliation with Willie Nelson through her radio show on SiriusXM Willie's Roadhouse and her performances over the years in Texas and with the Texas Hall of Fame band along with many other affiliations with the music industry in Texas."
Saving Country Music used my biography, Twentieth Century Drifter: The Life of Marty Robbins, as a source for a podcast titled "Country History X: Marty Robbins Saves Life of NASCAR's Richard Childress." I encourage you to read or listen to the story.
Due to the ongoing pandemic, Garth Brooks has canceled five stadium tour dates: Cincinnati, Charlotte, Baltimore, and Foxborough, Massachusetts, plus a Seattle show. The Tennessean reports he also canceled plans to reschedule the Nissan Stadium concert in Nashville, although that was not COVID related. Garth said in a statement, "In July, I sincerely thought the pandemic was falling behind us. Now, watching this new wave, I realize we are still in the fight and I must do my part." Ticketmaster will automatically refund customers, and tour promoters plan to continue monitoring COVID-19 cases.
The Regions Bank on Music Row in Nashville is featuring a Jeannie Seely display in its lobby. The display showcases milestones of Jeannie's career, up through the album cover and wardrobe for An American Classic, her current album on Curb Records. There is a tour jacket from the 1981-1982 Willie Nelson tour, a replica of her star on the Music City Walk of Fame, the diploma for her Honorary Doctorate from Lincoln Memorial University, personal photographs, Hatch Print posters, original 8-tracks, cassettes, vinyl records, and much more.
The 12th annual "Darius & Friends" fundraiser brought in $410,000 for St. Jude Children's Research Hospital, ABC reports. Darius Rucker hosted the sold-out event at the Ryman Auditorium, closing the night with an encore that included "Wagon Wheel." Total money raised since the event's inception is over $2.5 million. The livestream component that had been used for last year's virtual event was kept in place, allowing fans to join from home via the Mandolin livestream.
Friends of Jack Blanchard and Misty Morgan have started a GoFundMe page to help Jack save his home. Misty died on New Year's Day, and Jack suffers from a bad heart valve, shock, depression, anemia, and inability to walk without a cane. He has lost most of the vision in his right eye and can no longer drive, so he must rely on friends to take him to doctor appointments.
The catastrophic Middle Tennessee floods on Saturday, August 21, tore apart Loretta Lynn's Ranch, which is located in one of the hardest hit areas in Humphreys County. Parts of the region received 18 inches of rain in 48 hours, Music Mayhem magazine reports. Loretta Lynn and her family are safe, granddaughter Tayla Lynn posted on Facebook. However, the ranch website later said, "With the heaviest of hearts we are saddened to report that our beloved foreman Wayne Spears did not survive being swept up in the flood waters. Wayne has been a family friend to the Lynns and a fixture to the Ranch for decades and we are all devastated by his passing." Loretta Lynn's Ranch is a campground, full-service RV park, and event venue on Loretta's Hurricane Mills property. Flood waters surged through the area, including the nearby town of Waverly. On Sunday evening, the Humphreys County Sheriff's Office reported at least 21 killed in the floods, with about 20 still missing.
The Sun U.S. reports the death ofCharlie Watts, 80, longtime Rolling Stones drummer, on August 24. His publicist said he "passed away peacefully in a London hospital earlier today surrounded by his family." Charlie joined the Stones in 1963 and remained for almost 60 years, ranked just behind frontman Sir Mick Jagger, 78, and guitarist Keith Richards, 77, as the longest lasting member. He had emergency heart surgery in London a few weeks ago after a problem was found during a routine check-up. His doctors then prescribed weeks of "rest and recuperation" and deemed him unfit to travel. When announcing he would not be joining the Stones for their USA tour in September, he joked, "For once, my timing has been a little off."
LETTERS
Les Leverett writes from Goodlettsville, Tennessee, "Thanks for once again loading us up on the happenings in our industry. I finally got around to reading this latest this morning. I want to tell you of our sad news around here: Mark Jones, the only son of Grandpa and Ramona Jones, died yesterday. He had some heart trouble and diabetes, and refused to take the shots for the virus. He got the covid, and that's what finished him off. He worked at the folk center in Mountain View, Arkansas. He was 65. His sister Alisa, and my daughter Libby Leverett-Crew are lifelong friends, and Alisa gave all the details to her."
Martha Moore of So much MOORE media says, "Thanks for including our Alex Miller/Chubby Howard photo. AND I am so happy that you featured Wendy Newcomer… SHE is the bomb!!"
Wendy Newcomer says, "I do know Martha and I love her. She was the publicist on many of the interviews I did when I worked at Country Weekly. One of my favorite interviews, set up through her, was with (the late) Hank Cochran. Martha is great! Thank you for the wonderful article. I appreciate it very much."
Erv Niehaus says, "You talked about Sherwin Linton being at the South Dakota State Fair. He was at our county fair a few years ago and he was doing a Johnny Cash tribute. He said if somebody had a Johnny Cash song he should sing, holler it out. I picked an obscure song I doubted he knew: Dirty Old Egg Sucking Dog. And, by golly, he wiped it right out! A great entertainer."
Dean Mann in Sioux Falls says, "I read with interest Tom LeGarde's article in your newsletter. He mentioned Faron's comment that he wasn't going to be 'any bloody opening act.' It reminded me when Clint Black was in Sioux Falls at the old Coliseum years ago. Merle Haggard was his opening act. Merle was a big star at that time. As a side note, Merle was wearing those earpieces that all the singers started using back then and now. He was having trouble with it and always reaching for one side or the other to adjust it or pushing it back in."
Donald Ewert writes from Milwaukee, Wisconsin, "When I heard Wynonna Judd say 'it was about time' The Judds went into the Country Music Hall Of Fame, I have this to say: It's about time Jeannie Seely, Jan Howard, Skeeter Davis, Wilma Lee & Stoney Cooper, Keith Whitley, Stringbean, Earl Thomas Conley, Wade Mainer, Cousin Emmy, Martha Carson and others were also inducted. I think I will add Linda Martell to that list."
Jeremy King on the Steel Guitar Forum says, "I really enjoyed your conversation with Lloyd Green. I'd like to sign up for your newsletter."
David Corne in England writes, "Thanks for your latest newsletter. I don't know if you have seen the recent posting on YouTube of a 1983 Nashville Now Tribute to Marty Robbins that was aired in 1983. Ralph Emery hosted the show and had some topnotch guests including Marty's son Ronny, Gene Autry, Jim Glaser, Wesley Rose and last, but not least Faron Young. It was great to see Jim Glaser sing 'Running Gun' as well as Faron sing 'A White Sport Coat' and Ronnie sing 'Some Memories Just Won't Die.' Oh, and I almost forgot to mention appearances by Little Jimmy Dickens and Marty's lovely wife Marizona. Regards from The UK."
Jean Earle also writes from England, "Thank you for your very kind email. With all your travelling and writing and keeping us informed of all the interesting country news, I am amazed and delighted that you noticed one of your true fans had NOT been in contact with you recently. We have been busy in the garden, enjoying the warm sunshine, doing our best to avoid the virus, and most importantly finding the time to listen to and enjoy our LPs of our favourite, Faron Young. We enjoyed reading of your visit to Nashville. What lovely memories that brought back to us of our FIRST visit in 1975. Thank you for reminding us what a magical place Nashville is to visiting Country fans. Back in 1975 as we walked around the fascinating, and much admired places, we actually met some of the Stars who were able to just stroll around and meet their fans. None of the security problems that are much in evidence today. I remember the first gentleman we met was a smiling Marty Robbins. He was looking extremely smart, and he told us he had just been to have his photograph taken for the cover of his next LP. What wonderful memories. I have just one more thing to say before I sign off…..regarding the comments that have been made about Faron and his use of sometimes strong language. I disagree so much with that. Alan and I knew Faron for many lovely years. Never once did he use any words that would have offended me …or our children. In fact we thought him a great Country Gentleman. Perhaps he knew whom to shock and when to be outspoken for the affect it caused. We have known about Hilda's health problems. Do hope she has now found life more comfortable and that she is happily and safely back home with Alana and her family. Please send her our love and best wishes. Faron always was a bit disappointed that HE could not become an English BOBBY like Alan. We saw him off at Nashville airport when he flew to Canada. With Billy and Debbie."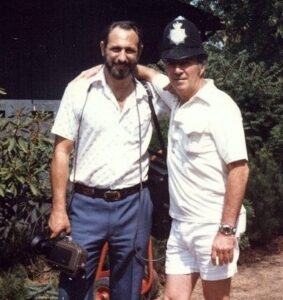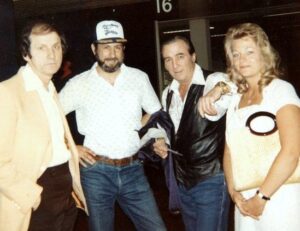 Terry Munson, a fellow American Legion honor guard member, says, "As a recent member to your newsletter, I totally enjoy it. Awesome job. Keep' m coming."
Priscilla McPheeters writes from Kansas, "My absolute favorite story was the one about the two little puppies rescued in the sleet storm by Miranda. Love it!"
Dominique "Imperial" Anglares writes from France, "Thanks for that welcome newsletter. On August 10, we lost Joey Ambrose (Joey D'ambrosio) who was the last surviving member of Bill Haley's Comets who played on the classic 'Rock Around The Clock'. They're now all rockin' in the sky after being the first to spread the great rock and roll sound all around the world."
David Markham writes from England, "You mention the Legarde twins yes I've known about them both for years. My Australian friend worked with them both in and around Nashville as a country music singer in NSW for a very long time. Her stage name was Donita Dey; her dad was born in England. Donita's name was Heather Turner. She played all around the clubs in Nashville, the Nashville Palace. She and my wife and drummer Willie Ackerman. Willie took us there one night to show us both around. In my music career I made a lot of friends. Those were the best days of my life. I made myself Well known in The World of Country Music. I knew them all. But now there's nothing to write about anymore. Sad time. Well. I hope you will continue with the great Randy Travis."
John Krebs in Houston, Texas, says, "Here's some new Webb Pierce stuff available for anyone interested: https://www.andmorebears.com/site/assets/files/221506/amb_70116_pierce_book_1-64_klein.pdf [64-page booklet commemorating 100 years] and https://www.andmorebears.com/featured-collections/webb-pierce-100th-birthday-celebration/ [Bear Family ad for Webb Pierce CD collection]."
John Edmonson of Remar Productions in Sun City, Arizona, writes, "I am reaching out to you to ask for assistance in helping us provide the masses with some heartfelt insights into Ray Harrison's selfless contribution to traditional country music. In addition to Ray's music pursuits on the national scene, his U.S. Navy career offered Ray numerous opportunities to showcase country music, which he pursued with all of his God-given talent both as a superb vocalist and a highly accomplished musician. During appearances on our company's large stage productions honoring Marty Robbins, Ray played a key role. He delighted audiences with his amazing voice and graciously emceed many of our shows. On a personal note, I will always cherish my friendship with Ray, which reached far beyond his musical abilities; he was a true friend to many and will be deeply missed."
Diane: That is sad news indeed. Senior Chief Harrison was a longtime subscriber to this newsletter, and I occasionally heard from him.
SOUTH DAKOTA STATE FAIR
One week to go until I'll be joining Sherwin Linton at the South Dakota State Fair in Huron. He and Pam and the Cotton Kings will be performing all week on the Centennial Stage, as they do every year. Thursday, September 2, is billed as Veterans Day, and Sherwin invited me to come onstage at 2 pm to talk about my books and my U.S. Navy career, along with an update on my Randy Travis biography.