IN THE SPOTLIGHT – DOUG STONE
I'd been waiting for an opportunity to spotlight Doug Stone in my newsletter ever since his show in Sisseton almost two years ago. Our conversation finally happened when he called me on one of his days devoted to doing phone interviews.
Before singing "More Love" in Sisseton, he'd said, "I wrote this song and then it came true." So I asked him to explain, and he said, "Well, it's really weird, I wrote it and then the song actually came true. Everything in it, y'know. That's all she needed. I ended up getting divorced, losing my family, and paying out the ying-yang for the rest of my life." He added, "I ain't saying I'm a future teller, or anything like that, it's just–I've known a lot of the stuff that I wrote came true. I had a woman one time ask me to write a song about her son that had passed away, and I said, 'Y'know I don't really want to write one about that because I'm afraid it might happen to me.'" Then he gave his standard joke, "I'm writing one now about winning the lottery. Maybe that one will come true."
His website mentioned he'd crashed his ultra-light plane in 2000, resulting in a broken ankle and a cracked rib. "It was something I wanted to do, and that's what life is for is to experience stuff," he told me. "I think the next time I fly a plane it's going to be a real one, and I'm gonna watch the guy fly it around for a while before I jump in and take off."
During the pandemic, he recorded an acoustic album that will be out soon. "We're about done with it," he said. "And it's pretty good. Of course, you know, it's weird, I was sick on every album I've ever done, so this just followed right along, I was sick doing it. One of these days, I'm gonna record one when I feel good."
In early 1992, he underwent quadruple bypass surgery, following the discovery that one of his arteries was almost entirely blocked. He was recovering from that when his third album, From the Heart, was released. In late 1994, his Greatest Hits, Vol.1 compilation was released while he was undergoing treatment for a non-cancerous lump in his nostril that caused breathing problems. In spite of having "a lot of trouble with my heart," he says it's been working well. His cardiologist asks him, "You still playing golf?" Yeah. "You still doing whatever you want to do?" Yeah. "Still walking through the airport?" Yeah. "Okay, come see me in another year."
When I told him I'm starting to ride a bicycle after 40+ years, he said, "Back when I was in my forties and fifties, I used to ride my bike everywhere. Me and the kids, we'd go on about five-mile runs every week. Boy, it was a lot of fun."
The Stone Age Band has always been the name of Doug's band, but the membership changes. "We travel a whole lot all over the place, and not a lot of people like to travel as much as that," he says. "Absolutely, traveling is the hardest part of this gig."
At age 65, Doug is still going strong. His performances range from acoustic shows to being backed by a full band: "We got it anyway you want it. We can do just a three-piece, or a seven-piece, or how many pieces you want. We can overload your cart." He says, "We do whichever way they want to do, we don't care, we just enjoy playing."
He recalls a gig from the early days, when he and the Stone Age Band were a local band. "Somebody hired us for a wedding," he says. "We showed up, we put the PA up, we started singing, and the guy come over and said, 'Hey, ah, can y'all stop singing and just play the music?' It was kind of strange."
Woodworking is Doug's non-singing project. "I was a carpenter at one time," he says. He needed something to keep him busy during the early part of each week, so he said, "I need to get something to do, Lord." And the Lord gave him the idea to start a little woodworking shop. "I spent a ton of money on that," he tells me, "and now I build furniture, and I started designing some pine boxes that I sell on the road for trinkets and whatnot. They're about seven inches tall and three and a half inches wide. People like them cuz it's, y'know, made by me." The boxes celebrate his debut single, "I'd Be Better Off (In a Pine Box)," from 1990. "There's nothing to nothing, as long as you want to do it," he states. "'There ain't nothing to it but to do it,' I used to have this guy tell me that all the time."
Doug invites my readers to "come on out, cuz we're gettin' with it." You can check his website (http://dougstone.com) to learn where he will be performing. His website also allows you to find every song he's ever recorded. I look forward to seeing him again someday, perhaps with the whole Stone Age Band.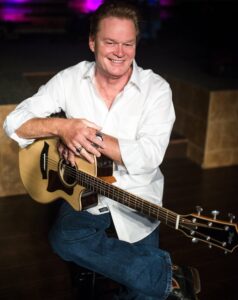 NEWS
Bob Everhart, 85, founder and president of the National Traditional Country Music Association (NTCMA), has died. Sheila and Bobbie Lhea Everhart write, "It is with a heavy heavy heart we let everyone know due to heart complications Bob Everhart loving husband and father went home to be with our Lord on August 20, 2021. The memorial we have planned will be Monday, September 6, which is Labor Day. We thought it fitting to say our good-byes on that day because his festival always ended on Labor Day." Bluegrass Today reports that Robert Phillip 'Bob' Everhart, born in the Sand Hills of Nebraska in 1936, was a "multi-instrumentalist, singer, entertainer, old-time country, bluegrass, and folk artist." He graduated from high school in Council Bluffs, spent four years in the U.S. Navy, and then enrolled at the University of Nebraska. Following a recording career in the 1960s, he started the non-profit NTCMA in 1975, to preserve America's roots music. The first NTCMA festival took place in Council Bluffs in 1976. Bob and his wife, Sheila, owned and operated the Oak Tree Opry and the Pioneer Music Museum in Anita, Iowa, where they housed America's Old Time Country Music Hall of Fame and America's Old Time Fiddler's Hall of Fame. Bob and Sheila recorded on their own Prairie Music Records label, and they performed their one-of-a-kind show around the world. For seven years, Bob produced, hosted, and performed on the PBS TV show Old Time Country Music.
Joyce Reeves Milsap, wife of Ronnie Milsap, died September 6 at age 81. The Gainesville, Georgia, native met Ronnie at a family dinner and joined in his dream of becoming a singer. They married in 1965. MusicRow reports she was the inspiration for many of his biggest hits: "Daydreams About Night Things," "Smokey Mountain Rain," "Show Her," "Don't You Know How Much I Love You," "A Woman In Love," and "What A Difference You've Made in My Life." The thought of losing her resulted in songs like "I Wouldn't Have Missed It For The World," "Almost Like A Song," "Still Losing You," and "Lost in the '50s Tonight." Their love created 40 No. 1 hits. Their only son, Ronald Todd, died at age 49. "When people tell me they love my music, I always smile, because that music is pure Joyce," Ronnie says. "We went through lean times laughing, good times beyond our imagination, tough times where we held on to each other for dear life." He adds, "Blessedly/Thankfully, she's in heaven with our Todd–and I know somehow from heaven, she's still here with me every day, because that's just how she was."
Dave Pomeroy, President of AFM Local 257 in Nashville, reports the passing of AFM 257 life member Kenny Malone, 83, on August 26. He writes, "He was a 51-year AFM 257 member who joined Local 257 June 9, 1970. He died in the hospital this morning from the Covid-19 virus, and sadly, he had declined vaccination because he was 'scared.' I hope any of you who have not yet been vaccinated will take this into consideration, as we continue to struggle with the latest surge of the virus variants. Kenny was born on August 4, 1938, and was raised in Denver, Colorado. He started playing the drums when he was 5 years old. He served in the U.S. Navy Band for 14 years, and also served as head of the Percussion dept. at the School of Music for Navy, Army, and Marines, before moving to Nashville." Billboard calls him "a prolific session player who is credited on hundreds of records made in Nashville, including albums like Dolly Parton's Jolene and Waylon Jennings' Dreaming My Dreams. He was known for his hand-drumming technique." He moved to Nashville in 1970, started working with producer Cowboy Jack Clement, and quickly became one of the most-used drummers and percussionists in town. He was the original drummer for the Time Jumpers.
Randy "Baja" Fletcher, 73, production manager for Keith Urban, died August 27, the day after falling from the stage while prepping for the Keith Urban show scheduled for that evening. The Sandusky Register in Sandusky, Ohio, quotes the Ottawa County Sheriff as saying, "There were people nearby and he was working and the next thing he was on the ground and had hit his head. We spoke to some people who were there and nobody saw exactly what happened." MusicRow reports he started a 10-year run with Waylon Jennings in 1978, following his time in Vietnam with the U.S. Army. He also toured with Johnny Cash, Merle Haggard, George Jones, Willie Nelson, and others, before joining Randy Travis in 1988 for his first headlining tour. Baja stayed with Randy until 1992 when he began an 18-year gig as production manager for Brooks & Dunn. He joined Keith Urban's show in 2011. He received the CMA's first-ever Touring Lifetime Achievement Award in 2017 and was named Production Manager Of The Year in 2019.
Leslie Ann Elliott, 85, of Madison, Tennessee, died August 24. She is survived by her husband of 59 years, Ron Elliott, four children and ten grandchildren and great-grandchildren. Leslie was born in Berlin, Maryland, in 1935. Leslie enjoyed country music, dancing and she loved to go with Ron when he would play music at the Grand Ole Opry. A Celebration of Life was held August 26 at Madison Funeral Home. Thanks to Dave Barton for sending me the obituary. Leslie was the ROPE (Reunion of Professional Entertainers) secretary for many years. I met her briefly when she arranged for a group of us to attend the ROPE dinner in 2007.
Billboard provides history on members of the Country Music Hall of Fame who were earlier winners of the Country Music Association's Horizon award (changed to New Artist of the Year in 2008). Only four acts have gone from "most promising newcomer" to the Hall of Fame. Garth Brooks was the first, in the record time of 22 years. He beat Alan Jackson, Kentucky Headhunters, Lorrie Morgan, and Travis Tritt for the Horizon award in 1990 and entered the Hall of Fame in 2012. Randy Travis beat the Forester Sisters, Kathy Mattea, Dan Seals, and Dwight Yoakam for the Horizon award in 1986 and was elected to the Hall of Fame in 2016. Ricky Skaggs entered the Hall of Fame in 2018–36 years after winning the Horizon award in 1982, beating John Anderson, Rosanne Cash, David Frizzell, and Lee Greenwood. Naomi and Wynonna Judd, this year's Hall of Fame winners, received the Horizon award 37 years ago. The other contestants in 1984 were Deborah Allen, Earl Thomas Conley, Vern Gosdin, and Michael Martin Murphey.
CMT debuted its new TV series of musical giants with CMT Giants: Charley Pride. The all-star celebration had been filmed earlier this year at Ascend Amphitheater. It featured performances, stories, and archived footage that covered Charley's half-century of country music influence. "It was overwhelming, the lineup, the people that come out to pay respects to him and our family," Dion Pride tells The Tennessean. "I don't know you can put words to how strong a feeling is to have the King [George Strait], Alan Jackson, Garth Brooks, Darius [Rucker]." Mickey Guyton began the show with "I'm Just Me." Jimmie Allen, Wynona Judd, baseball's Nolan Ryan, Reba McEntire, Alan Jackson and others either sang or told stories. Gladys Knight, who referred to herself and Charley as "hard-working children of the South," sang "Roll On Mississippi." The night closed with Garth Brooks singing "When I Stop Leaving (I'll Be Gone)."
The annual Charlie Daniels Volunteer Jam was held August 25 at Bridgestone Arena in Nashville, as a tribute to its founder. Main Street Nashville reports, "The proceedings were kicked off by one of the most stirring renditions of the national anthem in recent memory, by the mesmerizing harmonies of Hendersonville's own family band the Isaacs." Then Charlie Daniels Jr. took the stage and said, "Almost every Volunteer Jam started out this way, so if you don't mind: Ain't it good to be alive and be in Tennessee?" Randy Travis appeared with James Dupré, who sang "Forever and Ever, Amen" with his arm around Randy's shoulder. When Randy sang the last "Amen," the crowd went wild. Other performers included Alabama, Travis Tritt, Ricky Skaggs, the Gatlin Brothers, Gretchen Wilson, Rhett Atkins, Lorrie Morgan, and others, along with the Charlie Daniels Band. Some of the proceeds went to benefit The Journey Home Project, which Charlie had started to aid veterans returning home with diverse needs.
MusicRow reports that songwriter Paul Overstreet is hosting a benefit concert in response to the floods in Waverly, Tennessee. It will take place September 9 at Ray Stevens's Cabaray in Nashville. Paul is best known for co-writing hits such as "When You Say Nothing at All" (Keith Whitley) and "Forever and Ever, Amen" (Randy Travis). A series of guests will join him throughout the evening.
Several fundraising events are being held for the flood victims. Loretta Lynn is holding a livestream concert on the Grand Ole Opry stage, reports CMT News, to benefit flood victims in Dickson and Humphreys Counties. Among the stars performing at the September 13 event will be Garth Brooks, Trisha Yearwood, Luke Bryan, and Luke Combs. Twenty people were killed in the flood, including Loretta's ranch foreman who was caught in the flood's undertow. Loretta said in a press release, "I am so honored that so many of our friends are coming together to show so much love for our neighbors and community after such a devastating loss. You know, we've all needed help from time-to-time, and that's why when we can give back, we do."
When Southern rock band Steel Woods used the cover photo from Johnny Cash's 1974 album, Ragged Old Flag, to make the statement that they won't play venues that require COVID-19 vaccines for entrance, Rosanne Cash objected. She tweeted, "THEIR statement, not my dad's from beyond the grave." She called it "an irresponsible and thoughtless misuse of the image and supposed beliefs of someone who cannot offer his own opinion," and she added, "Please remove his picture from your press release. I hope you all #getvaxxed." Taste of Country reports the Steel Woods removed the Instagram post within 30 minutes of Rosanne's tweet.
Warner Music Nashville has released another song from the remastered album, Storms of Life (35th Anniversary Deluxe Edition). Randy Travis wrote "Ain't No Use" and recorded it in 1986, at age 27, but the recording never made it onto any of his albums. Now it is one of three unreleased songs accompanying the ten remastered original tracks from Randy's debut album, Storms Of Life.
Jeannie Seely announces the release of her duet with Willie Nelson, "Not A Dry Eye In The House," from her latest Curb Records album, An American Classic. Jeannie says in a press release, "Thank you Dallas Wayne for writing this wonderful song, 'Not A Dry Eye In The House,' and thank you, Willie, for not only singing with me, but also bringing Trigger on board to make it even better. I hope you're both as proud of this record as I am."
In a new interview with Esquire, Tim McGraw, 54, talks about getting sober in 2008, after hitting rock bottom and turning to wife Faith Hill for support. "I remember a moment when I was getting out of bed and going to the liquor cabinet and taking a big shot at 8:00 in the morning and thinking, I have to wake the kids up," he tells Esquire. "I went straight to my wife and said, 'This is where I'm at.' I was scared. She just grabbed me and hugged me and changed my life." He previously told PEOPLE he had difficulty limiting the amount of whiskey he drank, until "I felt it was negatively affecting my relationships and getting in the way of things I wanted to accomplish in life." He and Faith, 53, have been married since 1996 and have three adult daughters.
Saving Country Music reports David Allan Coe, 81, is in the hospital after testing positive for Covid-19. He is not currently intubated, and his condition is improving. All August and September shows were postponed after he and his wife, Kimberly, tested positive for Covid-19. Kimberly's son and grandson have tested positive for the Delta variant and are recuperating at their home in Ormond Beach, Florida. Until his hospitalization, Coe has been touring regularly.
LETTERS
Jeff Lisowski writes from California, "Possible edit for your most recent newsletter; the Webb Pierce release that John Krebs referenced is not a Bear Family Records release. It's an '…And More Bears' release by Richard Weize and is in digital form only.
Diane: Thank you for the correction.
Dominique 'Imperial' Anglares writes from France, "Thank you very much for that newsletter and for the mention about Tom T. Hall and Don Everly. Greetings to John Krebs for the plug given to Richard Weize Archives new product dedicated to Webb Pierce. As always it is a premium and essential work. Richard Weize, who was the man behind Bear Family records for decades, produced on that record label several milestone records/boxsets dedicated to Webb Pierce, Faron Young, Marty Robbins and countless other great artists."
Linda Mellon says, "Congratulations on the audio book! What an accomplishment. Look forward to hearing it. So much bad news with Covid that it's nice to hear something good."
John & Wanda Edmonson of Remar Productions in Sun City, Arizona, write, "We want to sincerely thank you for devoting a portion of your publication to help us announce the untimely passing of Ray Harrison, a true friend and human being. I remember him telling me that you and he corresponded from time to time; he was Navy all the way and was proud of you and your successful pioneering efforts. Indisputably, celebration of life (services/eulogies) almost always evokes positive enlightenments about the deceased: wonderment, awe, the unexpected and more. To my point: each time I find myself involved in end-of-life unpleasantries I contemplate; why do we postpone edifying one another until the inevitable? We wish to express our sincerest appreciation, once again, for your tireless efforts in providing all of us a factual, informative and entertaining publication; we are truly blessed to have you at the helm."
Peter Trenholm writes from Nova Scotia, Canada, "I am getting rumors that Bob Everhart passed on Aug 20th??? I know he has not been well. Bob inducted me into his Hall of Fame back on Sept 1st 2012. He & Sheila were so nice to Myrna & I. Thanks for the newsletters. I read them thoroughly."
Joan Brooking in Stuart, Iowa, says, "I was surprised to see there was no mention of Bob Everhart's passing and I feel like he's important enough that he should be included. I will be looking forward to reading about him in your next letter. He has done so much for country music in our Midwest states and traveled worldwide. Without his encouragement I would not have sung at the Oak Tree Opry, I sang at LeMars with his encouragement. He helped me and he helped a lot of people. Thank You for your great Newsletter."
Donald Ewert writes, "Today, Sept 4th, I'm remembering Dottie West, gosh it's been 30 years ago that she lost her life. I also remember the first time hearing Dottie was when I was 13 years of age playing my mom's LP, Dottie & Don (Gibson). After that I just had to have her latest album. I bought one for myself and usually got an extra copy to give to someone else so I could share her beautiful singing. Dottie was aware of this and started calling me her #1 Fan. Once in Milwaukee she told the audience about me and had me stand while a spotlight came on me! Dottie always remembered me thru the years. She sincerely appreciated fans & friends. And I might add that one night Dottie was a guest on Ralph Emery show. I called hoping to talk with Dottie but the lady who answered told me they were not taking any calls for Dottie, so I asked if she could tell Dottie I called. The next voice I heard was Dottie's asking me, "how are you" and she seemed so glad to take my call. We talked a little while and she thanked me again for being a fan and, she remembered my twin brother, David, who was murdered. It was like talking to an old friend and Dottie was so down to earth!!"
Bobby Fischer says, "Hey, you're the top monitor of the country music happenings good and bad we need to keep up to date on the music folks we admired and also maybe unadmired (if that's a word). Thanks for staying on top of it all."
Doug Starr in Sioux Falls says, "You sure pack a lot of information in your country music column, and it is interesting."
Mike Johnson of Roughshod Records writes, "Congratulations on your new audio book. I can feel your excitement. Back in 2008 I decided to do an audio book and chose my 1977 book of poetry Reflections to be the guinea pig. I figured I'd work my way up through a couple of my short stories and onto one of my novels. No go. It was very tedious, time consuming, and I had issues keeping a steady rhythm, so I only completed the poetry. I've two prior issues of yours in my mailbox that I've been saving to respond to, but have been so tied up with video editing and rehearsing to tape a song video for DJ Kerrigan La-Brooy's YouTube TV video show in Australia. I was really saddened to hear of Razzy Bailey's passing. He was such a nice person and always willing to hold a conversation. I met him at an N.T.C.M.A. festival a few years back in LeMars, Iowa. Talked to my friend Terry Smith [Far Side Banks of Jordan] a month ago and he informed me that the mystery of the YouTube Channel he didn't know he had was solved. With all the commotion dealing with his sister Jan's passing, he had forgotten he gave his nephew permission to create one and post three of his albums. It's amazing the things I come across when I monitor my songs on the internet and YouTube. It's kinda disheartening to have so many of our country departing to Hillbilly Heaven, but such is life. I'll bet Roger Miller is just tickled pink that he'll get to see his old buddy, Tom T. Hall. As for my friend Donald Ewert's comments on the new Hall of Fame Inductees, I agree. There are still quite a few out there that have truly contributed to the music and its preservation that have slipped through the proverbial cracks. Incidentally, I've posted several more trucking videos on my YouTube Channel and have just finished editing some Nashville performances. Do stay safe during this Delta variant. And again, congratulations on your new audio book. Here is the link to Terry Smith's YouTube Channel for your subscribers to hear what a truly wonderful singer/songwriter he is. It contains three albums:
1. Look At My Hands
2. Far-Side Banks of Jordan
3. Where Do I Go From Here
Terry and I have been friends since we first met at the 1994 1st Annual Michigan Jamboree in Hillsdale, Michigan, sponsored by the late Big John Baldry of the Michigan Jamboree Radio Show. While scouring my photo catalogs I came across this 2009 photo of Razzy Bailey and myself at one of Bob Everhart's festivals. The late Wayne Longtin was head of the Sidetracks Band and they backed me on many occasions at the 2009 and 2010 festivals."
Lee Rector writes, "In your research you may have come across this website. I found it by accident today and thought of you … The site lists 1,484 sessions in the recording studio, formerly Bradley Recording Studio, nicknamed the Quonset Hut, that Columbia Records bought from Owen Bradley in 1962. I was in that room numerous times and was always fascinated about its unique design. It was kind of like standing inside the sound box of a guitar. It had wooden slats on the arched ceiling that could be adjusted by angle, so as to 'tune the room,' per se, to the recording occasion. When I came to Nashville in 1970, legend was that it was the most acoustically perfect recording studio in the world. Don't know about that, but I sure enjoyed times sitting there with late engineer Selby Coffeen, talking about the room, its acoustics, and the sessions that he engineered there. It was fun to scroll down through the list. Here is a photo of the cover of the 18th Annual MCN Country Awards Show Program. It was a nationally syndicated television show back in the day. The Nudie shirt belonged to Marty Robbins. His family lent to us for this photo. If you look closely, you might notice we didn't have a male mannequin to display the shirt. Further examination reveals that the mannequin has breasts. We did our best to obscure that look, but what you see is the best we were able to achieve. No one ever commented about that. The hat, violin, and guitar are mine. The Gibson mandolin and concertina came from Jo-El Sonnier. I don't remember who brought in the banjo and mandolin. They may also have been Jo-El's. BTW You do a great job helping all of us keep up with country music. Thanks for that."
Ronald Reagan says, "Christmas will be here in a short time. I noticed someone has uploaded a good quality of Marty's last Christmas album–well worth a listen. I'm adding some Christmas stuff to my YouTube channel as well as getting ready to add a Tex Ritter album that just got opened for the first time as well as some good Sonny James stuff. My channel is Hankfan Hankfan–there's a little something for everybody there."
SONG OF THE WEEK
One of my favorite Tom T. Hall songs is "Goodbye Cowgirl." It's a special memory. My first duty station as a U.S. Navy officer was in Oklahoma City, where I spent my evenings dancing (wearing boots and jeans) and my weekends going to rodeos whenever possible. At my farewell party in 1978, my NCOs gave me the Tom T. Hall album, About Love. They pointed out the song, "Goodbye Cowgirl," which I'd never heard before. I pulled out the album the other day and played it; the cuts are still familiar, such as "Happy Groundhog Day" and "The Little Green Flower with the Yellow on Top." The lead single, "Your Man Loves You, Honey," reached #4 on Billboard in 1977.
AUDIOBOOK
Just a reminder that Live Fast, Love Hard: The Faron Young Story can now be downloaded as an audiobook from Amazon.com or Audible.com.