As the biographer of Faron Young and Marty Robbins, I bring these newsletters to classic country music fans around the world. Send me your comments and ideas. Please forward this message and tell your friends to email me if they want to be added to the list. Randy Travis is the subject of my third University of Illinois Press biography. I'd appreciate any information you might have that would help me in researching his life.
NEWS
The 2020 selections for the Country Music Hall of Fame have been announced. Dean Dillon will be inducted in the "Songwriter" category, Marty Stuart in the "Modern Era Artist" category, and Hank Williams Jr. as the "Veterans Era Artist." Due to the COVID-19 pandemic, the CMA did not host its usual press conference at the Country Music Hall of Fame and Museum to reveal the names. Details about the Medallion Ceremony for the formal induction will be released later.
In discussing the latest Randy Travis release, "Fool's Love Affair," MusicRow calls it "a refreshing slice of stone-cold traditional country music, with Travis' honeyed baritone carrying regret-tinged lyrics centering on a forbidden romance, cradled by steel guitar and piano." Within a week of the song's release on July 29, it achieved more than one million streams. A promotional video clip on TikTok earned more than four million views in less than 48 hours.
A mural of Randy Travis, 61, has been painted on the side of Pearl's Boutique in Marshville, North Carolina. The image is the work of The Mural Shop, which honors the state's most recognizable musicians with murals in their hometowns. The Enquirer-Journal of Monroe Country calls Randy "one of the most famous men in Union County history." He's sold more than 25 million records, has appeared in more than 20 movies/television shows, is in the Country Music Hall of Fame, and has a star on the Hollywood Walk of Fame.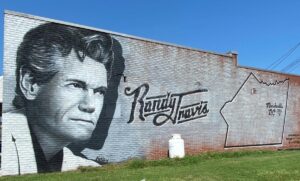 Award-winning bluegrass guitarist, songwriter, and tenor vocalist Steve Gulley, 57, died August 18, reports MusicRow. He was diagnosed a month ago with cancer of the pancreas. The East Tennessee artist was noted for his work on Kentucky's Renfro Valley Barn Dance and in several bands: Doyle Lawson & Quicksilver, Mountain Heart, Grasstowne, and Steve Gulley & New Pinnacle. He also worked as a DJ on WDVX in Knoxville and was co-owner of the Curve recording studio.
The son of Steve Earle, Justin Townes Earle, an award-winning Americana singer/songwriter, has died at age 38. Notice was posted August 23 on his Facebook page. The Tennessean reports his death was confirmed by his record label, New West Records. It's not clear when he died, but Metro Nashville Police Department responded Sunday to his apartment for a welfare check, after friends reported they hadn't heard from him since Thursday. Preliminary investigation shows his death was likely from a drug overdose. Born in 1982, Justin Townes Earle was named after his father's friend, Townes Van Zandt, and raised in Nashville by his mother, Carol Ann Hunter. He once told Rolling Stone, "My mother hated Townes Van Zandt. My first name was supposed to be Townes, but my mother would not have it," he said. "She hated him because of the trouble that Dad and him got into, but she still played his music." Along with his own music, Justin produced Wanda Jackson's 2012 album, Unfinished Business, marking his first time producing another artist.
Ron Harman took this photo of Jeannie Seely and Gene Ward on Broadway Avenue in Nashville, Tennessee, standing below the billboard advertising Jeannie's new Curb album, An American Classic.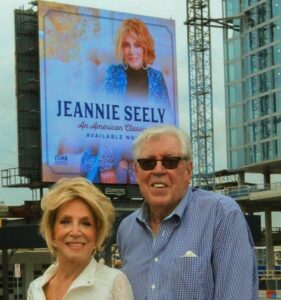 A press release announces a new single and album for Terry McBride, after nearly 20 years away from the spotlight. The album, Rebels & Angels, was produced by Luke Laird. Chris Stapleton and Terry wrote the title track, which features a vocal appearance by Patty Loveless. Terry and Luke wrote the single, "Callin' All Hearts." Terry, formerly of McBride & The Ride, says, "I feel we did a good job of capturing a '90s country singer with a modern-day contemporary production. Luke's acoustic guitar and those catchy fiddle licks set the tone for this one." The 10-song CD is scheduled for release on October 23. In addition to his performing career, Terry was co-writer on 13 Brooks & Dunn singles, with an overall 25 cuts with the duo.
South Carolina native Josh Turner is releasing a new album, Country State of Mind, with covers honoring the roots of country music. "This was the first record I played guitar on and this is the first record I ever sung harmony vocals on," Josh tells PEOPLE. "Playing guitar was probably the hardest part because I don't consider myself a guitar player." Randy Travis participated in his first recording session since his stroke in 2013. "It was pretty cool to be able to be the one to get him back in the studio after everything he's been through," Josh says. In addition to the COVID-19 pandemic, Josh and his wife and four sons had to move out of their home when they discovered a mold problem. "We've been through a lot of tough stuff the past year," Josh tells PEOPLE, "including the financial strain of having to rebuild our house during a time when I can't even go out on the road."
Jesse Lee Jones, owner of Robert's Western World on Lower Broadway in Nashville, has purchased Ernest Tubb Record Shops for $4.75 million. He bought the building and record shop business from David McCormick, who acquired the building and 0.08-acre lot in 1992 for $128,000. Ernest Tubb opened the record shop in 1947 and moved it to the present location in 1951. Jones is bandleader for Brazilbilly, the house band at Robert's Western World. "The city is going through a lot of changes, and someone has got to hold the torch for old-school Nashville," Jones tells the Nashville Post. "My purpose is to protect, promote and preserve this great history. This just made sense that Robert's and Ernest Tubb be strong, be one and be family to perpetuate the tradition. Ernest Tubb Record Shops will be here for another 52 years, if it's up to me." The record shop business includes the Midnite Jamboree, held at the Texas Troubadour Theater in Music Valley, and the Green Hornet (ET's bus).
Dwight Yoakam is a daddy. Dwight's team posted on Instagram: "Babies get born even in a Pandemic lock down… With great joy and happiness Dwight & Emily announce the birth this past Sunday of their new baby boy. Dalton Loren Yoakam. Born 8-16-2020 at 9:19am." Dwight, 63, and Emily Joyce were married in March, after dating for 10 years.
The Chicks sang the National Anthem–virtually–during the final night of the Democratic National Convention on August 20. Natalie Maines, Martie Maguire, and Emily Strayer performed an a cappella rendition.
Loretta Lynn, the 1972 CMA Entertainer of the Year, disagrees with Garth Brooks on his decision to withdraw from future nominations for the award. Loretta posted on Instagram: "I've thought a lot about @garthbrooks stepping down from being considered for CMA Entertainer of the Year. That's classic, humble Garth but I think he's wrong on this one! He's won it 7 times because he earned it! In my book, he's earned it 20 times over and deserves to win it anytime they count the votes up and he's on top. He's worked his heart out and you can mark it down that I'm his biggest fan. I hope CMA ignores his request! Love you, honey."
Longtime CMA Awards co-hosts Brad Paisley and Carrie Underwood will perform a one-hour Grand Ole Opry show this Saturday night, September 5, at 7 p.m. CDT.
The Country Daily reports Garth Brooks now has nine Diamond-certified albums–the only artist in any genre to achieve that distinction. His 1993 album, In Pieces, was certified for sales of 10 million units (Diamond status) by the RIAA this month. The Beatles are No. 2 on the all-time list with six Diamond-certified albums for sales of 10 million units in the United States.
Clay Walker, 50, and wife Jessica, 37, are expecting their fifth baby in January, reports PEOPLE. They have three sons and a daughter, between 2 and 12. The couple was married in September 2007. Clay has two adult daughters from a previous marriage.
In a recent Billboard interview, Dolly Parton talks about her upcoming album, A Holly Dolly Christmas, being released in October. It will contain both holiday classics and original songs, including duets with Willie Nelson and Miley Cyrus. There will also be a Netflix Christmas movie, Christmas on the Square. The article discusses Dolly's efforts during the pandemic–her $1 million donation to Vanderbilt University Medical Center's COVID-19 research fund, her handwashing videos and bedtime stories recorded for children, and her new song, "When Life Is Good Again." The August 13th Billboard cover story erroneously reported that Dolly backed the Black Lives Matter movement. She did not say that. She said, "I do understand people having to make themselves known and felt and seen. And of course black lives matter. Do we think our little white asses are the only ones that matter? No. Everybody matters." She also said, "All these good Christian people that are supposed to be such good Christian people, the last thing we're supposed to do is to judge one another. God is the judge, not us. I just try to be myself. I try to let everybody else be themselves."
Artist Kim Radford has painted a colorful mural of Dolly Parton, 74, outside The 5 Spot on Forrest Avenue in East Nashville. "The day before I finished the mural, Dolly had an amazing press release about her upcoming Christmas album and her interview with Billboard," Radford told CNN. "As I painted the final touches, I knew her sassy loving quote — 'Of course Black lives matter. Do we think our little white asses are the only ones that matter?' — would be a perfect finish." She decided to include a last-minute addition to the mural: "Of course black lives matter." She says, "This piece was a passion project and the timing was a happy accident coinciding with her press."
PEOPLE reports Shania Twain, 54, recently appeared on the British talk show Loose Women and discussed her battle with Lyme disease. "There was a long time when I thought I would never sing again," said Twain. "It took years to get to the bottom of what was affecting my voice, and, I would say, a good seven years before a doctor was able to find out if it was nerve damage to my vocal cords directly caused by Lyme disease. I was simply out horse riding in the forest and got bit by a tick, a Lyme tick." She underwent "very scary" open-throat surgery, which involved inserting crutch-like installations to stabilize the weak vocal cords. "My voice has changed," she says. "My speaking voice is definitely the biggest effort. Sometimes I get a bit raspy… singing is actually easier. I have more power when I'm singing now. Speaking is the more difficult challenge for me." Shania is making records again and putting on concerts.
Taste of Country reports Tyler Hubbard of Florida Georgia Line will need surgery after an accident on a dirt bike track. He over-jumped a jump and landed flat, causing a significant ankle injury. "I have a ruptured Achilles tendon and I broke the bone right there on the inside of the ankle," he says. He and his wife are expecting their third child soon, a baby boy to join 2-year-old Olivia and 1-year-old Luca.
Raul Malo of The Mavericks doesn't consider the band's new album, En Español, a political statement. He tells The Boot its inspiration came long before social distancing and families being separated at the Mexican border. En Español is a 12-track Spanish language album of new songs and covers of songs important throughout his life; it is a statement about empathy and finding common ground. The lyrics are translated into English to help non-Spanish speakers follow the stories. The Mavericks have met some resistance when promoting En Español to Tejano radio. Malo says it makes him realize that "silly and arbitrary" borders are "just part of the human condition." Their highest-charting single is 1996's "All You Ever Do Is Bring Me Down," with Tejano accordion player Flaco Jiménez. Malo recalls being asked to take Jiménez's playing out of the song for radio because the song was "too Mexican." He says, "It felt racist to me, and it felt like that was just exclusion for the sake of exclusion, and we acted appropriately and used four-letter words and told the programmer what he could go do with himself."
A new Netflix reality show takes viewers inside the home of a successful Nashville couple. Jay DeMarcus of Rascal Flatts stars with his wife, Allison DeMarcus, in a six-episode series called DeMarcus Family Rules. The couple, who married in 2004, has two children, ages eight and nine. The Tennessean describes the show as being anchored by family rules, in which his "fatherly ornery-ness" clashes with her "please don't surprise me" parenting. "Allison grew up with a whole lot of rules, laid down by her mother Jane, who you'll see in the show," Jay says. "Those rules are handed down from generation to generation. It's my job to get everybody to stop white knucklin' on to the rules all the time."
The opening night of the virtual 2020 Democratic National Convention included a video segment that remembered those who died due to the coronavirus, PEOPLE reports. The clip featured the last-recorded song from John Prine, who died April 7, at age 73, from complications due to COVID-19. In "I Remember Everything," John sings, "I've been down this road before, I remember every tree/ Every single blade of grass holds a special place for me/ And I remember every town, every hotel room/ Every song I ever sang on a guitar out of tune."
LETTERS
David Corne sends his regards from England: "Thanks for another informative and interesting newsletter. Sad to see that Bill Mack has passed away. I treasure the tapes he made with Marty Robbins on his radio show as he considered Marty Robbins to be THE best singer country music ever had as did Ralph Emery. Also sorry to read about the passing of Trini Lopez, who made a country album in the '60s which I still have and I also bought the CD version a few years back. He did a really good cover of 'Devil Woman' on the album and I think he could have rivalled Freddy Fender if he'd put his mind to sing more country. Not any 'fillers' on the album and he was accompanied by the cream of Nashville's session men of the time. I always liked Leroy Van Dyke and was pleased that you interviewed him for your newsletter."
Chris Belle says, "Sure will miss Bill Mack, used to listen to him growing up in Garland Texas on WBAP, would get in trouble for staying up all night. For me, his radio show formed a lifelong love affair with our special kind of music. I was one of the kids who caught a lot of flak at school, for loving country music before it was cool, but I didn't care, they were the ones who missed the point. Anyway, we'll see Bill again when we go home."
Joy and Pejay Mirtschin write from Nathalia, Victoria, Australia, "Thank you for the August 12 Newsletter. Much appreciated and most welcome. I really love receiving these informative newsletters that keep me up to speed on the happenings of Classic Country Music and its artists. The spotlight on Leroy Van Dyke is brilliant and love him still performing except for Covid-19, I enjoy him performing his great hit on a DVD we have from Country Family Reunion recorded some years back with host Bill Anderson. Saddened to hear about the passing of Trini Lopez yet another from this dreaded Covid-19 virus but sadly I'm afraid to say not the last me thinks, and of course not forgetting songwriter Bill Mack who gave us those great songs. Anyway, I will love letting my listeners know about some of the stories from your notes. Please keep up the good work and I will eagerly await the next Diane's Country Music Newsletter."

John Krebs writes, "Special thanks, I didn't know the Bill Mack book existed, now it's headed my way."
Mary Mitchell says, "Another great letter. I want to Thank You for mentioning Leroy Van Dyke. I have loved his style of music. I have seen him several times. So glad he is still working. Since I live in the Kansas City area helps. Good luck Leroy."
Eric Calhoun writes from Los Angeles, "I got a chance to listen to Bill Mack in the early 1990s and 2000s, and was sad to hear of his passing. I'll always remember the story of Bill discovering LeAnn Rimes, who will be turning another year older shortly. He was a mentor to many. His Cowboy Trucking Show was carried on a lot of affiliates, including 670, KBOI, Boise. KBOI went talk in the late '90s, a victim of the AM wars, and moved all their cartridges to their sister station, Eagle 96.9. We miss you, Big Guy, and your encouraging letters to Diane. Save a place in Heaven, Bill."
Gene Burkhart says, "You have done it again another great newsletter."
Elliot McLanahan writes, "Another fantastic issue as usual. I always enjoy these newsletters. Especially enjoyed the Bill Mack remembrances of Faron Young. Did not realize Leroy Van Dyke was as old as he is. I loved that record 'Walk on By.' I am curious about one thing though. Is Jean Shepard still on the Opry? What a wonderful singer she is. I wish they had put her in the Hall of Fame long before they did. Looking forward to the next issue."
Diane: We lost Jean Shepard on September 25, 2016, when she died at age 82. She had been a Grand Ole Opry member since 1955 and was elected to the Country Music Hall of Fame in 2011.
Jim Freeman says, "Thanks for the shout out. I'll be sharing this issue with Grandma and the kids."
Jim Marshall writes, "In your most recent newsletter, Donald Ewert says he's looking forward to the new CD by Jeannie Seely and going to call his favorite record store in Milwaukee and ask them to order it for him. He's lucky to have a local record store. Here in Brighton on the UK's south coast, what few record stores we had have now closed, leaving the internet the only way to buy the latest releases."
Andy Williford checks in from Dallas to say, "Sorry to hear about Bill Mack. I never met him but one weekend when Faron was in town, Faron wanted to play golf and my friend, Danny Thomas, not that one, was a great fan of Faron's and Danny was a member of Northwood Country Club in Dallas. We put together a foursome of which Faron invited Bill Mack, but he went by to pick him up, he was still in bed, so Faron told me he just left him there. At lunch, Faron sang 'Here I am In Dallas, where the hell are you.'"
David Markham writes from Liverpool, England, "In memory of one of Country and Western's Greatest singers of all time, Freddie Hart – 'Easy Loving' and his band The Heartbeats. Freddie was never plugged enough here in the U.K. Things were slow after the Second World War, no money around even in those days. Just sit back listen to his band playing 'Easy Loving' listen to his soft wonderful country voice with that yodel on his song. And how he showed up on all his gigs and television. Very smart what he did for the Handicap children he loved so much by taking his own time out to help them. He taught the police how to fight with his karate and other skills. As a true traditional Country & Western Promoter, I know a good artist by just looking at them and the way they dressed and his fantastic band, The Heartbeats, and the Steel Guitarist. I hope Freddie his Band received a good sendoff by all his Country fans. RIP Freddie Hart. He made Country as the way it was done, you've only got to see all his albums to know how good he and his band were. To honour Ernest and Justin Tubb, Jim Reeves, Porter Wagoner, I've had a good life listening, writing to all the artists, and made a lot of friends."
Kate Davis (and Marty, too) write from Oregon, "Loved your article on Leroy Van Dyke. We have been privileged to know him and Gladys for a number of years. They have always been so kind and helpful to younger artists. Lots of great advice for how to survive in the music business. Thanks for another super newsletter."
Randall Bart, Acquisitions/Historian for Icon Entertainment Group in Nashville, asks, "I was wondering if I could have your permission to repost your 'In the Spotlight with Leroy Van Dyke' in Honor thy Legends? Very interesting, always loved his singing."
Donald Ewert says, "My Dad and I went to a County Fair here in Wisconsin around 1970. Faron's opening act was Penny DeHaven. I became a fan of hers that day. Later Penny came to work a club in Milwaukee quite often and we became buddies. Penny told me about the time she did a show with Faron and she got a standing ovation. Faron came into her dressing room and asked, 'Who do you think you are, I'm the Star of the show.' He brought her to tears. Penny, I'm told, was Faron's favorite female singer."
Terry Beene reports, "I was going to bring you to Branson to be our guest at the 42nd Branson Terry Music Awards, but we had to cancel the 2020 Awards due to COVID-19. It was a hard decision after doing the show for 42 years. We have rescheduled for September 26, 2021. Hope you will plan to make it next year. Thanks for the article on Bill Mack he was truly a legend in our business and thank you for all you do for Country Music."
IN THEIR OWN WORDS
Donald Charles "Smokey" Smith spent decades as a country music promoter based out of Des Moines, Iowa. He was inducted into the Country Music Disc Jockey Hall of Fame in 1982 in acknowledgement of his deejay career at KRNT Radio. I was living in Maryland when I called him in 2008 for an interview about Marty Robbins. Smokey died at his home in 2014, at age 91, due to complications following two surgeries for a traumatic brain injury.
You must not be too far from where my friend Jimmy Dean lives, on his boat. I was in my car, on the way to the radio station, the first time I heard "Big Bad John." I stopped at the first pay phone and called Lucky Moeller, who booked all my talent, and told him to book six days with Jimmy Dean, roughly sixty days down the road, and he did. When the tour came about, Jimmy Dean was number one with "Big Bad John," Patsy Cline was number two with "I Fall To Pieces," Leroy Van Dyke was number three with "Walk on By," and Billy Grammer was number four with "Gotta Travel On." And they were all on that show. We turned people away at every concert. He and I go back a long way.
Marty Robbins worked quite a number of shows for me, and we became good friends. Marty in many ways reminded me of Elvis Presley because he was always a gentleman–with his dealings with me, with his fans, with the public, with everybody. When he talked to a lady, it would be, "Yes, ma'am," and to a man, "Yes, sir." In dealing with every country music artist, nearly everyone in that era, that stood out in my mind. Not that any of them were rude or anything like that, but the yes sir and yes ma'am struck a note with me. He was more polite than most of them, I would say–actually, all of them. The two of them–I'm putting him with Elvis, because Elvis was a very polite individual.
I guess the main thing that stands out in my mind–this had to be around 1960–Most of my shows that I booked, I'd have at least four or five acts, with at least three headliners. I booked one show with two acts on it, the only show I ever booked with two acts, and I had Marty Robbins and Webb Pierce. In those days that was unheard of. I headlined the show with Marty Robbins, with Webb Pierce right under his name. The show was a tremendous success. I'm talking back in the days when you charged $1.50-$1.75 admission. I made $3,000 on the show, this one here in Des Moines. I took that $3,000 and made a down payment on the house I still live in today. I've always thought to myself if it hadn't been for Marty and Webb, I might not be living in this house. This is a big two-story house, a nine-room house, and probably today is worth $225,000. And I bought it for $20,000. I've lived in this house over fifty years.
Marty Robbins covered more bases music-wise than anybody I've come across. From the songwriting standpoint, everybody is aware of his songwriting, especially in the western field. All those western songs that he not only wrote but made wonderful recordings of. He also, on straight country, he wrote many great–and recorded many great–songs, that would be considered probably, when they first came out–would be classified as hillbilly songs. Here are two areas, the western ballads he wrote and recorded, and the country/hillbilly songs. And another great thing that he did was he put an album or two out of Hawaiian songs. And did a great job of it.
In my early career I took guitar lessons and learned how to play a guitar from a Hawaiian instructor, as a teenager, and played in a little Hawaiian trio he had. I was very familiar, and I knew a lot of the Hawaiian songs, so maybe I had more interest in the Hawaiian music that Marty recorded than the average cat, but it still falls into the category of what I'm telling you that he covered more bases than anybody I was aware of in the music field. The fourth thing he covered, when the rock 'n' roll thing kind of nudged country music, pretty hard, he came right out with songs that were accepted and sold very well to that genre of people. He could change with the times, but he could still stay with whatever his main forte was. I thought that was an amazing thing.
Marty was easy to work with. He was particular, to the tenth degree. But at the same time, there was none of this demanding stuff that a promoter runs into from some artists. Anything he wanted to have happen, or wanted the show to contain, it was a simple thing to put into work. He was easy to work with; he was always prompt. He had a playful trait to him, but it didn't interfere with the business of putting the show on. In fact, sometimes it was part of the show.
I've saved the newspaper slicks and ads on all my shows. My son-in-law is writing a book about me. He worked for the Des Moines Register-Tribune for 39 years as an editor and writer. He covered country music, and they sent him around to various places, and he wrote stories on the stars and country music affairs. He's a great fan of country music, too. Six months ago, he took early retirement from the paper. I'm a packrat, and I've kept the newspaper ads and publicity notices from my career.
BOOK REVIEW
In 2010, Smokey Smith sent me a copy of his newly published biography, Smokey Smith: The Legendary Life of Iowa's "Mr. Country Music." He autographed it, "To Diane–I enjoyed your book on Faron." The biographer, Terry Manley, wrote about himself: "Terry and Carol Manley first met when he was working on a story about her father, Smokey Smith. They were married six years later." The book contains a ton of show posters and photos of famous country artists. Smokey tried for a career as a singer, was a riveter on B-24 Liberators during World War II, and eventually ended up at KRNT Radio in Des Moines. There he expanded into years of booking country acts at KRNT Theater and then taking tour groups to Nashville. Anyone with an interest in country music history will enjoy reading the stories he tells.
SOUTH DAKOTA STATE FAIR
Sherwin Linton has invited me to join him Thursday, September 3, on the Centennial Stage at the South Dakota State Fair in Huron to sell my books. I'll be speaking at 2 p.m. about my military career. If you're in South Dakota, I'd love to see you there.