FEATURED ARTIST – TOMMY CASH
Tommy Cash is celebrating fifty years as a recording and touring artist. His first single, released in January 1965, was "If the World Don't End, I Guess I'll Live." He worked over 225 dates a year with his band, the Tomcats, for 25 years, much of it traveling in the Tomcat Special, a 1973 Silver Eagle bus he purchased brand new. Now he flies to show dates, using either his current band, the Cash Crew, or one of several bands he works with around the country.
His big break came in 1969 with "Six White Horses." A writer on the Johnny Cash TV show–Larry Murray–was pitching the song to anyone who would listen, and when Tommy heard it, he called producer Glenn Sutton and told him, "I have found a killer song." Glenn agreed they needed to cut it immediately. When big brother Johnny Cash heard the recording, he told Tommy, "That song is going to change your life." And it did. Tommy was boarding a plane to Anchorage when Glenn called to say the song hit number one on Cash Box. "That changed a lot of things for me," Tommy says. Not insignificantly, his booking price quadrupled.
"I have really enjoyed touring," Tommy told me when I called him the other night. He'd just finished a phone call with Ray Pillow. They'd talked about their mutual friend, Tom T. Hall, who recently lost his wife, Dixie. Ray would "like to work more, like all of us would," Tommy says. We talked about Glenn Sutton, our mutual friend, who died unexpectedly of a heart attack in 2007.
Tommy is 90 percent finished cutting a gospel album, and it should be ready for release in two or three months. He is starting work on a country duet album with a young woman named Maggie Richey. He records at a friend's studio in Hermitage, near Nashville.
"People everywhere ask, 'Are you really Johnny Cash's brother?' Yes, I am." When Tommy said that, I commented, "Standing in the shadows." He responded, "I was with him when he was writing and recording that song." Tommy toured with Hank Williams Jr. when both were trying to break out. "Standing in the Shadows" did it for Hank Jr. in 1966 and "Six White Horses" did it for Tommy in 1969. Both songs won BMI awards.
Tommy is writing a book that will contain a mixture of family stories, photos, and "a little bit of everything." He told me about winning the state basketball championship while in high school in Dyess, Arkansas. "I'm 5′ 10″ but I was a great basketball player," he says. When Johnny bought their parents a house in Memphis, Tommy did not want to leave his basketball team. His dad told him he had to move to Memphis with them. He enrolled at Memphis Treadwell High School, where he quickly made friends and the basketball coach treated him well. His graduating class of 352 was ten times larger than the one in his hometown.
"I'll be 75 on April 5th, Easter Sunday," Tommy told me. "As long as I can stay healthy and full of energy and enjoy myself on the road, and do a good job for the people who pay to see me, I'll keep touring."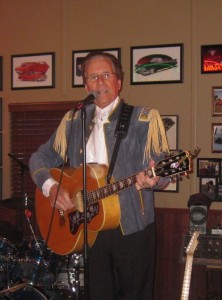 Tommy Cash in Brandon SD in 2012
NEWS
Dixie Deen Hall (1934-2015)
Tom T. Hall's wife of 46 years, "Miss Dixie" Hall, died Friday, January 16, after a lengthy illness. Born Iris Violet May Lawrence in England, she moved to the USA and Nashville in 1961 to work in the music business. She wrote more than 500 commercially recorded bluegrass songs, as well as co-writing the Dave Dudley hit, "Truck Drivin' Son of a Gun," which led to her meeting her future husband at the BMI awards dinner in 1964. They married in 1968. At that time, known as Dixie Deen, she had been working for Faron Young for four years as one of the original employees at Music City News. Faron once said, "She was so loyal and did such a great job with my paper, and then Tom T. Hall came along and married her."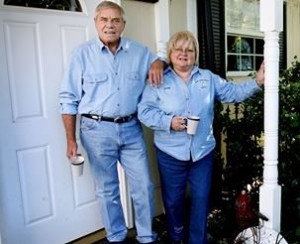 Tom T. and Dixie Hall
The Fort Worth Chamber of Commerce recently presented Red Steagall with its 2015 W.A. "Bill" King Award, named for the former head of the Chamber's livestock and agriculture department. The annual award is given to "a business, family or individual who has contributed significantly to agriculture or the agribusiness industry." Red is a graduate of West Texas State University with a degree in Animal Science and Agronomy. "My entire life has centered around agriculture," he said in an interview. He began a career in agricultural chemistry as a soil analyst, before switching to western dance music and becoming one of my favorite singers.
Don Harron, 90, died January 17 in Toronto, Canada, after choosing not to seek treatment for cancer. A Canadian comedian, he was known to most of us as Charlie Farquharson, the newsman on Hee Haw's KORN Radio. Don first introduced Charlie in 1952–a country bumpkin from rural Ontario dressed in a frayed grey cardigan sweater, inspired by Don's previous employment on an Ontario farm.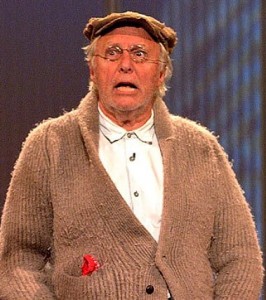 Jim Ed Brown, 80, had a great day on January 18. He released his first album since 1980, In Style Again, and he announced that a CT scan showed his lung cancer is in remission. "I look forward to getting back on the road and gracing the stage of the Grand Ole Opry," he said in a statement. The lung cancer diagnosis came several weeks after he finished recording In Style Again, which covers all the phases of his career. He told USA Today he was having problems getting his breath, and his band members noticed the problem before he did. They told him he needed to get it checked.
According to Memphis's Commercial Appeal, here is how Elvis Presley Enterprises acquired, over the past several decades, enough land to build its three-phase $125M Graceland campus on 120 acres. The company paid $5M in 1994 for the 11-acre, early-1970s Meadow Oaks Apartments and demolished the buildings in 2011. The tax value is currently $526,000. An abandoned car lot was purchased in 2006 for $2.1M and is valued at $800,000. The 16-acre Craft Manor apartment complex, built in 1961 and located on the opposite side of Elvis Presley Boulevard from Graceland, was purchased for $6.5M in 2007 and demolished the following year. Its current tax value is $788,000. The Heartbreak Hotel (built in 1989) was purchased in 1998 for $3M and renamed. Currently valued at $5.2M, it will be demolished. Groundbreaking for The Guest House at Graceland, the 450-room three-star hotel that is phase two of the expansion plan, is expected to take place next month, on the site of the former Meadow Oaks Apartments and car lot. It will cover 25 acres and cost over $90M. Phase one, a $1M archives studio and theater, has been completed. Phase three will be a $35M development of attractions and food/retail outlets on the opposite side of Elvis Presley Boulevard.
Kenny Rogers reunited with former band mates when members of The First Edition joined him at the Country Music Hall of Fame for a panel discussion and surprise performance. Gene Lorenzo, Mary Arnold (who later married Roger Miller), Mike Settle, and Terry Williams shared their memories. Mickey Jones was ill and could not attend. The event was in conjunction with the Kenny Rogers: Through the Years exhibit that runs until June. Kenny, Mike, and Terry reminisced about leaving the New Christy Minstrels in 1967 to form a new group. While brainstorming a name, they noticed the words "first edition" on the front of a book. Their first hit was "Just Dropped In (To See What Condition My Condition Was In)," followed by "But You Know I Love You." They changed their name to Kenny Rogers and the First Edition in 1969 with the release of "Ruby, Don't Take Your Love To Town."
During a recent ceremony at the Country Music Hall of Fame, Vince Gill was announced by America's Best Communities as joining the effort to help small towns and cities across the country. Fifty cities, out of 200 applicants, will be selected in April to be quarter-finalists. They will each receive $50,000 in seed money to continue through the competition, which ends with $3 million in prize money in 2017. Semi-finalists will receive $100,000. The website is https://americasbestcommunities.com/
NBC and Dolly Parton have agreed to work together to develop a series of stand-alone two-hour TV movies based on Dolly's songs and stories. Dolly might appear in the movies, and they will contain music. "We want to create projects for NBC that are both fun and inspirational with a family audience in mind," she said in the announcement.
LETTERS
Skip Jackson, former Country Deputy, writes from Nashville, "Really enjoy reading your newsletter. Not being close to the business any more you help me keep up on what's going on. Visited with Dave Hall on Thursday night. It is hard to believe so much time has passed since we were all together on the road. Never imagined those were just fleeting moments in life. I thought they would continue forever. I guess that is the gift youth gives you. Doesn't seem possible. "
Don Holland of Orlando, Florida, reports: "I was doing some research to prove none of those who claimed to have written 'The Funeral' actually did write it, including Hank Williams and Fred Rose. This was one of the recitations Hank did as Luke the Drifter, and I found it was actually written by a poet from Michigan named Will Carleton in 1886. I had a large number of Hank fans argue vehemently that Hank or Fred Rose, or a number of others, wrote this. Will Carleton was a well-known poet, and was the Poet Laureate of Michigan at one time. Maybe some of these people could claim credit for the music, but the lyrics are exactly as Mr. Carleton wrote them: http://www.ebay.com.au/itm/1886-The-FUNERAL-Will-Carleton-BLACK-AMERICANA-Savannah-preacher-poem-/231442088413
Diane: Perhaps it was the music. BMI registered the song "Funeral" with Hank Williams as the writer.
Thomas C Cogsdell, Sr., requests, "If I am not on your email list, please add me. I am an old retired truck driver, and a dedicated country music fan. I met Faron and his band once back in the Sixties. I was in a diner on the north side of Lake Pontchartrain, when Faron's bus pulled up outside. They were a loud bunch. The thing that stood out in my mind is that Faron gave the waitress a $100.00 tip. RIP Faron and Keith Whitley. Thanks for what you do."
Dave Barton sends this update on Jim Ed Brown: "I spoke to Jim Ed yesterday and he is doing a lot better. I told him I was going to bring my guitar over and he could starting singing again, practice up so he can get back on the Opry. He just laughed, not sure if that was because of my playing or him singing."
Kathy Thomas says, "Wonderful newsletter as always!! Keep 'em coming!!!!"
Christine Diller writes from Maryland, "I was pleased to read another informative, fact-filled article regarding country music and its entertainers. Thank you so much for your brief mention concerning Glen Campbell. A dear friend and I were just speaking of him the other day, as he has been heavy on my heart. Until next time take care, and I look forward to upcoming news."
Durwood Haddock says, "I received your news letter from Billy Arr (Sweetwilly) a longtime friend of mine and it is a very interesting read. Some of the names you mentioned, along with Billy Arr, I recognize and knew during my 25 years in Nashville, Would love to keep receiving. Have a great New Year as well as many, many more. Stay tuned!"
Doug Lippert writes from Carmel, Indiana, "My heart breaks with the passing of Little Jimmy Dickens. We all knew that, someday, he would leave us but I always dreaded the coming of that day. I thought of Hank Williams, whom I never had the privilege of seeing, each time I saw Jimmy, whom I saw many times. To me, Jimmy was the lone link to Hank's appearance on the Grand Ole Opry, having watched Hank perform and return to the stage for many encores on one very special Opry night many years ago. And I'm not sure why people wish to shorten Grand Ole Opry to GOO. If we Luddites continue to stick with 'Opry' we will, eventually, right the Grand Ole Opry nomenclature ship. As always, Diane, thanks for keeping us informed and up to date."
Les Leverett in Nashville sends this report: "Thanks for keeping us up on happenings. I really enjoy and look forward to your newsletters. In the interest of accuracy, let me be so bold as to make corrections on the service participants at Little Jimmy Dickens's memorial service. My son Gary and I were in attendance. The crowd was low, probably because of the extreme low temperature. I think the wind chill factor was somewhere below zero. Looking at the order of service in the program, the participants were:
Brad Paisley
Steve Wariner
Eddie Stubbs
Bobby Timberlin
Pete Fisher
Chris Young
Scott Hamilton
Bob Whitaker
Old Crow Medicine Show
Connie Smith
Roger Willis
Mike Glenn
Vince Gill and Carrie Underwood
Roger Willis is listed for giving the family message, and Mike Glenn is the pastor of the Brentwood Baptist Church, where Jimmy and Mona are members.
Pallbearers:
Bill Anderson
Jim Ed Brown
John Conlee
Vince Gill
Brad Paisley
Mel Tillis
Larry Tucker
Bobby Tomberlin
Robbie Wittkowski
The family asked that, in lieu of flowers, gifts be made to the Opry Trust Fund, One Gaylord Drive, Nashville TN 37214."
Diane Jordan posted on Facebook on 1/17: "We knew the day would come when I could no longer manage to take care of Larry in our home. That sad day is here. Early this morning, Larry was taken to Alive Hospice Respite Care, in Madison. He will remain there for five days and then move to General Inpatient Care in a nursing facility. This is the hardest thing I've ever done in my life, but whatever it is for me, it's much harder for Larry. He's retained his sense of humor, dignity and class throughout this journey, and I am grateful. We've been amazed at the kindness, generosity, and support shown to us by friends and family."
Tommy Nichols writes from Dixon, Missouri, "Good morning! I would like to be added to your email list."
Jeanette Creamer, a friend from Jacksonville, Florida, says, "I enjoy reading your info on the books. I am a big fan of Marty Robbins, and had some of his records. Went to the cemetery for the laying of the wreaths, and bumped into one of the POWs that was in our Chapter. He remembered you and your work for the POW/MIA day. I told him where you were and that you were writing biographies. Hope you and the girls are doing well, and you have a special someone in your life."
Dominique "Imperial" ANGLARES writes from France, "Thanks for your newsletter and get my best wishes for a prosperous new year. I wish you much success on your personal and musical side. The loss of Little Jimmy Dickens is a very bad news for all of us. That little great guy was packed with talent, energy and fun. To answer your Grand Ole Opry question maybe that's 'cause they go on 'SMS Country.' Ah, Ah! These SMS make many folk shortening everything building a new and strange language. As long as I am concerned I will write Grand Ole Opry, Louisiana Hayride, Big D Jamboree, Town Hall Party and not GOO, LH, BDJ or THP. I am listening to Country music and Hillbilly Bop not CM and HB."
Kevin Trask writes on behalf of Diana Trask, "Back from holidays. Great job – many thanks."
SONG OF THE WEEK
My last newsletter promised a story on "Long Tall Texan," a song written by the recently deceased Henry Strzelecki. When my sister and I visited with Glenn Sutton in 2001, he was telling us about his first record. He said he and his friend Murry Kellum had split a session to record a 45 rpm single. Glenn's side was his own song, "I Gotta Leave This Town," and Murry's side was called "Long Tall Texan." That caught our attention–Kayo and I used to own that 45! We had played it so many times that Dad stormed upstairs one day, ripped it off our record player, took it outside, and sailed it into the plum trees. Glenn said he thought he could find a copy. He later mailed it to me, and I still have that 45 in my possession. The writer of "Long Tall Texan" is listed on the record as H. Stegelecki.
BOOK REVIEW – LEFTY FRIZZELL: THE HONKY-TONK LIFE OF COUNTRY MUSIC'S GREATEST SINGER by DANIEL COOPER
One of my first book purchases at the Ernest Tubb Record Shop, when I was beginning my Faron Young research, was Lefty Frizzell: The Honky-tonk Life of Country Music's Greatest Singer by Daniel Cooper. I didn't know much about Lefty (other than his music) until I read this book. What a sad waste of a wonderful talent. The book certainly shows the importance of management and public relations for an entertainer. Considering Lefty's influence on future generations, he should never have ended up singing in dives for a pittance. He tried to make a recording comeback in 1972, with Glenn Sutton as his producer, but Columbia Records dropped him from the label. This is a well-written biography, except that it lacks Lefty's voice and his siblings. Not talking about them made for an incomplete family picture. Although Lefty's wit and humor are mentioned, there are no quotes to actually show us his personality.
BATTLESHIP SOUTH DAKOTA MEMORIAL
This isn't about country music, but I'm including this link with me as president of the board of directors for the USS South Dakota battleship (BB 57) memorial in Sioux Falls: http://www.keloland.com/newsdetail.cfm/sailing-into-the-future/?id=174889