NEWS
Little Jimmy Dickens 1920-2015
Little Jimmy Dickens died January 2, 2015, of cardiac arrest, after suffering a stroke on Christmas Day. His last Opry performance was December 20, a day after his 94th birthday. Born in Bolt, West Virginia, he was the eldest of 13 children. He is survived by his wife, Mona Dickens, two daughters, and three of his sisters. Brad Paisley presided over the two-hour celebration of life at the Grand Ole Opry House on January 8. Performers included Carrie Underwood, Vince Gill, Bill Anderson, Jan Howard, Jeannie Seely, Ricky Skaggs, Lee Greenwood, and Marty Stuart. The service ended with everyone singing "Will the Circle Be Unbroken." A private family burial in the Woodlawn Cross Mausoleum followed the funeral.
The Grand Ole Opry is held at its former home, the Ryman Auditorium, during the month of January. Fans were filling the pews for the Friday night show on January 2nd when Pete Fisher (Opry vice president and general manager) announced the death of Little Jimmy Dickens. Gasps rose from the crowd at hearing the unexpected sad news. Marty Stuart, Ricky Skaggs, and Bill Anderson honored their friend with songs and a retelling of his jokes.
Chuck Landry 1968-2015
Chuck Landry, drummer with Mel Tillis and the Statesiders, died in a house fire Thursday night in Branson, Missouri. He was found in the bedroom of his burned out home shortly after 9:00 pm when fire crews arrived. Flames were shooting out of the upper floor of the house. Chuck's wife, Regina, was rescued and is in a hospital with burns over half her body. The cause of the fire hasn't yet been determined. [My sister and I enjoyed an evening with Chuck several months ago at the Dakota Sioux Casino in Watertown. He was traveling with Leroy Van Dyke and he sat in on drums with the Howie Gamber Band.]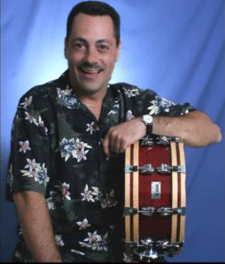 Chuck Landry
Henry Strzelecki 1939-2014
Renowned session musician Henry Strzelecki, 75, died in Nashville on December 30, after being hit by a car while out walking on December 22. Born in Birmingham, Alabama, he can be heard playing bass on "He Stopped Loving Her Today" by George Jones and "Pretty Woman" by Roy Orbison. He recorded with Chet Atkins, Joan Baez, Johnny Cash, Patsy Cline, Waylon Jennings, Lyle Lovett, Ronnie Milsap, Willie Nelson, Elvis Presley, Charley Pride, Marty Robbins, Hank Snow, George Strait, and many others. He was one of Hee Haw's Million Dollar Band. He wrote "Long Tall Texan," which will be Song of the Week in my next newsletter.
Glen Campbell, 78, celebrated Christmas at home with his family in Nashville. He has been living in an assisted care facility for almost a year, since his Alzheimer's disease progressed to the point where his family could no longer care for him at home.
Two jets once owned by Elvis Presley, "Lisa Marie" and "Hound Dog," are being sold through sealed bids by Juliens Auctions. Elvis bought a Convair 880 jet in 1975 for $300,000, refitting it and renaming it the Lisa Marie–after his daughter–to include a master suite with full-sized bed and conference room. Its last flight was to transport Priscilla Presley and actor George Hamilton to Elvis's funeral. Vernon Presley sold it in 1978. The Hound Dog II, a Lockheed JetStar, was bought in 1975 as a stopgap until the Lisa Marie was ready. Eventual owners allowed the planes to be displayed at Graceland, where they have been for 30 years. The agreement expires in 2015. Both planes are non-airworthy. They are being sold as one lot, with the option to buy land next to Graceland to display them. Priscilla Presley posted on Facebook: "It's very disheartening and unsettling that you point your fingers . . . as the blame for the sale of the planes. Do you honestly think we want them sold? Have you never thought that the owners are the culprits? Shame on you for using threats of not going to Graceland or that we're going to lose loyal fans."
An acetate recording of the first song Elvis Presley ever recorded, "My Happiness," sold at auction for $300,000 on Elvis's 80th birthday, January 8. It was recorded in 1953 at Sun Records in Memphis when Elvis was 18. He paid $4 for the session.
TG Sheppard, 69, checked into Vanderbilt Hospital in Nashville yesterday morning for an ablation, which is a procedure to help fix an irregular heart rhythm.
The George Jones Museum is scheduled to open April 24th, two days before the two-year anniversary of the singer's death. Located on 2nd Avenue near Lower Broadway in Nashville, it will have a gift shop and restaurant on the first floor and a display of George's personal treasures on the second floor. Nancy Jones told Rolling Stone Country, "I have never been to his gravesite when there are not people from everywhere there: Nashville, Canada, Switzerland. They all come to see George's grave. I would go late at night, just so I could have my time alone, when I wasn't ready to mingle with the fans. But now I do. If they're there, I sit and talk to them. I'm going to carry on George's legacy as long as I'm alive."
Following his December 22nd surgery, Buck Trent posted this update on Facebook on New Year's Eve: "I am home with a new aortic valve and a backup generator (pacemaker). I wish everyone a safe and Happy New Year!"
The restaurant chain I Love This Bar & Grill was co-founded by Toby Keith and inspired by his hit song, 'I Love This Bar.' There are more than a dozen restaurants in the United States, with more on the way. But two of them have recently closed. The one in Folsom, California, closed after two years, apparently due to slow business, bad management, and expensive drinks. A New Year's Eve party was canceled on short notice. The Texas I Love This Bar & Grill in West Houston closed after management fell behind in paying the rent. The restaurant in Oklahoma City, Toby's hometown, is apparently doing well. The chain is committed to a classic American menu, beer in Mason jars, and a stage for live country music.
A Texas couple paid $3 million for 131 acres in Leiper's Fork, near Franklin, Tennessee. They purchased the land from Tim McGraw and Faith Hill to build a home there. The Tennessean reports that 621 acres are still for sale for $18.5 million. Hank Williams once owned 400 acres of the 754-acre plot Tim and Faith bought in separate transactions 13 years ago. They paid a total of $13.75 million.
Barbara Mandrell and her sisters, Louise and Irlene Mandrell, are hosting the Nashville Humane Association's fifth annual "Unleashed: Dinner with Your Dog" benefit. It will be held at the Hutton Hotel on January 31. In addition to dinner, there will be a canine fashion show that includes adoptable dogs from the Nashville Humane Association. Guests are encouraged to bring their dogs. Tickets ($100 to $165) can be obtained at nashvillehumane.org.
A fierce storm at the Indiana State Fairgrounds in 2012 ripped apart the stage where Sugarland was getting ready to perform. The roof crashed onto the crowd, killing seven people and injuring nearly 100. A recent settlement in a class-action lawsuit awarded victims and their families $39 million. The country duo of Jennifer Nettles and Kristian Bush, along with Live Nation and 16 other defendants, agreed to pay that sum, after investigative reports found failed safety standards and an insufficient emergency plan on behalf of the state fair. The Indiana Occupational Safety and Health Administration blamed the company that manufactured the stage, as well as the state fair and the union.
Guest host for NBC's Saturday Night Live on January 24 will be Blake Shelton. It is his first time hosting the show, and he will also be the musical guest. He is the reigning five-time CMA Male Vocalist of the Year.
LETTERS
Jan Howard writes from Nashville, "I just finished reading your most recent newsletter and wanted to tell you how much I enjoy each and every one. Your research is thorough, and comments from your readers are honest. Someone told me not long ago that you had mentioned something nice about my book, Sunshine And Shadow. Thank you. I hope you had a Merry Christmas, and have a happy, healthy and prosperous New Year."
Jeannie Seely writes from Nashville, "Great newsletter as always, Diane..(thanks for my mention). …Just wanted to wish you Happy New Year!"
Cowboy Joe Babcock writes from Nashville, "Enjoy the newsletter and remember the good time we had at the book signing. I've been in the hospital for about 4 weeks due to double knee replacement and complications–bronchitis, digestive system all fouled up, couldn't eat. I lost 30 lbs. down to 135. I'm home now and gaining back my strength but it has been an ordeal. Lost a few friends lately, George Hamilton IV, Chip Young and Henry Strzelecki. And of course Jimmy Dickens. He was the last of that generation that turned me on to country music."
Red Freeman says, "Happy New Year to you and thanks for reminding me via Brad Paisley how much cooler I am Online."
Kathy Thomas writes, "I enjoy your newsletter so much! I just talked to Smiley Roberts he wanted to know if you remember him. He is one great steel player and one of the best friends you could have in this crazy world. Thanks again for the wonderful info you share with us. Please add him to your newsletter list."
Diane: Yes, I remember meeting Smiley at the Ernest Tubb Record Shop during the Faron Young book release party.
Bill Blough says, "Thanks for all your work in putting together your newsletter, I always enjoy reading it."
Billy Arr writes, "Hello Diane, and a very Happy New Year to You and Yours. Faron Young was a close friend of mine for many years. I enjoyed your book. Faron recorded 4 of my songs over the years, 'That Over 30 Look', 'Baxter Hill,' '"Left to Right or Right to Wrong.' and 'You Make it Easy' (which he also published). I miss him more, it seems, every day. We had some great conversations. I had about 80 of my songs recorded by various stars. Anyway, please add me to your email newsletter. You can hear Faron, Mel, Loretta and a few other Stars who have recorded my songs at my music page www.reverbnation.com/billyarr. Thanks for all the–both the good and sad–news of Classic Country Music. I look forward to reading your newsletters as they arrive. I lived in Nashville for many years, and worked on Music Row when not on the road with the stars, playing piano and fronting their show. I am currently back in my hometown here in Missouri, and enjoying life. However, I do really miss Nashville."
Diane: "That Over 30 Look" and "Left to Right or Right to Wrong" are two of my favorite Faron songs. I've always thought the "left to right" is such a clever line.
Alan Delbalso writes, "I was just reading the top 40 most influential stars on the CMT website and Marty Robbins was not on this list. Unbelievable! Marty was the complete entertainer. Great songwriter, fabulous showman, and the most beautiful voice I have ever heard. It's sad that Marty never received the credit he so richly deserved. He was an Idol and Hero to many country music peers and fans. Marty, you're the greatest."
Terry Counts in White Bluff, Tennessee, says, "Happy new Year and I'll look for another edition of your news. I don't know who will pick up the reins from Marty Martel, but we sure do need someone. I, for one, got most of my 'music' news from him and miss them dearly."
Moragh Carter says, "Thanks again for a great newsletter. That tribute to her mother, sung by Tess Sears, was lovely. I have loved that song ever since the first time I heard it and I've heard Dawn sing it too. It was so appropriate for the occasion."
Richard Spooner writes from the U.K., "Very sad to hear of the death of Dawn Sears. I met her and Kenny when I visited Nashville and the Station Inn. Dawn sang that song for me that night. She was the best female singer in the business. R.I.P."
June Thompson writes, "I really enjoyed the newsletter again. Hope you and your family had a blessed Christmas, and will have a more blessed New Year. I was excited to read about Diana Trask, for my husband and I have a bunch of old vinyls from yard sales and thrift stores, and what/not and there is one by her in the bunch. Do you know anything about a young sixties singer named Florraine Darlin? Used to have a couple 45s by her but they got lost in the shuffle. Again, it's always a pleasure reading your newsletter. My one trip to the Grand Ole Opry was a dream come true, and I shall never forget it."
Steve Walker answers my question of the week: "Thanks for the newsletter and a Happy New Year to you and yours. You asked, 'Would you read an interesting story about someone you'd never heard of, or would you only pick up a book with a familiar name?' I'm pretty sure the answer is that most readers would be attracted by a familiar name. When I look through my bookshelves, the titles are dominated by famous names in country, r&b and rock'n'roll. If an author whose style I find particularly attractive writes about a non-familiar artist or subject, I would probably get a copy of that book too. I enjoy biographies more than autobiographies, many of which can be self-serving in the extreme–I'm thinking of books by Skeeter Davis and Peggy Lee in particular. I take your point about there not being a big enough audience for a full-blown biography of artists such as Webb Pierce, but there could be some mileage in producing a compilation of the lives of famous pre-rock'n'roll country stars. I know this sort of thing has been published before, but those books usually take the form of an encyclopedia, and the pen-portraits are often, of necessity, too short. So, maybe 20 pages each on Marty and Faron, plus, say, Jimmie Rodgers, Ernest Tubb, Bob Wills, Ferlin Husky, Webb Pierce, Sons Of The Pioneers, Hank Williams, Hank Snow, Lefty Frizzell. I'm sure most of your readers could add their own ten names, so the main problem might be in the selection of the artists to be featured. But then there's always volumes two, three . . ."
Elroy Severson writes from Arizona, "Thanks for another interesting newsletter. I enjoy and continue to learn more about Country Music singers. Music biography question —- I would be more inclined to select a book about someone I am somewhat familiar with; in order to learn more about that person."
SONG OF THE WEEK
With all the Jimmy Dickens songs that have been on the radio recently, I heard "Take Me As I Am Or Let Me Go" several times. I've always preferred his ballads to his novelty songs, and the words caught my attention as I listened closely to this one. What a well-written song, I thought. I looked it up on the BMI website, and songwriter credit goes to Boudleaux Bryant. No surprise there, I guess, with his reputation for great songs: "You're trying to reshape me in a mold, love, in the image of someone you used to know. But I won't be a stand-in for an old love. Take me as I am or let me go." Jimmy recorded the song for his 1954 album, Dim Lights, Thick Smoke and Hillbilly Music. This is timeless classic country music.
QUESTION OF THE WEEK
Why do people now insist on shortening "Grand Ole Opry" to GOO when we have the perfectly fine word "Opry" that has been used for decades?
BOOK REVIEW – STILL WOMAN ENOUGH by LORETTA LYNN with PATSI BALE COX
Reading Loretta Lynn's 2002 book, Still Woman Enough, is like sitting across the table from her. Patsi Bale Cox did a great job of portraying Loretta's voice. For example, when Loretta talks about looking at photos to choose an actress to play her in Coal Miner's Daughter, she writes, "As soon as I seen Sissy, I told 'em I didn't need to see no more pictures." About her late husband, Loretta says, "I loved Doolittle Lynn with all my heart. I loved him when he was sober and when he was drunk. I ain't sayin' I liked him when he was drunk, although to tell you the truth, once in a while Doo was easier to get along with after a swig or two. Other times he got plain mean, and I am gonna talk about some of those times. Maybe it will help someone who is living through the same illness." The scenes she describes about holiday dinners are unimaginable to me. She would spend all day cooking, and then, she says, "By the time we'd eat, my husband and sons wouldn't have knowed if I'd served 'em TV dinners." They would start arguing and then jump up from the table and start fighting: "I saw a few Christmas dinners where Doo turned over the dining table. Food and drinks, of course, went in all directions. . . . The men were punching and kicking and cussing and my daughters were screaming. The men might throw plates or vases at each other. I've seen them knock each other into the Christmas tree."