FEATURED ARTIST – DIANA TRASK
Diana Trask came to us originally from Melbourne, Australia, and she now lives in Georgia. She was 19 when hired in 1959 to tour Australia with the Frank Sinatra show. Two years later, she moved to the USA to be a regular on the NBC-TV series Sing Along With Mitch. "I could not believe the height of the buildings and the noise on Sixth Ave New York City," she told me in an email exchange. "I was a real hayseed staring upwards and mouthing, 'Wow, look at that!'"
She went back to Australia for a few years and returned to the USA with a husband and child. They settled in Tennessee and Diana signed with the DOT label as a country singer. Her hits included "Lock Stock and Teardrops," "Lean It All On Me," and "You've Got What It Takes." She remembers the '70s and '80s as "great growth periods in my life, but I retired from the music world shortly after, due to my husband's health and my own health. We had put an enormous amount of energy into my career and wanted to tend to family a little more."
Once they became empty-nesters, Diana and her husband took off in their sailboat for the Caribbean. Being completely off the grid, she says, was a learning curve for which "I was glad of the resourcefulness of my Australian heritage. My grandmothers had taught me to make do and I re-learned these lessons. . . time, kindness and enthusiasm are by far the more important values to hold."
Her autobiography, Whatever Happened to Diana Trask, covers fifty years of her career. She discovered the greatest benefit of writing the book was reading it back and being amazed by how many people had moved her life along. "I am eternally grateful to those people," she says, "most of whom were good wonderful folks who cared about me."
Diana describes her latest album, Daughter of Australia, as "a mix of new compositions I wrote and recorded especially for this album and some of my early recordings such as my 1968 hit song, 'Lock Stock and Teardrops.'" That CD, her autobiography, and the CDs Country Lovin' and Oh Boy are all available from her website at http://www.dianatrask.com.
Whenever Diana goes home to Australia, people can't understand her accent for at least two weeks, and the same happens when she returns to the USA. "I think the difference is becoming comfortable wherever you are," she says. "People are really the same everywhere–they just say it differently."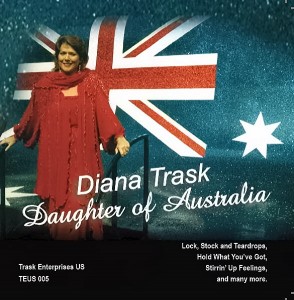 NEWS
Jimmy Dickens, 94, was admitted to a Nashville area hospital on Christmas Day. He is currently in critical care with an undisclosed illness. Cards can be sent to him at: Jimmy Dickens, c/o Grand Ole Opry House, 2804 Opryland Drive, Nashville TN 37214. He last performed at the Opry on Dec. 20 as part of his 94th birthday celebration. He has been a member of the Grand Ole Opry since 1948 and the Country Music Hall of Fame since 1983.
Studio A Preservation Partners, a company newly formed by Mike Curb, Chuck Elcan and Aubrey Preston, has purchased the RCA Studio A complex on Music Row in Nashville. The three men paid $5.6 million to keep the historic property from being torn down for a condo/restaurant building. Studio A opened in 1965, with Waylon Jennings, Willie Nelson, Dolly Parton, Charley Pride and George Strait only a few of the artists who recorded there. The list includes Elvis Presley, Tony Bennett, the Beach Boys, and the Monkees. CMT.com describes Curb, the founder of Curb Records, as "a key figure in preserving Nashville's musical heritage. The Mike Curb Family Foundation purchased and restored RCA Studio B on Music Row in 2002. In 2005, the foundation acquired and restored the historic Quonset Hut, Columbia Studio A and the Columbia/Sony Building for Belmont University to use for teaching and for hosting events." [His foundation sponsors the Best Country Music Book of the Year award I received in 2012.] Elcan purchased and restored the Loveless Cafe in 2003. Preston offered to help protect Studio A after hearing in October about plans to demolish it.
One of the volunteer greeters at the Country Music Hall of Fame is 92-year-old Rose Lee Maphis. She and husband Joe Maphis were a country music duo for 60 years, which included 10 years on Town Hall Party, a Saturday night TV show in Los Angeles. Joe played a double neck guitar, and the couple wrote and recorded "Dim Lights, Thick Smoke (and Loud Loud Music)." In one of their songs, Joe would sing "I'm going to wear the pants," and Rose Lee would respond with "But I'll tell you which pair to wear."
On December 22, Tess Sears sang this tribute to her mother, Dawn Sears, during the Time Jumpers' first Monday night show after Dawn's death: http://youtu.be/-WvVG0wHcTc. Here's Dawn Sears singing the Faron Young hit "Leaving And Saying Goodbye." It was written by Jeannie Seely, who is in the audience for this Time Jumpers performance from several years ago: http://youtu.be/gmsq3aV0jd8
The Crystal Gayle: When I Dream exhibit at the Country Music Hall of Fame and Museum has been extended until Sunday, February 1, 2015. Featured artifacts in the exhibit include the hand-stitched valentine Crystal Gayle made for her mother in third grade, her 1977 Grammy for Best Female Country Performance ("Don't It Make My Brown Eyes Blue"), her 1976 ACM Female Vocalist of the Year trophy, and the Crystal "Eagle" Gayle Air Force Barbie doll by Mattel, which commemorated both her 1984 flight aboard an F-16 fighter and the 50th anniversary of the U.S. Air Force.
The Mavericks have decided to make public the firing–for drug addiction–of Robert Reynolds, founding member and bassman/vocalist. They are sharing their ongoing internal conflict in the hope their experiences might help others who may be dealing with addiction in their own families. The four core members are now singer Raul Malo, drummer Paul Deakin, guitarist Eddie Perez, and Jerry Dale McFadden. The three who founded the Mavericks in 1989 in Miami were Malo, Deakin, and Reynolds. The band developed a unique sound that mixed rock, country and Latin rhythms. "All You Ever Do Is Bring Me Down" was a 1995 hit, and "Here Comes the Rain" won a Grammy in 1996. According to Rolling Stone Country, "heavy touring and personality conflicts wore them down and they disbanded in 1999, with Malo pursuing a solo career. In 2012, they regrouped for a performance at the Stagecoach Festival in California and, bolstered by the opportunity to release new music, made it a permanent reunion." Deakin told Rolling Stone Country they discussed Reynolds' addiction with him many times. Perez said, "In the past three years we've been at this again, I can count on just one hand the times where I really felt like, 'OK, he's going to turn this around.'" The Mavericks have promised Reynolds he can return if he gets off drugs and into a rehab program.
The Memphis Flyer reports that Elvis Presley Enterprises plans to build The Guest House at Graceland, to be opened next fall. The 450-room hotel with two restaurants and a 500-seat theater will provide 500 jobs. The three-phase Graceland Economic Impact Plan covers the development of Graceland's 120 acres and will cost $121-$132 million. The plan is aimed at a younger demographic as well as current Elvis fans. It includes the Graceland Archives Studio, which focuses on Elvis archives used as an educational tool.
Chip Young, Nashville guitarist and producer, died Saturday, December 20, at age 76. He changed his name from Jerry Marvin Stembridge after moving to Nashville in 1964 when Jerry Reed hired him as a guitar player. As a studio musician, he became known for his thumb-picking guitar style, which can be heard on Dolly Parton's "Jolene." His sound appears on almost fifty years' worth of recordings by singers such as Reba McEntire, Roger Miller, George Strait, Skeeter Davis, and Faron Young. According to the Tennessean, he backed Elvis Presley, Waylon Jennings, Jerry Lee Lewis, Kris Kristofferson and Porter Wagoner. He also produced Billy Swan's "I Can Help." In 2000, he released his own album, Having Thumb Fun With My Friends, with Jerry Reed, Chet Atkins, Scotty Moore, Jimmy Capps, and others.
Buck Trent, renowned entertainer and banjo player, had surgery on December 22 to replace his aortic valve. He had a triple bypass in 1992. He is still in the hospital and expects to start rehab soon. Buck was a member of the Porter Wagoner TV show and a regular on Hee Haw. He also toured with Roy Clark. He lives in Branson, Missouri.
A Tennessee couple is suing Dollywood in Pigeon Forge, Tennessee, for $475,000. The lawsuit claims Dolly Parton's park ignored the wet weather that made the Waltzing Swinger ride (a giant, revolving swing) a death trap. The couple told TMZ the wife slipped from her seat and fell ten feet, head first, onto the hard concrete. She suffered extensive brain damage and broken bones.
Aubry Rodriguez posted this photo of her and her dad, Johnny Rodriguez, on Facebook. Aubry is also a singer.
LETTERS
Kathy Thomas writes, "My e-mail has changed and I miss your newsletter a lot! Could you please put me back on your list? Also, how about some news about Diana Trask? I worked with her back in the '70s. She has a book out that is awesome. I message her on Facebook. She is an awesome lady. I think your fans would love to hear how she is doing."
Diane: I hope you enjoyed reading about my featured artist today, Kathy. Thanks for the suggestion.
Doug Lippert writes from Carmel, Indiana, "Thanks, as always, Diane for the great newsletter. I remember where I was when I learned of Faron's suicide. I lived in Evansville, Indiana, which was smack dab in the Ohio River Valley, thereby making it easy for WSM's powerful signal to pass right over us without my being able to tune it in on my old National Union tube radio. My work, however, often took me to Bowling Green, Kentucky, and once I started to climb out of Owensboro, the signal got stronger and stronger. It was on a business trip to Bowling Green while listening to WSM that I learned first of the police being called to Faron's home then, sadly, of his suicide. He remains forever frozen in time, for me, in a Nudie-tailored outfit singing "Live Fast, Love Hard." I recall I was sorry I never had the chance to see Faron live but, as a result of that thought, tried subsequently to make it to the Grand Old Opry about four times per year to Faron's contemporaries who were still around. Thanks, Diane, for sharing your research and news with all of us."
Bill Anderson says he's busy: "With three children, eight grandkids, Christmas, New Years, parties, ball games….you get the picture."
David Corne, known on YouTube as Tarquin45I, brings us a "Merry Christmas & A Happy New Year from the UK." He says, "Always read your newsletter and am especially interested in the singers of the '60s which I think is undoubtedly the very best era of Country Music's long history. I enjoy going on YouTube, but it's quite sad to see so many of the Country singers are no longer with us. I did catch Jim Glaser on the Marty Stuart show and was very impressed how a guy who sang harmony on 'El Paso' way back in 1959 could still be so good and you only have to watch Marty Stuart's face to see how impressed he is with Jim singing 'Let Me Down Easy.' I see Patti Page got a mention in another mail to you. Considering she was the biggest selling female singer of the '50s, she sadly means very little over here in the UK apart from two songs, but I really enjoy her Country recordings (except 'Gentle On My Mind,' which to me is a man's song). The thing about Patti was that she wasn't like some others I could mention, a bandwagon jumper. Her first Country album appeared in 1955 called Romance On The Range. Always liked her and Marion Worth who sounded more like Patti than Patti did!"
Jane Key Seymore writes, "Great newsletter as usual! My husband and I had the recent pleasure of attending a fantastic T.G. Sheppard concert here in our hometown of Cullman, Alabama. He is a true entertainer and knows how to do a fabulous show. He also took the time to greet his fans and sign autographs after the show. Have you ever considered writing a biography of his life? Not only is he a very successful country music star with 20 number one hits during his career but he was a successful record promoter for superstars such as Elvis Presley and John Denver and he is married to the beautiful and very talented Kelly Lang. Kelly's father was the late, great Conway Twitty's road manager for over 25 years."
Mike O'Neill says, "Merry Christmas and Happy New Year. The Newsletter has come a long way. Thank You for your good work keeping Traditional Country Music alive and keeping us informed."
Ron Hogan writes from Tennessee, "I thought I'd share a Hank Snow story. I was on a three-day country music show with Freddie Hart in New England. Hank was on the show and refused to go on as his contract stated that there needed to be fried chicken back stage. Well, the promoter caved in and rushed to get that chicken back stage. Hank went on and did a fine show, but NEVER ate the chicken! A few musician buddies keep asking me to put a book together of just Nashville musician stories, but from watching you over the years, I see what a big job it is. Plus, the Musician stories may piss off a lot of Stars. Without telling a story, the stories are lost forever."
Jud McCarthy sends this request from Boca Raton, Florida: "Appended is the e-mail address of a friend of mine, Mike Herzlich, who is very interested in being on your newsletter copy list. Originally Mike is from the New York City area and one of the few that I know from NYC that is deep into classic country music. Thanks in advance, one of your avid readers."
Jean Seither writes, "Thanks for this wonderful newsletter that lets us find out about our favorite singers. One artist I'd really like to find out more about is Amber Digby. In another time she'd be a big country star, I believe, but things have changed. I admire her so much for trying to keep our music alive."
Diane: Okay, Jean, I'll see what I can do.
Elroy Severson says, "Happy New Year and hope you had a good Christmas. Thanks for the Newsletter. I liked and agree with Sherwin Linton's comments about some of the modern day stuff being unintelligible and, to me, not pleasing. I recall with good memories the Christmas songs of Gene Autry when I was very young. Rudolph the Red Nosed Reindeer, Here Comes Santa Claus, Santa Claus is Coming to Town, to name a few. Apparently, these were records my mom and dad had, although I believe they were commonly heard on the radio as well. I recall my mom liking White Christmas by Bing Crosby."
John Glass asks, "Would you please add me to your newsletter list?"
Terry Counts writes, "Just wanted to wish you and your family a very happy Christmas and New Year! I hope Santa brings you everything you ask for and nothing that needs assembly. Thanks for doing what you do and I hope you never stop. Since I don't have their email addresses and I can't send to Marty Martel….will you please wish the Opry folks I love…Jean Shepard…Jim Ed Brown and Maxine…and all the rest a happy Christmas from me."
Diane Jordan responds to my note about her ailing husband, Larry Fullam: "Thank you so much for your kind note. Larry was diagnosed with inoperable pancreatic cancer on October 6. The only symptom he'd had was being very tired for the past year. Suddenly, indigestion pains started and then his skin turned yellow. Tests revealed a blockage and a CT scan and biopsy confirmed it was cancer. It's the worst possible scenario, with a golf ball size tumor in the head of the pancreas, closing the pancreatic duct and blocking the blood supply to the remainder of the pancreas. There was no point in going through radiation (it wasn't even presented as an option) or chemo. We've been so grateful for messages, cards and visits from friends. Without them, I couldn't get through this. Our long-time friend, Michelle Honick, has set up a GoFundMe account for us at http://www.gofundme.com/j1429w . We've never asked anyone for anything and this was a hard thing to agree to. We're most grateful that some friends and family have contributed and we are very touched that they would do so. Our 43rd wedding anniversary was December 19. Larry slept most of the day, then ate something, and we talked and laughed until 3:00 AM. Forty-three years ago, we were young and hopeful, and so certain that one of us would make it in music. Larry should have been one of the top recording artists, but no one would help him, and some lied about helping him. We've known many ups and downs through the years, as most couples do. We never dreamed this could happen to us. But, as John Lennon once said, 'Life happens while we're busy making plans.' Life is, indeed, happening. I only hope I'm doing the right things. It's said that we are stronger than we think we are. I'm counting on that. Larry can't eat even ice cream now, and it's breaking my heart. I'm trying to be strong but it's increasingly hard to do so. Thank you for thinking of us."
Art Rankin reminisces, "Several years ago my wife and I took a Grand Ole Opry cruise. The backup band was the Time Jumpers and, of course, Dawn Sears. Their talent was shared with most if not all of the primary artists including individual songs performed by them. Dawn had several solos throughout the cruise offered by the individual artists praising her ability. It was obvious that she was loved by all even though she was not a household name. During the cruise Dawn and Ken Sears would often just sit out on one of the decks. My wife, whose mother was a Sears, talked with them to see if there might be something in the family background. While nothing was identified it was an interesting discussion. Both Dawn and Ken were just down to earth folks. Since that time we have watched the Time Jumpers when possible and purchased their DVDs and CDs. Her passing at such a young age seems like a loss to all of us. The foundation she headed to fund research for Lung Cancer while nearing the end with no help for herself seems so consistent with the woman we met. Our prayers go out to Ken and their daughter in this sad time. We thought our contributions were over for the year but felt we had to give a dollar for each year of Dawn's life."
SONG OF THE WEEK
"I'm so much cooler on line," sings the overweight 5'3" asthmatic who works at the Pizza Pit and lives in his parents' basement in the Brad Paisley song, "Online." He can't get a girlfriend in real life, "but I grow another foot and lose a bunch of weight every time I log in." Brad's ability to tell a story with witty, rhyming lyrics always amazes me, especially when he turns it into a peppy song that is fun to listen to. Not to mention the good dance beat.
QUESTION OF THE WEEK
When I asked on the Steel Guitar Forum if members would read a book about a non-famous musician, one reader responded: "I am currently reading your book about Faron Young and am enjoying it a great deal…very well researched and written it seems to me. I had mentioned in another post a book about Webb Pierce but you stated there wouldn't be a big enough audience to make it financially feasible. As for me, I would rather read about someone I actually know. To buy a book about someone I don't know, even though I might find it interesting and I know that by you it would be well researched and well written, NO, I wouldn't buy it. Just my two cents worth." So my question concerning music biographies is: Would you read an interesting story about someone you'd never heard of, or would you only pick up a book with a familiar name?
SOUTH DAKOTA BANDS
Here is the website I built for South Dakota's newest country band: http://chuteroosterband.com .
BOOK REVIEW – WAYLON: AN AUTOBIOGRAPHY by WAYLON JENNINGS with LENNY KAYE
My introduction to Waylon Jennings came when Dad took my sister and me to see the movie, Nashville Rebel, in 1967. Oh, wow! One of the first books I purchased when beginning my Faron Young research was Waylon: An Autobiography. I enjoyed reading about Waylon's experiences and relationships until he got bogged down in the drugs of which he seemed so proud. Those chapters made for boring reading. He appeared to enjoy reliving the painful details, with no regrets for his past behavior. I thought his wife, Jessi, deserved more gratitude than he expressed toward her. He could have acknowledged how much he hurt those who loved him. The book was often disjointed, and it was hard to follow the chronology. If the last half had been condensed into 2-3 chapters, it would have been a great story.