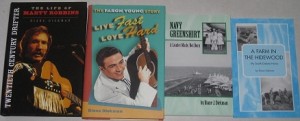 As the biographer of Faron Young and Marty Robbins, I bring you these newsletters to connect classic country music fans around the world. Feel free to forward this email to your friends, and tell them to send me an email if they want to be added to the list. I welcome your comments and ideas. We especially remember Faron and Marty this past week, on the anniversary of their deaths. Marty has been gone 32 years, since December 8, and Faron 18 years, since December 10.
NEWS
Bob Montgomery (1937-2014)
Bob Montgomery, 77, died Thursday afternoon, December 4, at his home in Lee's Summit, Missouri, after a long struggle with Parkinson's Disease. He and fellow West Texas native Buddy Holly were local radio stars as the "Buddy & Bob" duet in Lubbock in the early 1950s. He moved to Nashville in 1959 to be a songwriter, and he eventually built a career as record producer, music publisher, and label executive. Del Reeves, Johnny Darrell, Buddy Knox, Bobby Goldsboro, B.J. Thomas, Waylon Jennings, Merle Haggard, Janie Fricke, Joe Diffie, and Vern Gosdin are some of the singers who could thank Bob Montgomery for hits. So could Marty Robbins, after collaborating on "Some Memories Just Won't Die." Marty told Ralph Emery in 1982, "Bob Montgomery picked this song. The more I listened to it the more I thought it didn't sound like me. I guess that's been my problem for the past five or six years. I've been cutting songs that fit Marty Robbins, y'know, and somehow people were not buying them. I phrased differently on this. I had to learn to sing again. I thought I knew it all, and all the time I didn't know anything." Bob Montgomery is survived by his wife, Cathy Montgomery, and three children. His funeral was held at Woodlawn Funeral Home in Nashville on December 9.
Dawn Sears (1961-2014)
Dawn Sears, vocalist for The Time Jumpers and backup singer for Vince Gill, died Thursday night, December 11. She fought lung cancer for almost three years, continued singing until about six months ago, and worked for lung cancer research. She was barely well enough to attend her fundraising concert in Gallatin, Tennessee, on November 30. It raised $100,000 for the Vanderbilt-Ingram Cancer Center. Reba McEntire, the Time Jumpers, and Riders in the Sky were featured performers. Dawn is survived by husband Kenny Sears, Time Jumpers bandleader and fiddler, and their daughter Tess. Her funeral will be Thursday, December 18, at Hendersonville Memory Gardens at 11 a.m. In lieu of flowers, donations to lung cancer research can be made at www.dawnsearsandfriends.com. She was born in East Grand Forks, Minnesota, and celebrated her 53rd birthday on December 7th.
Forbes magazine has released its 2014 highest paid musicians list. Toby Keith ranks number 10 with $65 million, and Taylor Swift is at number 11 with $64 million. When Forbes ranked the highest paid country artists this past July, those two were at the top.
Kix Brooks and Ronnie Dunn are teaming with Reba McEntire for a series of shows at Caesars Palace in Las Vegas next year. The first twelve dates for Together in Vegas have been announced for June, July and December.
The National Finals Rodeo completed its thirtieth year in Las Vegas last week. Entertainers included Hank Williams Jr. with a three-day engagement at the newly renovated Grand at the Golden Nugget. Melina Robinson, in a review for the Las Vegas Sun, reported, "He plays seven instruments and entertained the audience with his skillful guitar, fiddle and piano talents. He included an awe-inspiring piano solo where he concluded the song playing with his foot." She said, "If Bocephus' fiery lyrics weren't enough, he was animated with hand gestures, full squats and even a crotch-grab salute to the audience. Bocephus' set was split between solo acoustic songs and being joined by his backing band, which incorporated a pedal steel guitar, harmonica and piano."
Shania Twain has released a public service announcement against family violence. The online video appears on the Royal Canadian Mounted Police's YouTube channel: http://youtu.be/rwiQheh8kGw. She reminds viewers that abuse can be physical, sexual, or emotional. She tells them not to keep family violence a secret.
Jeannie Seely and Jan Howard headlined a benefit concert last night at the Nashville Palace to help T.C. Brandon pay her overwhelming medical bills. According to Country Weekly, T.C. "has served as a personal assistant to Tanya Tucker and also worked in other capacities in the industry, including pitching songs for various artists. She was well-known for the salsa she made and bottled for Tanya Tucker. She needs assistance in finding a permanent home for herself and her daughter. T.C. has experienced some recent health issues and is facing large medical expenses."
In an interview with People magazine, Brad Paisley says, "There are phrases that are totally cliché that we as songwriters owe it to ourselves to not use again. . . . And when we come around to a little more diversity lyrically on the radio, we can go back and say the word 'tailgate' again and not have people cringe. It's everything in moderation." At age 42, he says he's learning from the new generation: "I think if you ignore the generation after yours you will be obsolete very quickly. The artists who stick around for a while are the ones who go, 'Oh, that's cool, never thought of that. Ought to do that.' " [Brad Paisley is 42 already? I thought he was the new generation.]
Carrie Underwood told Jimmy Fallon on the Tonight Show that, since getting pregnant, she feels pressure to always sing well: "He hears me singing. I feel like I have to sing good all the time, like if I'm in my car driving, I feel like I have to make it good, because he's listening. He's always in there. I just want to do a good job."
LETTERS
Jean Earle writes from England, "Alan and I were lucky enough to be visiting Nashville in November 1995. We went with friends to see the Christmas Celebrations at OPRYLAND. As we walked into the sparkling, bright gateway the loud speakers were playing tracks from Faron's new Christmas Card album. Opryland claimed to be celebrating 'Christmas in the Most Magnificent Way'. They had an absolute wonderland of attractions…the 'Nation's largest outdoor Nativity Scenes', carol singers in old fashioned costumes, hot chestnuts, talking Christmas trees, and magnificent displays of coloured lights…..and to think they threw all of this away !!!! Faron's new album was playing in the background all the time…it was cold and very frosty…just perfect! I managed to capture some of this splendour with my little camera, so I have some lovely colourful memories in my scrapbook. A few days later we met with Faron at his beautiful Lakeside home. He happily played some of his favourite tracks to share with us. The album has a pretty snowy scene with a church in the background…beautiful. Faron's picture is on the back of the album.. looking .very handsome. It was A Christmas Card from Faron (Goldust Records GD1027). Faron very kindly signed the album for us and gave it to us as a treasured gift. Absolutely PRICELESS! Happy Christmas and Best wishes for the New YEAR."
Diane: Readers might be confused by his album titles. A Christmas Card From Faron was originally recorded for TV sales in 1979 (the Goldust album) and later released on cassette in 1988 as Silver Bells (Highland/Hollywood – HT-331). Step One Records then issued Country Christmas (SOR-0059) in 1990 on both LP and CD.
A friend of Jim Ed Brown reports, "Jim Ed is still going thru chemo and radiation, but I think he's doing better. He went to a Christmas party Monday night, which I was surprised because his doctor doesn't want him exposed to other people's germs. This has been a rough week because of the chemo, but he is doing OK."
Mary McLaughlin wonders, "My uncle, Dudley Williams of Stuart, Virginia, made a guitar for Marty Robbins. I am anxious to know what happened to that guitar and if it is still in Marty's estate. Uncle Dudley (now deceased) has a violin (fiddle) in the museum at Stuart."
Sandy Tisdale says, "I got one of your December newsletters that was sent to me by a friend. I thought it was interesting, and I would like to be on your list to receive your newsletter. I really enjoy the country classics, which is what I grew up with. I don't really like the new country stuff, except for maybe 3 or 4 people, but the traditional country is the best. It would be wonderful to hear what is going on with the older country singers. Thank you, and have a Merry Christmas."
Carolyn Babin writes from Waskom, Texas, "Thank you for this article. (Diane Jordan, thank you, too.) I live not too far from Irving Texas and knew of this murder. Then just recently read of the murderer's release and was more than astonished by the news. A friend sent me your article. I wish the human race would not forgive people like Davis so quickly. The horrible murder he committed and all the lives he destroyed that loved the victim have not forgiven him…. this fact should be heeded. Their voices should be heard and loudly."
Stacy Harris reminds me, "Just to be factually correct: John and Doug Brown were cousins, not brothers."
Terry Counts also sends a correction: "I did see you 'murdered' the address for Hank Snow, it is actually on East Marthona and its a darling house with big garage/barn in back. I used to go there often for stuff for 'Uncle Hank'…he was my first TV assignment at the Opry and I was terrified as everyone said he was very difficult to deal with and I had no idea actually what Deacon [Billy Deaton] wanted me to do…but I found he was a true gentleman….we were good friends from then on…he got the idea I saved postage stamps, which I did when I was a kid…and from then on he would send me a batch of stamps ..I still have the envelopes sealed as I got them. Keep up the good work and we love ya. DOES ANYBODY KNOW WHAT THE DEAL IS WITH MARTY MARTEL???? I'VE HEARD HE IS UNWELL."
Geoff Lambert writes from England, "I told you this was a special number, didn't I? Grammy Award nominations were announced Friday (December 4). Congratulations to Glen Campbell, nominated for Best Country Song for 'I'm Not Gonna Miss You.'"
Sherwin Linton checks in from somewhere on the road: "I always appreciate your newsletters. I also want to thank you for joining us on stage at the SD State Fair the past couple of years, and sharing your memories and stories about your books with our audience. There are a lot of people who still enjoy the history of REAL country music. I watched the performance on Letterman last night by the lady who is supposedly the Number 1 Star!! The song she sang had a four note range, and I think that is all she has the capability to sing. The lyrics were quite unintelligible. I think she is the prime example of the fairy tale story of The Emperor with no clothes. I guess she must have some talent, but she will never be able to do a tribute to Patti Page. Thank you for letting us know about the Dawn Sears and Friends benefit. Dawn was gracious enough a few years ago to come into Hilltop studios with me and do some duets for a CD I recorded. I have known her since she was 13 years old when she made her first on-stage appearance with our band in Grand Forks ND in about 1976. I recognized her exceptional vocal delivery then at her young age. She should have become the number one country singer, but by the time she got to Nashville true country singing was on its way out. She will always be Number One with me. God Bless her. We will all keep her in our thoughts and prayers. Keep up your good work and I hope to see you again soon in our travels."
SONG OF THE WEEK
During all my years in the Navy, I had two Christmas theme songs. Which one ran through my mind was determined by my holiday plans. It was either "Christmas Time's A'Comin' (and I know I'm going home)," or it was "I'll Be Home For Christmas (If Only In My Dreams)." Both were much-recorded standards, and I don't remember specific singers, just the songs. Now that I am home permanently, those times are distant memories.
QUESTION OF THE WEEK
What is your story about a Christmas song?
BOOK REVIEW – THAT'S ALRIGHT, ELVIS by SCOTTY MOORE (as told to JAMES DICKERSON)
Scotty Moore was intended to be a replacement for a sister who had died, but his mother gave birth to a fourth son instead of a girl. Born in 1931, Scotty grew up near Memphis and followed his brothers into the U.S. Navy in 1948. That's Alright, Elvis: The Untold Story of Elvis's First Guitarist and Manager, Scotty Moore was researched and written in third person by James Dickerson, based on Scotty's stories. When Scotty and Bill Black began recording in 1954 with Elvis Presley, who had a contract with Sam Phillips, they verbally agreed on a 50-25-25 split. When "Elvis and the Blue Moon Boys" became a sensation, Elvis got the star treatment and his partners were demoted to salaried sidemen. "No matter how successful Elvis became, no matter how many hit records they recorded with him, they were nothing more than employees," the author writes. Scotty and Bill left Elvis in 1957 because they couldn't support their families on what they were being paid. The last third of the book covers Scotty's life from 1958-1996 and includes the belated recognition he received for creating the guitar sound that became a prototype for rock guitar.