NEWS
Two formerly famous homes are for sale in Madison, Tennessee, a Nashville suburb. During the town's heyday, according to the Tennessean, "seemingly everyone there knew someone performing on the Grand Ole Opry, and they lived in the neighborhood west of Gallatin Road in ranch homes on large, mostly unfenced lots." The 12-acre expanse at 1020 Gibson Drive was the final home of Maybelle Carter. A farmhouse built in 1925, it was purchased by Carl Smith and his bride, June Carter, in the early 1950s. Carter family relatives visited and lived there until after Mother Maybelle's death in 1978. Hank Snow's Rainbow Ranch at 314 Easy Marathonna is also for sale. He built the house in 1951, and son Jimmie Snow recalls its embellishments–such as the "electric" fence in the front yard, with a sign warning tourists to be careful. Hank's recording studio is still in the house, and his favorite horse is buried near the barn in the back yard. The 2,800-square-foot home has been vacant four years, and Jimmie is preparing it for sale.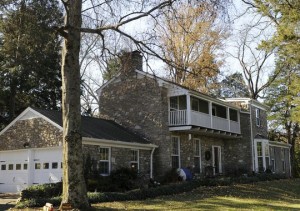 Maybelle Carter home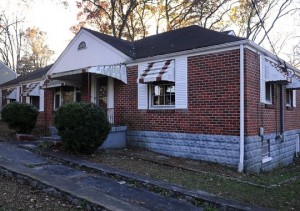 Hank Snow home
During his recent concert at Billy Bob's in Fort Worth, Joe Nichols had a surprise visitor. Randy Travis, still recovering from his stroke, made a special visit to see his one-time duet partner. Their recording of "Tonight I'm Playin' Possum" is on Randy's album Influence Vol. 1: The Man I Am.
The "Dawn Sears and Friends" benefit concert was held this past weekend in Gallatin, Tennessee, with Reba McEntire as headliner. The Time Jumpers and Riders In the Sky were featured performers. Dawn Sears, 52, organized the event to raise money for lung cancer research at Vanderbilt-Ingram Cancer Center. Although lung cancer is the second most common cancer, its funding is low. Dr. Leora Horn of the center's Thoracic Oncology Program believes that's mostly due to the smoking stigma. While most lung cancer is linked to tobacco, about 15 percent of patients diagnosed with lung cancer each year (30,000 people) have never smoked a cigarette. Dawn, who sings backup for Vince Gill and is a member of the Time Jumpers, has stage 4 lung cancer. She has undergone cancer treatments and has not been able to sing since June. "The biggest thing I've learned is that big houses and cars and all the toys don't matter," Sears told the Tennessean. "What matters are the people in your life — family and friends. The fellowship between human beings is so much more important than stuff."
During a recent Grand Ole Opry performance, the Mavericks announced their next album, titled Mono, will be released in February. Raul Malo and his group will then leave immediately on the Mono Mundo Tour, which begins in Boston and goes to the United Kingdom and Europe. Their 2013 release of In Time was their first album in almost a decade. They are performing without founding member Robert Reynolds, whose wife is battling cancer.
At the Country Music Hall of Fame last week, Ronnie Milsap, 71, played the first show of his final tour. The Legend In My Time Tour will cover three years. Ronnie, 71, wants one last opportunity to celebrate the music and the fans he loves.
LETTERS
Col. Robert 'Grant' Hanger (RET DJ) writes about Nickel Dreams: "I have this book too! Patsi Bale Cox died November 6, 2011, of lung cancer. Enjoy your newsletter so much & thanks."
Elroy Severson, who escaped the South Dakota winter, says, "Thanks for the Newsletter. The Newsletters are interesting and I appreciate learning more about the singers I enjoy listening to. I recall hearing about the Stringbean tragedy of many years ago but didn't recall the details, which you provide. Willie Nelson hosting a television show —– interesting. I've always enjoyed Tanya Tucker songs. Sounds like she had a very 'out of the ordinary' childhood. I, too, attended the Moe Bandy concert in Watertown, SD, along with 2 brothers, 1 son, and 2 grandsons. We all enjoyed the concert. In 1988 I enjoyed a Moe Bandy performance in Reno, Nevada. Although he sounds much the same now as then, presently he provides more entertaining talk. I am now in Sun City West, AZ — drove my car while listening to CDs. One of them would you believe — Moe Bandy. The temperature was about 10 degrees when leaving SD and 71 when arriving here—— a pleasant change. I went a little out of the way and spent a few hours in Dodge City, Kansas. Keep up the good work."
Carolyn Babin says, "Thanks to Mr. Hickman for his story about Stringbean and his wife's murder and the recent release of the killer. I did not know of this release but do remember the terrible murder. I cannot believe this has happened. Seems every day murderers are back in society after having been found guilty of a deliberate murder, given a LIFE sentence and then released. This is outrageous. Seems the word LIFE does not mean much at all. I read Doug Brown the brother died in prison …was that supposed to have given the system the right to release John Brown??? I don't think so. If anyone can tell me what to do to that might put this person BACK in jail where he belongs until he dies please inform."
Diane Jordan suggests, "I thought you may want to read a story on Pastor Maury Davis, the man who gave John Brown a job, which aided in his getting paroled from prison. The story appeared in The Nashville Scene in 2009. http://www.nashvillescene.com/nashville/a-grieving-son-finds-no-justice-on-rev-maury-davis-path-to-redemption/Content?oid=1201523
Ross, PROUD father of an American Soldier, wonders, "Is there any intent (by you — or anyone you know) of doing a bio, or even a brief SKETCH, of Lacy J. Dalton of '16th Avenue' fame? I know there have been other songs she recorded, but that was the 'driving inspiration' that kept me going!"
Diane: Great idea, Ross. I'd like to have her as a featured artist in my newsletter. I tried contacting her through the Lacy J. Dalton website, but no response. Perhaps someone knows how I can get in touch with her.
Linda Clark writes from Virginia, "Thanks for the update and congrats to Vince Gill — one of my very favorites, among so many. Have been listening to Emmylou Harris for many years also – congrats to her as well."
Dave Rogers, fellow Navy captain, writes, "Thank you Diane. I love these."
Wayne Morris requests, "Love your newsletter! Will you put Me on your mailing list?"
Early Shirley sends email addresses from California and Alabama: "Please sign us up to receive your Country Music Newsletter. Thank you."
SONG OF THE WEEK
Thanks to Geoff Lambert in England for suggesting Glen Campbell's "I'm Not Gonna Miss You" as my song of the week. Alzheimer's disease devastates its victims as well as their caregivers. I remember how frustrated my dad used to be when he'd forget his thoughts in the middle of a conversation. My sister recalls seeing him reading an Alzheimer's pamphlet. Glen Campbell sings, "It's not gonna hurt me when you cry. I'm never gonna know what you go through. . . . One thing selfishly remains: I'm not gonna miss you." Here's the link: https://www.youtube.com/watch?v=U8TsAh-zYFI
BOOK REVIEW – THE MOST BEAUTIFUL GIRL by TAMARA SAVIANO
When I saw the title of Tamara Saviano's memoir, The Most Beautiful Girl, I immediately thought of the Charlie Rich song from my young Navy days: "Hey, did you happen to see the most beautiful girl in the world? And if you did, was she crying, crying?" And it is the song the title refers to. Saviano's dad sang it to her as a child. She is now a Grammy-winning music producer and business consultant in Nashville, Tennessee. While at Johnny Cash's funeral in 2003, she realized she needed to make peace with the memory of her father, who had died two years earlier and had not spoken to her for the last ten years of his life. The Most Beautiful Girl, subtitled "A True Story of a Dad, a Daughter, and the Healing Power of Music," is about growing up with an abusive father, living with a severed relationship, and coming to terms with that relationship years after his death. I would have liked to read more about Saviano's transition from a beaten-down Wisconsin woman to the Nashville professional who is so well-respected that Kris Kristofferson seeks her out to be his publicist. She does talk about finding a counselor, and she provides a thin timeline of events in the healing process. To me, the redemption story is of more interest than the details of fighting with her parents. It's a truly amazing feat to go as far in life as she has. Readers would enjoy traveling with her and cheering her on. This is an excellent story of someone who not only survives but overcomes and flourishes. I only wish she'd shared more about that process instead of jumping to the finish line. I recently reviewed this memoir for the Internet Review of Books.