TRIP REPORT
My sister, Lorraine "Kayo" Paver, and I returned Sunday night from our third Randy Travis research trip. We drove 3,082 miles in the eleven days we were on the road. On our first afternoon in Nashville, we headed to I-65 to go downtown, but I missed the interstate entrance because of a misplaced do-not-enter sign. I turned around in our motel parking lot, which gave Kayo a chance to stash her recent purchases to our room instead of leaving them in the car on a 92-degree afternoon. It reminded me of the old Archie Campbell song: "Oh, that's bad." "No, that's good."
That feeling popped up numerous times. Here's one more example. Before leaving for North Carolina several days later, we stopped at the Jack-in-the-Box drive-through. I ordered a sourdough burger, and Kayo ordered a bacon Swiss burger. She specified she wanted onion rings. The clerk asked something about the sourdough, and I said no; I thought she was asking if I wanted onion rings. When we picked up the order, my burger wasn't in it. Nor had we paid for it. Had she been asking if I still wanted the item I'd just ordered? Oh, that's bad. No, that's good. We split the burger and onion rings, and it was the right amount of food to last us until our first gas stop.
Everyone we met in Nashville was friendly, whether in a store, on our daily walk/runs, or any chance encounters. One of my main reasons for going to Nashville was to host a Randy Travis band reunion, to enable me to meet Randy's sidemen and hear their stories. I'm grateful to Leon Watson for arranging to hold the reunion in the AFM Local 257 rehearsal room. Leon also called and invited all the musicians I didn't know how to contact. One attendee said he'd come to the reunion because he wanted to see his buddies, and he planned not to say a word to help me. But he decided he liked me and I was credible; he told me to treat Randy well in the book.
On our way to the reunion, our agenda included stopping at a grocery store to buy snacks. We were driving down I-65 toward the Wedgewood exit when the skies opened. The rain was so heavy I sometimes couldn't see the white lines on the road. Fortunately, everyone slowed down to about 15 mph, and the exit came into view. The deluge subsided by the time we reached the absolutely amazing Publix grocery store. When I saw the multi-story building, I thought it must be the corporate headquarters. I drove into the underground parking garage, and we went up to the grocery store on the main floor. The huge store looked brand new. We appreciated not carrying our bags outside in the rain. By the time we got to the musicians' union, the rain had stopped completely.
We drove out to Music Valley on Friday evening to the Nashville Palace. The lady at the parking lot entrance said it would cost $7 to come in that door (line dance lessons), but we could go around the front and hear a live band for free. The woman at the front entrance told us some people would be leaving soon, if we wanted to have a seat in the lobby and wait for a table. A few minutes later, after admiring the Randy Travis wall, we were called in and seated at the center front table. Wendy Newcomer was onstage. We enjoyed her powerful voice and selection of good songs. She and the band ended their show with "The Devil Went Down to Georgia," sung by the upright bass player, David Spicher, son of Buddy Spicher (who played on the Charlie Daniels recording.) The band acted out the song. The fiddle player, a member of the National Fiddler Hall of Fame, quoted the dialogue before firing up his fiddle.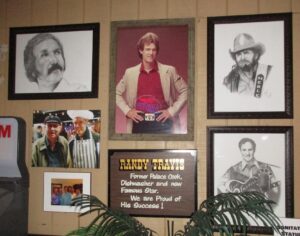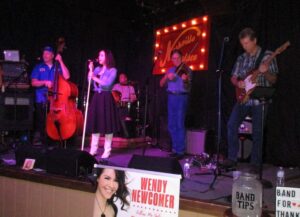 We then went across the parking lot to the Music City Bar and Grill. The fiddler player on the stage introduced himself as Wade Landry, formerly with Mel Tillis, and he sang a Mel Tillis song. He mentioned his brother, Chuck Landry, had been the Statesider drummer until his passing. Kayo and I had met Chuck several months before his death in a house fire. Kayo talked to Wade after the show. When she introduced me and said I'd written the Faron Young book, he looked at me in shock and asked, "You're the one?" Then he said, "I met you before." He explained that Ernie Reed had brought me on the band bus (this was in Maryland in 2007) and later said I'd written Faron's biography. Wade asked Ernie, "Why didn't you tell me who she was?" He had the book in his bunk and would have had me autograph it. We agreed to meet the following weekend so he could bring Faron's biography for me to sign.
The following evening, we returned to the Music City Bar and Grill to see who was playing that night. Kayo and I were commenting on the baseball game being played in the rain on the TV when we looked out the window and saw rain pouring down in Nashville. We waited about an hour before it let up enough so we could splash through the puddles to the Nashville Palace. There we found the Nashville Palace House Band with Becky Hinson on bass. We'd met her on a previous Nashville trip.
While in Nashville, we visited Hilda Young and daughter Alana at the assisted living facility where Hilda was staying while undergoing rehab. She broke her leg several months ago, and the surgeons inserted steel rods in her leg. She was using a walker and a wheelchair and would be going home to Alana's house in several days. Alana had just returned from an excursion in Thailand. Hilda and Faron have two grandsons. One lives in Dallas and has a two-year-old son, and the other is a preacher in Madison, Tennessee. Hilda is thrilled to be a great-grandmother.
Our North Carolina hosts were Kayo's son and daughter-in-law, Casey and Becky Paver. They live in Kannapolis. Kayo enjoyed playing with her three-year-old grandson, Devlin. Casey asked if I knew who Mike Curb was, and I said yes. He owns a record company in Nashville, and my Marty Robbins biography won the Belmont University/Mike Curb award for the best book on country music in 2012. Casey said there's a Mike Curb Motorsports Museum close to their house, and it has the North Carolina Music Hall of Fame in it. I knew Randy Travis was in that HOF, but I had no idea what town it was in and hadn't planned to look for it. What a coincidence that it happens to be only a few blocks from Casey's house! We went to check that out. Randy was inducted in 2009. Mike Curb is also in that HOF. He's from Kannapolis, as was Dale Earnhardt. Mike owned the car Dale drove the year of his first NASCAR Winston Cup Championship, 1980. The car and the trophy are in the museum.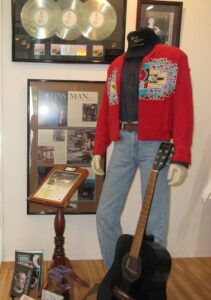 We talked to the woman who runs the museum. Although I neglected to get her name, the website (https://northcarolinamusichalloffame.org/) lists Veronica Cordle as Executive Director. She began as a summer intern with the HOF in its previous location in downtown Kannapolis. She told us she always returned for the annual induction ceremonies, and when the HOF moved to the Mike Curb museum in 2014, she came to work there permanently. The induction ceremonies are now held in the museum. This is the first year they are giving Lifetime Achievement Awards, which go to past inductees who are being recognized for their lifetime of achievements in the music industry. The first two are Tony Brown and Roberta Flack. She expects Randy will get that award within the next few years, and she said we'll have to come back for it.
We went to Marshville and drove past the Traywick home, which is five miles northeast of town. During our 2019 visit, the house had been empty and on the market for several years. It has been sold and is now being lived in. We drove around Marshville itself until we found the Randy Travis mural I'd reported in my newsletter a year ago. It was painted on the side of Pearl's Boutique and is the work of The Mural Shop, which honors North Carolina's most recognizable musicians with murals in their hometowns.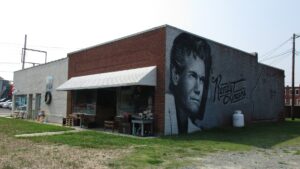 When we drove back to Nashville on Friday, the traffic in the Knoxville area was so bad it took two hours to cover 75 miles. The whole trip took eight hours. We checked into our hotel, took showers, and rushed 17 miles to Hendersonville to find the Hendersonville Memory Gardens. We arrived just in time for Skip Jackson's memorial service. During the period when people were giving their memories of Skip, I walked up front to take my turn. I talked about how Kayo and I had met him fifty years ago when Faron Young and the Country Deputies came to South Dakota. I described seeing Skip thirty years later when I held a Country Deputies reunion in Nashville while writing Faron's biography. I said I'd planned to contact Skip during this Nashville trip to say hello, and now we were here tonight to say goodbye. After the service, we stood in line to say hello to Pam Jackson, Skip's wife of 44 years. As we approached, she grabbed my hand and said, "Diane! I feel like I've known you for 45 years. Or however long since you started working on the book." It was quite a surprise to hear that Skip had talked about me and that he'd appreciated my efforts.
On our last night in town, we went to the Music City Bar & Grill, where we'd agreed to meet Wade Landry while he was playing with Mike Oldham's band. Mike kicked off his show with three Faron Young songs in a row: "Leavin' and Sayin' Goodbye," "Wine Me Up," and "It's Four in the Morning." Then he gave the mike to Wade, who introduced me as a special guest in the house. Wade said I'd written Faron Young's biography—which I immediately held in the air. He pointed to it and said I was autographing his copy. Mike later sang "Hello Walls." Ruth Elkins came over to introduce herself as a subscriber to my newsletter. It was definitely a pleasant surprise to meet her. When I told Wade I'd like a photo of him and Kayo and me, he said he'd find a sober person to take one. He asked a young woman at the bar if she would take a photo of the three of us; he told her she looked sober.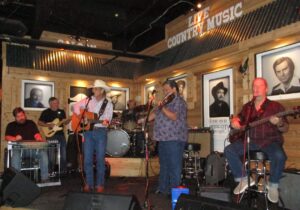 In addition to the band reunion, Kayo and I visited two of Randy's siblings, in their homes, and one of his boyhood friends. I also have a collection of names and phone numbers to call for interviews. It was a most successful and enjoyable eleven days. We returned to South Dakota just in time for me to put together this newsletter and send it out. So here it is.
NEWS
Byron Berline, a 2013 inductee into the National Fiddler Hall of Fame, died July 10 at age 77, as a result of complications from a stroke he suffered in May. Born in Kansas in 1944, he was raised in a musical farm family; his father started teaching him to play fiddle at age five. According to the obituary in The Oklahoman, he was gifted in athletics as well as music. He played football and track at the University of Oklahoma, graduating in 1967 with a degree in Physical Education. He was immediately drafted into the U.S. Army. He'd met his wife, Bette, in college at OU, and they moved to Los Angeles after his discharge in 1969. Over the years, he played with The Dillards, Bill Monroe, Elton John, The Flying Burrito Brothers, Lucinda Williams, Rod Stewart, Emmylou Harris, Earl Scruggs, the Eagles, and The Rolling Stones. He also had several bands of his own. In 1995, they moved back to Bette's hometown of Guthrie, Oklahoma, where Byron established his Double Stop Fiddle Shop and Music Hall. During an Opry tribute on July 17, Vince Gill said the most important thing that happened in his career was when Byron sought him out as a teenager and invited him to come to California. Vince performed at Byron's July 20 memorial service at the First United Presbyterian Church in Guthrie, Oklahoma.
Emergency hip replacement surgery on July 14 forced Tanya Tucker to cancel her remaining concert dates for July, CMT News reports. "My hip has been giving me hell for a while now and the docs discovered a hip fracture," she posted the next day on social media. "I had to have surgery right away. The operation went well and I'm on track for a speedy recovery. I'll be at home healing for a few weeks, but can't wait to get back out and see you as soon as I can. I LOVE y'all and a bad hip can't keep me down!"
This weekend's four-day event at the Orange County Convention Center in Orlando will see 1,000 cars, trucks, and other classic vehicles up for auction. One of the top draws at the Mecum Orlando 2021 auction is the "1969 Dodge Daytona Charger NASCAR." This was the car owned and driven by Marty Robbins. Originally a Charger 500, it was converted to Daytona specifications before Marty raced it in the National 500 at Charlotte in 1970. According to Motoring Research, "The car subsequently disappeared, before being rediscovered in 2005. Research was taken to establish the car's provenance, before extensive restoration work was undertaken at Ray Evernham's Big Iron Garage. A race-prepared 426-cubic inch Hemi provides the power, while the car will be supplied with documents detailing the history of the Charger."
The former home of Conway Twitty is now the home of Gary Allan, who tells CMT News he's just finished renovating it. "There's several things I left because they were like that when he had it," he says. "I left my patio like that. There's a theater that has pictures of his albums…my gym was his beauty salon–that's where he got his first perm." Conway held his fan club parties at that home, Gary says, adding, "His ex-wife gave me a [photo] book and the whole thing was shot at that house." She visited him, gave him a walk-through of the home, and told him stories about the residence. Gary has recently released Ruthless, his first album in eight years. It's a combination of three separate projects, with 28 songs to choose from, after he reunited with studio musicians who played on his previous albums. Gary also makes and sells jewelry. "I went to a jewelry school and learned how to set diamonds and cast gold and silver, he tells CMT News. "I've always been fascinated with that stuff, and I love to make things." His daughter works full-time with him, making 100-200 pieces per month to sell on his website.
Billboard reports Taylor Swift has pulled Fearless (Taylor's Version), her 2021 re-recorded album, from Grammy and CMA Awards contention. According to a press release, that album has already won four Grammys and CMA Album of the Year, and it is the most awarded country album of all time. Her newest album, Evermore, was released in December, and she doesn't want potential votes split between the two projects. Evermore debuted at No. 1 on the Billboard 200, giving her eight consecutive No. 1 debuts. Taylor now has the third-most weeks at No. 1 on the all-genre album chart, behind The Beatles and Elvis Presley. She is the first female artist to win the Grammys Album of the Year three times, following three male artists: Frank Sinatra, Paul Simon, and Stevie Wonder. She is No. 2 on the newly released Billboard's Global Money Makers list, with an estimated total income of $41.4 million.
Carl Dean, husband of Dolly Parton, celebrated his 79th birthday on July 20. Dolly commemorated the occasion by making a video in which she wore a Playboy bunny-inspired costume with bunny ears. CMT News published the video she released to fans. "You are probably wondering why I dressed like this and it's for my husband's birthday," she says in the video. "Remember sometime back I said I was going to pose on the Playboy Magazine cover when I was 75? Well, I'm 75 and they don't have a magazine anymore, but my husband always loved the original cover of Playboy, so I was trying to think of something to do to make him happy." She gave him a plaque with a photo of her original 1978 Playboy cover and a portrait of herself in the new, similar outfit. "He still thinks I'm a hot chick and I'm not going to try to talk him out of that," she says.
Mary Travis had told me she and Randy Travis would be arriving in Nashville on July 25, and they apparently did. Saving Country Music reports Dustin Lee Martin was playing at the Valentine Bar on Lower Broadway that evening when Randy and Mary and their friends came by. They heard him singing, came in, and stayed for the remainder of his show. Dustin Lee and his band played "Deeper Than the Holler" and "If I Didn't Have You" to acknowledge their guest. Then Randy requested "Three Wooden Crosses," a song they'd never played together as a band. But they did it. Dustin Lee tells Saving Country Music, "He stopped in around 11 and stayed all night! Very cool guy. He took pictures with everyone who wanted one and waited until we got finished so we could meet him and take pictures." He adds, "I said, 'Sir, I sure hope we did your songs justice,' and he smiled real big and gave us a big thumbs up!"
A tragedy occurred after the completion of the Faster Horses Music Festival in Brooklyn, Michigan, when carbon monoxide emissions from a nearby portable generator killed three young men (ages 19, 20, and 20) sleeping at the nearby campground. They were found dead in their trailer. Two other 20-year-old men were transported to the hospital in critical condition. PEOPLE reports that headliner Luke Combs, 31, paid the funeral expenses. The three families were at one of the funerals when they were notified. "We all got the news at the same time," one mother said. "We were all there and everybody was just shocked. We just can't believe it. It warmed our hearts. We were having a rough day, and everybody was tense. With that news you just felt warmth in your heart."
Blackbird Presents and Sight Unseen have started work on a multi-part docuseries called Willie Nelson and Family. According to Billboard, the focus will be the life and career of Willie Nelson, 88, who will participate in the docuseries. The project's filmmakers intend to make the "definitive docuseries" of Willie's career, which will be made easier by having access to his seven decades of music archives. Production is already underway in Austin, Los Angeles, Maui, Nashville, and New York, but no word on when or how the docuseries will air.
Opening ceremonies at the Tokyo Olympics included a surprise virtual appearance from Keith Urban. He joined John Legend, Angélique Kidjo, and Alejandro Sanz to sing the John Lennon classic, "Imagine." Their remote recorded performance followed one by the Suginami Children's Choir in Tokyo. Because Keith comes from Australia, he represented Oceania during the song.
This year marks the 125th anniversary of Cheyenne Frontier Days and the 50th anniversary of Wyoming native Chris LeDoux's first album, Songs of Rodeo Life. Both were commemorated last Friday. A statue called "Just LeDoux It" was unveiled in Frontier Park, and Garth Brooks and Chris's son, Ned LeDoux, put on a concert. D. Michael Thomas, a sculptor from Buffalo, Wyoming, designed the statue of Chris on a bucking horse, reminiscent of the cover of his 1977 album, Sing Me a Song Mr. Rodeo Man. Chris won top bareback riding honors at the 1976 National Finals Rodeo in Oklahoma City. He died of cancer in 2005, at age 56. In 2010, Thomas sculpted a bronze statue for the Chris LeDoux Memorial Park in LeDoux's hometown of Kaycee, Wyoming.
LETTERS
Wendy Williams writes from WTSB Radio in Selma/Smithfield, North Carolina, "I receive your newsletter still. I still share it with our listeners. I want to let you know that WTSB did not go silent after Carl Lamm's retirement. Truth Broadcast out of Winston-Salem, NC bought it out in time for it not to go dark. Can you please make an update in your next newsletter stating that WTSB is still broadcasting under new ownership? We have the same crew that was there working with Mr. Carl. Rodney, Joey, Doug and I stayed on. I am still receiving emails from the old address, if you would like you can send it to this one as well. I look forward to hearing from you. Our phone number is still the same if you would like to call me. 919-934-6789."
Diane: It's great news that you're still in operation, Wendy. My apologies for misreading the newspaper article and reporting incorrect information. I'm happy to know Carl's station lives on. He is still reading this newsletter, too.
Diane Jordan writes from Nashville, "I had checked this out before, and wondered why ASCAP has Dianne Whiles's name on 'Country Sunshine,' but BMI does not. Here is the ASCAP listing as it appears:
Writers
ASCAP controls: 25% PRO IPI
DAVIS ROQUEL – ASCAP 7622701
WEST DOROTHY M BMI 32766288
WHILES DIANNE M NS 75570364
Bobby Fischer mentioned he had hired me to sing both versions of the song, as an impartial voice, to be presented as evidence in court. I was disappointed that it wasn't needed. Dottie had written a campaign song for former Tennessee Governor Ray Blanton, using the Country Sunshine melody. The hook was 'We Need a Ray of Blanton Sunshine.' Dottie enlisted Blanton's help in moving the case to be tried in Tennessee instead of Illinois, but it didn't work. Dottie brought into court a spiral notebook with scorched edges, proving, she said, that she had written the song before her house in Nashville's Inglewood area burned in January of 1969. The Attorney for the prosecution called a recess and came back with proof that the spiral notebook had been recently manufactured. Case closed, and my recordings weren't needed! It's a shame that Dottie hadn't told Dianne she believed in her idea and her great melody and wanted to do a re-write, making them co-writers. Instead, she took the idea and melody to Roquel Davis, Coke jingle writer, and they wrote it. Dottie lost her lifetime Coke contract because of it. There was one member on the CMA board who kept Dottie out of the Country Music Hall of Fame. Voting had to be unanimous, and he didn't think she should be in the HOF, because of the song theft. He died in 2016, and it wasn't long until Dottie was inducted. Had she just admitted it, it wouldn't have been so bad, but to fabricate 'evidence' to prove that Dianne Whiles was a liar, was really, really wrong. Feel free to use as much of this as you wish….it's all true."
Diane Jordan also asks, "Have you seen the new Apple iPhone TV ad using the Kitty Wells record, 'Searching'?"
Pejay Mirtschin writes from Australia, "I have been absent for a little while, but I have enjoyed catching up on your newsletters when they arrive. I have been a bit off colour this last couple months and at the moment I'm running on 5 units of donor's blood to keep me up to speed and healthy. This is where life is great hey! Great to read all the fantastic news in your pages and I am happy that I receive them each month. My wife Joy and I are saddened at the moment at the loss of a fellow Country Music Radio Presenter in Rae Matthews, who passed away about 12 Days ago following stomach surgery. She will be sadly missed by Country Radio followers here in Northern Victoria. RIP Rae. Anyway, keep up the great work As we love your Newsletter."
Dominique 'Imperial' Anglares writes from France, "Thanks for that newsletter and for the mention given to Sanford Clark. He was a bright artist. It's vacation time for me. Wishing you and your readers a great summer."
David Markham writes from England, "Good day from Liverpool. Can you believe I'm still hunting to find Linda Martell's Home Address? I was saying to my wife maybe she doesn't want to be found. I'm very hurt in what this sweet lady went through. She sang the music she loved, her dad was a pastor, she had a good education, and this is how she was treated. Who can I write to to help me? I've emailed many country artists. Nothing. They put her age down as 86. Wrong. 80 would be her age. She was born 1941 same year as me. I'll bid you a lovely evening Diane until I hear from your Newsletter."
Diane: I don't know how to contact her, either.
Bobby Fischer says, "Really enjoy your updates on all the country music goings-on. You are on the news items before the papers. I've passed on your site to several others."
Larry Jordan writes, "Contrary to what David Markham of England writes in your latest newsletter, Freddy Hart did NOT give 'He'll Have To Go' to Jim Reeves to record. As I quote Jim's longtime lead guitarist, Leo Jackson, in my 672-page book, Jim Reeves: His Untold Story, Leo was unpacking his suitcase in July 1959 after having arrived home from the Army, when Reeves noticed a single record amongst Jackson's belongings. He picked it up and Leo explained it had been recorded by an obscure artist named Billy Brown, whom he had met in an Atlanta club and whom Leo regarded as more of a rock 'n' roller. At that point, Leo hadn't even listened to the disk. But Reeves was intrigued by the title and gave it a spin. He immediately recognized its hit potential and was baffled by why Columbia was not promoting it. He said, 'This is on a major label. I've never heard this before… They don't know what they've got. I like this song. I'd like to record it, but he's a new guy and the disk jockeys are gonna jump all over me.' Leo said Jim was worried that if he covered Brown's record, it would be kind of what Billy Walker did to him with 'Mexican Joe.' (Walker had used his status as an established star to record Jim's first big single shortly after Reeves did, and jeopardize the aspiring singer's ability to have a hit. Jim never forgave him for it.) Jim told business associate Clarence Selman that when he heard 'He'll Have To Go': 'It was like a hot poker burning its way through my mind.' Clarence recalled, 'He wanted to give [Brown] a chance to hit with the song if he could.' So Reeves waited about three months to see what Billy Brown's version would do on the charts. He then scheduled a very rare morning recording session (as he felt it would be easier to hit the low notes) and relied on Anita Kerr to come up with an on-the-spot arrangement. It was released by RCA just before the holidays in late 1959 — as the B side, with Johnny Russell's up-tempo 'In A Mansion Stands My Love' as the A side — one of the truly epic mistakes any record label ever made. Jim confided to his Iowa fan club rep, the late Wilma Sedivy (a longtime friend of mine), that he was afraid the song was 'going to get lost amidst the Christmas wrapping.' But it became Jim Reeves's signature song and sold over 3 million copies at the time (and many more since). This record made the man with the velvet baritone a worldwide star and introduced him even to fans in South Africa, where he became so popular he later made a movie there."