NEWS
The newest members of the Nashville Songwriters Hall of Fame are Amy Grant ("Baby Baby," "Tennessee Christmas," "That's What Love Is For"), Rhett Akins ("That Ain't My Truck," "Honey Bee," "It Goes Like This"), Toby Keith ("How Do You Like Me Now," "I Love This Bar," "Should've Been a Cowboy"), Buddy Cannon ("Give It Away," "I've Come To Expect It From You," "Set 'Em Up Joe"), and John Scott Sherrill ("Wild And Blue," "How Long Gone," "The Church On Cumberland Road"). The Tennessean reports they will be inducted November 1 at the Music City Center, along with the 2020 class: Steve Earle, Bobbie Gentry, Kent Blazy, Brett James and Spooner Oldham.
"Coming Home: Rebuilding the Bilbreys" is a fundraiser that will be live streamed July 15 at 7:30 pm CT on Country Road TV, aired from TBN's Huckabee studio. Emy Joe and Keith Bilbrey lost their Williamson County home in a fire on June 23. The show will be hosted by Mike Huckabee and Larry Black. The list of artists includes Lee Greenwood, T.G. Sheppard, Kelly Lang, Johnny Lee, Jeannie Seely, Bill Anderson, Moe Bandy, Gene Watson, The Gatlins, among many others. "Coming Home: Rebuilding the Bilbreys" is sponsored by Country Road TV, Huckabee, Larry's Country Diner, Gus Arrendale and Springer Mountain Farms Fresh Chicken.
The Hendersonville Standard published the obituary of Lloyd Aaron "Skip" Jackson, III, age 70, who died June 25. Skip spent 22 years in the country music business, playing steel guitar with artists such as Willie Nelson, Faron Young, Ernest Tubb, and The Kendalls. He spent three seasons at Opryland USA in the cast of Country Music USA. Deciding to pursue his photography passion, he obtained his Certificate of Photography from Nashville State Technical Institute. He left his music career to open the Downtown Photo studio in Nashville. He joined the faculty of Nashville State Community College and taught there until retiring in 2017. He helped create the digital photography and lighting curriculum that Nashville State continues to use today. Skip is survived by his wife, Lillian Pamela Jackson of Cottontown TN, a daughter and son and six grandchildren, and his mother, Jessie Jackson of White House TN. A Celebration of Life will be held Friday, July 23, 2021, at 7 P.M., at Hendersonville Funeral Home, following a gathering of family and friends from 3-7 P.M.
Rockabilly artist Sanford Clark, 85, died July 4 at Mercy Hospital in Joplin, Missouri. The Associated Press reports he had been receiving cancer treatment there, before he contracted the coronavirus that caused his death. Born in 1935 in Tulsa, Oklahoma, he was raised in Phoenix, Arizona, where he began performing in the early 1950s. His debut record, Lee Hazlewood's "The Fool" in 1956, was his biggest hit. The song was later recorded by other well-known artists, including Elvis Presley. He left the music business to work in construction in the 1960s. In later years, he occasionally recorded on his own label, Desert Sun Records.
The Tennessean reportsVince Gill has donated Roy Acuff's prized fiddle to the Country Music Hall of Fame and Museum. "The fiddle was given to Acuff by soldiers during a time of war because of how much he meant to them," Vince said in a press release. "He meant a lot to me, too." Near the end of World War II, four soldiers in the U.S. Army's 348th Engineer Combat Battalion found the instrument in a bombed-out music store in Frankfurt, Germany, and sent it to their favorite Grand Ole Opry star, Roy Acuff, as a gift. The fiddle, built in Germany around 1890, copied the violins built in the 1600s by Austrian luthier Jacobus Stainer. Roy used the fiddle for many years in his performances. Vince Gill acquired the fiddle this year and donated it to the Museum, which quickly opened a spotlight exhibit: "Soldier's Joy: A Fiddle Fit for Roy Acuff." Vince Gill and curator Mick Buck discuss it here.
I'm two years late in reporting the retirement of Carl Lamm, America's longest continuous radio broadcaster. Realizing I hadn't heard from him in a while, I checked the internet. After 72 years on the air, he retired March 31, 2019, at age 92. The Johnston County Report in Smithfield, North Carolina, reported that when Carl signed off the air, so did the radio station he owned and operated: WTSB AM 1090, FM 105.5 in Selma-Smithfield. "Broadcasting has been my calling, it's been a passion to entertain people," he said at the time. "I've had a great time over the past 72 years – but it's time to call it quits." He added, "I've worked my whole life. It's time for some time for myself." Carl is a member of the North Carolina Broadcaster's Hall of Fame and a World War II Navy veteran. When I called him for an update, he sounded as strong as ever. His son, Mickey, told me, "He is 94 and retired. His vision and hearing aren't good, but he is still active and enjoys spending time talking to friends and family on the phone and praising the Lord."
Bill Anderson celebrates his 60th anniversary as a member of the Grand Ole Opry this Saturday night, July 17. He will be on the televised portion of the Opry, which will be shown on the Circle Network. Bill says in his fan club newsletter that he's been back in the recording studio and will be releasing new music later this year. "I have recorded a COUNTRY record like many of you have been asking for," he writes. "Lots of fiddle and steel and country lyrics and melodies." The release will also feature duets with country music friends.
The long-awaited 50th Anniversary tour by Alabama is now happening, The Country Daily reports. The first show was at Nashville's Bridgestone Arena on July 2 with Martina McBride. The tour consists of nearly 30 arena and amphitheater concerts that run into early 2022. Other special guests on the tour will include Travis Tritt, Sara Evans, Lorrie Morgan,Pam Tillis,Tracy Lawrence, The Beach Boys, and more.
The Fender Coronado guitar played by Charley Pride during much of his career will soon be displayed in a museum exhibit honoring Marty Stuart. According to Country Music Nation, the guitar was shipped to the wrong address after one of Charley's tour dates and went missing. Years later, in 2019, Marty Stuart tracked it down and acquired it. He brought the guitar to Charley backstage at the Ryman Auditorium on January 24, 2020. They took a photo together, and Charley autographed the guitar for Marty. Charley died eleven months later. The guitar will be featured in an exhibit at the Museum of Mississippi History in Jackson, Mississippi. "The World of Marty Stuart" is scheduled to open in 2022.
When an EF-4 tornado damaged more than 1,700 homes in Newnan, Georgia, this past March, hometown boy Alan Jackson came to help out. Sounds Like Nashville reports the June 26 fundraiser, called Where I Come From: Tornado Benefit Featuring Alan Jackson, raised more than $2 million. Cornerstone Building Brands donated $500,000 in building products to Habitat for Humanity's nationwide Disaster Risk Reduction and Response program, as well as $100,000 to the Coweta Community Foundation. Many Cornerstone employees live and work in the Newnan area. Southtowne Chevrolet in Newnan also donated $105,000.
The latest in the divorce fight between Kelly Clarkson, 39, and talent manager Brandon Blackstock is a formal legal request from Kelly for a judge to declare her legally single, reports Taste of Country. She wants the financial issues and custody of their two children (ages 5 and 7) to be resolved later. The couple married in 2013, and Kelly filed for divorce a year ago. Then Starstruck Management Group, owned by Narvel Blackstock, Brandon's father and Reba McEntire's ex-husband, sued Kelly for millions in unpaid commissions. She countersued, alleging that the Blackstocks had defrauded her by overcharging her. Kelly currently has primary physical custody and is paying spousal support. Blackstock is challenging the prenuptial agreement.
Norwegian journalist Fredrik Skavlan interviewed Dolly Parton last December on his popular Norwegian-Swedish television talk show, Skavlan, reports Yahoo!life. When asked about shopping, Dolly said she doesn't mind spending money on stage costumes, but she is frugal with street clothes. "I can think, well, on this one purse, my daddy could have lived a whole year on that," she said. "They could have fed a family of twelve on what I would pay for a coat." She got her business sense from her daddy and her musical side from her mama, and she considers both sides of the music business necessary. Here's a 14-minute video of their conversation, filled with many great quotes.
CMT News honored Jeannie Seely on her 81st birthday with a profile by Jessica Nicholson. Born July 6, 1940, in Titusville, Pennsylvania, Jeannie moved to Los Angeles in 1961 and Nashville in 1965. After winning a Grammy for "Don't Touch Me," she joined the Grand Ole Opry in 1967 and toured for years with Jack Greene. She was married to Hank Cochran for 12 years, and he wrote many of her hit songs. Jeannie's own songs have been recorded by many country artists. Jeannie is a strong supporter of young talent and a fierce advocate for female artists. She challenged the Grand Ole Opry's outdated female dress code and was the first woman to host a half-hour Opry segment. "I did my homework every week," she said. "I was aware that if I didn't do that, that door would be closed, not only to me, but all the other young women coming up. It's such a rewarding thing to me when Lorrie Morgan and Pam Tillis and that generation came in, and they could walk out there, and do a great job without ever having to be even concerned with that. It was just simply the right thing to do."
Page Six was the first news source to report the wedding of Gwen Stefani, 51, and Blake Shelton, 45. They were married on July 3 in a chapel Blake built on his 1,400-acre Ten Point Ranch in Tishomingo, Oklahoma. Guests included Gwen's parents and her three sons, ages 15, 12, and 7. Carson Daly, host of the TV show, Voice, officiated. The couple began dating in 2015 after meeting as coaches on the show. They became engaged in October. The newlyweds are moving into a newly built mansion on the ranch.
Dennis Quaid, 67, has teamed with The Bellamy Brothers to cover "I Can Help," the Billboard No. 1 by Billy Swan in 1974. "It couldn't have been more fun recording 'I Can Help' with David and Howard Bellamy," Quaid told PEOPLE. "I felt like I was a kid skipping school and jamming with a band." David, 70, and Howard, 75, were not fond of covering other artists' songs, but they thought Dennis would be a great collaborator and "I Can Help" the perfect track for their new project. The Bellamy Brothers plan to release their first-ever complete covers album, Covers from the Brothers, this fall. How well I remember Billy Swan's "I Can Help." I was a young sailor in Pensacola, Florida, at the time . . .
Nashville's Bluebird Cafe is opening once again, after 16 months of being closed during the pandemic. Rolling Stone Country reports it will hold its first show with a ticketed audience on July 16. An Instagram post announced, "After a long and challenging year and a half, we are ecstatic to announce that The Bluebird Cafe's doors will soon be opening and we will once again have music filling our room!" Thom Schuyler, Fred Knobloch, Jelly Roll Johnson, and Tony Arata will be the headline performers.
Sounds Like Nashville reports Mark Chesnutt has canceled 24 concert dates between July 9 and September 5 because he is undergoing immediate back surgery. He has been battling severe pain for some time and was advised that surgery could not be put off. "I've been suffering with this for a very long time, and postponed as long as I could," he tells fans. "I hate to get off the road, just as the venues opened back up. I was really looking forward to this year." Nine to ten weeks of recovery time is expected.
Jennifer Nettles of the duo Sugarland has released her new album, Always Like New, a celebration of the American Songbook that includes songs from Broadway classics such as My Fair Lady, Oklahoma, and Guys and Dolls, along with songs from current musicals Dear Evan Hansen and Hamilton. "This album has been a long time coming," the Georgia native tells Sounds Like Nashville. "I grew up doing theater all through high school and college. Towards the end of college, I had a moment where I was like, Okay, do I want to pursue theater exclusively or do I want to pursue music exclusively?" She chose music. "And I'm so glad that I did," she says, "because the success I've had as a musician has allowed me to come back into the musical theater world with my Broadway debut in 2015." Always Like New is available on vinyl as well as CD and digitally.
Lower Broadway in Nashville was packed on July 4 when Brad Paisley headlined the free Independence Day celebration "Let Freedom Sing!," billed as the first major city event since COVID-19 shut down live entertainment more than a year ago. Standing on center stage at Broadway and 1st Avenue, The Tennessean reports, he kicked off with "City of Music." This year's event drew a "Let Freedom Sing!" record audience of 350,000. Brad's 90-minute performance featured A-list guitarist Joe Bonamassa and country hitmaker Kelsea Ballerini. The audience included Tennessee Gov. Bill Lee and U.S. Transportation Secretary Pete Buttigieg. At one point, Brad handed an autographed guitar to a young girl dressed in red/white/blue and waving from the front row. "Learn how to play it, little girl," he said. "That's how you make a Taylor Swift right there. She is going to break hearts and write songs, all the way to the bank." 
Olivia Evans, 18, daughter of Sara Evans, has released her debut pop single, "Of Course I Do." According to MusicRow, it is the first song from her forthcoming EP, of which she co-wrote all five of its break-up inspired tracks. In 2019, Olivia and brother Avery joined Sara to form the Barker Family Band. Sara then added Olivia to her band as a background singer.
Taste of Country reports Lady A canceled a July 10 appearance after Charles Kelley suffered appendicitis. Bandmates Dave Haywood and Hillary Scott posted on social media: "After such a long wait, there isn't much that could keep us from being with our fans. Unfortunately, Charles has appendicitis, so we're sorry to say we won't be with you in Minnesota at Lakefront Music Fest tonight."
The Midnite Jamboree, a live show and radio program launched by Ernest Tubb in 1947 to follow the Grand Ole Opry every Saturday night, has returned to its original home. When the Opry moved to Music Valley in 1974, so did the Jamboree. Now it's back at the Ernest Tubb Record Shop on Lower Broadway. Live music begins each Saturday night at 10 p.m. Jesse Lee Jones, Brazilbilly frontman and Robert's Western World owner, purchased Ernest Tubb Record Shop from longtime owner David McCormick last year. "I am, completely, all about tradition," he tells The Tennessean. "We're keeping tradition in Nashville." The shows will team classic country with promising up-and-comers. "Mr. Tubb always, always wanted to spotlight new and upcoming talent," Jamboree engineer Morgan Anderson says. "We still have a mixture of the old guys, plus also newer artists as well. That's our fundamentals, of what Mr. Tubb was trying to do." As when ET launched the Jamboree nearly 75 years ago, it will be free to attend.
The newest Tennessee Music Pathways marker honors Kix Brooks at his award-winning Arrington Vineyards. The Tennessee Department of Tourist Development, explains MusicRow, launched Tennessee Music Pathways in 2018 as an online planning guide that connects visitors to the state's rich musical heritage. Tennessee Music Pathways stretches across all 95 counties and features hundreds of landmarks from all genres of Tennessee music. Kix Brooks and Ronnie Dunn, known as Brooks & Dunn, sold over 30 million albums, making them the best-selling duo in country music history. In 2019, Brooks & Dunn were inducted into the Country Music Hall of Fame. In 2014, Kix was the first recipient of the CMA Humanitarian Award. In addition to owning a production company, Team Two Entertainment, and raising Beefmaster cattle on his farm, he became a founding partner of Arrington Vineyards.
One of the gifts received by former President Jimmy Carter and his wife, Rosalynn, to celebrate their 75th wedding anniversary came from Garth Brooks and Trisha Yearwood: a red convertible built in 1946, the year they married. According to PEOPLE, the car arrived at their home in Plains, Georgia, several days ahead of their Saturday night party. The Secret Service stored it in an area of the compound where the Carters wouldn't see it until Garth and Trisha arrived to present it.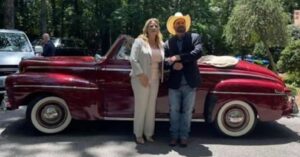 LETTERS
Mike Johnson of Roughshod Records writes, "Another juicy issue chocked with interesting and informative information. I've been knee-deep in my literary endeavors and recently published two more short story collections and prepping another shelved novel for publication. I turned 75 earlier this month and am also thinking about releasing another album. In your 16 June 2021 issue, Dave Barton from Kentucky implied that Ruby Falls was the 'first' Black Female Country Singer and you quickly set him straight, so I decided to leave that alone. Then a comment/request by DJ David Markham from England, in your 30 June 2021 issue, compelled me to weigh in because I faced some of the same treatment throughout my country music career, though it was mostly subtle. Judging by your comments, David, it sounds as though you're not fully aware of America's deeply ingrained mindset during that period, when peoples of color, no matter how talented, intelligent, or notable their contributions, they were often ignored, overlooked, diminished and deemed non-worthy and unacceptable to the American cultural and intellectual landscape simply because of the color of their skin. Did you know that Berry 'Motown' Gordy had three country music labels and that T.G. Sheppard got his first country hit on one of them? I've known about Linda Martell since the late 1960s when I started performing. She was interviewed and profiled in Pamela E. Foster's 1998 groundbreaking book on African American involvement in and contributions to country music. Emphasis on the italicized words because all too often Black country artists were often described as mere influences instead of participants. Foster's 1998 My Country, the African Diaspora's Country Music Heritage dispelled that myth and contained discographies. Her 1999 follow-up book, My Country Too, contained more insight and also included discographies and photographs. Though out of print, both editions can be found in numerous libraries. Ms. Foster is an African American award-winning journalist whose works have appeared in numerous country music publications after she moved to Nashville in 1993. Since then, others have unashamedly copied and used her research as their own. However, new and more detailed information and interviews regarding Martell have seen a steady increase on the internet. Just type in her name, take your pick, and click. These links provide some detailed information on Linda Martell's country music career: https://www.rollingstone.com/music/music-features/linda-martell-black-country-grand-ole-opry-pioneer-1050432/ and http://www.cmt.com/news/1834642/linda-martell-a-rediscovered-country-legend-to-receive-cmts-2021-equal-play-award/"
Priscilla McPheeters writes from Lawrence, Kansas, "Thanks for this great newsletter. So very sad about Randy Travis's cousin. I really appreciated what Brad Paisley wrote about his dad's good advice."
Dominique 'Imperial' Anglares writes from France, "Thanks for that summer Country newsletter. Always much appreciated to get the news, the letters and the memories of the witnesses of the time."
David Markham writes from England, "Who's going to write after you? Thank you once again for all your hard work in keeping us all up to date with country music artists and tragic stories of our dearly parted friends who came and entertained us all. Now they are slowly leaving us to make way for the next generation of Country & Western Music Artists. Family of Randy Travis, was very sad for him and his family. Sorry I can't comment on this horrible news. The news on Charley Pride, have you noticed when a famous family member dies you'll always hear terrible news said about them all. Like my friend Jim and Mary Reeves, the treatment they had to go through had they been alive. When Jim first sang "He'll Have To Go" with his baritone voice, the Fans went mad, they couldn't wait to buy his Album. Did you know they had Freddy Hart down to record it and he gave it to Jim Reeves? More Fans talking about Dolly and her husband and Porter. I can't stand gossip, and another thing, why should Fans say nasty names to Linda Martell are they frightened of them because of the colour. Dear Linda, Congratulations in all you have Achieved. I've been into country since 7 years of Age, I'm 80 this November and I'm a Traditional Country And Western Promoter, for 5+years, God bless Linda. Love from a true Country Fan from UK."
Donald Ewert says, "Ruby Falls was part of the house band at a club in Milwaukee for several years before going to Nashville. I was wondering if you know anything new about Karen Wheeler? I read her book, My Father's Daughter (Onie Wheeler, her father). I have a couple of great CDs by Karen Wheeler. She used to tour with Conway Twitty. Her biggest hit would be 'Born To Love and Satisfy.' She was part of Harden Trio for a while."
Diane: I didn't find anything new about her. I hadn't heard of her autobiography, which she self-published in 2018. She has worked extensively in the Christian music field, and she served as Executive Board Secretary for Music City Christian Fellowship, so perhaps she's still involved there. I couldn't find any recent CD releases or touring schedule. Onie Wheeler was 62 when he died of a massive heart attack on the Opry stage while playing guitar during the Jimmie Snow Gospel Hour in May 1984. I couldn't find Karen's age, then or now.
Fred Bessell writes, "We have lost many, many classic real traditional country artists. Can't be helped. But when they went, we lost Real Classic Traditional Country Music. There are a few–very few–that are still with us but before long they will be gone–plus the Great ones just don't get radio airplay. I have heard & seen the Malpass Brothers & they are great. Could you do a good piece on them? I was just thinking, with your emails, the Classic Real Traditional fans probably are the only ones that get your email & read it. Also do a bit on Carl & Pearl Butler."
Diane: I've tried to contact the Malpass Brothers; I'll try again. I loved the honky tonk music of Carl & Pearl Butler, and I enjoyed hearing them on the Opry. They paved the way for singing couples. Pearl was only 60 when she died of thyroid complications in 1988. Carl died of a heart attack four years later, at age 65. Carl wrote "If Teardrops Were Pennies," a top ten hit for Carl Smith in 1951, and he cowrote "Crying My Heart Out Over You," the first number one for Ricky Skaggs, in 1982. There is an active Facebook page dedicated to their memory: https://www.facebook.com/Carl-and-Pearl-Butler-205792819473761/
Bobby Fischer writes from Nashville, "Way back when I had my bands in the Midwest, I got to play music and write songs with some great talents. We would show each other what we were writing and talk about how could we get our music to Nashville. One lady, good singer and writer, always showed me what she was writing: Dianne Whiles, divorced, several kids and on welfare. Then I moved to Nashville. She gave me a little tape of several songs and said maybe I could rewrite them if they needed it or show them. I told her I would be working on my own but would take them along. I got to write with Charlie Black, Jerry Gillespie, Ricci Mareno, and Tommy Overstreet. Dianne contacted me; she had had a chance to give some of her songs to Dottie West and a new artist Dottie was working with, Larry Gatlin. Then Dianne said have you heard the big Coke commercial 'I was raised on country sunshine'? I said of course. She said do you still have the tape I gave you of songs I wrote? Yes, somewhere. Can you listen to the one 'I was raised on country sunshine'? I did. The commercial was right off her song and Dottie wouldn't take her calls. I showed it to Ricci Mareno. He sent me to our attorneys in Chicago. They put a big lawsuit on Dottie, Tree Publishing (her publisher), the ad company, and RCA Records. When the time came to meet with their attorney, I went to Chicago, Dianne went there from Moline, and the powerhouse of attorneys were all around the boardroom and little Dianne. They tried to stare us down. We came up with proof that the original creation was 'Dianne Whiles.' Dottie and the heavies lost the suit. Dianne's name went on as cowriter. After it had been wrong on label copy a long time, I got what I set out to do–get the right writer credits. Diane Jordan recorded the two versions of Dianne Whiles's original song and the final record to present to the final judges, which finally proved Dianne Whiles wrote the original it was taken from. It was good to help her clear her name."
Diane: I'm not sure if it got "cleared." The BMI database lists the BMI-award-winning song "Country Sunshine" as written by Bill Davis and Dorothy West.
Eric Calhoun says, "Happy American Independence Day to you and yours. A few things: I want to let people know that classic country, which cannot be played in Los Angeles 24 hours a day, can be heard on the Audacy app; there is a 1970s station and a Johnny Cash station. More to come. Also, I did hear about the killing in North Carolina, which was mentioned in your last newsletter. Lastly, there is a new singer out of Georgia who is receiving a lot of attention. She's about to turn 18, and her name is Callista Clark. Can you tell us a little about her please?"
Diane: Callista Clark from Zebulon, Georgia, is seventeen years old. Big Machine Label Group "discovered" her and signed her to a contract after she posted a cover on Facebook of Creedence Clearwater Revival's "Have You Ever Seen the Rain." It has been viewed 27 million times, and she has amassed over 65 million views on Facebook and six million on YouTube.  She released her debut EP, Real to Me, in February. The lead single is "It's 'Cause I Am." She took part in Big Machine's Zoom showcase for UK country media on March 9, marking International Women's Day. Calista has a website.