NEWS
We've lost another of Faron Young's Country Deputies. Skip Jackson of Hendersonville, Tennessee, died June 26. Born Lloyd Aaron Jackson III, Skip played steel guitar with The Kendalls and then with Faron Young from 1970-75. He retired from the music business and became a photography professor at Nashville State Community College. Pam Jackson posted on Facebook, "Just before sunset last night, my husband, friend, partner and the love of my life of 45 years took his last breath and stepped into the arms of Jesus. His fight against cancer was valiant and painful but his passing was calm and peaceful, surrounded by the love of his family." There will be a celebration of Skip's life at the Hendersonville Funeral Home on July 23.
NASCAR Cup Series races have returned to Nashville after an absence of 37 years. The Nashville Fairgrounds Speedway, which first opened in 1904, hosted NASCAR Cup Series races from 1958 until 1984. It's where Marty Robbins raced for years. The 1983 race was the Marty Robbins 420, in honor of the Grand Ole Opry star who died the previous year. In April 2001, the newly built Nashville Superspeedway in nearby Lebanon hosted its first NASCAR event, but it took twenty more years to get a NASCAR Cup Series race. Sunday, June 20, saw the first NASCAR Cup Series race in the Nashville area since 1984. Kyle Larson won the 2021 Ally 400.
A cousin of Randy Travis was recently murdered. WECT-TV News in Brunswick County, North Carolina, reports that Bryan Lex Traywick, 53, was found dead on Carlon Road early Wednesday morning, June 9. He had suffered an apparent gunshot wound to his chest. Nigel Underhill, 20, turned himself in after a warrant was issued for his arrest. The arrest warrant said Underhill took an unknown amount of cash from Traywick before killing him. Bryan's brother, Ronnie Traywick, told WECT-TV his brother sang at several businesses and had just finished a performance when he was killed. It's likely the stolen money was from his tip jar. He said Bryan performed in many venues and lived in Brunswick County and North Myrtle Beach. The brothers had previously performed with "their cousin, Randy Traywick, an award-winning country singer better known as Randy Travis." Bryan was born in 1968, in Union County, North Carolina, where Randy's family also lived.
Wal-Mart is issuing a posthumous Charlie Daniels album featuring duets with other country singers. The Tennessean reports the 19-song Charlie Daniels & Friends 'Duets' album will feature Dolly Parton, Brenda Lee, Vince Gill, the Del McCoury Band, Brad Paisley, and others. Garth Brooks sings harmony on Charlie's song "Waco," Brooks & Dunn on "Long Haired Country Boy," Gretchen Wilson on "Jackson," and Darius Rucker on "Like A Rolling Stone." Although Charlie died last July at age 83, his Volunteer Jam will continue. The concert, postponed from February 22 because of the pandemic, will take place August 18 at Bridgestone Arena in downtown Nashville.
There will be no Willie Nelson 4th of July Picnic this year. Saving Country Music reports Willie is taking a second year off. The uncertainty surrounding the pandemic didn't give enough time to organize it. Since the first picnic in 1973, there have been 48 Willie Nelson Picnics over the years. Willie's Outlaw Music Festival Tour kicks off on August 22. Sharing the stage at various amphitheaters will be Chris Stapleton, Sturgill Simpson, Margo Price, and others.
The father-son team of Rhett Akins and Thomas Rhett performed together on the Grand Ole Opry for the first time on June 12. Rhett Akins pointed to the edge of the Opry stage, according to the Tennessean, and told his son, "You were over there at two years old watching me play." Thomas Rhett Akins, Sr., age 51, and Thomas Rhett Akins, Jr., age 31, have been writing songs together since Thomas was eight years old. They debuted their new song, "Things Dads Do," on the Opry stage. Thomas and his wife are expecting their fourth child later this year.
The Nashville Songwriters Hall of Fame has announced 12 nominees for the class of 2021. Nominees in the Artist/Songwriter category are Toby Keith, Brad Paisley, Shania Twain, and Phil Vassar. Nominated songwriters are Rhett Akins, Buddy Cannon, Larry Cordle, Carl Jackson, Mary Ann Kennedy, David Malloy, Frank J. Myers, and Tia Sillers. One artist and two songwriters will be inducted during this year's ceremony on November 1. It will be a special double-sized event, because it will also honor the Class of 2020: Steve Earle, Bobbie Gentry, Kent Blazy, Brett James and Spooner Oldham.
The middle daughter of Tim McGraw and Faith Hill recently graduated from Stanford, reports CMT News. Tim tweeted, "We are so incredibly proud of our Maggie May!!!! She graduated from her Masters program at @Stanford this weekend and what a celebration!!!" Their three daughters are Gracie, 24, Maggie, 22, and Audrey, 19.
The Country Daily quotes Brad Paisley reminiscing about advice from his dad. Brad was a childhood singing star in his hometown of Wheeling, West Virginia. His dad told him, "You're pretty good for 12, but when you're 18 you gotta be better than this because you won't be cute anymore." Brad says, "That was truly good advice. And something I think people need to realize. At some point you gotta get good at something." He adds, "This is a day and age where everybody thinks you can just do an embarrassing video and post it on Instagram and have a few seconds of fame, but do something else. Go get good at something."
The fourth child of Charley Pride has filed a lawsuit in the Dallas County Probate Court in Texas, asking for recognition as Charley's son. Tyler Tines Pride, 41, is a police officer from Tyler, Texas. Saving Country Music reports a Texas court in 1992 confirmed via DNA testing that Charley Pride was his father; the court ordered 13-year-old Tyler's surname changed from Tines to Pride and ordered Charley to pay child support. Charley's obituary last year listed Rozene, his wife of 64 years, and three children: Carlton, Dion and Angela. According to Tyler Pride, Charley met Joyce Ann Tines when she was a Braniff Airways flight attendant. Joyce and Tyler were Charley's "second family." Charley visited less often as the years went by. Growing up in east Texas, Tyler says he was picked on for being biracial, but he was always proud of his famous father. He was not notified of Charley's illness, was not listed in Charley's will, and was advised not to attend the funeral. Rozene told The Dallas Morning News, "It is heartbreaking to see Tyler try to tarnish Charley's reputation and break Charley's estate plan in the hope of getting more money for himself." She says Tyler only called Charley when he wanted money. The court will determine whether Tyler has any claim to Charley's estate.
The Garth Brooks Stadium Tours are resuming this summer, after being sidelined due to COVID-19. The Tennessean reports Garth will perform July 31 at Nissan Stadium, with the expectation of the largest one-night Nashville concert in his career. Tickets went on sale June 25 at a cost of $94.95 and broke the sales record in 75 minutes. The first show of the tour takes place July 10 in Las Vegas. Other stops are: Salt Lake City, Utah; Kansas City, Missouri; Lincoln, Nebraska; Cincinnati, Ohio; and Charlotte, North Carolina.
Kenny Chesney is also scheduled to perform at Nashville's Nissan Stadium. His 19-date "Here and Now" tour, postponed from 2020 and 2021, resumes April 23, 2022, in Tampa, Florida. The Tennessean reports his Nissan Stadium appearance will be May 28. The tour ends with two nights at Gillette Stadium in Foxborough, Massachusetts in August. Fans who have held their tickets through two postponements can keep their same seats for the 2022 dates.
The newest member of the Grand Ole Opry is Carly Pearce. She moved from Kentucky at age sixteen to perform at Dollywood for several years, after which she moved to Nashville. According to Sounds Like Nashville, it has been her dream since a little girl to be a member of the Grand Ole Opry. She was recently backstage at the Opry, filming a video about her memories of performing in Dollywood, when Dolly Parton walked in. "I just want you to know how proud I am of you," Dolly said. Then she told Carly, "I came here today to tell you that you are now a member of the Grand Ole Opry." Carly Pearce will officially be inducted on August 3.
The 32nd Annual Pollstar Awards — A Celebration Of Live! was held June 16 at the Beverly Hilton's International Ballroom. Because there was no touring activity and no live events last year, this year's Pollstar Awards recognized successes of the past decade, MusicRow reports. Garth Brooks was named Country Touring Artist of the Decade. Brad Paisley received the Virtually Yours: 2020-21 Touring Artist award. The Ryman/Grand Ole Opry received the award for From Our Stage to Your Screen: Best Livestreaming Venue. Beyoncé was named overall Pollstar Touring Artist of the Decade.
Fiona Whelan Prine, widow of John Prine, has been nominated by President Joe Biden to join the National Council on the Arts. The Tennessean reports she was chosen for her "expansive viewpoint to the American roots music community" as president of Oh Boy Records and overseer of John Prine's catalog. Her philanthropic work with Thistle Farms has raised more than $3 million for women survivors of trafficking, addiction, and prostitution. She also founded the new Hello In There Foundation, named for John's song, to provide "support for people who are marginalized, discriminated against or, for any reason, are otherwise forgotten." John Prine, 73, died last year from COVID-19 complications.
The recent Toby Keith & Friends Golf Classic raised $1,427,000 for the OK Kids Korral, a cost-free home for families of children being treated at Oklahoma City area hospitals. MusicRow reports the event has raised more than $15 million in its 17-year history. In addition to auctions in which the biggest single bid was $100,000, Clay Walker joined Toby for a concert.
Thirty years after signing her first record deal, Martina McBride will have her own exhibit at the Country Music Hall of Fame and Museum. The Tennessean reports Martina McBride: The Power of Her Voice opens July 30 and runs for a year. Artifacts include the stage outfit Martina wore at age seven and a 45 single she released in high school on her own Martina Records. The exhibit was postponed from last year due to the pandemic. Martina says in a press release, "It did, however, allow us more time to plan and dig through my archive to find several truly special artifacts. I'm excited to finally be able to let everyone see what we've created."
"What is country music?" That was the correct response to a clue on the TV game show, Jeopardy, about "the perfect song in this genre." Verlinda Johnson Henning from Memphis got the question right, in the category about identifying musical genres. Saving Country Music reminds us that David Allan Coe's 1975 hit, "You Never Even Called Me By My Name," was written by Steve Goodman and John Prine in a suite gifted to them by Paul Anka at the Waldorf Astoria hotel in New York City: "The song was initially written as a kiss off to the country music industry for not giving recognition to Steve Goodman and John Prine, who were virtually unknowns when the song was written."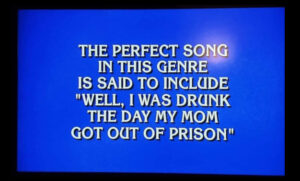 LETTERS
Frank Gerard writes, "The audiobook narration for Live Fast, Love Hard: The Faron Young Story is coming along great. I just finished Chapter 3. I have also read your book again and have been immersing myself in Faron music, especially his Live in Branson CD since it was one of the very last and he talks a bit throughout. This will be a good audiobook! I so enjoy immersing myself in all the characters, most especially Faron. This should be wrapped up by August, at which point we should have the finished audiobook selling on Amazon and Audible by sometime this fall. Thanks for choosing me as your narrator. Maybe we can schedule an hour or two in July where you can read your parts over the phone, and I'll record. Love this book."
Diane: I'm so excited about finally having this audiobook, and I'm happy to have found a Faron fan to do the reading. I'm looking forward to recording my part.
Dominique 'Imperial' Anglares writes from France, "Thanks to you for that newsletter and to all the writers for their ramblings. Good to read about Linda Martell and 'Pig' Robbins. 'Pig' was not only a great session musician, but he also had some great records by himself on 'Argo', 'Wildcat', 'Chart', 'Vulcan', 'Smash' and some other record labels. He even had his bright piano rocker 'Save It' issued in England in October 1959 (London 45-HLM 8966). A much sought after record. Wishing you all a great summer."
Jenny Jones says, "Hello from Texas. Thanks for all the news. You keep me up to date. I am still not going outdoors a lot. Have had some trouble with my walking, which results in falls occasionally. So have to depend on my WALKER to get very far. Always look forward to your Newsletter, and I keep up with several older shows of Country Music on TV. I still listen to lots of BILLY WALKER'S many albums I am so privileged to have. This will be short, but wanted you to know how much your Newsletters are appreciated. Hope all is well with you and yours."
Ann Salazar writes, "I have a question. Upon listening to the Scars CD, I heard the song 'Mama Sure Could Sing.' Did Colin Raye sing this himself or did he have someone sing with him? I am wondering who did sing with him."
Diane: Colin's brother, Scotty Wray, is singing with him, and the two of them wrote the song. Scotty performs as a singer and guitarist with Miranda Lambert. The brothers wrote or co-wrote all 14 songs on the album.
Priscilla McPheeters in Lawrence, Kansas, says, "Great newsletter. Especially interesting it's about Shania Twain's new album, and Reba McEntire's former home with the bedrooms themed for famous singers. Love this one! Have a great day and thanks for your faithfulness to Mary Kay and especially your wonderful Newsletter."
David Markham writes from England, "Thanks for the great Newsletter. Sorry to hear the sad news on BJ Thomas. R.I.P. BJ. Sorry you've gone. I've noticed all the greats have been called up to make way for the youngest. Need your help please. Dave Paulson CMT Awards Linda Martel was presented with an award for her music. I need background on this young Black Country music singer who is fantastic and the names they called at her when performing on the Opry. Go home (N). She choked back her tears. Can you tell me why they were so nasty to a beautiful talent as she was and her band? I was broken-hearted to know country fans could be so hateful. I'm trying my best to get her background to put her music on our UK radio Station. When you think what Linda went through, it must have been heartbreaking that her fans could call her such nasty names. She was entertaining them. I'd like very much for your help to get hold of some of her family."
Diane: I've mentioned her several times in recent newsletters, but I don't know how to get in touch with her or her granddaughter. Perhaps some of my readers do.
LeNore Koszalinski says, "Love your magazine. I look forward to it every month. Have you ever thought of doing interviews with Travis Tritt, Mark Chesnut, Suzy Bogguss, Terri Clark? Just a suggestion. Keep up the great work."
Diane: Thanks for the suggestions. Yes, I have tried to contact them, without success. I might try again.
IN THEIR OWN WORDS
I first met Skip Jackson in 1970 when Faron Young and the Country Deputies played a show in Canby, Minnesota. Skip was the steel player. I saw him three decades later when he came to the Deputies band reunion I hosted in Nashville at the Hall Of Fame Quality Inn. He didn't tell many stories that night; he mostly commented on stories the other Deputies told. In later years, my sister and I occasionally visited with him during our Nashville trips. When I was working on my Marty Robbins biography, Skip took us to the Fairgrounds Speedway and retraced the route Marty had followed to the Opry on Saturday nights. It was such a shock to hear of Skip's June 28 death.
That's why we experienced everything we did, boys, cuz we loved that man. All that stuff we're talking about, he did this and he did that, we liked it, or hell we wouldn't be there. We loved that man. For each one of us sitting here, it was an opportunity. You were raised, you were raised, I was raised, you were raised, every one of us were pups when he got ahold of us.
Every night he would sing "This Little Girl," and he'd find a little girl in the audience and she'd come up, around the side of the stage, and Faron'd get down on one knee and set her up there. "Uncle Fawon." And he'd sing to her, then he would give her five bucks. Cootie would holler, "Hold out for ten! He's rich." The crowd just went crazy, they just loved it. One night, he was doing the song, and the parents sent their little girl up there. That's when he had the sutures. What I remember is, he picked her up. Now when he picked her up, the first thing she did–at that period of time he was having his hair weaved, and he had like corn rows, and the hair was just sewed in up under there–when he picked her up, the first thing she did was grab both sides of that head. Of course, them knees just buckled, I mean it hurt so bad.
He would do a little thing called "Tell it like it is." It was during the end of the Vietnam era. It was all off the top of his head. We would play "Just a Closer Walk With Thee," or something, as background for his speech. Every night it was different. Every night you're sittin' there, you can't hardly play, listening to what he's saying. He is entertaining you as much as he is them. It's not canned. Every night was different. Hell, you didn't know what was gonna happen. It was just as exciting for every one of us. Here we go, what are we gonna do next? And the people loved it. It was so impromptu.
SONG OF THE WEEK
When Porter Wagoner hired Dolly Parton, he met with Dolly and her husband of one year, Carl Dean, to discuss the inevitable rumors about the singing partners sleeping together. They naively believed they could avoid such rumors. But the gossip swirled, possibly fueled by their many husband-wife duets. Dolly is quoted in Unlikely Angel: The Songs of Dolly Parton as saying, "People weren't taking me seriously and just thought I was Porter's whore or something. And that really hurt me, because these people don't know me." She was so upset by the gossip that she wrote "Shattered Image" and recorded it in 1976. The song begins with her as a child sitting on a bridge: "Seeing myself in the water below, shatter my image with the stones I'd throw." She then moves into the present: "The world is cruel and people are cold; they shatter my image with the stones they throw." She sings, "I'm far from perfect but I ain't all bad; it hurts me more than it makes me sad." Then she advises the gossipers, "Don't open my closet if your own's full of trash." She rerecorded the song bluegrass style on her Halos & Horns album in 2002.