"I feel inundated these days with music that's telling me how country it is. What I long for more than anything is to hear how country it is." — Vince Gill, 2012 ACM awards show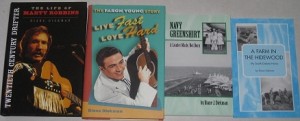 As the biographer of Faron Young and Marty Robbins, I bring you these newsletters to connect classic country music fans around the world. Feel free to forward this email to your friends, and tell them to send me an email if they want to be added to the list. I welcome your comments and ideas.
NEWS
Influence Vol. 2: The Man I Am, a new album by Randy Travis, is being released in August. Like Influence Vol. 1 from last year, the cuts are covers that recognize songs and artists important to Randy in his musical career. You can listen to a six-minute preview, 30 seconds of each song, at www.randytravis.com.
The Irish Mirror reported on 15 July that Dublin city council manager, Owen Keegan, was "widely blamed" for the cancellation of the five Garth Brooks concerts, and that eleven residents had contacted Keegan to say their signatures objecting to the licenses were forged. Keegan, in turn, blamed Garth and his promoters for rejecting every proposed compromise, such as playing the fourth & fifth shows in October instead of July. Keegan said he put residents' concerns before the commercial interests of one person. He said he regretted the decision not to hold the three permitted concerts, but "This was their decision and they must accept the consequences." He claimed the promoters never consulted with the city council before putting extra shows on sale.
Warner Bros./Reprise Records has signed Dwight Yoakam to a new worldwide recording deal. A cover of Creedence Clearwater Revival's "Who'll Stop The Rain" has already been released, and it will be a track on the album to be issued later this year. Dwight plays barbershop owner Lyle Chumley on the TV show, Under the Dome.
The new Garth Brooks world tour, his first tour in almost twenty years, will begin September 4 in Chicago. Garth's wife, Trisha Yearwood, will be his opening act. Country Weekly reports, "In true Garth fashion, he lived up to a promise that he made one of his fans." During a Las Vegas show several months ago, Garth allowed the audience to ask questions, and Andy Roberts asked where Garth was going to start his world tour. "If it means that much to you, leave your phone number," Garth told him. "You'll be the first guy to know when I know." He let Roberts, a 31-year-old Georgia business owner, decide how to release the news. Roberts posted the notice on the website of his janitorial services company. He then tweeted where the news could be found, and the website crashed. When the tickets went on sale on July 25, within three hours the single Chicago concert had expanded to ten, with all shows booked at the Allstate Arena from September 4-14. An estimated 180,000 tickets were sold during that time period.
Las Vegas Weekly named Shania Twain as "Best Resident Performer" on its "Best Of Vegas 2014" list. Shania's one-woman show, Shania: Still The One, began running at Caesars Palace in December 2012 and ended last week. According to Country Weekly, her "concert production takes fans through various stages of her life and career as she performs her biggest hits in an intimate setting that gives off a personal feel." Shania also appeared at the Calgary Stampede in mid-July, her first live performance in Canada in ten years. The managing director stated, "In our ten years of Saddledome concerts during the Calgary Stampede, Shania is the first artist to sell out two back-to-back shows."
A jury in Nashville ordered Scotty McCreery, the 2011 American Idol winner, to pay his former manager $239,329 to compensate for five months of back pay. Todd Cassetty, who'd worked with Scotty in 2012-13 without a written agreement, filed a lawsuit to claim the industry standard of 15 percent of gross revenue. Judy McCreery, Scotty's mother and business manager, had apparently offered him a two percent payment. According to CMT News, Scotty issued a statement that said he was satisfied with the outcome, and, "It was always my intention to pay Mr. Cassetty and indeed had offered to pay him more than once. His request, however, for over half a million dollars was too much for a few months of work." [Scotty McCreery will be headlining the evening show during the Sioux Empire Fair in Sioux Falls on August 8.]
Alcohol-related issues sent 22 fans to the hospital during a Keith Urban concert in Mansfield, Massachusetts, south of Boston, on Saturday evening. More than 18,000 people attended the "Raise 'Em Up Tour" event. The Mansfield police chief and fire chief issued a joint statement that said, in part, "The large number of medicals in approximately three hours caused the activation of a phase one EMS plan using ambulances from five mutual aid communities. Police dealt with a steady stream of intoxicated persons as well, resulting in over 50 people being taken into protective custody and a number of others arrested for alcohol-related issues." The Boston Herald quoted Keith as tweeting this message immediately after the show: "What a great night tonight. It was killer. Gosh, up on the lawn tonight, that was nutso."
Tom Hiddleston, who will play Hank Williams in the movie I Saw The Light, is working with Rodney Crowell. Nashville Scene calls Rodney the "executive music producer" of the movie that begins filming in October in Louisiana. Rodney visited Tom over the Easter weekend in Toronto and they spent a day playing Hank's music. "He's already expanded my vocal range and given me a few pointers about adapting my own tone to sound like Hank," Tom told Daily Mail Online. "Rodney has furnished me with his beautiful J45 Gibson to practice with. And he'll be on hand throughout the shoot."
LETTERS
Holly Dunn writes, "Hi Diane- I want to tell you how much I enjoy receiving your newsletter, and how great it was to see Janie Fricke in it! I have wondered about her the last few years and am so happy that she is still in there singing. I have always thought of Janie as one of the true great voices of Country Music, and she has always been so gracious to her fans and fellow artists. One thrill for me several years ago, as a songwriter, was to have Janie record a song that my brother Chris and I wrote called 'Love is One of Those Words.' As usual, she nailed it! All my best to her and you too."
Jack Blanchard writes for himself and his wife, Misty Morgan, "Please add us to your newsletter list."
Virgie Warren in Michigan says, "Thanks for the news about Janie Fricke. Always a good newsletter."
Bill Black writes from Scotland, "Still enjoying reading your newsletters. I thought you might like to remind your readers of the 50th anniversary of the death of Jim Reeves on 31st July. Despite the many years that have passed, there are still lots of people in many different countries who continue to enjoy Jim's rich, hypnotic singing style. I present Bill Black's Country Classics which is broadcast on a number of community radio stations in Scotland. On Saturday 26th July I'll be dedicating the second hour of my show to Jim's music and memory. As well as his music you'll hear from his fellow musicians such as Leo Jackson (a long time member of his backing group the Blue Boys) and Buddy Killen who both talk about working with Jim. There's also a message Jim recorded especially for his fans in Europe as well as plenty of his music. The show goes out from 2000 – 2200 hours BST and there is also a listen again feature on the website where you can listen to the show for several weeks after it is originally broadcast – www.celticmusicradio.net. Hope some of your readers will have a chance to share with me the memories of Jim Reeves."
Alan Potter in the U.K. says, "As always wonderfully informative. I reckon once a month my show is 3 songs short by the time I've imparted all your info to my show (ha ha) You are a God send. Alan Potter tempo 1074 FM & ukcountryradio.com."
James Akenson of the International Country Music Conference in Nashville writes, "Very nice newsletter! Nice of you to mention Judy McCulloh."
Elroy Severson in South Dakota says, "The first song I remember singing is 'Bouquet of Roses'. You know — I'm sending you a big bouquet of roses, one for every time you broke my heart — by Eddy Arnold. My mom and other farm ladies east of Gary would get together periodically and seems they liked to have a program. My mom would con me into singing in front of the group, although I disliked it very much. I was probably about 10 years old."
Nell Springer writes, "I would be very interested in getting your newsletter. Thank you so much."
Lloyd Pierson says, "I bought your book on Faron Young today. He is one of my favorites, got to see him perform several times."
Marlene Nord writes from Camarillo, California, "I had the distinct privilege of recording at the Sound Shop studio in Nashville in 1979. Although we shopped the recording around to several companies, nothing came of it. However, the experience was an unforgettable dream come true. This was in the days of the syndicated Ralph Emery Radio show. Janie was just coming into her own solo career, but she still sang back-up on studio sessions. Since I am totally blind, I did not recognize her face. But, she had just been interviewed by Ralph Emery a week or so earlier. We were getting set up for the session in the studio. I heard this voice, sweet, warm and bubbly. I said to my sponsor, 'That lady sounds like Janie Fricke.' He replied, 'As a matter of fact, it is, and she's singing backup on your session.' Can you imagine my excitement? The coolest part of the story is yet to come. We had been traveling from Minnesota since 6:00 A.M. We hadn't had time to rest, eat, or take care of natural needs. By 5:00 P.M., some things won't be ignored anymore! My sponsor lassoed Janie, asking her if she would be so kind as to assist me with this necessity. She graciously agreed, and during the five or six minutes we spent together, I felt as if I'd always known her. Following this experience, she traveled with the Charley Pride show. I was a huge fan, and went to see his shows whenever I could hornswoggle someone, usually my papa, to drive me. Janie was signing autographs, saw me, ran to me and gave me a huge hug like a long lost sister. I'm so glad to hear she's doing well."
Thomas Carlson requests, "My family is from Stony Point, New York, and my grandfather was good friends with Mr. Richard Barish. He has recently asked me to help him locate Richard. I stumbled across your site and thought you might be able to help."
Diane: Richard Barish is busy with the aftermath of Supertyphoon Glenda, which hit where he lives in the Republic of the Philippines. I forwarded your email to him. He is active on Facebook.
Carolyn Babin says, "I went steady with Faron for almost the year of '52….I met Carol Weeks the high school sweetheart. Our breakup was a heart breaker, though. Faron even asked me to marry him. He was only 20 years old and I was almost 22. Also, just divorced from my marriage in '50. Faron was the second man in my life really and I loved him very much. I never asked him about that song, but I felt in my heart he may have had me in his heart still….. He was a jealous and a bit stubborn guy. Along in his career not many people understood his demeanor." She adds that I "did not include the entire letter and I am upset a bit about that. I had said a lot more and saying how Jewel deserved much more notice and remembrance for her work."
Diane: Sorry, Carolyn. I try to choose the main parts of letters that will interest the most people in a limited amount of space. If others would like to hear more about your friend, Jewel, we can discuss her in greater detail.
Andy Williford says, "I wish you could have talked to us before you wrote Faron's biography because we could have given you a large amount of stories about Faron, like when my Aunt Lulu chased him off her back steps because he was playing the guitar too loud. My auntie lived across the Pines Road from the Old Hatcher Planation where Faron lived. When Faron and I was playing in the cotton seed meal down at the barn and Doris came out of the house yelling for him, 'Faron, I know you are down there, come up here now,' and he wouldn't answer her. The saddest time with him, and there wasn't many, was when he returned to Shreveport after spending a long time in The Vanderbilt Hospital being treated for hepatitis he caught in Mexico. Glenn, Teddy and I sat across the street from his mother's house on Ann Street and listened to him talk about it. Also when we sat on the back of his bus prior to him going on stage and he was telling me about he and Hilda getting a divorce. Good Luck Diane and I really enjoy your letters. Would you check something out for me. I met Elvis at the Louisiana Hayride in October 1954 and did he have a date or was he dating either Carolyn Bradshaw or Betty Amos? I had one date with Betty Amos."
Diane: He didn't have a date. He and Sam Phillips, Scotty Moore, and Bill Black drove over from Memphis for their debut performance on the Hayride on October 16, 1954.
Linda Elliott Clark writes from Virginia, "What an informative update. Glad to hear about Loretta Lynn and her tribute to Conway Twitty. I loved it when they sang together and still have several Conway Twitty albums. My husband took me to see one of their concerts here in the DC area in the '70s. He was one of the best, and from all that I have ever heard, a true gentleman. He always made me feel special when he sang 'Linda On My Mind.' Miss those days so much as I will turn 70 on July 21. The years have flown by. I don't know if I sang this song much, but one of the first songs I remember hearing was 'Your Cheating Heart.' There may have been others, but just can't remember now. Thanks, again for doing what you do to keep the 'real' country music alive."
Jerry Dunbar responds to my Song of the Week, "That little ditty goes:
'At the bar, at the bar, where I smoked my first cigar
and the money from my pockets rolled away
It was there by chance I tore my Sunday pants
and now I have to wear them every day.'"
Diane: I do remember Mom singing about wearing Sunday pants every day. Apparently it was never a complete song, only a parody of the chorus.
Doug McLeod writes from Urbandale, Iowa, "I am forwarding a note I received from Gladys Van Dyke confirming LeRoy's appearance at the Iowa State Fair in Des Moines on August 12. Maybe you can include this update in the next newsletter so LeRoy's fans here in the Midwest can make plans to attend. With Jim Ed Brown, Helen Cornelius and Billy Dean sharing the stage, this will be quite an event for country music fans. LeRoy was an honorary pallbearer at Smokey Smith's funeral and has a lot of friends and fans in Iowa who will be anxious to see him and the rest of the troupe. Thanks, Diane, for all that you do for this legion out here." Gladys says, "Our lineup this year is Leroy and the band, Jim Ed Brown, Helen Cornelius and Billy Dean. We are on the Knapp Amphitheatre stage and we have two shows: 5:00 p.m. and 7:30 p.m."
QUESTION OF THE WEEK
Who was your first favorite singer? Mine was Carl Smith, after my family went to his concert in Watertown, South Dakota. I was five years old, and I remember he was dressed in red, and so was Mom. Whenever his songs played on the radio, Mom would call me, and I'd run in the house to listen. (So it must have been summertime.) My little brother, Ron, started out as a Johnny Cash fan. He could put the correct name to that voice when he was two years old.
SONG OF THE WEEK
I've always liked Lynn Anderson's "If I Kiss You," with its catchy tune and clever lyrics. That style is the reason I like most songs written by Lynn's mother, Liz Anderson. Lynn gives the song the energy it deserves, a better rendition than other versions posted on YouTube. "She'd kiss my hurt and it would go away," she sings about being a child comforted by her mother. And now that she's an adult, "I've never known a bigger hurt than you." Then comes the punch line: "A kiss can make the heartache vanish, too; I don't see why it wouldn't work on you. If I kiss you, will you go away?" I didn't realize the song was from so long ago—1967.