FEATURE ARTICLE – ALASKA CRUISE
Sioux Falls residents Cam and Sharon Lind celebrated their 7th wedding anniversary on the Alaska Cruise sponsored by Country's Family Reunion and Larry's Country Diner. I asked Cam to provide a report, and here's what he said:
The cruise was great and my three favorite country singers were there: Gene Watson, Jimmy Fortune and Moe Bandy. In the first concert, Gene related a story I had told to both him and Moe Bandy; it was so cool to hear him repeat it and give credit to a fan. He also sang an awesome song written by Merle Haggard, "I Forget You Every Day." He did so at my request. It made a quick climb up my all-time Gene song chart, where it is locked in at number three behind my all-time favorite country song, "Farewell Party." Next is "The Old Man And The Horn." Moe Bandy told great jokes and stories about his longtime friendship and also wowed us with "Bandy The Rodeo Clown" and several more of his hits. What can I say about the incomparable Jimmy Fortune…………he sang many of his greats, including "More Than A Name On A Wall," dedicated to the many military men on the cruise.
Meeting the stars: The best parts were just talking to them as people, friends or casual acquaintances. They were all more than happy to accommodate you on the ship, at the restaurants and also when we were going through the touristy shops. Rhonda Vincent was super great, lively, friendly and also hosted jam sessions almost every night…..it was a small area and very crowded. Most of the stars showed up on different nights and sat in for a few songs or for long periods of time. The Sweethearts Of The Rodeo were just getting back into action after a layoff of at least ten years to raise their families. Great singers and Janice takes a back seat to very few on the guitar.
Daily and Vincent [consisting of Jamie Dailey and Darrin Vincent] also had two other guys with their group and sang as a duo and as a quartet. Jeff "Go" Parker, one of the tenors, and the bass singer, Christian Davis, are awesome and Chris is in the top ten of all bass singers I have ever heard. Jeff was a wonderful guy to just hang out with. Rhonda Vincent and Darrin Vincent are sister and brother.
Jim Ed Brown was his usual friendly self and easy going guy that can still really sing. Jeannie Seeley sang some of her hits and did a comedy song that brought the house down. The backup band was a group of world class musicians headed by Hall Of Famer Jimmy "The Sheriff" Capps, Hank Singer premier fiddle player, and world class steel player Mark Johnson. The cast and crew of "Larry's Country Diner" were all great and easy to be around……..good solid country people with Christian values. Nadine, the comic, did an hour show alone and even though I knew a lot of the jokes it went over great and the hour went fast. R.F.D.-TV show hosts and gospel singers Joey + Rory made their only live appearance this year, due to some family health issues, and were very talented.
Probably the most surprising thing for me was how great a guy Bill Anderson is. I had known he was a great songwriter and singer, but what a humble and truly friendly and caring guy. He sang a song that he wrote about an old Army veteran, "The Old Army Hat." He dedicated it to the only World War II Veteran in the crowd. Not a dry eye in the house, awesome.
If you are planning a cruise with "Larry's," expect great food, service, well-planned shows and a general fun country trip. The only thing missing was the opportunity to buy CDs and memorabilia, but with the lack of areas or time to set up and tear down, I can understand it. Also, with all of the customs regulations, they have learned not to bring those items along; you go to Canada and have to declare everything. It is just not worth their time.
The food was from very good to excellent, but the buffets got kind of old. Too many people in a hurry for no reason and lots of pushy and rude passengers. There were about 900 people in our group, another 1275 other passengers and 1100 crew members.
The first thing I figured out was that the three Alaska stops were T Shirts, Totem Poles and Jewelry. Kind of like a State Fair with Eskimos. Our favorite tour was easily the one into BC Canada. Sharon liked the glaciers, whales and wildlife. The glacier looked a lot like blue ice to me. The ocean was smooth except for about 12 hours. The best part about being old with bad legs and a cane was that during the rough seas I already had the bowed legs and a stick for balance. Sharon brought some Dramamine and we used that so we were fine.
We hit something pretty big and Sharon said………."I think we just ran over a whale." The best memory was just the relaxing time and the great sights and sounds……Kind of a small city in action 24 hours a day.
NEWS
I'm saddened to report the death of Earl White on August 7. Earl began his musical career playing fiddle in the original Marty Robbins band. I interviewed him over the phone when I was writing Twentieth Century Drifter: The Life of Marty Robbins, and I met him at the book release party in 2012. This year he celebrated his 78th birthday, 57 years of marriage to Anita Joyce Robinson White, and 58 years as a Grand Ole Opry musician. He told me in February he could count on his fingers the number of weekends he'd missed in those years on the Opry. He promised to let me know when he retired. I'm not sure when his cancer reached the point he could no longer perform. His funeral was Monday in Gallatin, Tennessee, and he is buried at Sumner Memorial Gardens.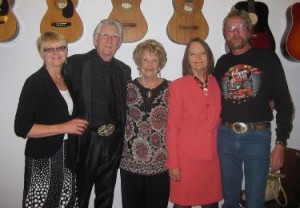 Kayo Paver, Earl & Anita White, me & Perry Steilow in 2012
Glendale, Arizona, is finally offering some recognition to hometown boy Martin David Robinson. A plaque will be dedicated in memory of Marty Robbins on his 89th birthday. The long overdue event takes place at Murphy Park in downtown Glendale the afternoon of September 26th. Marty's friend, Bill Hickman (and wife Girtie), provided the funding. Ron Short, a retired Glendale planning department employee who preserves Glendale history, did the work. [During a phone interview in 2008, Bill Hickman told me about Martin coming home from the Navy after WWII and how they entertained themselves with no money. I included several of those stories in Twentieth Century Drifter.]
The land on which the home of Johnny and June Carter Cash stood in Hendersonville, Tennessee, could become the site of a residential medical facility. Lakehouse Holdings LLC, which purchased the 4.5-acre lakefront property from Barry Gibb in March, submitted a zoning request to the Hendersonville Planning Department last week. The four lots on Old Hickory Lake are currently zoned for one single-family residence on each lot. The new owner wants to build a residential medical facility that would help women with eating disorders, alcoholism, drug addiction, and post-traumatic stress disorder. Some area residents object to having such a facility close to their homes, and there will be a public meeting after the planning commission reviews the project.
At a July concert in Atlanta, Tim McGraw was singing and reaching down to touch waving hands when one fan grabbed his leg and ripped his jeans as he pulled away. Some of the videos that captured the incident appear to show Tim slapping her hand away, but none show definitively what happened. The woman later hired a lawyer and threatened to sue; she demanded a public apology. "I reacted in an instinctive, defensive way from my perspective of what was going on," Tim told an interviewer. "It is one of those things that happen, nobody feels good about it, but there's nothing that could be done about it. You are in that position, you are out there, you are vulnerable." Tim's team stated to Country Weekly, "The matter between Tim McGraw and Jesslyn Taylor stemming from an Atlanta concert has been mutually resolved the old-fashioned way—with a simple conversation."
The grand opening of the boyhood home of Johnny Cash will take place this Saturday, August 16, in the Historic Dyess Colony near Dyess, Arkansas. Built in 1935, the home has been restored to the way it looked when the Ray Cash family lived there for 19 years. The Dyess Colony was established in 1934 as an agricultural resettlement community under the Works Progress Administration and the Federal Emergency Relief Administration, as part of President Franklin Roosevelt's New Deal. The colony was named for Mississippi County native and Arkansas's first WPA administrator, William Reynolds Dyess. It provided a fresh start for nearly 500 impoverished Arkansas farm families. Arkansas State University is preserving the heritage of the Dyess Colony by restoring significant buildings. The Johnny Cash Boyhood Home was acquired through proceeds from the first annual Johnny Cash Music Festival in 2011. For more information, see http://dyesscash.astate.edu/.
George Riddle, the original Jones Boy, died July 19 of throat cancer at age 78. Following his two-year Army service, he moved to Nashville in 1960, where he met George Jones and the two of them started their legendary act. Riddle also was a regular fiddle player on the Grand Ole Opry, and the songs he wrote were recorded by George Jones, Ray Charles, Tammy Wynette, and others.
The Birthplace of Country Music Museum, an $11 million, state-of-the-art, Smithsonian-affiliated showcase, was dedicated recently in the town of Bristol on the Tennessee-Virginia state line. Bristol calls itself "The Birthplace of Country Music" because that's where Ralph Peer recorded Pop Stoneman, the Carter Family, and Jimmie Rodgers in the summer of 1927. You can learn about "The Bristol Sessions" and the new museum at http://www.birthplaceofcountrymusic.org/.
Velma Williams Smith, 87, of Goodlettsville, Tennessee, died July 31. Bill Monroe heard her and her sister, Mildred, on the radio in 1939, and he brought the Williams Sisters to the Grand Ole Opry. Velma, a pioneer female guitar player in Nashville, then toured with Roy Acuff. She married fiddle player Hal Smith, who later co-founded Pamper Music with Ray Price. Velma became the first female recording session musician in Nashville, playing rhythm guitar for most of the best recording artists for 20 years. She was inducted into the Musicians Hall of Fame this year.
Forbes has announced its 2014 list of the world's highest paid country musicians. Toby Keith ranked first for the second consecutive year, with $65 million, and a six-year total of $335 million. That mostly comes from his I Love This Bar And Grill restaurants, his multimillion-dollar endorsement deal with Ford, and the acts he signs to his Show Dog label. "I can put them on that 30-city tour. I don't have to look for a place to play," he told Forbes last year. "They're in Toby's house. They're drinking Toby's liquor. That's Toby's act. And then we're moving to the next town." The remaining top five of "Country's Cash Kings 2014" are Taylor Swift ($64 million), Kenny Chesney ($44 million), Jason Aldean ($37 million), and Luke Bryan ($34 million).
At a White House ceremony last week, Linda Ronstadt was one of twelve recipients of the 2013 National Medal of Arts, the highest award the government gives to artists and arts patrons. The Washington Post quoted President Obama as saying, "I told Linda Ronstadt I had a little crush on her back in the day."
The Tennessean reports that Taylor Swift enjoys surprising children and performing for them. In March, she spent five hours at a Rhode Island hospital, singing and visiting children. In May, she surprised a group of fourth graders at the Taylor Swift Education Center at the Country Music Hall of Fame. Last week she visited a six-year-old cancer patient in a Boston hospital. They played games and sang "We Are Never Ever Getting Back Together" together.
LETTERS
Connie Johnson writes, "I agree 100% with Vince Gill's statement, 'I feel inundated these days with music that's telling me how country is. What I long for more than anything is to hear HOW country it is." Maybe I am from the older school of country music. I am so sad. I feel the younger generation coming up will never know what REAL COUNTRY MUSIC is. . . . After Alan Jackson, George Strait and those like them are gone, I worry about COUNTRY MUSIC being lost. Those like George Jones, Faron Young and Ernest Tubb won't be heard of anymore. I hope they wake up one day before it's too late to save REAL COUNTRY MUSIC. I want Vince Gill to know a lot of people stand with him on that statement."
Daryl Skancke says, "Vince Gill is right."
Alice Mackenzie writes, "I can't agree more with Vince Gill; the country stations are not what they used to be. The one in Boston for the past 22 years on a Sunday had 4 hours of old oldies, sheer bliss. Then a few weeks ago after their show the DJs were told they were finished. Really sad to see them go, that was the best 4 hours on the station. I, like a number of people, gave up on the station. Thank goodness for you keeping us updated on country stars."
Jane Key Seymore reports from Cullman, Alabama: "E.M. 'Jimmy' Key died Friday, August 1, in Nashville. He was born July 4, 1927, in Cullman, Alabama. A 50-year veteran of the music business, he began his career with Big Jim Folsom's Strawberry Pickers band in Alabama. (Big Jim was the Governor of Alabama from 1947 to 1951 and again from 1955 to 1959.) After several years as an entertainer and radio personality, Mr. Key moved to Nashville and formed Newkeys Music with Jimmy C. Newman and his own Key Talent Agency, where he was instrumental in the careers of Dave Dudley, Tom T. Hall and Jeannie C. Riley. A young Hank Williams was also a member of this band. Jimmy was a cousin of my dad and my dad told me it was popular for politicians to have a live band with them on the campaign trail during this time period. He will be missed."
Bill Black writes from Scotland, "In your next newsletter, can you please change the reference to listen again to catch up? That's at www.celticmusicradio.net."
Jeremiah Sundown in Nashville says, "Thank you for your dedicated work… and for 'keeping it (true) country.' Remind me one day to tell you a FARON story."
Del Roy, from Palmerton, Pennsylvania, requests, "Please add me to your email list."
Pat Deasy says, "I would like to receive your newsletter. I used to be in the music business and it's nice to keep up with what's going on."
Marlene Nord writes, "I was informed by my friend Tom that you honored me by placing my story about Janie Fricke in your newsletter. Thank you so very much for considering it worthy. As of this writing, I have not received it yet. I don't know if you have a forward list that you send these things out to, or if you do it individually. But I love your letters, and want to make sure I haven't fallen off the list somehow."
Diane: You're definitely on the list, Marlene. All the Verizon addresses got rejected last time, for some reason, and I had to resend them several times.
Michael Green says, "Great newsletter, as always! I know that Jimmy C. Newman and Faron Young were old friends, and the story of the bull from Willie Nelson is a classic."
Paula Buerger writes, "I've just learned about your newsletter and would like to join your mailing list. I read your book about Marty Robbins and enjoyed it very much. I had hoped to meet you at the ICMC this year, but did not see you at the conference. Perhaps next year. Looking forward to reading your newsletter on a regular basis."
Dave Rogers says, "I so look forward to your Newsletter!"
Mary Mitchell of Woodland Park, Colorado, says, "Question of the week is by far CARL SMITH. A man with a voice that can't be done by anyone. Carl had such a variety of songs. I was nine years old when he had his radio station live. My Papa made sure that our battery radio was charged in order to hear his show. Now I am seventy-six and still love him. His loss was great and I don't think Nashville was very kind to him after he decided to become a Horse Rancher. Never ever heard dirt about him. RIP my friend."
Elroy Severson in South Dakota says, "My first favorite singer — When I was very young, I recall not one, but mainly 2 singers — Hank Snow and Eddy Arnold — and I liked them both. My dad's was Hank Snow and my mom's was Eddy Arnold. Most of the records we had were of those two and they were the fast-turning 78s. Although not part of your question, I would to mention that over the years, my favorite has been Johnny Cash. Although his style and sound remained the same over many years, his songs had enough variety to always get my attention. He seemed like a very real person, like this is who I am and that's it. Although he had some elaborate personal problems, probably most self-inflicted, he always seemed to work his way through."
Randy Jackson writes from Alpine, Texas, "Thanks once again for your informative newsletter. It was great to read the news on Janie Fricke. I had the opportunity to work with her for a number of years and can truthfully say she is one of the all-time premier voices ever to record. Most of you know that Janie was a backup singer for some years before recording on her own and actually for some time after her first few hits. She is generally quiet and non-assertive when it comes to recognizing her talent. I can share a story that deviates from the usual Janie. I suppose it was around '74 or '75, Fan Fair was still in the old auditorium downtown. Janie was preparing for the Capitol records show as one of the background singers. A rather irritating disc jockey had maneuvered his way back stage and was repeatedly questioning Janie about the female part on Kenny Roger's 'Gambler' record. You remember, Kenny sings, 'you got to know when to hold 'em,' and a female voice answers 'WHEN TO HOLD 'EM' loud and clear in the background. A great piece of studio work but the singer was not Janie. In her quiet and sweet manner she informed the DJ that is was not her. He continued to insist that it was. Janie was clearly a bit irritated. After a while, Kenny Rogers took the stage. When he sang 'The Gambler,' Janie stepped up to the mic to do the female part. Let me tell you, she reared back and let it fly. The rafters of the old auditorium shook. Kenny turned to Janie as if to say, 'you go girl,' and the crowd broke into thunderous applause as Janie offered a slight wave. As she left the stage, she passed the stunned DJ. She whispered in his ear, 'That's how it would have sounded if I had sung it.' For me it was a classic backstage moment from a world class lady." He adds, "The first country show I attended was in the Ector County Coliseum, in Odessa, Texas, about 1963. David Houston, Barbara Mandrell, Stonewall Jackson, and Tommy Overstreet. It was great. Stonewall signed an Opry book for me which I still have. I've gotta say, the first songs I remember really paying attention to: George Jones, 'Walk Through This World With Me,' Ray Price, 'A Thing Called Sadness,' and Sonny James, 'The Minute You're Gone.' Thanks for the Memories."
Jeff Chandler, formerly of the Marty Robbins band, says, "You are doing a great job. Keep it up. I have remarried a wonderful woman… So happy to read your news and insights. Gonna write a song about pop tops and tank tops, tailgates and beer…. What happened to our music?"
Ernie Reed, a Mel Tillis Statesider and formerly a Faron Young Country Deputy, reports on his first favorite singers: "Ironically they were Faron Young and Ray Price. Keep up the great work, Diane."
SONG OF THE WEEK
In 1935, Bob Wills & His Texas Playboys recorded one of their popular dance numbers, a traditional fiddle tune called "Spanish Two Step." Tommy Duncan and Bob later wrote lyrics, copyrighted the song as "New Spanish Two Step," and recorded it in 1946. That record was Bob's biggest-ever hit, spending sixteen weeks at number one on Billboard's country music chart. It was the first record owned by Sherwin Linton, who was then growing up in South Dakota as the son of a railroad section foreman. Sherwin has been performing for sixty years, and he sang his old favorite during his show at the Sioux Empire Fair last week.
BOOK REVIEW – JOHNNY CASH: THE LIFE by ROBERT HILBURN
Writing a biography requires balance. When actual behavior conflicts with the idealized vision of a celebrity, the biographer struggles to provide the right mix. There is also the balance between readers who want to know every detail and those who want a story not bogged down by details. Robert Hilburn dealt with those issues in his excellent biography, Johnny Cash: A Life. As music critic for the Los Angeles Times for over thirty years, Hilburn interviewed Johnny numerous times. He could have considerably condensed the book's 633 pages, I thought; I only needed to hear a few times about Johnny's numerous hospitalizations, his drug use, and how he mistreated the women who loved him. The really overdone part concerned the Rick Rubin productions. The last tenth of the book is devoted to detailing the songs recorded for Johnny's final albums, almost as if that's the reason for the book. "Hurt" makes me cringe every time it plays on the radio, and I learned here that it was manufactured rather than recorded; it's "One Piece at a Time" as a song instead of a car. Hilburn explains how the producers "spliced John's vocal together phrase by phrase in some cases. The idea wasn't to camouflage Cash's declining vocal power but rather to build the most compelling emotional portrait possible." Why anyone thinks it's great art to show a dying man trying to sing an awful song is beyond me. And then film him for a video. Other than that, I enjoyed this well-researched biography. It is a worthy successor for Twentieth Century Drifter: The Life of Marty Robbins as Belmont University's Best Country Music Book of the Year. (You knew I had to mention that.)