NEWS
The American Society of Composers, Authors and Publishers (ASCAP) is celebrating its 100th anniversary with a ceremony at the Waldorf Astoria Hotel in New York City on November 17. A select group of American musical icons will be given ASCAP Centennial Awards to recognize their exceptional accomplishments. They are Garth Brooks, Billy Joel, Joan Baez, Stevie Wonder, and Stephen Sondheim.
Ben Haggard, age 21, has been playing lead guitar for six years with Merle Haggard and the Strangers. In a recent interview with Peter Cooper of the Tennessean, he talked about being trained by his famous dad. "He says you should learn a song's melody all the way through," Ben said. "He hates hearing somebody playing a thousand notes: He'd rather somebody play the melody, so the people can understand it." Merle also insisted Ben learn the signature guitar licks on his hit records. "Dad would talk about the songs, tell me who the players were and show me the right way to play what they played," Ben said. "It pushed me to learn whatever they were doing. This was before I was in the band, when it was just me in the garage." He was only 15 when Merle decided he was good enough to join the Strangers. "He was pretty critical on me for a while, until I got to a place where he'd smile at me," Ben recalled. His mother, Theresa Haggard, rounds out the family contribution by singing harmony vocals with her husband.
Trisha Yearwood is releasing a new album–PrizeFighter–through Sony Music Nashville. She told the Tennessean the title track "is about beating the odds and winning and fighting no matter what. I think it's a message we all need to hear." Just before her fiftieth birthday, she says she has always looked at her career like a professional baseball player: "These guys come out and they have their time. They have a few good years, and they have to know when they can't swing the bat anymore. It's been 23 years since that first single, and I'm just not ready to stop swinging the bat." In addition to the upcoming world tour with her husband, Garth Brooks, she is hosting season five of her Emmy Award-winning Food Network show, Trisha's Southern Kitchen. She is also preparing to release her third cookbook, Trisha's Table.
With Wal-Mart as sponsor and Brad Paisley as headliner, a new digital country music channel called My Country Nation is being launched. Its website, http://www.mycountrynation.com, says, "Be sure to subscribe to this channel to be the first to see exclusive content from Brad Paisley and many more of the biggest names in country music. My Country Nation is the digital destination for country fans that want to share the lifestyle they love. It's a tribute to America and the hard-working people that make this country strong."
Garth Brooks continues his long-running battle against ticket scalpers. After meeting with Ticketmaster to discuss concerns about his concerts in Atlanta, he added two shows and announced a renewed dedication to get the tickets to his fans. He said in a statement that he and Ticketmaster share the goal of "an easier process for people who want to come to the show." He would like to add another Chicago show for fans who couldn't get tickets because of scalpers. The Garth Brooks World Tour kicks off in Chicago and moves to Atlanta, with no other cities yet announced. Ticket sales in Chicago shattered the record he held for the most tickets sold in a single North American city. That was 162,822 tickets at Target Center in Minneapolis in 1998.
Kenny Rogers is celebrating his 76th birthday and the Country Music Hall of Fame and Museum exhibition, Kenny Rogers: Through the Years. A crowd of 700 fans came to the new CMA Theater when he was interviewed by John Rumble, senior historian at the museum. Kenny, a member of the Country Music Hall of Fame, talked about his years as recording artist, record producer, actor, author, and photographer. As for singing partners, he said, "Everybody sings better on a duet. It's like running a hundred-yard dash. You can run it as fast as you think you can. But if you put someone faster next to you, you're going to run faster." One of his duet partners, Dolly Parton, is already in the Country Music Hall of Fame, and Kenny asked fans to push to get Dottie West, another duet partner, inducted.
The medical examiner's office has ruled as a homicide the death of a 55-year-old man after a confrontation with a teenager at a Detroit-area Hank Williams Jr. concert, according to the Detroit Free Press. Robert Kobe was at the concert with a friend and the man's 15-year-old son. Witnesses told police they saw the teen shove him to the ground. Kobe struck his head on concrete and was found lying in a pool of blood by police. The teen tried to flee and bystanders detained him until deputies arrived. The victim's son, Cory Kobe, 29, said the death appeared to be accidental. "Did you ever have an uncle who picks on you but doesn't mean to hurt you? That was my father," he said. "I want to make sure this young man gets fair treatment." The sheriff's department expects to finish its investigation this week and present it to prosecutors.
Audrey McGraw, age 12, the youngest daughter of Tim McGraw and Faith Hill, made her informal stage debut at her dad's pre-show VIP party at the Walmart Arkansas Music Pavilion. She sang the Dixie Chicks song, "Travelin' Soldier."
The "CMT All-Time Top 40: Artists Choice" is a list of the most influential artists in history, chosen by country stars themselves. The honorees are being revealed, one each Saturday, on CMT Hot 20 Countdown at 11 a.m. ET/PT. Country Music Hall of Fame member Vince Gill is number 19.
Jessi Colter, widow of Waylon Jennings, is selling some of her late husband's prized possessions to benefit the Phoenix Children's Hospital. The "Remembering Waylon" auction will be held October 5 at the Musical Instrument Museum in Phoenix. The centerpiece of the collection is a British-made Ariel Cyclone motorcycle Buddy Holly bought in 1958 (http://youtu.be/pSsiG8bSGkE). His band members gave it to Waylon as a birthday present after Buddy's death. The original contract that formed the Highwaymen, signed in August 1989 by Waylon Jennings, Willie Nelson, Johnny Cash, and Kris Kristofferson, is expected to bring $80,000-$100,000. Willie Nelson's trademark braids are expected to sell for $50,000-$60,000. Willie cut them off in 1983 to celebrate Waylon's recent sobriety and presented them during a party Johnny Cash and June Carter hosted in Waylon's honor. There is also a handwritten letter to Waylon from John Lennon, as well as a pair of cowboy boots made for Hank Williams by Nudie Cohn. The auction is being organized by Guernsey's, a New York auction house: http://www.guernseys.com/Guernseys%20New/waylon_jennings.html
Vince Gill is a grandfather. Jenny Gill Van Valkenburg gave birth to a son on August 4 in Nashville. Jenny's mother is Vince's first wife, Janis Oliver of the Sweethearts of the Rodeo.
Rolling Stone Country reports Brad Paisley has spent the last three weeks releasing tracks from his upcoming album, Moonshine in the Trunk, via Twitter. He also posts texts and emails from industry officials who ask him to stop. He released "American Flag on the Moon" from Kennedy Space Center's Launch Pad 39B, where Neil Armstrong, Michael Collins and Buzz Aldrin boarded Apollo 11. He was inspired to write that song when his five-year-old son, who had been told the story of landing on the moon, looked up at the moon and said, "I think I can see the flag."' Brad said it "cracked me up but resonated metaphorically with the hopeful viewpoint of a five year old." He sent the song to astronaut Reid Wiseman on the International Space Station. "Hold on @BradPaisley, we don't usually like leaks at the launch pad," Reid tweeted back from space. He included a snapshot of his view of Florida.
Three members of the Country Music Hall of Fame–Reba McEntire, Loretta Lynn and Bobby Bare–appeared at the fourth annual Johnny Cash Music Festival in Jonesboro, Arkansas. According to Rolling Stone Country, it was the first time Loretta and Bobby ever sang together on "God Bless America Again." That 1976 Loretta Lynn/Conway Twitty hit was written by Bobby Bare.
Tommy Cash, sister Joanne Cash Yates, and Johnny's daughter Rosanne were among the Cash family members attending the grand opening of the Johnny Cash Boyhood Home in Dyess, Arkansas. Joanne cut the ribbon to declare the house officially open. Family members and guests sang "Will the Circle Be Unbroken." Here's an interesting timeline of the reconstruction: http://dyesscash.astate.edu/johnny-cash-boyhood-home/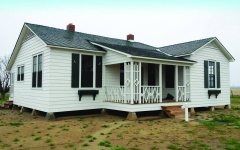 Alabama (consisting of Jeff Cook, Teddy Gentry and Randy Owen) is releasing a new album, to be sold exclusively at Cracker Barrel stores. Angels Among Us: Hymns & Gospel Favorites: Deluxe Edition contains 15 songs, including the title track written by one my favorite performers, Becky Hobbs. "We know our fans enjoy eating at Cracker Barrel, just like we do," the publicity statement says. "We are excited to be able to have our new gospel album available where so many of our fans eat after church on Sunday."
Duane Allen, lead singer for the Oak Ridge Boys, has been inducted into the Texas Country Music Hall of Fame. He wanted his fellow Oaks to be honored with him, so Joe Bonsall, William Lee Golden, and Richard Sterban were included in the induction ceremony and named as honorary Texans. The Oak Ridge Boys gave a special concert at the 17th annual celebration held in Carthage, Texas, two weeks ago.
SOUTH DAKOTA STATE FAIR
Sherwin Linton and the Cotton Kings will be performing every day this week on the Centennial Stage at the South Dakota State Fair in Huron. Sherwin has invited me to be his guest Sunday afternoon, August 31. I'll be talking about my books before the 2:00 show, and I'll join him during his 4:00 show to discuss Marty Robbins and Faron Young.
LETTERS
Lloyd Pierson writes, "I have just finished reading Live Fast Love Hard. Enjoyed it, and learned so much. When I was younger, my Dad was in the military and I listened a lot to Faron Young on the Armed Services Radio Network. I have been a fan of his both as a youngster and as an adult. Years ago, I started collecting country music vinyl records from the '50s and '60s and now have around 5,000. I will donate them soon to the Country Music Hall of Fame. Also, in my late teens I got to spend several days with Roy Acuff at his Hendersonville home and rode in with him to the Grand Ole Opry, then walked out the back door of the Ryman Auditorium to the Ernest Tubb Record Shop, where he was host of the midnight program. I got to meet Marty Robbins and now look forward to reading your book on him. Thanks for your writing and chronicling these country music greats."
Howard Traxler writes, "I received your newsletter from a friend a couple months ago. Would you please add my address to your mailing list? Thank you very much. Looking forward to reading your newsletter."
Bob Helms says, "I understand you write a newsletter on Marty Robbins. I'd like to receive it. I lived in west Phoenix from '78-'81 when I worked at Luke Air Force Base. Loved Marty's music. My sister had most of his early albums so I've played some of them for 40+ years."
Alan Potter writes from England, "I love to read your letters. Radio & record bosses won't or don't play the real country because they're trying to attract the younger fans. Well I've been on radio since 1968 & I play Robbins. Jones, Williams, Reeves, Cash, Parton, Gatlin, Bandy, Watson & whatever station I've been with my progs have always been one of the most listened to progs. I'm on ukcountryradio.com & tempo107.4 with the traditional country. Most of my colleagues play new country on ukcr but I have never worked for a station that tells me what to play. And I've never been off air in 45 years. I also play indie artists if they are good."
SONG OF THE WEEK
I memorized "Cowboy Jack" so well from hearing my mom sing it that I still know all the verses. It's a song I sing when trying to stay awake on a long (solo) drive. I never asked Mom where she learned it, and I was really surprised to do an Internet search and discover it was one of the songs sung and preserved by the Carter Family. Even the lyrics are available on the Internet.
QUESTION OF THE WEEK
Almost every CD I've received in the mail from CMA award hopefuls consists solely of material written by these unknown people. It seems to me they'd have a better chance of a hit if they chose songs from hit songwriters. Plus, there would be more people pulling for them to succeed. George Strait has made a lot of songwriters rich over the years. So has Garth Brooks, although he did write some of his biggest hits. Maybe these new folks think they have the songwriting talent to be the next Brad Paisley. Well, they don't. Do you think singers are more likely to hit it big if they write their own material?
BOOK REVIEW – LUCK OR SOMETHING LIKE IT
I purchased the 2012 Kenny Rogers memoir, Luck or Something Like it, when I was thinking about writing a Dottie West biography. Although no co-writer is credited, Kenny acknowledges Patsi Bale Cox working on the book until her death from lung cancer and then Allen Rucker finishing the job. Kenny grew up in the housing projects of Houston, where, he says, "We were poor people, but living in the projects, we really didn't know it because we were all in the same boat." He was in college in 1959 when invited to join a jazz band as a bass player. He said he only played guitar and not very well. He was told, "There's more demand for bad bass players than bad guitar players." He became part of the New Christy Minstrels in 1966 and helped form the First Edition in 1967. (The first concert during my freshman year at Augustana College in 1968 was the New Christy Minstrels, followed two months later by the First Edition.) The name was changed to "Kenny Rogers and the First Edition" with the release of "Ruby, Don't Take Your Love to Town" in 1969. When he went solo, "Lucille" became the first of his 20 Number One country songs on Billboard–including duets with Dottie West and Dolly Parton. This well-balanced book covers his music, his movies, his personal life, his many friends, and his love for photography. Looking back, he says, "You've been singing songs for fifty years, and you realize that the most treasured things you have are your family, your friends, and your memories."