NEWS
A crowd of 300 gathered at Woodlawn Cemetery in Nashville to remember George Jones on the first anniversary of his death. Nancy Jones, who organized the event, stood in front of the "He Stopped Loving Her Today" headstone to talk to her husband's fans. She led the planting of two dogwood trees. Keith Bilbrey served as master of ceremonies and joked that George was in heaven happily drinking water with Waylon Jennings. Larry Gatlin, a recovering alcoholic, argued, "Maybe heaven is being able to have just two and not have 10."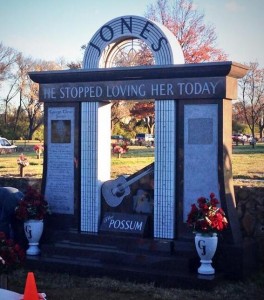 John Brown, who murdered "Stringbean" and Estelle Akeman in 1973, is up for parole for the fifth time in his forty years in prison. He and his cousin were looking for cash in the Akemans' cabin when Stringbean and Estelle returned home from the Grand Ole Opry. Brown shot Stringbean and then Estelle. The two men were sentenced to serve two life sentences. Doug Brown died in prison in 2003. Two of the seven parole board members listened to John Brown present his request last Wednesday, and the decision will be made after the other board members review the case. Jan Howard spoke at the hearing, saying, "I don't want to see him have another breath of free air." Brown insists, "I'm truly sorry. I can't undo anything to change my past. I've committed the last 40 years to changing my life."
Brad Paisley is suing his record label, Sony Music, for $10 million for breach of contract. The court documents said, "Sony continuously has refused Paisley access to a variety of information and applied incorrect royalty rates, prices, and reductions, pursuant to the Recording Agreement, resulting in Sony's significantly underpaying Paisley."
Duane Allen, one of the Oak Ridge Boys, recently returned to his hometown near Paris, Texas, for the dedication of a bridge and a road in his name. The "Duane Allen Memorial Bridge" crosses Big Sandy Creek in Lamar County and is located just a few hundred yards from where Duane was born. He and his family first visited the Red River Valley Veterans Memorial in Paris, where they donated a granite bench to honor their family members who have served in the armed forces. –Reported by Bob Everhart.
Barry Gibb and his wife, who paid $2.3 million in 2006 for Johnny Cash's home in Hendersonville, Tennessee, have sold it to Lakehouse Holdings for $2 million. The property consists of four lots along Old Hickory Lake. The house burned to the ground in 2007 when renovations were almost completed. At that time, Gibbs planned to build a new house on the the original foundation. Johnny and June Cash lived in the house for almost 40 years; they both died in 2003. Lakehouse Holdings is a Texas limited liability company formed two months ago.
Tom Bradshaw reported on the Steel Guitar Forum, "The Hendersonville Police concluded their investigation in March, deeming Bobbe Seymour's death to be from natural causes. His body was released for burial and he was promptly cremated. The Hendersonville Funeral Home advised me they handled the cremation and no memorial service has been scheduled. I was not able to learn to whom his ashes were released but strongly suspect it was to the girlfriend. The Probate Court in Hendersonville received a filing on 4-1-14 for the liquidation of Bobbe's estate. It was filed by his girlfriend who is listed as the estate's Executor. Anyone . . . who might have something at Bobbe's shop for repair or any debts that Bobbe might have owed, a Creditor's Claim may be filed against his estate. . . . Four months is allotted for all Creditors' Claims to be filed. The estate executor must then file a detailed report listing Bobbe's assets and liabilities. The Court will need to approve the Executor's report and direct her to pay all of Bobbe's debts the Court deems legitimate."
Country music deejay Billy Parker is in a hospital after having multiple strokes. He joined KVOO Radio in 1971, and only three years later was named the Country Music Association's Disc Jockey of the Year. The Academy of Country Music recognized him as its Disc Jockey of the Year in 1975, 1977, 1978, and 1984. He was inducted into the Country Music Disc Jockey Hall Of Fame in 1992 and received the Oklahoma Association of Broadcasters' lifetime achievement award in 1995. He is also a member of the Western Swing Hall Of Fame and the Oklahoma Music Hall of Fame.
Three steel players will be inducted this year into the the Steel Guitar Hall of Fame: Jim Vest, Sonny Garrish, and Joe Wright. Their plaques will be presented at the 2014 International Steel Guitar Convention in St. Louis, Missouri, this Labor Day weekend.
LETTERS
Bill Anderson says, "I got your message just fine, but I don't understand why I didn't get your newsletter. I have always received them in the past. Maybe try again….perhaps my computer was just in a bad mood that day. Thanks….and thanks, too, for your kind words about the loss in our family. It's tough right now, but we'll make it on the wings of our faith, our family, and our friends."
Ron Hogan writes from Nashville, "Keep up the great work and info. You're the mortar that keeps us bricks together! The time I worked for Faron, I don't have one photograph of us or the band together. I would love to find one. BTW…My first record LP I bought was a Jerry Byrd album that has 'Steelin the Blues' which he was famous for. See if anyone can answer this trivia. What famous County music star appeared on the Life of Riley TV show with William Bendix in the '50s?"
Diane: The answer is at the bottom of this section.
Bob Grant Hanger writes, "First time reader of your interesting newsletter. I am a retired DJ, now in West Texas. Spent 30 years in biz too. Could you add me to e-mail list?"
Jane Seymore asks, "Great newsletter as usual! Do you have any updates about The Grand Ole Opry Museum that was damaged by the big flood? They had a very interesting and an extensive Marty Robbins exhibit that my family and I always visited when in Nashville. I think Marty's family donated the items. Have they reopened to the public?"
Diane: I've never been able to get an answer to that question. Perhaps some of the readers know.
Denise Bentley writes from Alberta, Canada, "I finally had the privilege of reading your excellent book, Live Fast, Love Hard. Thank you for writing such a heartfelt and real capture of Faron's life. Greatly appreciate to understand the man behind the amazing music. The joys, the torments, the heart, the complications, such tragedy also. But it doesn't change the love of him as an artist, it allows us to love him more, and loved by many he was and is!!!"
Linda Elliott Clark in Alexandria, Virginia, says, "Wow, thanks for all the updates, some of it very heart-wrenching and sad. Wish I could have been in the audience with Vince Gill, Bobby Bare, Ricky Skaggs, etc. So many of my favorite entertainers over the years. Used to watch Ralph Emery's TV show all the time that broadcast in the DC area. Hope Delbert McClinton is doing much better. I remember the duet between him and Tanya Tucker very well. This sure brings it all back home to the '60s and early '70s! Thanks for making me feel like 25 again!"
Christine Diller writes from Laurel, Maryland, "Once again another awesome article! A tear found its way to my eye however concerning the update regarding Glen Campbell. My husband and I were discussing him earlier today, wondering whether there was an update on his health. I met Glen when I was 19, and while I have other favorite country singers, he was one of the first to worm his way into my heart. Also, do you know whether Faron's or Marty's books are available in audio format? This would be awesome for those of us readers who are totally blind. Keep up the great work, and remember, it's only a computer. Technology manages to straighten itself out eventually."
Diane: Faron's biography is available in audio format for the blind. I haven't heard anything about Marty's biography being recorded.
Alan Potter sends this note from the U.K.: "Thank you for another informative newsletter. So sad to read about Glen Campbell & his family. I will pray for all of them. Mary Mitchell & Jim Pierce's memories of Wynn Stewart were great to read. Over the years I've interviewed around 100 American country artists in my 45 years as a country radio presenter & only a handful knew anything about Wynn. It's so sad. This year my station ukcountryradio.com is asking listeners & presenters to nominate their 3 all-time favourites. It was the most difficult decision I've ever had to make music wise. Eventually I chose George Jones, Wynn Stewart & Reba McEntire. But Marty Robbins, Faron Young, Hag, John Conlee, Jeannie Seeley, Dolly, Jack Greene…The list of contenders is endless,"
Mary Mitchell says, "Love your letters. To Jim Pierce. What a great story. Wynn deserves to be in The Hall of Fame. Next, another star that has been forgotten is Carl Smith. He was a great Husband and father. Never ever any trash about him and his style certainly was all Country. I loved to listen to him at age nine and now I am seventy-six and still have as much music I can find of Carl. May he RIP."
Ruth Elkins requests, "Please add me to your email list."
John Pokoski asks, "Could you please add me to the distribution list for your country music newsletter?"
Steve Clark responds to "the first record you ever bought" question: "Not positive if it was the first but it was one of them: My Country by George Jones, produced by Pappy Daily on Musicor records. Sometime in mid to late 1960s. Double album, which I still have and listen to when I need to remember real country. Got about 100 vinyl albums left, most of them bought in the PX for a couple of bucks. And before you ask – yes, I do have Faron, Marty and Webb in that collection."
Ross, PROUD father of an American Soldier, says, "I think I can honestly say I'm your oldest reader. I suspect this will prove it. My FIRST record was a 78-RPM on King Label by Esco Hankins doing 'Dad's Lullaby' b/w 'Sweeter Than The Flowers.' It was bought in 1948."
Michael Roux writes from Illinois, "The first album I remember purchasing with my own money was America's debut album with A Horse with No Name from a Korvette's department store in the Chicago suburbs."
Dominique "Imperial" ANGLARES responds from France, "Thank you for that very interesting newsletter and glad to find here some friends. To answer to your question, my first LP was bought around 1972 and it was a strong one by Eddie Cochran. It was titled Eddie Cochran Story – Vol 1 (Liberty-United Artists BS 83430) and was part of a set of four. I still have that LP in near Mint condition. Next LP bought shortly after was by Gene Vincent … These young rockers including Buddy Holly or Jerry Lee Lewis had strong country roots and bring to our ears many classics from Carl Smith, Hank Williams, Al Dexter, Ernest Tubb or Jimmie Rodgers' repertoire. 'til next newsletter get my kindest regards."
Dave Barton in Nashville says, "George Owens and Jim Pierce I haven't heard from those guys in years even though we all live in Nashville we never see each other, that's the reason I join ROPE so we can get together and tell lies about how good we were back then."
Bob Mitchell writes, "Jim Shaw with Buck Owens forwarded me your most recent newsletter. Loved the note from Jim Pierce about Wynn Stewart. Could I be added to your newsletter distribution list? I am an amateur Bakersfield Sound historian. I am from Bakersfield, and have worked in the music trade my whole career."
Tom Kimsey says, "Glad to see Lee Ann Womack recording again. I have all her CDs and can't wait to hear her voice again."
Answer to Ron Hogan's trivia question: Freddie Hart. whom Ron worked for, for 7 years
SONG OF THE WEEK
Although Lefty Frizzell is normally associated with smoking cigarettes and drinking coffee blues, Marty Robbins wrote the song. It's known as "Cigarettes and Coffee Blues" with the legal title of "Smokin' Cigarettes and Drinkin'." Lefty had a number 13 hit with it in 1959. Marty recorded the song in 1963 and brought it to # 14.
QUESTION OF THE WEEK
What is your theme song? I have three: "Could I Have This Dance" (Anne Murray), "I Just Want To Dance With You" (George Strait), and "Can I Trust You With My Heart" (Travis Tritt).
SIDEMAN SIDEBAR
Lynn Owsley played steel guitar for Ernest Tubb as one of the Texas Troubadours from 1973 until ET's death in 1984. I called him at his home in Hendersonville last weekend to ask what he's doing now. He said he performs 20-25 shows a year, mostly steel guitar festivals and other musician events. He's found that musicians and "average country fans" are interested in hearing the circumstances of songs and recording sessions, and he tells a story before he plays each song. He told me "Half a Mind" was the first ET recording with a steel guitar intro. When Billy Byrd was late to the recording session, and Buddy Emmons was there with a pedal steel guitar, which was not yet an accepted instrument, Owen Bradley told Buddy, "Let's see what you can do with that contraption." Lynn says that record opened the door for the pedal steel guitar. That's just an example of the stories Lynn tells during his shows. He says the gigs aren't making him rich, but they do supplement his retirement. Lynn was inducted into the Steel Guitar Hall of Fame last year, and the photo of the induction ceremony is below. You can learn more about Lynn at http://lynnowsley.com/.