NEWS
Willie Nelson has donated major portions of his collection of correspondence, manuscripts, records and awards to The Dolph Briscoe Center for American History at The University of Texas at Austin. The Willie Nelson Collection, soon to be the focus of an exhibit on the UT Austin campus, will offer scholars a deeper understanding of Willie's music, career, relationships and creative process. Willie is releasing a new studio album, Band of Brothers, in June. Its 14 tracks will include nine brand new songs written by Willie.
Liverpool, Nova Scotia, Canada, celebrated the 100th birthday of hometown boy Hank Snow on May 9th at the Hank Snow Home Town Museum. It took three years of planning and will continue as an annual celebration called Hank Snow Day. Jimmie Rodgers Snow unveiled a new Canadian postage stamp honoring his father. The museum, located in Liverpool's former train station, opened 15 years ago. Hank's yellow Cadillac convertible is on display. In front of the museum is a statue of Hank sitting on a stool and strumming his guitar. The celebration also included a Larry Gatlin concert, the dedication of a nearby public park, and the announcement of a biography to be written by Liverpool writer Vernon Oickle.
Blue Smoke, the new album by Dolly Parton, is being released this week. Dolly says, "We have some bluegrass stuff, some gospel flavored things, and we have some mountain style stuff. We also did a cover of Bon Jovi's 'Lay Your Hands On Me' as a gospel song, and it's absolutely great. We did a cover of Bob Dylan's 'Don't Think Twice,' which has always been a favorite of mine. We did it the Americana way, with plucking guitars and finger-picking and bluegrass harmonies." Her Blue Smoke World Tour, which began in Australia in February, kicks off its United States leg tomorrow in Tulsa, Oklahoma. The European leg will begin June 8 in Liverpool, England. Check out Dolly's website for more details: http://dollypartonentertainment.com/
The lung cancer in Dawn Sears has spread to her lymph nodes and liver. Six rounds of chemotherapy and 32 radiation treatments did not prevent it from progressing to stage four. Still, Dawn can sing. Here's a WKRN-TV news video showing her performing with the Time Jumpers: http://www.wkrn.com/story/25471170/nashville-singer-fights-cancer-continues-to-share-gift-of-music?autoStart=true&topVideoCatNo=default&clipId=10142465
Mickey Gilley is back on tour after the accident in 2009 that crushed four vertebrae and paralyzed him from the neck down. He recently told Country Weekly, "I can't button a shirt right now and it's hard to fasten a belt buckle. Other than that, I'm normal. My goal is to play golf in the spring and piano in the fall." For now, the damage to his hands prevents him from playing piano. "I'm more up front now as the singer," he says. "I talk about my songs and I tell a few stories about my life and then go through all my hits."
Tommy Overstreet's sister passed away May 11 in Branson, Missouri. Doris Lynch, age 81, once worked at the Country Music Hall of Fame and owned a tour company called Nashville Express Tours.
LOUDILLA JOHNSON 1939-2014
Loudilla Johnson was apparently in declining health for months, but news of her May 7th death came as a shock to most of us. Loudilla and her sisters, Loretta and Kay, formed the Loretta Lynn Fan Club in 1963 and provided an important boost in Loretta's early career. In 1965 they founded the International Fan Club Organization (IFCO), an alliance of 75 fan clubs that established a template for interactions between country stars and their fans. The Johnson sisters hosted numerous IFCO events and awards dinners in four decades. Loretta died in 2009, and the Johnson family is planning a private memorial for Loudilla. I last corresponded with her when she suggested how I could get in touch with Holly Dunn. Loudilla's email address has been bouncing for the past several months, and she didn't respond to my messages. I met the three sisters when I went to Nashville for a Faron Young book signing in 2007, and they came to see me at the Ernest Tubb Record Shop.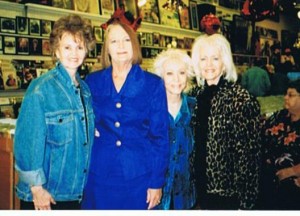 LETTERS
Johnny Western writes on Facebook, "We got a call from Billy Parker's wife, Jerri, in Oklahoma. Billy suffered multiple strokes a short while back and was in the hospital in Tulsa. Jerri said Billy came home May 9 and will be rehabbing for a long time but he is still very much with us. Billy and I go back more than 50 years. When he was singing and playing guitar with Ernest Tubb, I was doing the same with Johnny Cash and we have been friends ever since. Billy and I ended up working for the same companies–Great Empire Broadcasting in Wichita and Tulsa and Journal Broadcasting in the same markets. I retired from the air in 2010 and Billy has been on KVOO for 4 decades now. Billy and I are both in the Country Music DJ Hall Of Fame in Nashville, and that makes it extra special for both of us."
Jean Earle writes from the U.K., "You were kind enough to try to locate friends of Bob Powel in your newsletter. Bob was pleased with your results. Today we have just been told the sad news the Bob has died suddenly. Maybe his friends in America would appreciate knowing this."
Tony Byworth reports, "I'm sorry to tell you that Bob Powel has died. Bob was one of the leading media figures on the British country music scene during the 1970s and '80s, both as (twice) editor of Country Music People and as host of London Country on BBC Radio London. In both capacities as a writer and broadcaster, he was much respected for his considerable knowledge of country music, built from close friendships with artists and musicians alike. In fact, he would often surprise guests on his radio show with recordings, or factual items, of which they were unaware. He lived in Thailand during the 1990s but never resumed country music activities upon his return to Britain the following decade. Apparently Bob hadn't been seen for a week or so and his neighbours informed the police, who broke into Sidcup flat and found his body. An inquest will be held and funeral arrangements announced in due course."
Aileen Arledge says, "So sorry to hear about Glen Campbell having to be put in a nursing Home. I know how that is as I had to put my own mom in one several years ago. I remember Glen on one incident when my daughter, Tracey Lynne, and my son Greg who ran the Mountain Express band here in Michigan played a date with Glen in a fair in the upper part of Michigan. During the nineties. He had already finished his show and we were about to go on and he was leaving in a cab. We asked to talk to him before he left and they said he didn't have the time. However, he heard that and stopped the cab and got out and talked to all of us before we went on the show. We couldn't get over how gracious he was. Not only a great entertainer but a great person."
John Dubay, retired U.S. Navy chief petty officer, writes, "I, too, am a huge fan of Faron Young. Thanks to Youtube, I listen to him every day. The first thing I noticed on the Faron book was your last name. I once knew someone who had it also. But reading your bio she was an AZ and from North Dakota if my memory is correct. Blond Hair Blue eyes and if she isn't the prettiest girl in the whole world she is at least in the top five. And that is from a retired CPO with 10 of his 23 active duty years spent in Scandinavia. Trust me on that subject I am a subject matter expert. Anyway, thanks for the memories. The best to you, fair winds and following seas."
Diane: Small world. You are talking about my sister.
Bill Hyatt in Arkansas says, "When Hank Williams died I had a 45 rpm record player and every record Hank had ever made. Still love his songs after reaching age 82 on May 20. Also love Wynn Stewart ( a distant cousin)."
Jack Smith requests, "Please add me to your email list. Great newsletter."
Don Holland writes from Orlando, Florida, "I am an old Hank Williams fan (72 years old) who grew up listening to Hank on the radio from the late 1940s and continue to love his music even more today since all of the Mother's Best programs and other new material has been released. I always have Hank's CDs in my car. I have eight great granddaughters, ages 1 year to 10 years old, and I have been taking the two oldest girls to their school bus for five years now. When I picked them up, I took Hank's CDs out of the CD player and turned the radio to music I thought they would prefer. One day when Dakota was five years old, she told me she did not want to listen to that music. I asked what kind of music she wanted to hear. Dakota pointed to the center console where I had just put Hank's CDs. She wanted to listen to Hank Williams! This really impressed me that a five-year-old girl would prefer Hank to any other kind of music. When we got home, I pulled up some of Hank's songs, and Dakota and her older sister Brianna sang along with Hank for almost an hour before their mother came to pick them up."
Carolyn Babin says, "I enjoyed reading your newsletters. The tribute to George Jones article, and others about him. For my 83 birthday last year in November, my daughter took me to see George on stage at a Casino in Shreveport, La. I did not even make an attempt to see George in person, but later wished I had because he was gone not too long thereafter. I knew George personally in the early '50s in Shreveport during my days in radio broadcasting. I was able to meet many up and coming musical artists. I have some great and fun memories being involved with the music business and personal relationships with some of the artists. George was among them. Despite his drinking a little too much he was one of the sweetest and polite guys I knew. I can still see him at a gathering at my house after a Louisiana Hayride sitting atop my kitchen cabinet pickin' and singin'. Little Margie Collie was visiting me for a few days and when we looked out the upstairs window we saw George's old blue Caddy still parked beside my house. At least he knew he had too much to drink and did not attempt the drive back to Beaumont. The car was gone the next morning when Margie and I awoke."
Terry Counts writes from White Bluff, Tennessee, "AHA!!!!! Favourite theme song….good chance to see if anybody knows where I could find a copy. When I had my radio show (while senior in high school) my theme song for the show was Chet Atkins' (there goes my memory again..) I think it was 'Hidden Charms' and that was in the mid '50s. Over the years I lost my copy and I've spent decades trying to find another one or the CD it was on. I even asked Chet once when he was doing HEE HAW and he didn't remember. Anybody out there have a copy or where I can find one?"
Jane Key Seymore in Cullman, Alabama, says, "My theme song is 'My Woman, My Woman, My Wife' by Marty Robbins. I can only imagine the love that he had for his wife, Marizona, to write such a beautiful song for her. I have been happily married for over 30 years and this song always makes me think of my sweet parents who were married for 52 1/2 years before my dad passed away."
Lynda Kyle, daughter of Ray Emmett, writes, "Thanks for your newsletter! I always enjoy reading it. I was thinking of your question, what was the first record bought? Mine was the Ballad of the Green Berets. It was by Barry Sadler. By the way, of my twins is graduating Magna Cum Laude this next week (with double degrees)- one of the girls that Faron used to call his monkeys, and he would throw them on the bed of the hotel room, and encourage them to JUMP to their hearts content. My dad would be so happy, knowing she may have waited, but she was focused and really did well once she put her mind to it."
Marc Bristol, editor/publisher of Blue Suede News, says, "Ken Burke forwarded me your newsletter, and I'd love to receive it directly here. We love the REAL Country music, and it's something we cover in Blue Suede News, along with Rockabilly, R&B and other vintage styles related to the roots of Rock'n'Roll. We've had a few of the pioneers on our cover over the years: Hank Williams, Maddox Brothers & Rose, Hank Thompson, Hank Locklin, Buck Owens & Don Rich…and stories on various others."
Vern Miller reminisces, "In the late '80s Faron played a political function for Constable James Douglas in Baytown, just east of Houston. I was a deputy at that time. I picked Faron up at the airport in Houston. He was a very friendly person and we had fun. He called again to be picked up at the airport. I picked him up in my patrol car. I took him to the old Music Hall in Houston. While driving through the busy streets downtown Faron sang Johnny Cash on my loud speaker. We laughed a lot and between shows myself and Deputy Milton Casey took him to eat fried chicken. We also tried to help him find a cabbage patch doll he wanted for a gift to a little girl. He also wanted to see The Best Little Whorehouse in Texas. Faron told us where he lived in Nashville and invited us up. I saw him in a show a year later and he knew me and called me by name. I sure miss him. He told Ralph Emery he became the singing Constable in Houston."
Billy Phillips says, "What a nice reply, Vern. Diane, I will look forward to reading your book. I have always been a Faron Young fan. He could curl those rapid singing vocal triplets as well as anyone else ever could. A voice all his own too. Incredible stage presence, a great 'winker' to his audience, and I bet he smelled real good, too."
Marge Hemsworth says, "I've Got Half a Mind, the first recording of a Roger Miller song, mentioned here by Lynn! Yes, we fans LOVE these little 'behind the scenes stories'!!!!!"
Tommy Overstreet writes, "Just a quick note to say thank you for making me your featured artist of the week. At my current age, it's nice to be "Featured" again…I hope your newsletter continues to grow for you."
SONG OF THE WEEK
When Alan Jackson debuted "Where Were You (When the World Stopped Turning)" on the CMA Awards show in 2001, I was mesmerized. He mentioned "on a stage in LA" and asked if you were "driving down some cold interstate"? I'd been driving down I-405 in LA on my way to work when the news came on the radio. I thought Alan expressed how so many of us felt, and his ability to connect showed tremendous songwriting talent. I immediately thought it should be song of the year. And it was. At the 2002 CMA awards show, the song won both Song of the Year and Single of the Year. Of course, Alan Jackson was big at the time. He won 5 of the 12 award categories, including Entertainer of the Year and Male Vocalist of the Year.