MAN OF THE DECADE – Forty Years Ago
Three months after his triple-bypass heart surgery, Marty Robbins attended the fifth annual Academy of Country and Western Music awards banquet, held at the Hollywood Palladium in Los Angeles on April 13, 1970. There he received the ACM's first "Man of the Decade" trophy, for the decade of the 1960s. His speech included his usual sentiment, "I thank God for allowing me to be here tonight." He then went on to Las Vegas for a month-long gig at the Fremont Hotel. The award was renamed "Artist of the Decade" when it went to Loretta Lynn for the 1970s. Alabama won in the '80s, Garth Brooks for the '90s, and George Strait for the '00s. Except for the 1980s, I heartily agree with all choices.
CLIFFIE STONE PIONEER AWARD
And in 2010 the ACM remembers Marty again. He and Mel Tillis are being given the Cliffie Stone Pioneer Award. Looking at the list of previous recipients, I'd say they're both long overdue for the award. Still, I'm happy any time either Marty or Mel gets public recognition. Thanks to Ken Johnson for sending this link: http://www.acmcountry.com/awards/specialawards.php
LETTERS
Gladys Van Dyke sends this note: "This was a most interesting piece, since my husband, Leroy Van Dyke, got caught up in the same Opry idiocy. When the '26 weeks' rule was put in place, Leroy tried to adapt, but only made something like 22 appearances. The next year the Opry management reduced the requirement to 20 appearances, and Leroy was only able to do 18 or 19. Leroy spoke to Ott Devine, Grand Ole Opry Manager, and told him he would have to take a leave of absence, inasmuch as he (Leroy) had to make a living, and the Opry was tying up too many weekends. Following this, Leroy came back to the Opry occasionally as a 'guest' performer, until Hal Durham was named Opry manager. Then, for unknown reasons, Leroy was not booked on the Opry for 17 years. Leroy's 'Auctioneer' is a country classic, the anthem of auctioneers around the world; and his 'Walk On By' was named by Billboard Magazine as the biggest country single of all time, based on number of sales, number of plays and number of weeks in the charts. It went to number one and stayed for 19 weeks, was in the charts for 42 weeks."
Carolyn Babin says, "Enjoyed reading all these posts and learning some things I did not know about from the past. And, it confirms that the entertainment business was certainly NOT easy for the artists themselves. I am remembering when the Opry cut so many of the greatest. I never attended another show after being there with Faron so many years ago and being back stage. He introduced me to so many of the stars at the time. This was about '52 I think. I remember how sweet, polite and cordial every one of them were. The Carters, Roy Acuff, Dottie West, Ray Price (who at the time was rooming at the same place Faron was….and I think I told you before that Mrs. Young and I spent two nights at Eddy Arnold's home. What a gorgeous home to me at the time…I felt I was in a mansion!  We had traveled to Nashville and back by Greyhound bus."
George "Red" Freeman writes from Little Rock, Arkansas, "I thoroughly enjoyed your book about Faron Young, having had the opportunity to appear on shows with him a few times in the early 70s. You definitely did your research on his band members. I don't know how you managed to get all those names. I don't think I could even come up with all the names of band members I worked with from about 1964-mid 80s. I worked off and on with a fairly well known South Dakota entertainer named Sherwin Linton so I kind of came to love SD and was married to an Aberdeen lady for several years. I even saw a friend listed that I worked with for a short while in Minneapolis: Leon Boulanger. I had wondered whatever became of Leon. Thanks again for the book and now I think I will find your Hidewood book to read. Best of luck in all your endeavors."
David Corne in the UK says, "I was saddened to read about the death of Barbara Pruett. Her book Fast Cars And Country music is an absolute bible for any fan of Marty's. RIP Barbara. It was good to see Joe Babcock talking about his two great songs 'Won't You Forgive' and 'Ghost Train' in your newsletter. In my opinion they both could easily have been the 'A' sides of the records they were so good. Joe had about 21 songs recorded by Marty I believe and he also was a member of the Glaser Brothers for a while. . . . I was pleased to see Marty singing 'The City' on the Cash show which is on youtube. It's always been said that Marty was uneasy with television appearances, but whenever he appears on shows such as this he looks so relaxed and at ease. Perhaps he hid it well. Regarding his television performances on other shows than his own, I believe he appeared on the Dean Martin Show, where he may have sung a medley with the Everly Brothers, but is there anyone to confirm that Marty ever appeared on Hee Haw or The Andy Williams Show, I wonder? It looks like his Marty Robbins Spotlight Shows will never see the light of day unfortunately due to copyright issues."
Juanita Buckley sends condolences: "I'm so sorry to hear about Barbara J. Pruett passing away. I knew Barbara when she put out the newsletter to all of Marty's fans across the world. She, like Marty, left us with a lot of memories and information. Her Fast Cars and Country Music is like my Bible for Marty Robbins. Had she not compiled all the information in one book a lot of information about Marty would have went by the way side. My prayers are with her family & friends. She will be missed."
Sheree Homer writes, "I am a fan of your work. I have seen and hope to buy soon your biography on Faron Young. He is also one of my favorite country singers along with Marty Robbins. Looking forward to your bio about Marty. Congratulations on your published works. I am also a writer. I had my first book, Catch That Rockabilly Fever, published last year by McFarland Publishers. Currently working on my second bio, Rick Nelson's musical career."
June Bourke sends this note from New Zealand: "I thoroughly enjoy your news letters that arrive regularly, but first I must thank you for introducing me to Stuart Weiss, re my C.D. that mum and dad have recorded on. Stuart tells me the Hill  Billy Pals (my parents) got a good response, when he played them, and a big thank you to you. Reading the message from Tom Lipscombe, I have to add, I have been a huge fan of Kitty Wells, since I was a youngster, and when I became serious about my singing and songwriting, I focused a lot on her style at the beginning. . . . She was to come out to New Zealand a few years back, but if I remember, due to ill health, it was cancelled. Hank Snow is another one of my idols, and my father met him many years ago, here in New Zealand, Dad sang a lot of his songs for all of his career in country music here in N.Z, well over 60 years of entertaining. Dad is now 90 and still has a good voice. Once again thank you, love receiving the news."
Steve Clark says, "Thanks for the latest newsletter and the new feature 'Sideman Sidebar.' I think that will be a popular item. I think it is very interesting to see how some of these folks end up. I was listening to XM radio on my way home today where Dallas Wayne was interviewing DJ Tracy Pitcox and Pitcox was telling about the time he purchased a stage costume from Rose Maddox for a museum he runs in Texas. She was selling the dress to pay for prescriptions! While I am too young to remember her, I have heard she was a big star back in the 1940s."
SIDEMAN SIDEBAR
My second noteworthy sideman is Ray Emmett. He hosted one of my Country Deputy reunions in his log cabin home and helped me track down several of the Deputies. He also put together the band when Darrell McCall hosted the Country Deputy Reunion on the Ernest Tubb Midnite Jamboree the night we celebrated the release of Live Fast, Love Hard: The Faron Young Story. Ray fronted the Deputies for Faron and played electric bass from 1973-1980 and from 1988 until the end. He also sang harmony on Faron's records. Ray had a solo career for awhile in the 1980s, and that might be when I saw him at the Nashville Palace. I don't remember the year, just that I didn't introduce myself because I didn't think someone famous would talk to me. Ray and Renee live at the end of the road in the Goodlettsville forest in a large log cabin built from historic wood.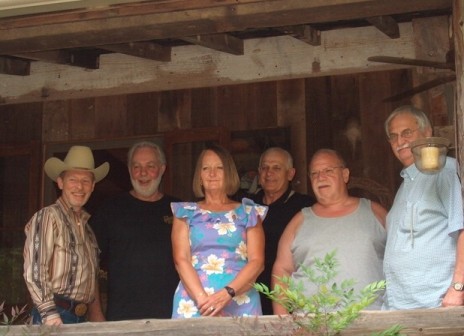 Kenny Sears, Ray Emmett, Diane Diekman, Jerry Merhar, Richard Bass, Cootie Hunley