NASHVILLE
There are no words to express what is happening in Nashville right now. Here's a photo from the Internet showing the flooding inside the Opry House. The stage is under water. The Grand Ole Opry museum next door must also be under water–the one place we could go to visualize Marty Robbins sitting at his desk in his office.
My main worry was about Jeannie Seely and her home on the Cumberland River, until her note on Facebook told us she's safe but her home is now part of the river. Here's a photo of Jeannie in front of her house when I visited several years ago. Connie Smith and Marty Stuart lived down the street.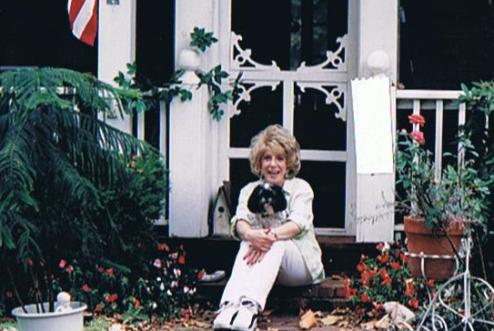 Jeannie sang on the Tuesday night Opry. When someone expressed amazement that she'd be willing to perform, she said, "Well, it isn't like I can sit home on my couch and watch TV." She said she could either laugh or cry, and she didn't want to cry.
BARBARA PRUETT'S MEMORIAL SERVICE
Barbara's memorial service is scheduled Saturday, May 22, 2010, at 2 pm at Cleveland Park Congregational Church in Washington, DC. The address is 3400 Lowell Street NW. The church can be contacted at 202-363-8211 or info.cpcchurch@gmail.com. I will be there.
LETTERS
Ken Johnson responds to David Corne in the UK: "I can confirm two Marty Robbins appearances on Hee Haw. Both happened during the third season of the program (1970-71) which aired on CBS-TV on Tuesday night 8:30-9:30pm ET. Marty guest starred on October 13, 1970 and again on January 19, 1971. Seems odd that Marty did not guest star again after that. Hee Haw would appear to be an excellent showcase for Marty's comedic ability. Perhaps there were some issues at play that prevented additional appearances on that show. Nashville is a town where politics plays a major role in your career."
Sandy Daens says, "Have been enjoying your newsletters. David Corne asked whether or not Marty ever appeared on Hee Haw and The Andy Williams Show. According to my records, Marty appeared on Hee Haw twice in season 2, on episode #34 which aired October 13, 1970, and episode #46 which aired January 19, 1971. I have nothing in my records showing he ever appeared on The Andy Williams Show.
Ron Reagan adds, "Someone wrote wondering if Marty appeared on Hee Haw and, of course, he did.  I'm a huge fan of Hee Haw btw so here goes…."
Season 2, Episode 5 – Aired: 10/13/1970
Music:
Buck Owens, the Buckaroos, the Hagers, Susan Raye and Buddy Alan Owens – "Sing a Happy Song"
Marty Robbins – "I'm So Afraid of Losing You"
Grandpa Jones – "You'll Make Our Shack a Mansion"
Connie Eaton – "Ring of Fire"
Roy Clark – "Black Sapphire"
The Hagers – "Everything Is Beautiful"
Marty Robbins – "Don't Worry 'Bout Me"
Buck Owens and Susan Raye – "Tennessee Bird Walk"
Season 2, Episode 17 – Aired: 1/19/1971
Music:
Marty Robbins – "Beggin' to You."
Marty Robbins – "I'll Have to Make Some Changes."
Connie Smith – "Louisiana Man."
Connie Smith – "I Never Once Stopped Loving You."
Roy Clark – "White Lightnin'"
The Hagers – "Flowers Need Sun, Too."
Jenny Jones asks, "Could you please add me to the list that receive the Faron Young-Marty Robbins newsletter. Shirley Johnson forwarded me the latest and I really enjoyed it. I worked with the Billy Walker fan club and Billy and I were close friends till his death nearly four years ago."
Tom Barton asks, "Just curious — has Ronny Robbins mentioned anything about his father's unreleased recordings? Supposedly, Marty had his own studio and recorded many songs that have never been released… It would be a shame for them to never see the light of day…I heard an interview with Ronny and his mother on (I think WSM) the 20th anniversary of Marty's death and there was some discussion of the topic. As I recall, Ronny indicated there was quite a bit of material, and he would work on getting it released. Unfortunately, nothing new has come forth. Anyway, it is just a thought."
Ronny Robbins responds, "Not sure but I think I may have been talking about the Spotlight shows, not anything audio though."
"Just John" Hamilton in Portland, Oregon, writes, "Hi, Diane. I always enjoy your publications, and today's was especially interesting for me. I love it when you take on the establishment! Thanks for sharing Gladys Van Dyke's note with your readers. I saw Leroy Van Dyke in concert, back in the late 1960's or early 1970's. A most impressive entertainer, his show was most professional. Just before his encores he threw his accoustic guitar into the air and walked off stage. My heart sank when it looked like that fine instrument was going to crash to the floor! The audience gasped, and then the bass player took a step forward and caught the guitar in mid-air: obviously a planned stunt, and quite entertaining. The audience went wild over Leroy's singing and and really whooped it up during his encores. I'm pretty sure it was a Saturday night; hopefully one in which Mr. Van Dyke had to turn down the Opry to appear in Portland."
Arie den Dulk, in reference to the photo of me and the Country Deputies, comments, "Kenny Sears and his wife are great artists. They performed in Holland last year and we went and met them after the show and said 'Hello'."
Terry Counts writes, "Loved this issue, nice to see Ray Emmett getting deserved notice..he is and was a very good musican and friend of mine to this day..first time I ever saw Ray, I had only been working for the Deacon for maybe 2 weeks..he was gone out of the offices that day..and I went to the ladies room and came back in and here's this guy sitting in Deacon's desk in his office and he looked at me and I looked at him and I think I said who the hell are you and what are you doing there… both of us were so surprised!!! I'll never forget it..or the time Artist Stu Phillips thought we were married..we laughed our heads off at that one ,too..he's a good man and a great picker..(not as good as mine was but good!)"
SIDEMAN SIDEBAR
When steel player Bennett Keith Schaeufele joined the Nashville musician's union in 1956, the secretary said, "Oh! You're not going to use that name, are you?  Why don't you use Ben Keith? People will remember it better." So he became Ben Keith. The following year he signed on as one of Faron Young's Country Deputies, joining Tom Pritchard on upright bass and Odell Martin on guitar. By 1960, the Deputies were Ben, Odell, Darrell McCall, and Roger Miller. Ben left the band in 1963, did demos and session work for awhile, and some producing. My sister and I visited him at his Gallatin home in 2000. By then he had toured for years with Neil Young. He told me he produced CDs for Jewel but didn't mention her debut CD, Pieces of You, sold more than ten million units. It is still one of the best-selling albums of all time by a female artist.