MARTY ROBBINS AND FARON YOUNG ON THE OPRY
Today's date is normally reported as when Marty Robbins joined the Grand Ole Opry. Since January 19, 1953, was a Monday, it may be the day he signed a contract. His first performance was Saturday, the 24th. At that time, Faron Young, already an Opry member, was going through basic training in Fort Jackson, South Carolina. His "Goin' Steady" had just entered the Billboard chart and was starting its climb to number two. In late 1964, Faron refused to rejoin the Opry after he and others were booted for not making enough appearances. Marty celebrated his 20th Opry anniversary on the Opry stage, and he died a month before his 30th anniversary.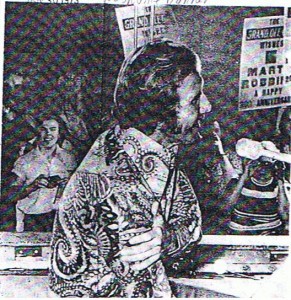 Marty Robbins on 20th anniversary as an Opry member
LETTERS
Linda Kyle wants us to know, "My dad, Ray Emmett, is in the hospital with heart issues again, started about a month ago."
David Engelhardt writes, "I just randomly came across your name on the web – I am researching recording techniques of various recordings and in particular trying to find out the engineer, studio, and microphone used to record 'Hundred and Sixty Acres.' I read you are writing a biography and have a whole chapter dedicated to the album Gun Fighter Ballads."
Ronald Reagan says, "Some years ago I bought a Reader's Digest/RCA box set of albums at a local yard sale. The artist singing on album one was a gentleman by the name of Bobby Sykes. I found out Mr. Sykes was apparently a good friend of Marty and played for him as well. The website I found mentions the particular box set I have-Country & Western Music Jamboree.  It mentions he died in 1994, but there doesn't seem to be a lot of info out there on him. I was in hopes you might could give a bit more info on him in your next newsletter."
Response: Bobby Sykes moved from Michigan to Nashville in 1955, where he joined the "Home Folks" TV show. Marty hired him when the show ended. Bobby stayed 24 years, until Marty's death. He played rhythm guitar, sang harmony, and worked in the office as a booking agent.
Dominique "Imperial" ANGLARES writes from France, "Thanks for that last Faron Young and Marty Robbins newsletter for 2010. An always welcome and entertaining reading. I wish you all the best for your forthcoming book and I am for sure eager to read that life story of Marty Robbins. . . . Here are two of my favorite records … Marty gave to 'Long Tall Sally' a fabulous treatment who up stage any other covers. Like for 'Maybellene', he stand just next to the original terrific versions of Little Richard and Chuck Berry. Any young rock-a-billy cat or greasy rock and roller can't match with his fabulous rendition of those classics."
Charles Hobbs, a fellow writer, says, "About a month ago, I read your book Live Fast, Love Hard: The Faron Young Story. I knew who Faron Young was, but was only familiar with two of his songs ('Hello Walls' and 'Four In The Morning'). Your book really rounded out his life story, and kept me so captivated that, one day while reading on a train, I almost missed my stop. The research and footnotes were very informative. This is the kind of writing I'm shooting for in my own book–well researched, but not overly scholarly or otherwise inaccessible to the average reader."
Bob Morrow in Bolingbrook, Illinois, asks, "I'm a BIG Marty Robbins fan and I remember listening to my dad play Mr. Shorty over and over. Is there a book to purchase or how would I do that?"
Response: It's at the publisher right now, being copyedited. I like "Mr. Shorty" also. The book explains how Marty got the idea from his brother.
Richard Spooner writes from the U.K., "I finally get to make the trip to Nashville this year in April. One guy I really want to meet is Ray Emmett, Faron's old bass player. I would love to meet him and hear some real Faron stories. I met Faron once. He is my all time favourite singer and I have recorded many of his songs here in the UK with a band I played with. Keep up the good work on Marty's story. I saw him too in England what a great entertainer he was, whilst I loved his music Faron for me just had that bit extra."
Andy Williford reports, "We are having our 1951 high school reunion in October 2011, Faron's graduation class, and I am preparing a commemorative speech on all of our graduating class members that have gone on to local and national prominence, for instance, the current two-term mayor of Bossier City, Paul Kennon architect who an annual award is named after, the Wilburn Brothers, etc., there are more. I will also be telling the story about 'Hello Walls,' Willie Nelson and Faron, and finally, Faron was performing for Lakewood Country Club's member-guest golf tournament and we were sitting backstage talking when Robyn, Faron's son, got through singing came backstage during intermission and asked me, 'Mr. Williford, tell me about you and my dad growing up in Shreveport.' I said, 'Son you do not have the time nor would you believe it.' Faron busted out laughing. We all miss him."
SIDEMAN SIDEBAR
Marty Robbins hired keyboardist Jim Hannaford in early 1982 as a replacement for trumpet player Wayne Jackson. "I started listening to the tapes, and I heard Wayne Jackson wailing on that trumpet, and I said, oh, me, I made a mistake," Jim recalls. He told Marty, "I'm not really a trumpet player. I cannot play like that. I think you all have made a mistake." Marty said, "That's okay, just take your time, learn your parts." Conrad Noddin switched from second trumpet to first, as well as playing piano, and Jim played second trumpet. When Conrad left several months later, Jim took the piano and there was no more trumpet in the band. Jim still lives and works in Nashville.
Ebooks on Amazon.com
I recently listed my first two books, Navy Greenshirt and A Farm in the Hidewood, on Amazon.com as ebooks, available for download through Kindle. Live Fast, Love Hard will be added as soon as the University of Illinois Press finishes negotiations. The books can be purchased both in the USA and the UK.