MARTY ROBBINS HEART ATTACK
Marty Robbins wrapped up the year of 1980 with a three-performance New Year's Eve show in Evansville, Indiana. After returning home to Nashville, he experienced chest pains. "I thought it was just an extra bad case of indigestion," he said later, "because I've had a heart attack, and it was nothing like the one in '69." That one had required triple-bypass surgery in January 1970. Now, 11 years later, he waited several days before calling his doctor for an appointment the next day. The doctor insisted he come to the office immediately. "I had on a big cowboy hat, a straw hat, I had on boots and jeans and a big jacket like real cowboys wear, y'know," Marty recalled. The doctor checked him and called an ambulance. Marty thought he was kidding until ambulance attendants rolled in a stretcher. "Doctor Ewers," Marty said, "I'm not dressed for the hospital." The doctor insisted he get in the ambulance. Marty felt embarrassed to be wheeled through the waiting room on his back, dressed in his outdoor clothes with his hat lying across his chest. He spent almost two weeks in the hospital and another six weeks at home before resuming his touring schedule.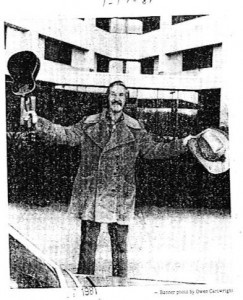 Marty Robbins leaving the hospital on January 17, 1981
LETTERS
A note by Greg Wisecup, copied from the online Steel Guitar Forum: "Faron Young has been one of my favorites as long as I can remember and always will be. I made mention to my wife that I would like the book written about him by Diane Diekman for Christmas. Well; I got it and I have barely put it down since Christmas morning. I must say that even though I knew how the book would end it was painful none the less. The book has so much great information and historical references that it's a must read to anyone who enjoyed and still enjoy country music today. It references a few of our friends here on the forum and really puts the business of country music right out there and in your face. As with any business there are some things that will surprise and even amaze you. All that being said; it is a great book and I highly recommend it. A very simple yet complex individual; Faron Young!"
Ken Johnson says, "Glad to see that your Marty book remains on schedule. Can't wait to read it. Also looking forward to the photos. I'm always excited when a new book includes a rare photo or two. Love it when family & friends contribute photos of unseen private moments. I see Hux has reissued Marty's I Walk Alone and It's A Sin albums as a two-fer. Great choices as they fall beyond the scope of Marty's Bear Family box sets. The 1969 single hit 'I Can't Say Goodbye' from the It's A Sin LP has never been issued on CD so that's a major find for Marty fans. Hopefully the 1971 album Today and 1968's By The Time I Get to Phoenix are candidates for future re-release too."
Jean Earle writes from the U.K. on the anniversary of Faron's death: "Thank you for the latest newsletter. I expect, like me, you are feeling very sad today…..no need to say more. Hope all goes well for you in 2011."
Sherwin Linton reports, "I just completed a series of duet sessions in Nashville that will be for a new CD we will be releasing in 2011. Jim Glaser and Joe Babcock came in and recorded a song with me. It was a song Joe wrote and gave to me back in 1966, which I still remembered entitled 'Neon Moon.' Not the more recent song by the same title. I had asked about Chuck Glaser (who produced many of my 1960s Nashville sessions including 'Cotton King') and his wife brought him to the studio. He is in a wheel chair and suffers with Parkinson's, so it was so great to see him and have some time to share and thank him for all the work he did for me. He cannot speak but has excellent comprehension and we took some photos of all of us together. Among the other artists who did duets were David Frizzell, George Hamilton lV, Tommy Cash and Williams and Ree. I think we will have nice project. . . . I am so proud to know you and thank you for your contribution to country music with your dedication and work on Faron and Marty's biographies. Have a wonderful Christmas and Holiday season, back home in South Dakota."
SIDEMAN SIDEBAR
Kenny Sears moved to Nashville in 1975 to play music. He met Skip Jackson, who said Ernie Reed was leaving Faron Young's band, and Faron needed a fiddle player. Kenny spent the year of 1976 as a Country Deputy. "I had a great time; it was a good band," Kenny says. "Faron was a great performer. No one could follow Faron when he was in the mood to perform."  Kenny then spent twelve years with Mel Tillis, and he is now the leader of the famed Time Jumpers band. I met him during one of my Country Deputy reunions, and he and Hank Singer provided the twin-fiddle sound when we put together a Deputy band for the Live Fast, Love Hard book release party on the Midnite Jamboree in 2007. Kenny also plays fiddle on the Grand Ole Opry stage.
Happy New Year 2011!!