MARTY ROBBINS 65 YEARS AGO
Seaman First Class Martin David Robinson arrived in San Francisco on August 20, 1945, six days after World War II ended, Completing two years in the South Pacific, he had been transferred in late July from a U.S. Navy boat pool in the Admiralty Islands of New Guinea. A ship was taking him home for a thirty-day leave before preparing for the invasion of Japan. The end of the war meant he wouldn't have to go back. Instead, after a month spent visiting his mother in Glendale, Arizona, he went to San Diego until his February 1946 discharge.
LETTERS
Earl White writes, "Just thought I would give you some more information on Ben Keith. In 1957 I brought Ben to Nashville to go to work for Hawkshaw Hawkins. We roomed together for about a year. That was his first job." I checked Ben's interview, and he'd said, "I was working with Hawkshaw Hawkins, and the whole band quit, and left him out on the road. It was after that I started with Faron." Earl adds, "He was right. He just didn't finish the story. We wrecked the bus in Virginia Beach. Sammy Barnhart headed for Nashville with the bus. A hurricane blew in I think it was Hazel. Ben and I took the horse truck and headed for Mt Airy North Carolina. When we got there we found out Hawk and Jean was on their way to Nashville. So Ben and I headed for Nashville, too. That is when we both quit."
Steve Clark says, "Thanks for the update on Ben Keith, I was not aware he had passed. I reread portions of your book about him and he sure seemed like a character. Hope you are enjoying your new home."
Terry Counts writes, "I love these pix!!! Great job…I remember my first taste of Faron Young, I was 16 in High School (the one that Heath Ledger movie was featured in, 10 Things I hate about you) and heard Faron…I was part-timing at a radio station then so I found out all about it and bought the album, WHICH I STILL HAVE…called Sweethearts or Strangers. About 10 years or so later I went to his concert and wow..he came on stage after the show and we talked for about 20 minutes…he didn't remember that after I'd gone to work for Deaton but we had some great times..he was a great honest, sincere kinda guy. I still miss him."
Tom Lipscombe reports from Canada, "Thanks for the newsletter. Have posted it on the ATL Forum:
http://pub3.bravenet.com/forum/static/show.php?usernum=243824250&frmid=204&msgid=807112&cp=1&cmd=show. What a great story about Faron, his brown monogrammed cigarettes, his new Caddy, the Opry, and the three young musicians from Chattanooga. Kudos to Larry Banks."
Terry Tyson in Nashville says, "Always been a fan of Faron's! Had the pleasure of becoming friends with Alana this spring. She has helped me since I lost my house and collection in the flood. I would love to get a signed copy and let me know where to send payment."
Mike O'Neill sends a report that the Opry House will reopen for performances on Friday, 1 October.
Ken Johnson reminds us that Lee Ann Womack will host the 4th Annual ACM Honors show on Monday, 20 September, at the Ryman Auditorium. Marty Robbins and Mel Tillis will receive the Cliffie Stone Pioneer Award.
SIDEMAN SIDEBAR
While searching for Marty's band members, I put together a list of names and numbers to call. When the answering machine on one telephone started playing "El Paso," I knew I'd found the correct Jack Pruett. He played lead guitar for Marty from late 1956 until Marty's death, with the exception of the early '70s when Marty stopped carrying a band after his heart surgery. Jack worked with David Houston then. Marty and drummer Louie Dunn gave Jack his nickname. "I think my little bandy-legged, bony legs reminded them of a chicken," he says. "And then I kind of have the Oriental eyes and cheeks. They hung the bandy-legged chicken and the Oriental wong, so that's where it come out with Bandy Wong. Most of the band members called me Bandy. Some people still do. I answer to Bandy as quick or quicker than I would Jack." He lives near Nashville, and I was thrilled to meet Jack at our Marty Robbins band reunion a year ago.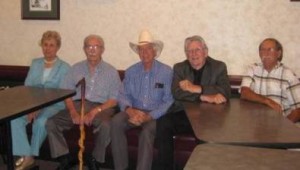 Pruetts, Joe Babcock, Earl White, Haskel McCormick at band reunion