THE YOUNG SHERIFF & HIS COUNTRY DEPUTIES 50 YEARS AGO
In 1960, Faron Young's Country Deputies band consisted of lead guitarist Odell Martin, steel player Ben Keith, drummer Roger Miller, and new frontman Darrell McCall on electric bass. When Faron had decided to add drums a year earlier, Roger Miller needed a job and agreed to become a drummer if Faron bought him a drum set. Then, according to Ben Keith, "When Darrell started, we had a knock-out band. We were hot. We were really good." This is the band that backed Faron during the Carnegie Hall performance in late 1961.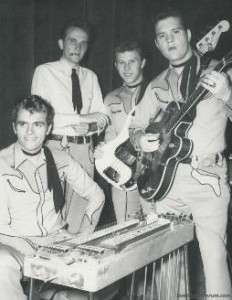 Ben Keith – Roger Miller – Darrell McCall – Odell Martin
BEN KEITH 1937-2010
Bennett Keith Schaeufele, better known as steel player Big Ben Keith, died 26 July in California. He got his start with Faron Young and spent the past four decades with Neil Young. I'm grateful to have visited the publicity-shy musician/producer at his Gallatin, Tennessee, home in 2000, when he consented to an interview about his days with Faron. He explained the period between the two Youngs by saying, "Faron didn't work the road that much, and I had to find something else. I started doing demos in Nashville, and got into a session clique for awhile, and kinda stayed at home, and started producing a little bit." I last heard from Ben in 2006 when I asked if the tornado had damaged his house, and he replied, "It missed us by blocks!!!!!!!!!!!!!!!!!!!   Ben." My Sideman Sidebar featured him several months ago, and some information from that newsletter appeared in his online obituaries.
LETTERS
Les Leverett writes, "As always, I enjoyed this newsletter.  In reference to Terry Counts' letter concerning the song about the cowboys and the buffalo, tell her to make her check out to me in the amount of one zillion bucks, because I know about that song. I have it on a 1972 Vangard double LP entitled The Greatest Songs of Woody Guthrie. It is listed as being 5:25 long. Singing credit is to Jim Kweskin and writing credit is to Woody Guthrie. The song is titled 'Buffalo Skinners.' I went to Yahoo and typed in 'buffalo skinners song' and there it was! You can listen to Woody sing it in 3:25."
Terry Counts responds, "Golly gosh, found it. .the lyrics are exactly the same but THE MELODY IS DIFFERENT!! Amazing."
Larry Blanks says, "I've not read your book, but plan on getting a copy. Here's a Faron story of mine from Oct of 1960. I was a 17-year-old musician from Chattanooga attending the DJ convention. Two friends and I were waiting on the very slow elevator at the Andrew Jackson Hotel in Nashville on Saturday afternoon and Faron walked up with a lady. As we waited, he offered us one of his custom-made cigarettes, rolled in brown paper and with his name imprinted in gold. I didn't smoke but asked if I could have one anyway. We had a very friendly conversation after that. It seemed to take forever for an elevator to show up that had room for us, and during the wait, Faron asked what we were doing that night. We didn't have any plans so he said, 'Why don't you come with me over to the Opry. I just picked up my new Cadillac today and there's plenty of room.' Finally we got on and went down to the basement valet parking. They brought his maroon sedan Deville around and we all piled in. When we got to the Ryman, he pulled up to the back stage door entrance and we all went in. We stood around for a few minutes, then he pointed to some pews on the front row reserved for VIP's and told us to go there. He then cleared it with the guy watching that area, so we sat down to enjoy the show. During his song, he walked to the edge of the stage and pointed at us and winked. He was one of the most polite, down-to-earth guys I'd met in the music industry. That was my one and only time to meet him, but I'll never forget it. Looking forward to reading your book."
Carolyn Babin writes, "I read in last newsletter the word from Williford that Rogers Hampton had passed away. Can you post how deeply saddened both my husband Francis and I are about this. Quite some time ago Williford wrote about Roger and how Faron had him on a pedestal as his hero.  Francis, my husband, and I knew Roger back in time, but had not seen or heard from him since moving to Texas 31 years ago. When I informed Francis about Roger's illness, he planned to go and visit him in Shreveport, but he had two serious illnesses of late and is just in the last few months re-gaining his health. We are so sorry we did not make that visit to see or even talk with Rogers Hampton.  Francis, too, went to school with him as well as Faron & Williford."
Andy Williford reports, "The funeral of Rogers Hampton went very well. There was SRO in the chapel. Faron's old football coach, Clem Henderson 86, gave the eulogy. All of Roger's classmates, those that are still alive, LOL, were there. Billy Cannon who won the Heisman Trophy at LSU (1959) said, 'If Rogers had gone to LSU I would have been a backup running back and I would not have won The Heisman Trophy.'"
Peter Trenholm writes from Pugwash, Nova Scotia, Canada, "I've been really enjoying these newsletters & thanks for keeping them coming."
SIDEMAN SIDEBAR
Darrell McCall arrived in Nashville in 1958 with Donny Young (aka Johnny Paycheck). They didn't succeed as a "brother" singing duo, and Donny fronted Faron's band. When he moved on, Darrell called Faron and requested to be his harmony singer. Faron asked if he could do the harmonies like Donny Young, and Darrell said they had sung together. "Faron just took me under his wing–like a son," Darrell explains. "He'd pull me up when I got out of hand, and he'd tell me I did all right when I did okay. I looked at him like a daddy and a big brother. We'd act crazy, and wrestle every once in a while, but as far as having any problems with each other, we never did." Darrell fronted a reconstituted band in 2007 when we held a Deputy reunion during the Ernest Tubb Midnite Jamboree to celebrate the publication of Live Fast, Love Hard: The Faron Young Story.  Darrell tours regularly throughout Texas, records for Heart of Texas Records, and can be contacted through http://www.darrellmccallcountry.com/.