My Faron Young/Marty Robbins e-mail newsletter now consists of a variety of country music bits. Please forward this to anyone who might like to be added to the mailing list.
NEWS
Randy Travis is "getting his voice back now, little by little," Randy's dad, Harold Traywick, told Closer magazine last week. An unidentified friend was quoted as saying Randy is starting to play his guitar and is anxious to get back to work. Thanks to Rhonda Vincent for posting this photo on Facebook of Neal McCoy posing with Randy at a "Smiles For Life" concert in Dallas, Texas. It was "his first outing since his illness."
Jean Shepard, who has been a member of the Grand Ole Opry for more than fifty years and is in the Country Music Hall of Fame, is supposed to be releasing a book this week. The title is Down Through The Years, but I can't find it on Amazon.com or her website at http://jeanshepardcountry.com/.
Jimmy Fortune will be doing a show at his old school, Nelson County High School in Lovingston, Virginia, to raise money for the music department. Tickets are on sale online at www.ticketriver.com/event/10057 for the March 21 show. They can also be purchased at the high school and from the students.
Garth Brooks has now sold out five shows in Dublin, Ireland, for July. A week after 240,000 tickets for three shows were sold in ninety minutes, a fourth show was added. It sold out in just a few minutes, with a fifth date added immediately and also selling out. The total number of tickets now sold is 400,000.
Dawn Sears sends this note: "Hello Friends! Just a quick note to say I am doing well – holding my own so far. Cancer is quite the challenging disease, I will say that. I am mainly sending out this post to request a favor of you. This Friday is Valentine's Day and I would be ever so grateful to anyone willing to stop what you are doing at 12:00 noon and say a prayer for ALL people battling cancer, regardless of the type of cancer. That's the best Valentine anyone with cancer could receive – and I know it will be greatly appreciated by ALL! I wish you all a very happy & loving Valentine's Day! Godspeed!"
LETTERS
Ronny Robbins writes, "Thanks for mentioning about our event for Rancho Los Amigos Children's Home on Feb. 18th at Christ Church in Nashville. Just wanted to further clarify that this is strictly a dessert fund-raiser, not a full banquet and we need to have a pretty close headcount. Your readers are more than welcome so please RSVP to 615-812-1588."
Tom Wilmeth says, "Um . . . I think you mean Jimmie Rodgers (not Jimmy Rogers). One of the man's few real irritations–says biographer Nolan Porterfield–was people's inability to get his name spelled correctly."
Alan Potter sends this info from England: "'Rock all the babies to Sleep' was also recorded by Tex Ritter on his FAMOUS COUNTRY MUSIC MAKERS CD. The writer is named Horton but no first name. I'd guess it was Vaughn Horton."
Diane: I checked the ASCAP website and the songwriter is Vaughn Horton. The song was recorded by Riley Puckett in 1924 and Jimmie Rodgers in 1932. The versions I heard on YouTube are not the version my mom sang, and I still wonder where she learned the song.
Doug McLeod sends the obituary link for Smokey Smith: http://www.ilesfuneralhomes.com/obituary?id=1341301. He adds, "Sure enjoy the new, expanded format. Nice to include news about everyone in this 'special fraternity.' I recently moved to Des Moines from Arizona  and was fortunate to have had dinner with Smokey Smith and his son-in-law, Terry Manley, about a year ago. What a treasure trove of memories of his years promoting music shows and his friendships with virtually every country music performer. Terry has written a book about Smokey's life and experiences, SMOKEY, The legendary life of Iowa's Mr. Country Music. Diane, I am curious as to how you heard of Smokey's death since there hasn't been any mention in the local news. Continued success and I, like others, are waiting to see what you'll come up with next."
Linda Clark says, "Thanks for the update. I'm sorry to hear Jesse McReynolds is having a hard time. I wish him all the best. I used to go see Jim & Jesse when they were in the DC area. What a beautiful little girl!!"
John Krebs sends a link about the Marty Robbins 777 car restoration: http://rpm2night.com/view/the-return-of-marty-robbins-no-777-plymouth-belvedere.20984/
Barry Westman writes, "Faron was my dad's favorite, and I believe one of the greatest singers ever of any genre …… I still play his music regularly."
SIDEMAN SIDEBAR
Earl White began his musical career playing fiddle in the original Marty Robbins band. Last month he celebrated 58 years as a Grand Ole Opry musician. He took a four-week leave of absence while the Opry was at the Ryman. "I believe I deserved the leave," he told me, and he promised to let me know when he retires. He said he could count on his fingers the number of weekends he's missed in 58 years. After Marty stopped using fiddle in 1956, Earl worked with Hawkshaw Hawkins and Jean Shepard for several years. He was on tour with Porter Wagoner in Canada when he received his draft notice. Following his Army gig, he went back to work with Hawkshaw and Jean. Being at the Ryman brings the memory of standing backstage with Hawkshaw in 1963, and Hawk telling him, "If I had room I'd take you with me on the road," before he headed off to Kansas. Earl and Anita live on nine acres, about 45 minutes from Nashville. They produce CDs in their in-house studio, which you can see on their website at http://earlwhite.com/. Earl's woodworking shop occupies some of his time, as does mowing his six-acre lawn. He'll be 78 years old on March 1st.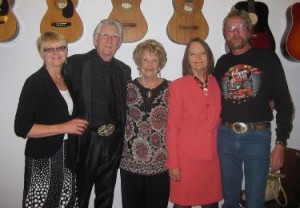 2012 — sister Kayo, Earl & Anita White, me & Perry
SOUTH DAKOTA BANDS
The Howie Gamber Band, a long-time favorite of mine, played Sunday at Grand Falls Casino in Larchwood, Iowa. Howie's voice transports me back to the days when live country bands could be found any night in most any town. I met him forty years ago when Rainbow Country played at the Rainbow Bar in Sioux Falls. Howie's musicians then were Bobby Montgomery on steel, Perry Steilow on bass guitar, and Clancy Troy on drums. Now he has Bill Keller on vocals and drums, David "Schmitty" Schmitz on steel, and Charlotte Kuehl on bass. The classic country music makes for great listening and dancing.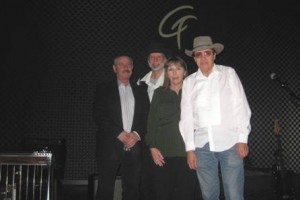 Bill Keller, David Schmitz, Charlotte Kuehl, Howie Gamber
SONG OF THE WEEK
"Just Because" is my favorite Howie Gamber song, especially when I have a polka partner. I didn't realize until I heard it on the radio yesterday that Elvis Presley had recorded it. That led me to do some Internet research. There are 670 songs with that title in the BMI repertoire. This song was written by Joe & Bob Shelton and Sydney Robin and recorded by the Shelton Brothers in 1935. Elvis recorded it in 1954, unfortunately not one of his better efforts. Frankie Yankovic made the song famous as the "Just Because Polka" in 1947. Both Elvis and Frankie changed the lyrics slightly, and Howie uses Frankie's version.