NEWS
Garth Brooks sold 240,000 tickets in 90 minutes last Thursday. Tickets for two July concerts in Dublin, Ireland, went on sale at 9 am. They sold out so fast a third date was scheduled, and those tickets went on sale at 9.30 am, both online and at Ticketmaster outlets around the country. Police had to be called in Limerick after most of the 200 fans who had camped for up to two nights outside one store failed to secure tickets. Due to a computer glitch, only 49 fans at the store received tickets. An angry crowd converged on the shop. Backup officers were called, but no arrests were made. Tickets for the concerts have already been put up for sale on eBay for four times their original price.
Hee Haw the Musical is coming to Broadway. It will be a re-imagined version of the TV show, Hee Haw, with a new cast of characters. The musical's producers are Steve Buchanan and Sally Williams of the Opry Entertainment Group. (Buchanan is also executive producer of Nashville.) Robert Horn wrote the script, and Nashville songwriters Brandy Clark and Shane McAnally composed the music. No dates yet for Hee Haw the Musical.
Kenny Rogers received an honorary master of photography degree from Professional Photographers of America (PPA) at its annual conference in Phoenix. He is publishing a photography book, Places I've Been, Things I've Seen.  "He's obviously well-known as an entertainer, but he truly is a remarkably talented photographer," says Ralph Romaguera, PPA president. Kenny says, "You start off doing something because you really love it, and it gives you great pleasure. With any luck at all, you get better."
Jesse McReynolds, age 84, underwent a minor cardiac procedure last Friday at St. Thomas Hospital in Nashville. He's been having recurring dizzy spells and accelerated heart rate. The test involved threading very thin wire electrodes through a vein to the heart, to measure electrical activity. Doctors also repaired damaged nerve tissue that was causing his irregular heart rate. The procedure might have to be repeated. Jesse is supposed to rest and take prescribed medication for a month before performing again. His fans can write to him at: Jesse McReynolds, PO Box 1385, Gallatin, TN 37066.
The Band Perry will cover the funeral expenses for nine people killed last week in a house fire in Muhlenberg County, Kentucky. Nikki Watson and eight of her children died of smoke inhalation. Police said they were all found in the master bedroom, which is an indication they were trying to escape through a window. Surviving father and 11-year-old daughter, Chad and Kylie Watson, remain in critical but stable condition at Vanderbilt University Hospital. The Band Perry stepped in quietly and offered to pay for the funerals and to pay for the hotel bills of extended family staying near the hospital.
Condolences to Les Leverett on the death of his wife, Dot, just the day before their 65th wedding anniversary. Les was the Grand Ole Opry photographer for many years, and he contributed several photos to my Faron Young biography. Dot, age 85, suffered from Alzheimer's disease.
Here is the great-granddaughter of Marty Robbins, two-year-old Brooklynn with her dad. I lifted this adorable photo from Facebook because I knew Marty's fans would want to see it. Brooklynn's mom, Courtney, is the daughter of Ronny Robbins.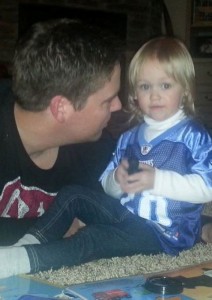 SMOKY SMITH (1922-2014)
Smokey Smith of Des Moines, Iowa, passed away Monday, due to complications from past brain surgery. He was nine days short of his 92nd birthday. I interviewed him over the phone in 2008 for my Marty Robbins book, and I met him in 2010 when I purchased his book, Smokey: The Legendary Life of Iowa's "Mr. Country Music." He was renowned as a promoter for country music shows throughout the Midwest, and he was inducted into the Country Music Disc Jockey Hall of Fame in 1982. He told me about booking a show in 1960 with two headliner acts–Marty Robbins and Webb Pierce. "The show was a tremendous success," he said. "I made $3000 on the show here in Des Moines. I took that $3000 and made a down payment on the house I still live in today. I've always thought if it hadn't been for Marty and Webb, I might not be living in this house. This is a big two-story nine-room house, and probably today is worth $225,000. And I bought it for $20,000."
LETTERS
Kathy Peacock Thomas (cobra1102@comcast.net) has a request: "I really enjoy your newsletters. I was a bass player in Nashville. In the '70s I was a close friend of Ray Emmett. When I moved there I got a job playing bass for Tommy Overstreet. My childhood dream was to be on the Grand Ole Opry. And I made it at 18 years old! The problem is I never got any photos. I was wondering if you could maybe put the word out there that I might find some."
Frank Jennings writes from the UK, "Thank you so much for keeping me abreast with everything, it's much enjoyed reading. My best wishes to Hannah Rockey in the States, who often writes you about me and of course my good friends here in England, Alan and Jean Earle. We have a magazine here called Country Music People. The editor is a Faron nut as he told me recently. His name is Duncan Warwick.
Theresa Harter (tmh417@gmail.com) sends an update: "Here is a link to the photos: Hillbilly Park and more 1954-1956. These are my mom's photos that she and her friend took at several venues in St. Louis, Missouri, during the mid 1950s. My mother was 16-18 and her name was Ruthie Cain. Although she loved all the country music of the time, my mom especially adored the Wilburn Brothers. I know she belonged to their fan club. In fact, just recently, I was browsing the Wilburn Brothers Facebook fan page and found a photo of her and the Wilburn Brothers that I assume she mailed to them. I grew up with her singing Teddy and Doyle's music to us kids.  Mom attended many music events in her teens. Now I am looking at the photos and trying to see where they were taken. There are ones of Elvis that say Dec 1955 but must have been Oct 23, 1955, at the Missouri Theater. My aunt who was only 12 at the time went there, too. Mom and her friends had tickets to this show and the seating was non-reserved. They took my aunt, with the plans of having her wiggle through the crowd, to claim good seats, which she was successful at. I would love to hear back from you with any information you would like to supply."
Harvey McFadden writes from Winters, Texas, "Brady, Texas, is called the 'Heart of Texas' and is kind of the headquarters of Texas country music talent. Tracy Pitcox is a very well known country music DJ and has a recording studio there as well as the Texas Country Music Hall of Fame Museum.  We saw it for the first time last weekend. It currently represents over 100 country music legends by displaying their suits, boots, guitars, well, all kinds of things that have been donated.  Please visit this place in Brady, if you haven't already."
Jeanette Creamer in Jacksonville, Florida, says, "Love reading about Marty Robbins. I hummed and sang 'A white sport coat and a pink Carnation' along with the record. He had a beautiful voice. Thanks for the memories."
Ron Reagan writes, "I love the new format! I wondered if I could pass along information and a recommendation? For those who haven't maybe listened to Marty's MCA album Good 'N' Country, I'd highly recommend it. I'm spinning it now (bought it several months ago) and there isn't a bad song so far. On the info part, for anyone who's a fan of Hank Williams, I've uploaded some of the ultra-rare WSFA recordings to YouTube. Most of these have never been officially released. My handle on there is ronreagan12 if anyone wants to check those out."
Dixie Grass says, "I truly LOVE getting your Newsletters. I loved your information on Holly Dunn and the update on Randy Travis. What a sad way for his great talent to end. I certainly agree with Mr. Presley's remarks regarding Kathy Mattea, Suzy Bogguss and Patty Loveless.  Love their singing! One of the greatest singers of REAL COUNTRY is Gene Watson. He's celebrating 50 years in the business this year. Would love to have you get with him for an interview. He's held onto the old country sound and sings as good as ever (maybe even better now if that's possible). He and Rhonda Vincent have a CD (Your Money and My Good Looks) that sounds absolutely wonderful. Keep up the great work. I'm so glad you're continuing to give us great country news!!"
And from Hank Singer: "Thanks Diane for the honorable mention and kind words. I hope you are doing well. I enjoy reading your newsletter very much. Thanks for helping keep us all up to date on the music industry news."
SONG OF THE WEEK
Is anyone familiar with the Jimmie Rodgers song "Rock All Our Babies To Sleep"? I grew up hearing Mom sing such a song, and I still have the words memorized, but I never asked her where it came from. I recently discovered the Blue Yodeler's recording of a song with the same title and topic and melody but different words. The only words in common with Mom's song, other than the chorus, were "And to my surprise I saw with my eyes my wife and a man of six feet."
SOUTH DAKOTA BANDS
Well, it's actually a Minnesota band that was playing in Iowa — at the Grand Falls Casino. But I sometimes see the Leon Olsen Show in Sioux Falls. It's good music for both listening and dancing. This is a polka band that can also play country music, with Leon on concertina (or lead guitar), Loretta on keyboard, Red on bass, and Tom on drums. They travel quite a bit, so go see them if they're in your area.