My Faron Young/Marty Robbins e-mail newsletter now consists of a variety of country music bits.
NEWS
Emmylou Harris and Rodney Crowell have won a Grammy — Old Yellow Moon in the category of Best Americana Album. Although the 56th GRAMMY Awards telecast aired Sunday evening, some of the awards were presented during a pre-telecast ceremony in the afternoon. Rodney accepted the award because Emmylou couldn't be there. Rodney posted on Facebook, "So a basically shy guy wins a Grammy with his dear friend and singing partner, goes up to accept the prize and forgets to thank half the people he wanted to." He also posted this photo: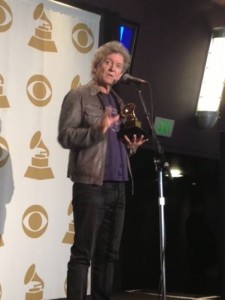 Ronny Robbins and his wife, Cathy, will be hosting an event at Christ Church Nashville on Tuesday, February 18, at 7:00 p.m. It's an evening of food, fun, and fellowship. They will be discussing the ministry of Rancho Los Amigos children's home, with a speech by Cathy's "adopted Mexican daughter" who grew up in the home. Cathy has volunteered there for seventeen years.
Hank Singer has come a long way in the music business since Faron Young hired him right out of high school to play fiddle in the Country Deputies band. He recently released a CD called Play Fiddle Play on Yellow Rose Records. Yes, Hank is a Texan. He's also a newlywed as of January 19, married to Sherolyn Hunsinger. Hank's website is http://www.hanksinger.com/.
LETTERS
Holly Dunn says, "Thanks Diane! All the best to you in your endeavors to keep 'the good stuff' alive! Blessings!"
Johnny Seay writes, "Now this is a great way to use your talent, Diane. I love it and I bet most will. I'm proud of Holly Dunn, as I did about the thing she did and I've never looked back. By the way, I did call Johnny Western and his wife Jo is doing great. Johnny and I must have talked for and hour and a half and still didn't get caught up on all the memories of the fifty five years we've know each other. We did a lot of shows together years ago and did many other everyday things, too. I believe if we could get together, we could talk for a week and not catch up. My best to you and the Newsletter."
Jon Logan in Arizona says, "Thanks for the update on Holly Dunn,,,, one of my favorites in classic country!"
Michael Green writes, "Diane, knowing what a wonderful job you did on the Faron Young and Marty Robbins books, I'm not surprised to find your website packed with great information. My mother was a lifelong country music fan whose first crush was Jimmy C. Newman, and my dad had to learn to like country music or else, so he and I still keep track and love the old stuff. Keep up the great work!"
Ben Rubright of Punta Gorda, Florida, posted on the Steel Guitar Forum: "Thanks for writing the books about Faron and Marty…..I have them both and I highly recommend them to anyone that cares about their lives and the contributions made by two of the absolute best. I care a lot about who, what, when, and where and your books are an absolute joy. Thanks so much."
Ken Kniceley says, "I may be a little late because I'm 81 years old. Faron Young was without a doubt the greatest country singer I have ever heard. I have been wondering for so long what happened to him. Sorry I found out about his ending. Faron and Carl Smith were truly what country music was all about. It's all flashing lights, smoke and guide wires now. It's certainly not country. But we have our memories of what it once was and soooo enjoyable. Not so anymore."
Betty Smith writes from Toledo Ohio, "As always love reading anything you write. So happy you're keeping us updated on other past singers as that's the ONLY way we have to know what's doing with them as they seem to be lost to those of us who enjoyed them in past years and care what they are doing now. KEEP up the Great job and will look forward to each and every update you put out. Thanks for your devotion to the ones who keep us listening to the real singers of the past."
Andrew Means, who published Some Memories, a story by the sister of Marty Robbins, writes, "Good luck with the new focus of your newsletter. Looks like you're finding a niche that perhaps other country music publications aren't addressing adequately."
Virgie Warren in Flushing, Michigan, says, "Thanks for the update on Randy Travis and Holly Dunn. I enjoy your newsletter."
Tom Kaufman writes from Denton, Maryland, "Just had to write and let you know how much I enjoy the revision of this newsletter! Those of us that are familiar with the country music stars who don't get heard much anymore don't have too many sources to find out what's going on with them. So it is refreshing to have a place where we can get to hear about what's up with those folks.  Right now, about the only other place I know of where fans of the country music greats of yesteryear is a show that Marty Martel does on Wild Horse Radio (don't remember the exact url) but his show can be heard every Saturday morning at eleven o'clock (EST). I hope to read Twentieth Century Drifter at some point in time; will keep hoping that it'll be made available digitally to those of us who are blind or visually impaired!  Keep up the good work!
Gary Presley says, "Holly Dunn? Great stuff, my friend. Another from that era is Kathy Mattea. And Suzzy Boggus. And Patty Loveless. I've seen Mattea and Loveless in concert. I know Loveless is still performing, but I haven't heard much about Mattea. Great singers all of them."
Nancy Lynn asks, "Could you please put me on the list to receive your newsletter? Right now a friend sends it to me, but I'd like to be a direct subscriber."
Terry Counts writes, "Well golly!!! I was tickled to hear about and from Holly Dunn whom I always just loved to death…and her song 'Daddy's Hands' was one of Murrel's favourites and he loved to hear it, sing it and pick it…glad to know she is doing well….Liked the comments from the others too..would love to see the old pictures that Theresa was talking about..I loved Doyle and Teddy Wilburn and have one of their pics on my wall…I sorta kinda got my comeuppance recently when I had a computer guy in the office to work on the thing, he looked around and said (and I quote) 'gosh, you have a lot of OLD photographs on your wall'…I never thought of it that way but I reckon I do…and my fav is the one of myself with Roy Rogers and Dale Evans taken in Roy Acuff's dressing room backstage at the Opry…I wouldn't take a zillion bux for it…whoda thunk I would grow up and get to work with all these great, great people..wow…have I been a lucky ole gal…Keep up the great work….we need ya."
And from Alan Potter in the UK: "Fantastic that so many people are into REAL country singers & are writing in your newsletters. Loved reading Holly Dunn's column & the letter from Jeannie Seely. I've been a country music presenter on radio in the UK since 1969. I met Jeannie backstage at the Opry in the late '90s but was too awed to speak other than to say hello. Then last year she was slated to appear in Leeds & I was going to interview her but for some reason the tour didn't materialise. Still I've had a great career interviewing people like Reba, Cash, Don Williams, Leroy Van Dyke, Chely Wright, Becky Hobbs, Bellamy Brothers, Bobby Helms, & many more stars."
SONG OF THE WEEK
Glenn Sutton once told me about writing "What's Made Milwaukee Famous." He was supposed to provide a song for a Jerry Lee Lewis recording session, and he received a phone call one morning reminding him the session was scheduled for that evening and did he have a song? Well, he didn't. He glanced around the office and noticed the morning newspaper lying on the floor. An ad about "the beer that made Milwaukee famous" caught his attention. He told the caller he had a song. Then he hung up the phone and wrote Jerry Lee's next hit. Glenn registered 494 songs with BMI during his writing career, and this was one of many Sutton (or Sutton/Sherrill) songs that won a BMI award: http://youtu.be/bSlWFiIU7XE