NEWS
Country Weekly reports that Suzy Bogguss has a new album, Lucky, that covers her favorite Merle Haggard songs. The album's title was inspired by "I Always Get Lucky With You." She chose "If We Make It Through December" as a favorite since her teen years, when her dad gave her his old car and that song was in the 8-track tape player. Other songs include "Silver Wings," "I Think I'll Just Stay Here and Drink," and "Running Kind." She sang some of the songs at a release party at the BMI building in Nashville last week.
Kenny Rogers had to cancel two Valentine's Day shows with the Nashville Symphony at the Schermerhorn Symphony Center due to illness. I'd read earlier that he was planning a romantic weekend in Nashville, except that he'd be creating romantic moments for Nashville couples, and his wife would have to go to dinner without him. Kenny and Wanda usually join 8-10 of their friends for a Valentine dinner. Wynonna Judd stepped in to handle the concerts for him.
Billy Ray Cyrus recently recorded "Hope Is Still Ahead" with Dionne Warwick. He co-wrote the song after the Columbine High School shootings in Colorado in 1999, but his record label at the time considered it too sad. Dionne's son, Buck 22, asked for permission to rework "Achy Breaky Heart" as a hip hop song, and Billy Ray recorded it with him. The YouTube version has 6,600,000 views in its first week. Billy Ray told the Tennessean,, "When the video came out, one of the critics wrote, 'It's only been out six hours and it's already 2014's worst song.' When I heard that, I knew I nailed it." He hopes to appear on the Grand Ole Opry sometime this year and perform the songs with Dionne Warwick and Buck 22. He was quoted as saying, "My man Buck is so excited about playing the Opry, I don't know if the Opry has ever had twerking aliens."
A former business associate who sued Garth Brooks to avoid repaying $223,000 has lost her case in U.S. District Court in Nashville. Lisa Sanderson insisted the money to help with her divorce and child custody expenses was a gift, but Garth's attorneys provided copies of loan repayment schedules. She will now have to repay the original loan, with interest, as well as court costs and Garth's legal expenses.
Mark James is one of this year's five inductees into the Songwriters Hall of Fame in New York City. Two of his best known songs are "Always on My Mind" (which he co-wrote) and "Suspicious Minds." About the second song, he told an interviewer, "Late one night, fooling around on my Fender guitar and using my Hammond organ pedals for a bass line, I came up with a catchy melody. I was married to my first wife then but still had feelings for my childhood sweetheart, who was married back in Houston. My wife suspected I had those feelings, so it was a confusing time for me. I felt as though all three of us were caught in this trap we couldn't walk out of."
Bill Anderson will be performing at the First Annual Jimmy Dean Music Festival on Mothers' Day, May 11, in Richmond, Virginia. Bill says on his website, "Jimmy and his wife, Donna, started The Jimmy Dean Foundation several years ago to support education in their community, and through this Foundation they've offered scholarships and incentive programs to area schools. Proceeds from the concert in May will go to help build a learning center for the children in Henricus Historical Park, a Richmond landmark. More than 30,000 children visit the park annually. Tickets are available at http://cwired.co/JimmyDeanFest or by phone at 1-800-514-3849."
Rosanne Cash has a new album, The River & The Thread, inspired by recent trips to the Mississippi Delta. "John Levanthal is my husband and we wrote this album together," Rosanne told interviewer Nathan Wood of Country Music Channel in Australia. "He produced it and arranged it. . . . It's a deeply creative experience to work with the one you love and create something that is bigger than both of you and hopefully is greater than the sum of its parts. That's a rich experience and it's a gift." She said returning to the South, which she thought was no longer a part of her life, made her realize "how deep the connection was. Both my parents are southerners. I was born in Memphis. I have extended family through Tennessee. And the music – to trace it back, every American roots musician owes something to the Delta."
LETTERS
Ronnie Allen reports from Morrisville, Pennsylvania: "Last month I had the pleasure of interviewing country music singer Sylvia. She had 20 country-charted records, 11 of which made the top ten and two of which ('Drifter' from 1981 and 'Nobody" in 1982) hit #1. In 1982 she was voted the ACM's Female Vocalist Of the Year. At her peak she did as many as 300 shows per year in 300 different towns. Back then she was Sylvia Kirby, although professionally she simply was 'Sylvia.' These days she is Sylvia Hutton (her married name) and is presently a certified life and career coach, mentoring recording artists, songwriters, musicians and other music industry professionals plus others outside of the business. She also has her own record label (Red Pony Records) and occasionally records and performs." Here's the interview: http://www.jerseygirlssing.com/Ronnie%20Allen%20Show%20–%20Sylvia.mp3
Hank Singer writes, "Wanted to say hi and thank you for including me in your newsletter. Also, thank you very much for giving my new CD a plug. I am enjoying your newsletter very much and I hope you are still doing well. Keep up the good work!"
Mike O'Neill sends a link: http://www.countrymusicchannel.com.au/pages/main-menu/tours/latest-tours/dolly-parton "This is the Australian country music news. Dolly Parton is on tour in Australia."
Dixie Grass writes, "Another great Newsletter. Just ordered your book A Farm in the Hidewood and look forward to reading it. Know it will be a good one! Glad to hear the update on Randy Travis. Sorry to hear about Dawn Sears but glad she's doing well. Love her singing – she was on one of the Opry cruises a few years back and we got one of her CDs. Wonderful voice! Thanks so much for all the news you provide. Keep giving us more."
Tom Wilmeth in Wisconsin says, "I am wrapping up a piece on Phil Everly. It is not really an obit, but more of a remembrance. I would be happy to show it to you."
Diane: Tom has offered to email his article to any Everly Brothers fans who would like a copy. Contact him at Thomas.Wilmeth@cuw.edu.
Sandra Nicholson says, "I look forward to receiving and reading the newsletters. Thanks for keeping us in the know. You know what a fan of Marty Robbins I am and before reading the newsletter I always scan it to see if there is a mention of him."
Dominique "Imperial" ANGLARES writes from France, "The Elvis recording of 'Just Because' was left unissued at Sun and issued later by RCA. Elvis only had 5 commercial releases on Sun records from late July 1955 to late August 1955. Not that bad when we think about his first recording breaking nationally was 'I Forgot to Remember to Forget,' his last release for Sun. Of course, Colonel Parker and Tom Diskin were working in the shade since months to make the Memphis Flash a wonder that could be signed by RCA. It was done in November 1955. All the unissued tapes with alternate takes and unissued songs were given to RCA and the 5 Sun singles were reissued in December 1955 under the RCA trademark."
Tiffany Gordon requests, "I would like to join your Country Music List please."
Christine Diller says, "Your newsletter is forwarded to me and I so enjoy it! You're doing a marvelous job, and I thank you for keeping rare country music alive. I'm interested in receiving your newsletter directly."
Ernie Reed writes from Nashville, "I got to visit with Earl White at the Opry last week and he was in great spirits. Keep up the good work, Diane."
Virgie Warren in Flushing, Michigan, says, "Thanks for Dawn Sears' note. Best wishes & prayers."
Mike Johnson writes, "Received a copy of your very interesting newsletter today from my longtime friend, Virgie Warren. I remember Smokey Smith. Met him at Bob Everhart's Old Time County Music Festival in LeMars, Iowa, back in 2010. Keep up the good work."
Alan Potter in Great Britain says, "Great to hear about Garth's sell outs, Randy's improvement & Dawn's upbeat approach to cancer. I wish all of them the best of luck."
Petty Officer Becerra, U.S. Navy, writes, "Ma'am, I read your book titled Navy Greenshirt: A Leader Made, Not Born and loved it. I was looking for a book written by a fellow female Sailor, one who had stood where I stood and made a career. I read it as an E-3 and reread it recently as a freshly minted E-4. I believe it should be required reading for lower enlisted women. Sometimes we get discouraged, we get distracted, and sometimes we don't realize how good we have it now. There was a time when women were not fully integrated in the Navy, much less Naval Aviation. And it does give me that kick in the pants that trailblazing women like yourself made a case for women to be given the same opportunities as men. I should not take this for granted. I just wanted to say Thank You for your service, for trailblazing, and for being an inspiration to all us shy bookish farmgirls in the Navy."
SIDEMAN SIDEBAR
Bud Isaacs was playing steel guitar for Jimmy Dickens when they traveled through Phoenix in 1951 and "discovered" Marty Robbins. I did a phone interview with him for Marty's biography. He told me he moved from Nashville to Springfield, Missouri, with Red Foley for the Ozark Jubilee. He got drafted while on that show, and he moved to Arizona after his two years in the Army. He and his wife, Geri, live in Yuma. He's currently scheduled for heart by-pass surgery at Yuma Regional Hospital due to blockage. His heart is functioning at 35%, which is better than originally expected. Here's a photo I lifted from the Steel Guitar Forum of Bud at his 85th birthday party last year.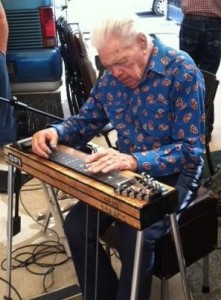 SONG OF THE WEEK
One of my favorite country polkas is "She's Gone Gone Gone." Harlan Howard wrote it, Lefty Frizzell had a number twelve hit on Billboard in 1965, and Glen Campbell brought it to number six in 1989. Between those two singles, J. D. Crowe and The New South recorded a bluegrass version in 1978. I don't care for Glen's changing the lyrics from a train flying down the track to a plane flying across the sky, but I do like the faster tempo. You can find all three recordings on YouTube, along with performances by Waylon Jennings, Randy Travis, Carl & Pearl Butler, and several others. The song charted one additional time on Billboard, by Carl Jackson in 1984 (#44).
Happy birthday to my sister, Lorraine (Kayo) Paver, born in a blizzard three score and one years ago.