My Faron Young/Marty Robbins e-mail newsletter now contains a variety of country music bits. Please forward to anyone who might like to read this. Today would have been the 82nd birthday of Johnny Cash, tomorrow would be Elizabeth Taylor's 82nd, and yesterday was Faron Young's 82nd.
NEWS
Penny DeHaven died Sunday at age 65 after a long struggle with cancer.  Although she never had a top ten hit, she placed 17 songs on the country Billboard charts. I did a phone interview with her exactly ten years ago. She moved to Nashville in 1968 and looked up Faron Young, who had seen her performing on a package show. "You know he had an eye for young girls," she told me. "He liked the looks of me, he said come to Nashville and call me, and I did." She toured with him for almost two years, She told me how she'd fallen in love with him, and about their affair, and how he taught her stage presence. "I thought he was the best entertainer that ever walked," she said. "I mean, he was fabulous."
Marty Martel provides this link for an interview Jean Shepard did with Markos Papadatos: http://www.digitaljournal.com/entertainment/interview-with-jean-shepard-the-matriarch-of-country-music/article/372133
Johnny Cash was recently inducted into the Gospel Music Hall of Fame. The Tennessean reported on the Gospel Music Association's program, co-hosted by Larry Gatlin and held at Trinity Music City in Hendersonville. Johnny's sister, Joanne, was quoted as saying, "As a child Johnny said to me, 'One day I'm going to be a singer, and I'm going to sing gospel music,' All our lives we were raised to love the Lord and sing gospel music. Tonight I believe he's watching us, and it would be one of the highlights of his life." Trace Adkins received the longest standing ovation of the evening, for his rendition of "Wayfaring Stranger." Joe Bonsall of the Oak Ridge Boys said, "I don't know if we would even be here today if it wasn't for Johnny Cash. Back in the middle '70s nothing was going right for us. It was Johnny and June that took us out, paid us more than we were worth, kept our heads above water and kept us encouraged."
Police in Lebanon, Tennessee, saw a tan 1998 Jaguar swerving between the lanes early yesterday morning and pulled it over. They arrested the driver, Jett Williams Adkinson, after she failed to pass field sobriety tests. They charged her with DUI, not wearing a seatbelt, and having no proof of insurance. Jett, the 61-year-old daughter of Hank Williams Sr., admitted to drinking two beers. She was released from the Wilson County Jail on $1,000 bond.
Bob Kingsley was honored last Monday evening at the Grand Ole Opry House with a surprise event to commemorate his forty years on country radio–with his shows American Country Countdown and Bob Kingsley's Country Top 40. Garth Brooks, Trisha Yearwood, Reba McEntire, Alabama, Kathy Mattea, and Wynonna Judd were some of the artists who performed. Those who sent prerecorded videos included George Strait, Barbara Mandrell, Dolly Parton, Keith Urban, and Kenny Rogers. Proceeds from the evening went to the Opry Trust Fund. Kathy Mattea was quoted in the Tennessean as saying, "When you're young you just hope to get a record deal. Then you hope that you get a hit so they don't take the deal away from you. Then you want more so you're not a one-hit wonder. But you know you've made it when you heard him say your name."
Grand Ole Opry management has apparently fired keyboard player Tim Atwood and fiddle player Hoot Hester, both of whom were long-time Opry musicians. I haven't been able to find any information as to why this happened,
Singer/songwriter Bobby Tomberlin posted this photo of Hilary Williams and Brenda Lee on Facebook.  Brenda gave Hilary the mink stole that Hilary's grandmother, Audrey Williams, had given to Brenda in 1960. Hilary is the daughter of Hank Williams, Jr.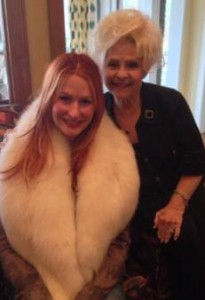 LETTERS
Jean Earle writes from Great Britain, "Thank you for another most interesting newsletter. As a long time fan of Merle Haggard I shall look out for the new record by Suzy Bogguss. I am sure she will make some fine recordings of Merle's best songs. Have you heard any news of Merle lately? We do not hear much over here in England….hope he is still enjoying his shows and entertaining his fans. We have heard about your dreadful winter weather and wonder how well the artists are managing to get around the country to reach their shows…??  must be a bit of a nightmare! Hope Spring soon comes."
Ronnie Allen says, "Thanks so very much for including my interview with Sylvia!"
Stuart Weiss says, "I really enjoy your new newsletter!!!"
Terry Counts writes, "As usual, engrossing, enjoying and I hope you keep it up til you're 200 yrs old!!! I had forgotten the Elvis song, 'I Forgot'…one of my fav's when I was a brat…and the 'Gone Gone' also was a fav but I can't remember which act I liked..it was a fast version tho..Take care of yourself."
Larry Goodroad from my hometown of Clear Lake says, "I enjoy reading your letters and I think you're on to something."
Mike O'Neill writes, "The newsletter has a lot of good information. I wish you the best of luck with the newsletter. You can get a cheap phone with unlimited calling and call country music stations in the U.S. and internationally email them for an on-air interview to build up the readership."
Linda Elliott Clark says, "Thanks for the update. 'If We Make it Through December' was always a favorite of mine also. My Dad, in his younger years, looked so much like Jimmy Dean that you would swear they were brothers. I remember him when he had a TV program in the DC area.  Boy, so many memories when reading your articles. I'm going to listen to the Dolly Parton article now."
Tony Byworth writes from Knebworth, Herts, United Kingdom, "David Allan forwarded me your newsletter. Very interesting – could you put me on your mailing list? Keep up the good work."
Sandy Shea requests, "I want to subscribe to your newsletter. Thank you ever so much for producing it."
Jim Camenga writes from Michigan, "I just found your blog as I was Googling about the life of Faron Young. I had the pleasure of interviewing him between shows in Holland Michigan sometime in the '70s. He was fun to be around and he could be pretty salty with his comments and very frank about singers he didn't think were that good. But he was a gracious, approachable and very likable individual. Thanks for your work."
Doug Guy, a retired U.S. Navy chief petty officer, reports, "Hey captain, a little something for your wonderful newsletter: Kenny Rogers will be performing at the Historic Tennessee Theatre here in Knoxville, Tennessee, on May 17, 2014. Details at http://www.tennesseetheatre.com/. Keep up the good work."
Colleen Kampfe checks in from nearby South Sioux City, Nebraska, "Always great to see your email pop into the computer. You are doing great! Do keep up the great work! It is so wonderful to hear the news updates on all the country artists. We found out about Smokey Smith's passing by way of KWMT-540 am radio out of Fort Dodge, Iowa.  Since they have been purchased and owned now by a much larger communications connection, a lot of the small people (artists) get short-changed. Along with the fact that Dale Eichor is semi-retired and spends his winters in warmer climates, a lot of country artist info never gets broadcast. What I'm wondering, do you happen to know where a person could purchase any of the CD materials put out by Smokey? I know over the past years some of his songs have been played on KWMT out of Fort Dodge. Any help would be appreciated. Hope you might reconsider working on a book on Ray Price!"
Noel Clarke writes from Australia, "I really enjoy reading your new format Newsletter, very informative it's good to be able to find out where artists are now and what they are doing. I went to a birthday celebration of one of Australia's greats, who I think would be known to many is the USA, Geoff Mack the man who wrote 'I've been Everywhere' back in 1958. He also wrote a version with towns in the US recorded by Johnny Cash also recorded by Hank Snow. Geoff is a genuinely humble man, loved by everyone who knows him here. In 2013 Geoff received a Lifetime Achievement Golden Guitar Award at our Tamworth Country Music Awards (Australia's Nashville). I could fill a page with his achievements. Thanks again for the work you do."
SIDEMAN SIDEBAR
Richard Bass Barish played lead guitar for Faron Young from 1973 until Faron stopped performing in 1993. I last saw Richard at the Country Deputy reunion show at the Ernest Tubb Record Shop in November 2007. He moved to the Republic of the Philippines sometime after that. He says, "I'm living a pretty simple life here in the Philippines. Built a house here last year in the town of Tanauan, about an hour from Manila. Needed to get off the beach, no services there and as I get older, 71 now, I want to be near doctors, hospitals etc. Health is still good but I slowed way down on the beer drinking. Still smoke a little bit. We go into Manila once a month or so to see some bands, no country here but some good pickers. Mostly cover tunes but played well. Not very exciting but at my age I don't want too much exciting."
BANDS IN SOUTH DAKOTA
The Larry Olsen Polka Band, headquartered in Lake Benton, Minnesota, consists of Larry Olsen on concertina, Richie Roepke on trumpet, Dale Tolk on trumpet and guitar, Al Drage on bass guitar, and Jeff Buesing on drums. They played in Sioux Falls this past weekend, and Rocky Rosheim filled in for Jeff.  For some great polka and waltz music, and to get acquainted with a friendly band, check out the schedule at http://www.larryolsenband.com/.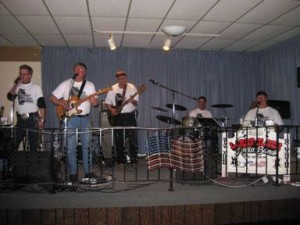 Richie Roepke, Dale Tolk, Al Drage, Rocky Rosheim, Larry Olsen
SONG OF THE WEEK
Thanks to Noel Clarke in Australia for educating me on the history and the songwriter of "I've Been Everywhere." I only knew it was a #1 Billboard hit for Hank Snow in 1962 and a country staple ever since. But it was written as an Australian song by Geoff Mack (born Albert Geoffrey McElhinney) in 1958 and recorded by Lucky Starr in 1962. Here are the lyrics: http://geoffmack.250x.com/pages/everywhere.pdf. Geoff rewrote the song with North American names for Hank Snow. Lucky Starr also recorded that version: http://youtu.be/88dAsBXUgFM. Geoff recently celebrated his 91st birthday and is still going strong. Here is his website: http://geoffmack.250x.com/