NEWS
The four daughters of Tammy Wynette are asking for public support as they try to get their mother's stage name restored on her burial crypt at Woodlawn Memorial Park in Nashville. Two years ago, they agreed to change the name temporarily for legal reasons during a planned challenge to the sale of intellectual property. They thought the name change would be to Tammy's maiden name, Virginia Wynette Pugh, but it was changed to her married name, Virginia W. Richardson. The challenge didn't occur, and they can't reverse the decision because they don't own the burial crypt. Tammy's husband, George Richey (George Richardson), acquired her home, her possessions, and the rights to her publishing and business enterprises after she died in 1998. The daughters have been unsuccessful in their attempts to get any of Tammy's possessions or publishing rights. They want to obtain a court order to bring back the Tammy Wynette name, and they hope public support will strengthen their case.
Loretta Lynn burned her fingertips while putting out a fire in her Hurricane Mills, Tennessee, home last week. A candle overturned and ignited a chair in the sunroom. She picked up a pillow and beat the fire out.
Leon Rausch will headline a special tribute to Bob Wills and the Texas Playboys at the Llano Country Opry this Saturday at the Lantex Theater in downtown Llano, Texas. Tickets can be reserved by calling (325) 247-5354. Bob Wills asked Leon in 1958 to become a Texas Playboy as lead vocalist. His recordings include "San Antonio Rose," "My Confession," "Deep Water," "Bubbles In My Beer," "Big Balls In Cowtown," "Time Changes Everything," "Cherokee Maiden," and "Faded Love." He still headlines Bob Wills Day in Turkey, Texas, and performs several overseas dates promoting Texas for the Texas Tourist Bureau.
Preservationists are planning a "Save Hag's Boxcar" fundraiser in March at the Harley-Davidson dealership on Merle Haggard Drive in Bakersfield, California. The money will be used to purchase, restore, and move Merle Haggard's boyhood home from Oildale to the Kern County Museum in Bakersfield. He grew up in a boxcar that James Haggard, a carpenter with the Santa Fe-Southern Pacific Corp., converted by hand during the Depression into a home for his family. The house is still occupied today, although it sags under a tangle of vines and is nearly ruined,
Ray Evernham, NASCAR announcer and former crew chief who helped Jeff Gordon win three Sprint Cup championships, has brought the famous 777 Marty Robbins race car back to life. He used his ESPN television show, AmeriCarnas, to feature the car's restoration and its presentation in Nashville to Marty's son, Ronny, last month. Marty built the race car in the 1960s and drove it at the Nashville Fairgrounds Speedway. It had a 1964 Plymouth Belvedere body, a Dodge engine, and a 1958 Chevy frame. Ronny Robbins found the rusted-out car in 2000 on the family farm in Franklin, Tennessee. Ray Evernham acquired it two years ago and restored it at his state-of-the-art shop in North Carolina. He searched for authentic components and found parts in New Jersey and Iowa that matched the originals.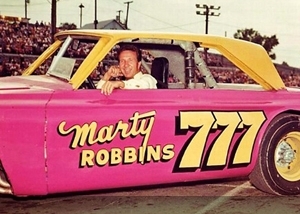 Jim Varnado,a retired computer programmer in Oklahoma City, has written a novel called Big Iron.  Being released this week, the two-generation story is based on three famous Marty Robbins ballads, "El Paso," "Feleena," and "Big Iron." Varnado and his wife, Kathy, spent years of meticulous and exhaustive research to get the details right. "It's a testament to how much we care about the project," Varnado says. "We have the utmost respect for Marty Robbins' work and his talent. . . . We want fans of Marty to know we took this project extremely seriously. We wanted to do justice to Marty's genius."  He says Marty's ballads "are like Shakespearian tragedies set in the Old West. They're that brilliant. I wanted to capture that with Big Iron and stay true to Marty's vision."
Charlie Daniels is partnering with Lipscomb University in Nashville for their fifth annual event to raise funds for veterans' education. Kellie Pickler and Clint Black will headline the show, with performances by The Grascals, the American Hitmen, the Navy Band Sea Chanters and Storme Warren, in addition to Charlie himself. Call 615-966-7075 for tickets to the Tuesday, March 25, show at Lipscomb University's Allen Arena.
The inaugural Glen Campbell Courage Award will be presented to Glen Campbell at A Night at Sardi's in Beverly Hills, California, on March 26. The annual event benefits the Alzheimer's Association and has raised more than $23 million in the past 22 years. Glen has been battling Alzheimer's disease, and he and his family will receive the award for publicly sharing his story and fighting the disease.
LETTERS
Linn Hauser writes, "I agree with the comment about Gene Watson's REAL COUNTRY. His voice is still unsurpassed. His shows are an entertainment delight. He ALWAYS has time for his fans- for pictures, autographs, a moment to chat, etc. His music has spanned some 52 years, and he has not received near the amount of recognition his contribution to country music deserves. It would be great to see you talk with Gene and do a special something for him. Attend a show, if you haven't seen him in person, and you'll see what I mean. Just simply- THE BEST!"
Hermann Lammers Meyer checks in from Germany: "Thank you very very much… very informative.. glad you are sending this."
Diane Jordan provides a new email address and says, "I'm enjoying your newsy newsletter so much!"
Richard Spooner writes from England, "Many thanks for the newsletter. I read it every time. Was pleased to see Frank Jennings replied to you recently. I knew Frank for many years and my band worked shows in the UK with him on many occasions. I also had the privilege of being at one of the show dates he did with Faron over here and Frank introduced me to Faron. Keep up the good work."
SIDEMAN SIDEBAR
Larry Hunt played electric bass in The Marty Robbins Band for the last twelve years of Marty's life. He came to the Twentieth Century Drifter book release party, which is where I met him. He told me he'd had a stroke. Now I learn he has been playing with NASHVILLE RASH for the past eight years or so. Kenny Clark, lead guitar player, tells me, "Larry is amazing with one hand. After his stroke he couldn't play so he came to our rehearsals and just listened. I started building a bass with foot operated hammers to strike the strings. He tried it out mounted on the stand I had built, but I didn't have the hammers on it yet. He started fretting and hammering with his left hand. I said keep it up Larry you can do this. And believe me he did. We put Larry back in his spot. He has been there ever since. I still have that half-finished bass."