NEWS
B.J. Thomas, 78, died May 29 at his home in Arlington, Texas, two months after announcing he had been diagnosed with lung cancer. Best known for "Raindrops Keep Fallin' On My Head," he also had hits with songs such as "I'm So Lonesome I Could Cry," "Hooked on a Feeling," "(Hey Won't You Play) Another Somebody Done Somebody Wrong Song," and "New Looks from an Old Lover." Born Billy Joe Thomas in Hugo, Oklahoma, he grew up in Houston, where he played Little League baseball. He started calling himself B.J. because so many of his teammates were named Billy Joe.
MusicRow reports the death of songwriter Dewayne Blackwell, 84, on May 23. The first hit he wrote was "Mr. Blue" and his biggest was "Friends in Low Places." Other co-written hits include "I'm Gonna Hire a Wino" (David Frizzell), "Honkytonk Man" (Marty Robbins), and "Saturday Night Special" (Conway Twitty), as well as "Nobody Gets Off in This Town" (Garth Brooks) and "Yard Sale" (Sammy Kershaw). His parents were Dust Bowl "Okies" who moved their family of eight children from Corpus Christi, Texas, to California. They lived in shanty towns with Latino agricultural workers, which gave him a lifelong interest in Mexico. In 2003, he retired to Ajijic on the shores of Lake Chapala in central Mexico. Dewayne Blackwell was inducted into the Nashville Songwriters Hall of Fame in 2017.
Douglas Glenn Tubb, 85, nephew of Ernest Tubb, died May 22 in Nashville. As a songwriter, he cowrote hits such as "Skip a Rope" (Henson Cargill), "Two Story House" (George Jones & Tammy Wynette), and "Home of the Blues" (Johnny Cash.)
Music industry veteran Lou Robin died May 18 at the age of 90, reports MusicRow. Born in Chicago in 1930, he attended the University of Chicago Elementary and High School before his family moved to Los Angeles. In 1957 he founded a company that later became Artist Consultants Productions, producing/promoting over 4,000 concerts worldwide in 52 years. After Artist Consultants began promoting The Johnny Cash Show in 1969, Robin became personal manager for Johnny Cash and June Carter Cash. Following their deaths in 2003, he supervised the business affairs of the Cash estate until he retired at age 88. Lou Robin was an original member of the International Entertainment Buyers Association and was inducted into its Hall of Fame in 2011. He lived in Thousand Oaks, California.
The legendary Ace in the Hole band has a new drummer. George Strait hired Bobby Jarzombek from San Antonio to replace Lonnie Wilson, who had been with the band since drummer Mike Kennedy died in a car accident in 2018. Saving Country Music reports Bobby Jarzombek is mostly known for rock but has played in country bands. He is a member of the Texas Jamm Band, which is the other identity of the Ace in the Hole band when not on tour with George Strait.
The 43rd annual Kennedy Center Honors ceremony, postponed from December, was held May 21 in Washington, D.C. Garth Brooks was honored along with actress-dancer-choreographer Debbie Allen, folk singer Joan Baez, violin virtuoso Midori, and actor Dick Van Dyke. The Kennedy Center Honors are awarded each year to those in various performing arts fields, for their lifetime of contributions to American culture. CMT News summarizes Garth's accolades by stating he was named CMA Entertainer of the Year seven times, earned 14 Grammy nominations and two wins, was inducted into the Country Music Hall of Fame in 2012 and the Songwriters Hall of Fame in 2011, the only artist to earn nine Diamond Awards (nine albums honored by the RIAA for sales of over 10 million each), and the best-selling solo artist in U.S. history.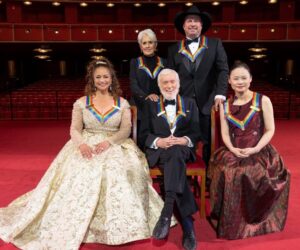 For the first time in eight years, Hank Williams III has released a song. Saving Country Music reports he surprised everyone by dropping on YouTube a song announced as "Outlaw Classic Country Cover, Played and Sang in real time no editing." It was May 24, and the song was a 7-minute slowed-down version of David Allan Coe's "You Never Even Called Me by My Name." Steve Goodman and John Prine wrote the song in a suite at New York's Waldorf Astoria Hotel on May 24, 1971. John didn't reveal himself as cowriter until many years later. Whether accidentally or on purpose, Hank III released his version of "You Never Even Called Me by My Name" on the 50th anniversary of the song being written.
National Geographic has announced that Garth Brooks will narrate and executive produce a series described in a press release as "an extraordinary venture across world-famous and lesser-known National Parks, each of which is an American jewel." The award-winning team responsible for Disneynature's Earth and Elephant Eden, BBC's Planet Earth and Frozen Planet will be paired with Garth for a series promising cinematography that includes "intimate glimpses into the lives of the charismatic and intriguing animals that inhabit these parks." CMT News reports there is no word on when the documentary series will premiere.
Cal Campbell, 39, son of Glen Campbell, married Kayla Thornton, 37, on Lahaina's Baby Beach in Hawaii on May 14. According to PEOPLE, their six guests were Kim Campbell (Cal's mother) and her boyfriend, Dr. Russell Sheppel, Cal's sister, Ashley Campbell, the bride's parents, Bodley and Karen Thornton, and longtime friend Stephen Banks. Cal met Kayla during filming of the documentary, Glen Campbell: I'll Be Me; she was one of the producers. Cal wore one of his dad's white tuxedo jackets with tails by Manuel Cuevas and Nudie Cohn. Kim told PEOPLE, "I wore the wedding ring Glen gave me during the wedding and we shared a toast remembering Glen after they were pronounced man and wife."
PEOPLE reports that Dolly Parton, 75, appeared virtually for a "#WOW: Whole Health Includes Mental Health" event and sang "Light of a Clear Blue Morning." She said she wrote the song while feeling so anxious about an upcoming career move that she "couldn't eat, couldn't sleep, couldn't think straight." She talked about the stigma related to mental illness. Being Dolly, she had to joke about her appearance: "I'm often told I look so happy, but to be honest — that's the Botox. Well not all of it, but some of it anyway!" Then she added, "But seriously, we all experience moments of anxiety or depression at one time or another, and I believe it's how we handle those moments that ultimately defines us."
This past August, the Oak Ridge Boys went into the studio to sing songs of faith they hoped would help people get through the pandemic. "The music we are making has a healing effect, and we were the first ones to feel that healing effect in our own lives," William Lee Golden tells The Boot. The resulting album, Front Porch Singin', is set for release June 11. "We almost inadvertently recorded the perfect album for the times we are living in," Joe Bonsall says. "The response that is coming back to us while we are all starting to see some lights at the end of the tunnel has just been incredible." The Oaks believe a higher power is responsible for the inspiration. "These songs are connecting on a level that is telling us that people need to hear songs like this," Joe adds. "We are just the vessel. But maybe, as the sun starts to shine and things start to open up … Hopefully, we can all be a little kinder to one another, maybe just maybe, this music can make a difference."
On May 28, Jeannie Seely celebrated the 55th anniversary of her debut performance on the Grand Ole Opry. Her debut had occurred on the portion of the show hosted by Wilma Lee and Stoney Cooper, and she sang "Don't Touch Me." Jeannie became an official Opry member on September 16, 1967. A press release states she is one of only three living women (along with Loretta Lynn and Connie Smith) to have reached this milestone.
In a recent interview with PEOPLE, Trisha Yearwood, 56, talks about marrying Garth Brooks in 2005 and wondering how to fit into the lives of his three daughters. "I had a dog before I married Garth but no children of my own. I never even really babysat," she says. "I didn't know what to do with three young girls. Garth was such a wonderful mentor to me as to how to be a parent, and he told me, 'You'll find your way with each of them. Don't try to be their best friend, and don't try to be their mom.'" She says Taylor, August and Allie (now 28, 27 and 24) have given her "a lot of grace" as a parent.
MusicRow reports the 2022 Texas Songwriters Hall of Fame Weekend will return to Austin, February 11-12, 2022, to celebrate the induction of Lefty Frizzell, Nanci Griffith, Lightnin' Hopkins, and Mark James into the Texas Heritage Songwriters' Association Hall of Fame. Lefty Frizzell was one of the most influential performers in country history. His hits included "If You've Got The Money, I've Got The Time," "I Love You A Thousand Ways," and "Always Late (With Your Kisses)." He was inducted into the Nashville Songwriters Hall of Fame in 1972 and the Country Music Hall of Fame in 1982. Singer-songwriter Nanci Griffith won Best Contemporary Folk Album Grammy for Other Voices, Other Rooms. The Americana Music Association awarded her its Lifetime Achievement Trailblazer Award in 2008. Country blues singer-songwriter Lightnin' Hopkins had R&B hits with "Shotgun Blues," "Short Haired Woman," and "Big Mama Jump." He was inducted into the Blues Foundation Hall of Fame in 1980. Mark James wrote "Hooked On A Feeling" (B.J. Thomas) and "Suspicious Minds" (Elvis Presley). His "Always on My Mind" won a Grammy for both Song of the Year and Best Country Song. He was inducted into the Nashville Songwriters Hall of Fame in 2015.
I've finished listening to the first season of Cocaine & Rhinestones podcasts, and I'm keeping up with the second season. Tyler Mahan Coe (son of David Allen Coe) shows an amazing amount of research and musical knowledge in his stories. He says he hopes to do these podcasts for the rest of his life, with the theme being "the history of country music made in the 20th century." Check out the most recent one at https://cocaineandrhinestones.com/nashville-a-team.
LETTERS
Cor Sanne of CMS Productions writes from Nieuwkoop, Netherlands, "How nice to read about Lionel Cartwright. We worked with him in The Netherlands somewhere late '80s, early '90s. We also did a show with him alongside Gail Davies, Michael Johnson and Rob Crosby. My late wife Margaret and I really enjoyed Lionel as being a friendly and humble human being and a great talent. At some point while I was in Nashville, Lionel invited me to have lunch at The Cracker Barrell at Harding Place. There we ran into Vern Gosdin, one of my heroes, and Lionel was kind enough to introduce me to Vern. I'll never forget that. A special moment. Thanks for the story and good to see he's doing well. Also thanks for sharing the news about Patsy Bruce's passing. She was over here in Amsterdam once with her husband Ed Bruce for 3 or 4 shows we did with Ed across the country.The good old days (are gone). No modern country music for me."
June Thompson says, "Thanks as ever for your newsletter. Like Mary, Lionel Cartwright is one of my very favorite country artists. I am sorry he didn't get more airtime, but that doesn't seem to have slowed him down. I'm glad he has had a blessed life with such great use of his talents, and I pray for him the very best. I also hope you are gathering much useful material for your Randy Travis book."
Geoff Lambert wonders, "Who now is sole owner of Cathy's Clown? Think your finger went ahead of your brain lol."
Diane: I was thinking Don when I typed that sentence. And I proofread it several times. A computer gremlin must have changed Don to Phil when I hit the Send button.
Kent Kotal of Forgotten Hits points out, "Major goof in your latest newsletter and you'll want to correct this right away … The judge ruled that DON Everly was the sole writer of 'Cathy's Clown,' not Phil as you stated. The ruling was based on Phil Everly's estate submitted their petition too late."
Diane: Yes, the correct sentence is: Don Everly is now the sole author of "Cathy's Clown."
Dominique 'Imperial' Anglares writes from France, "Thanks for that welcome newsletter and for the info about Linda Martell. I hope my friend Margaret Lewis Warwick and Mira Smith should have some mention for their work for Linda on the stunning Plantation LP Color Me Country (PLP 9) released in 1970. Among their songs recorded brightly by Linda were 'Bad Case Of Blues', 'I Almost Called Your Name' and 'The Wedding Cake' to name a few. A good news to start that day. The Jimmy Lee Fautheree's memories were much appreciated. These almost seventeen years without Jimmy Lee seem eternity. Thanks to the help of Nancy Fautheree, his widow, we had learnt more about that 'Unknown Legend' that was her first and only love. She opened the door for me to Claude King, Brother Joe Price, Margaret Lewis and Tillman Franks. Her memories are stacked of meetings with Hank Williams Sr, Faron Young, Billy Walker, Webb Pierce, and that Sweet Singing Daddy she married in 1952. In the early '60s, Jimmy Lee moved with his wife and two sons to Farmington, New Mexico, recording sparsely for Paula Records (1966/1967) and his own Lodema (1974/1979) before coming back to Dallas when retired. From 1993 to 2001 he recorded mostly gospel sides for TIMA records being associated with his longtime friend Brother Joe Price. Sometime Johnny Mathis came along like in the old days. Jimmy Lee was a featured act for the 'One More Ride – A Louisiana Hayride Cast Reunion,' set at the Municipal Auditorium on 27-28 June 2003, with Jeanette Hicks, Betty Amos, Mallie Ann, Alvadean & Sandy Coker and Van Howard to name a few of these 40 acts. Shortly before his passing he recorded a fabulous LP backed by Deke Dickerson and its band, The Ecco-Fonics, and played his only overseas gig in England. An essential record. Lynn Fautheree passed away in 1989, Tillman Franks on October 26, 2006, and Country Johnny Mathis on September 27, 2011. The legacy lives on."
Eric Calhoun writes, "I would like to know more about the first black female ever to sing country music, Linda Martell. As someone of color, I've been intrigued by learning about Charley Pride. Any new information about West Virginian Kathy Mattea? It's been more than 20 years since I heard anything from her."
Diane: Kathy Mattea is still active. She has a website at https://www.mattea.com/, and she participated in Country Music: Live At The Ryman, A Concert Celebrating The Film By Ken Burns, an all-star concert on March 27, 2019.
Jackie Allen Thomas in Sun City, Arizona, says, "So sorry to read about the feud between Don and Phil Everly. So sad. Sure do love your newsletter, please keep them coming."
Ralph Brewer requests, "Please add me to your circulation list."
Judy Garrow says, "A friend forwarded me your newsletter and it is great. I would like to subscribe."
Bobby Fischer writes, "Yesterday I was told Dewayne Blackwell passed. Tomorrow is Helen and my 61st wedding anniversary. I never get tired of telling this song story. Helen and I were having breakfast on a Sunday morning. Dewayne Blackwell called me; he was living in Kentucky and writing for a Nashville publisher. He said let's write something. I said on Sunday? So I went to his Music Row office. He said first there's a cafe a couple blocks away they have champagne breakfast. I said you think we'll write anything if we have the champagne? Sure. We got in a booth and another songwriter was there, Bud Lee. He introduced us to Robert Ellis Orrall visiting from Boston. We said join us. We're drinking it up and laughing a bunch when the waitress came by and said, 'my name is Karen; let me know if you want another round,' and left. Somebody said, 'order a round when karen comes around.' It got quiet. I said that's a good song title. We all agreed and left for Dewayne's office. It was a really fun writing. Robert went back to Boston and did a great one-man demo. I pitched it to Terry Choate and Bud Logan and a few others. Bud was producing Mason Dixon, a new group for Capital Records. They cut it and put out a single release. Then the great Oak Ridge Boys recorded it and a couple more cut it, too. When Robert came back into town, I said let's get all four guys together and go to a cafe and whatever the waitress's name is we'll go write another song on it. Best I can remember the lady's name was Glenda. I do remember it didn't come out like our 'Karen.' I don't remember pitching it, but it was all worth it to sit down and write with that bunch. Here is a picture when we all got together later; we were celebrating. From left to right Robert Ellis Orrall number one with 'Next to You Next to Me' by Shenandoah. I had 'You Lie' on Reba, and Bud and Dewayne had the giant hit 'Friends in Low Places' (maybe you've heard of it). I continue to have some fun in the music biz. I feel lucky to have been in the company of that generation. However, this week I'm getting one of my songs recorded by the punk rock group Vladopuss 9. Who knows where it may lead to? But I'll still be an old country boy from Wilton Junction, Iowa, that moved to Nashville in 1970."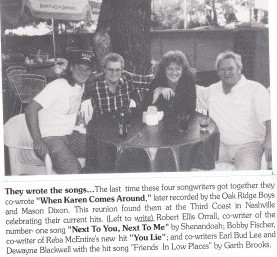 Janet L. Jeffries, Historian at Doane University, writes from Crete, Nebraska, "A friend showed me your wonderful newsletter and would like to subscribe. I just received my first newsletter and thoroughly enjoyed it. It is wonderful. Thank you so much for doing this!"
Doug McLeod writes from Marana, Arizona, "Passing to you a note from Gladys. LeRoy is 91 and never misses a step. Thanks for all you do. Sure sorry to see Patsy and Ed Bruce leave us but there is something beautiful in passing so close together." Doug's note to Gladys said, "I trust you're both in good health and do keep track of you. An interview with Leroy would sure be welcome in Diane Diekman's Country Music Newsletter. Do you mind if I suggest this to her?" Gladys responded, "We have been fortunate and been well throughout this ordeal we are all going through. Thankful for good health and the opportunity to go back to work. It seems as though Diane did an interview with Leroy a few months back."
Diane: It's good to hear from them. Here's the spotlight with Leroy Van Dyke from last August: https://dianediekman.com/dianes-country-music-newsletter-12-august-2020/
SONG OF THE WEEK
An appropriate song for the days following Memorial Day is "More Than a Name on a Wall," a beautiful tribute written by Jimmy Fortune and John Rimel and performed by the Statler Brothers. Jimmy, of course, sings it in his solo shows. The song appeared on their 1988 album, The Statlers—Greatest Hits Volume III, reaching number six on Billboard in 1989. "We sang it every night on stage right down to our final concert in 2002," Don Reid writes in his anthology. Recalling that the audience always stood for the song, he adds, "It was a tribute to those names and those memories and those soldiers and those guys I went to school with who never had the chance to hear this song."
BOOK REVIEW
The Music of The Statler Brothers: An Anthology is a treasure trove for anyone who wants to learn the details of Statler Brothers songs and their 42 albums. Don Reid wrote the anthology and published it last year during the pandemic. He will tell you what day he started writing a particular song, what the circumstances were at the time, and when he finished it. He mentions every song the group ever recorded, arranged by album, along with descriptions of all the album covers. When I interviewed Don for my May 5 newsletter, he told me, "I kept notes every day as we toured through all those years, and not knowing why." Those notes came in handy while writing this book. He also tracked down songwriters and performers to ask them about their memories. More than an anthology, this is a reference library of Statler Brothers music. I enjoyed reading about familiar songs and learning about those I didn't recall. This book would have taken much longer to finish if I'd followed the urge to look up every song on YouTube. Now that I've talked to Don and to Jimmy Fortune (https://dianediekman.com/dianes-country-music-newsletter-5-september-2018/), I hope someday to have a phone chat with Phil Balsley. For my complete review of Don's anthology, go to http://internetreviewofbooks.blogspot.com/2021/05/the-music-of-statler-brothers-anthology.html.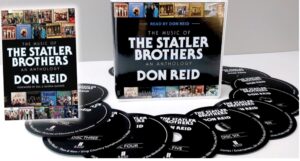 VIDEO CLIP OF THE WEEK
Here's a new segment for my newsletter. If you find an intriguing video clip you would like to see featured, send it to me with the story behind it, and I'll share it with our readers. The first one, thanks to Perry Steilow, comes from the Johnny Cash Christmas Special in 1977. Four legends–Carl Perkins, Roy Orbison, Johnny Cash, and Jerry Lee Lewis—sing "This Train" in memory of Elvis Presley: https://youtu.be/Wi7MFZ84uSM. The song, also called "This Train Is Bound for Glory," is a traditional American gospel spiritual first recorded in 1922. All five men grew up on gospel music and got their start at Sun Records in Memphis around 1955.