IN THE SPOTLIGHT – JIMMY FORTUNE
"I'm at a really good place right now," Jimmy Fortune said when he called me for our scheduled interview. "I feel like God's not finished with me yet. I'm singing as good as I ever did, and I'm writing quite a bit." He has had to build a new career since becoming a solo act after the Statler Brothers retired in 2002.
"You have to start all over," he says. "Sometimes you have to swallow a lot of pride. You do things for free or very little, to get yourself going." His wife, Nina, has learned the publishing business and the booking business. "We're now playing venues that are anywhere from 500-seaters to 2000-seaters," he says. "It's growing, little by little. It's taken a long time."
He tries to keep his shows positive, using them to tell a story of not giving up: "Just because you're older and just because something has happened that set you back a few years, it doesn't mean you gotta stop. God will always find a place for you if you're willing to reach out and try."
I asked if the title of his first solo album, When One Door Closes, referred to life after the Statler Brothers. He told me the story of driving to Nashville for a recording session, his first time going there without the Brothers. He'd chosen some songs for his debut album but hadn't thought about a title. Suddenly, he felt as if God said to him, "The name of your album is going to be When One Door Closes." Jimmy asked why, and the response was, "Because there's a big door closing, and you have the opportunity to open this other door. You haven't opened it yet, but it is going to be the door to your career. It's up to you."
When Jimmy got to the studio, he told the others about his conversation with the Good Lord. He said he didn't have the song, but God had promised, "Just trust me; I'll give you a song when the time comes." They spent the next two weeks recording. When all the songs were finished but one, Jimmy was asked if he had the song written. He said, "No, but I've got this melody. We can put the track down if you want to." He played the song and they recorded the music, without words.
A few weeks later, while they were mixing the CD, the engineer asked if Jimmy had the words to "When One Door Closes." He said, "Y'know, I don't." Looking down, he noticed his hand resting on a piece of paper and a pencil on the desk. He felt God saying, "Go in the next room and I'll give you the words to the song." He went into the room, sat down, and wrote the words to the song. He returned to the studio and sang the words onto the track. I asked about the contribution of John Rimel, who is listed as co-writer. "Some of the music was his idea," Jimmy clarified. "But the words were my words, that came out."
To answer my question about "Elizabeth" being the first song he wrote, he started with background. He was twelve years old when he got his first guitar. His family didn't have a record player and he didn't know any songs, so he made them up. He didn't realize at the time that he was actually creating music. One of the first songs he learned was Eddy Arnold's "Make the World Go Away." The family acquired a record player and a Charley Pride album, followed by a Glen Campbell album. After graduating from high school–and from playing high school dances—he started playing cover songs in clubs like the Holiday Inn and Ramada Inn. He sang everything from Hank Williams to the Bee Gees. "A little bit of everything, for a lot of years," he says. "I played six nights a week, four hours a night." He also had a full-time day job and sometimes a part-time job to support his growing family. "I was working all the time," he states. "I never had time to write anything."
Some months after the Statler Brothers hired him, Jimmy asked, "If I write a song, would y'all record it?" Harold Reid said, yes, if it's good enough. They were going on the road to Tulsa, Oklahoma. Jimmy stopped at a grocery store on his way to the bus, to buy snacks for the trip. In the store was a little girl with her mother. The little girl was into everything, and her mother kept saying. "Now, Elizabeth, get out of there, don't do that. Leave that alone." Jimmy recalls, "I laughed so hard, because she was into everything, the whole time I was in there." Then on the way to Oklahoma on the bus, they watched the movie, Giant, with Elizabeth Taylor. "I just loved it, the whole movie, and I loved her," he told me. "She was just beautiful in that movie. So there again, there's Elizabeth, y'know." During the concert in Tulsa, a woman came up to the stage and grabbed Jimmy's hand. "I was trying to get back to the mike and sing, but she wouldn't let go of my hand," he says. She kept yelling, "I'm Elizabeth! I'm Elizabeth!"
"Somebody's trying to tell me something," he remembers thinking. He went back to his hotel room that night and started working on the song, adding words to a melody that was already in his head. He sang the song into a little Walkman tape recorder, and then rerecorded it by singing a part into a second tape recorder. "Kind of stacking the parts so the Statler Brothers could hear the harmonies," he says. The next day, when he played his recording for them, their reaction was: "That's going to be our first record with you."
The song reached the top of the Billboard country chart in 1983. "The first song I ever wrote," Jimmy says, "and it went number one. I was like, after that, where do you go from here?"
Well, you write more number-one songs, of course. He wrote "My Only Love" for his brother's wedding. That went to number one in 1984. "Too Much On My Heart" went to number one in 1985. All three of were CMA Songs of the Year for the Statler Brothers. "More Than a Name on a Wall" in 1989 reached number six. "There were two important radio stations that wouldn't play that song, that kept it from going number one," Jimmy explains. "At the time they thought it was too controversial. . .. But it's one of the best sellers we ever had."
The Statler Brothers were inducted into the Country Music Hall of Fame in Nashville in 2008. They are also in the Virginia Music Hall of Fame. Jimmy was inducted there as a solo artist earlier this year. "I'm the only person in there twice," he says. "The Hall of Fame is in Williamsburg, Virginia, which is where I was born. I got to go back to where I was born, back in March. Sixty-three years later."
"Nina's my third wife," he said when I asked about family. "We've been married 20 years now. We never had any children together. I had enough. Seven was enough for me." Being in the music business takes a toll on family life. About his prior marriages, Jimmy says, "I was married to some wonderful beautiful ladies. We just didn't happen to make it. But it wasn't that we didn't really love each other. It's mostly my fault; I'll take the blame for it. They are good women. They are good mothers. I cherish them and love them very much."
Jimmy's message for my readers is to "do what you love, as long as you can do it, and know that the Good Lord's in control. Be thankful for all the things He's given you along the way and for His grace and forgiveness." He adds, "No matter what you've done in your life, there's always a place where you can turn around and start doing better for yourself and for everyone in your family."
Jimmy concludes, "My children love me, and I've got a wonderful wife who loves me, and a lot of great fans out there. Still a lot from the Statler Brothers days. And a lot of their kids and grandchildren come, so that's pretty cool."
NEWS
The Tennessean reports that Michael Kennedy, drummer in George Strait's Ace in the Hole Band, was killed August 31 in a car crash near Lebanon, Tennessee. Kennedy, 59, was driving westbound on I-40 in his 1999 GMC Sierra. As he merged from the left lane to the right, he hit a tractor-trailer carrying building supplies. The tractor-trailer then hit a Chevrolet Silverado. He was not wearing a seat belt, but Tennessee Highway Patrol officials said that would not have affected the outcome. The other two drivers were not injured. Saving Country Music reports George Strait as saying, "The band will never be the same. A part of us is gone forever. We all loved Mike and will miss him terribly. He was just as solid a friend to us all as he was a drummer, and that was damn solid." Kennedy replaced the original Ace in the Hole drummer in 1983 when Tommy Foote became the road manager.
Songwriter Ronnie Samoset died July 29 at age 71. The Bradenton Herald reports a celebration of his life was held at his residence in Bradenton, Florida, on August 25. His hit songs included Patty Loveless's "I'm That Kind of Girl" and Doug Stone's "Jukebox With a Country Song." Others who recorded the songs of Ronald A. Santaniello (his birth name) were Kenny Rogers, Randy Travis, Sawyer Brown, Trisha Yearwood, Tanya Tucker, Highway 101, the Forester Sisters, and Ricky Van Shelton.
The Tennessean provides an update on the battle over the estate of Glen Campbell, who died a year ago at age 81. The lawyer for the three disinherited Campbell children wants the Davidson County probate judge to hold a hearing next month to resolve a dispute over when the case will go to trial. Kimberly Campbell, the widow, wants the trial to begin April 1, whereas the children–William, Kelli and Wesley Campbell–want it in November. The two sides are also arguing over how promptly Glen's business manager must respond to a subpoena seeking financial and legal records.
September 28 is the release date for Wouldn't It Be Great, the long-awaited Loretta Lynn album. Patsy Lynn Russell and John Carter Cash produced the 13-song collection, which was recorded mostly at the Cash Cabin Studio in Hendersonville. CMT News reports the album includes new versions of "Coal Miner's Daughter" and "Don't Come Home a Drinkin'," as well as new songs such as "Ruby's Stool," "Ain't No Time To Go," and "I'm Dying For Someone To Live For." The title track, which was released last week, is the last song Loretta wrote for husband Oliver "Doolittle" Lynn.
Gretchen Wilson, 45, was arrested at the Bradley International Airport in Windsor Locks, Connecticut, on August 21. According to TMZ, she was trying to use an occupied bathroom during a flight, with the result being an exchange of words and threatening hand gestures. When the flight landed, state police say, she "became belligerent toward the troopers and caused a disturbance." She was arrested and charged with second-degree breach of peace. Gretchen posted a $1,000 bond and is scheduled for arraignment in Enfield Superior Court this month.
"Over the last several years, we've seen the needs in our community change," Craig Morgan said in a statement, "and so we are adapting the mission of the Dickson County Craig Morgan Foundation to better serve the children and foster families within Dickson County. The foundation recently hosted a back-to-school event where 75 children in foster care received backpacks, $100 in school supplies, and gift cards for new shoes. According to CMT News, Craig and his wife, Karen, adopted their son, Jerry, at age two, through the foster system. Since then, they have abided by the H.A.P.I. motto: Have a Positive Impact.
Country Music Nation reports tributes from country stars on the death of Senator John McCain, 81. Brad Paisley, during a concert in Bristow, Virginia, sang "When I Get Where I'm Going." A photo of Senator McCain appeared on the large screen, Brad tipped his hat, and the crowd stood and cheered. Tim McGraw posted on social media: "A true American Hero and patriot. We may not have agreed on everything but he's a better man than I could hope to be. Such a needed voice right now. His voice still rings." And this one: "The Oak Ridge Boys are sorry for the loss of Senator McCain… He was always so very gracious to us whenever our paths have crossed. He seemed to always have a joke for us! We will remember him as a leader who spoke his mind and we will remember him for his service to America RIP"
One of the performers at Aretha Franklin's August 31 funeral in the Greater Grace Temple in Detroit was Faith Hill. She honored the Queen of Soul, 76, who died of pancreatic cancer on August 16, by singing "What A Friend We Have in Jesus." Sounds Like Nashville reports Faith, a longtime fan and friend, "had guests like Whoopi Goldberg, the Reverend Al Sharpton and former President Bill Clinton on their feet in awe as she belted her way through the moving number."
In a recent interview with The Tennessean, Miranda Lambert, 34, called herself "happily single." She had been dating Evan Felker, 34, the married lead singer for the Turnpike Troubadours. They met when the Troubadours opened for her their first of three dates in February. Fifteen days later, he filed for divorce from his wife, Staci Nelson, 33, after one-and-a-half years of marriage. When PEOPLE reported the Felker-Lambert relationship in May, it came as a surprise to everyone, including Staci. They had been avoiding the public eye until a visit to New York City for Miranda's appearance on Late Night with Seth Myers. The Felker-Nelson divorce was finalized August 17. One week later came the Lambert-Felker split. "I don't think it was a dramatic split, but he knew what he was 'allowed' to do based on her rules and he broke them," a source told PEOPLE. "He did something he knew she wasn't going to approve of, she assumed he did it, and he didn't deny it."
Also in August, the Turnpike Troubadours canceled their final two appearances as opening act for Little Big Town and Miranda Lambert on the Bandwagon tour. Saving Country Music reports the reason as "some serious family emergencies" that forced the band "to be close to home." They then canceled their performance at the Fayetteville Roots Festival, posting on Instagram: "The band was present and prepared to play, but after evaluation it was advised that Evan Felker should not perform tonight due to pain associated with the inability to pass a kidney stone he has been struggling with since earlier in the week." They canceled their other shows in late August and up to the Medicine Stone Festival near the end of September, which is still on.
The Country Music Hall of Fame and Museum celebrated the release of King of the Road: A Tribute to Roger Miller on August 31. The tribute album honors Roger Miller, who died of lung cancer in 1992. Dean Miller, Jeannie Seely, Bill Cody, Mary Miller, and Larry Gatlin were some of those attending. Jeannie says, "There were great stories …. not only his humor but his compassion." Some of the three dozen tracks on the two-disc CD are "Dang Me" by Brad Paisley, Kacey Musgraves singing "Kansas City Star," Lyle Lovett on "England Swings," "Do-Wacka-Do" by Robert Earl Keen Jr., "Half a Mind" by Loretta Lynn, and Asleep at the Wheel on "Chug-A-Lug." Rolling Stone Country calls Roger "a guy who wrote as if America was one single place — a country crossover in the best sense of the term."
The 2018 Farm Aid benefit concert will be held at the Xfinity Theatre in Hartford, Connecticut, on Saturday, September 22, reports Nash Country Daily. Willie Nelson, Neil Young and John Mellencamp, who organized the first Farm Aid concert in 1985, are still presenting the event. Other performers will include Dave Matthews, Chris Stapleton, Sturgill Simpson, Kacey Musgraves, Jamey Johnson, and many more. Farm Aid began as an attempt to increase awareness about the loss of family farms. The nonprofit organization has since raised more than $53 million to keep family farmers on the land.
When the Cliffie Stone Icon Award was presented during the 12th Annual ACM Honors show, held at the Ryman Auditorium, the honoree was absent. Alan Jackson was still recovering from a respiratory infection, so his daughter, Mattie Jackson Selecman, accepted the award for him. Saving Country Music quotes a statement by Alan, in which he thanks his fans and says, "I'm on the mend and will be back to normal soon!"
The Bakersfield, California, house where Merle Haggard wrote "Okie from Muskogee" is on the market for $359,000. The 3,620-square-foot ranch house has five bedrooms, three baths, a recording room, a pool, and pool house. Southern Living reports that Merle bought it in 1969 as his career began to take off. He lived there with his second wife, Bonnie Owens, his four children from his first marriage (Dana, Marty, Kelli, and Noel), and his mother, Flossie.
The Music City Walk of Fame inducted four new members–Ben Folds, Brenda Lee, Jeannie Seely and Ray Stevens–on August 21. According to Nash Country Daily, The Music City Walk of Fame was created in 2006 to honor artists of all genres who have contributed to the world through song and whose contributions have a connection to Nashville. The sidewalk medallions line a one-mile stretch. Jeannie Seely reports being thrilled to see Jimmy Fortune in the audience during the ceremony.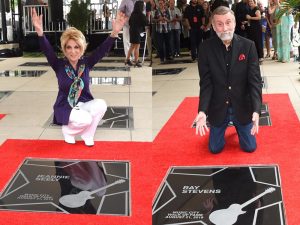 Jeannie Seely and Ray Stevens
LETTERS
Maggie Couch says, "Wow! You are the best. The interview with Mo Pitney just sent it over the top. He is just the best to come along in a very long time. I keep his CD playing in my car. Waiting patiently for the second CD. Can't wait until he does a CD of Lefty and Merle's and of course Faron's hits. 'Borrowed Angel' and 'Farmer's Daughter' are two of my favorites that he sings. I hope he gets back in traveling distance so I can see him sing again. Heard Johnny Rodriguez singing 'Pass Me By' and Waylon singing 'I Don't Want To Get Over You' on Willie's Roadhouse this morning. I sure miss the old country. Thanks again for keeping all of us real country lovers in the know. Plan on coming west, maybe in the spring and will try to get to your area. Would love to meet you."
Lou Elliott in Las Vegas, Nevada, writes, "I just read your article about Mo Pitney and was very pleased to see that he does not desire to be a superstar, but, in my opinion he will be one anyway. I first saw and heard him on Country Family Reunion's tribute to Ray Price. The first song he sang was 'Don't You Ever Get Tired Of Hurting Me' and, in my opinion, he did a marvelous job on it, as well as the others I have heard him sing. I have also heard him sing, 'Who's Gonna Fill Their Shoes' and I know he will be one of the few that does. I am 81 years old, and I grew up listening to classic country music on the radio. We bought many of the old 78 records in the '40s. My opinion is the last of the great country singers are the late George Jones and Alan Jackson, who is sick, but now we have Mo Pitney. We still have a few of the old-time greats left, but they don't perform much anymore. The same with Dolly Parton, Loretta Lynn, Jeannie Seely, and other female greats you used to see a lot. I can still listen to the old country songs just by Googling a song title. This brings up several other songs with it. Keep the good newsletters coming, Your Country Music Newsletter, Doug Davis's Country Music Classic, and Bill Anderson's Fan Letter keep me well informed."
Terri Hesser says, "Thank you for posting the photos of Marty Robbins and friends in your wonderful newsletter. It will be fun to see if anyone recognizes them."
David Corne responds from the United Kingdom, "In the first photo of Marty Robbins, Terri asks for identification and my guess is that it is a shot connected with the Country Music movie. I think it's Sammy Jackson who also starred in it and wrote the sleeve notes for Marty's This Much A Man album. The other guy in the hat could be Robert Hinkle who produced it in 1972. Bill Mack would probably know as he appeared in it as well. I thought I would remind you that before Bobby Bare hit it big as a country singer, he had a big hit under the name Bill Parsons called 'All American Boy' which reached #2 in the Hot 100 in 1959. Could I also thank Tom Barton for the mention in your newsletter and say 'Howdy' to him!"
Ronny Robbins, son of Marty Robbins, writes from Nashville, "Hope you're doing well, enjoy the newsletter, but don't always get a chance to respond. You probably already know the two men in the top picture are Sammy Jackson and Bob Hinkle and bottom picture the third man is NASCAR driver Dick Brooks. Sorry this is brief but I'm hunting and pecking on a tablet keyboard so at 6 words a minute this is taking some time. Thanks for all you do."
Kate Davis in Medford, Oregon, says, "Thank you so much for the information about Mo Pitney. What a great young talent. I hope he goes far."
Gerald Walton writes from Oklahoma City, "Just read Bobby Braddock's book, Bobby Braddock: A Life on Nashville's Music Row. It is a very good book."
June Thompson says, "Writing to let you know I am still enjoying your newsletter. Your mentioning of 'Far Side Banks of Jordan' brought tears to my eyes. It is one of my favorite songs. I sing it a lot at my little country church, though I have shifted a few of the words around. It gives me a humbling feeling that one day there will be people who love me reaching out their hands waiting for me. Thanks again for your letter, and the time you give to the research, and interviews."
David Corne adds, "Just wanted to point out to Clem that Bill Johnson didn't write 'The Shoe Goes On The Other Foot Tonight', this was written by Buddy Mize. Bill did write 'The Best Part Of Living' for Marty, but his greatest song 'A Wound Time Can't Erase' was mysteriously never recorded by the great man himself, though Conway Twitty, Charley Pride, Don Gibson plus a host of others did. If ever a song cried out for Marty to sing it, this was one. Strangely, Marty did write a song around this time (1968) called 'A Heel That Time Will Wound' which was recorded by Wes Buchanan which was the flip to another Buddy Mize song 'Working My Way Through A Heartache.' Bill also penned 'I'll Have To Make Some Changes' for Marty as well."
Diane: I remember "A Wound Time Can't Erase" as a Stonewall Jackson hit. Billboard shows it a #3 for him in 1962. His is the only version that charted.
Gene Burkhart writes from Sun City, Arizona, "Once again I have enjoyed your newsletter a great deal. You mentioned Morgan Daniel Pitney was maybe looking for more songs to record. I did a CD for a friend of mine here in Arizona. It was reviewed by the editor of Country Music People in Great Britain. It was given 4.5 stars. There are a lot of great songs written by my friend. I am also a member of Arizona Country Music Hall of Fame. Keep up the great work on getting country music info out to all your fans."
Laura Mourne says, "I was referred by Sue Zeune and would like to receive your newsletter."
Dominique "Imperial" Anglares writes from France, "Thank you very much for the information and correspondence making that newsletter a much welcome one. Thanks for the care given to my words about Lorrie and Larry Collins."
Priscilla McPheeters, Mary Kay director in Lawrence, Kansas, says, "Great newsletter! Love the stories about Dolly, Keith Urban, and Little Big Town. SO PROUD of you for such a great newsletter and for continuing the legacy of great artists. You have a gift of telling stories."
Cathie Weisenbach from Sun City, Arizona, requests, "Please add me to your newsletter list."
Linda Mellon asks, "Would you please add my address to your newsletter list? Really enjoyed reading my friend Ozzy's last issue!"
Moragh Carter writes from the United Kingdom, "Thanks for your very informative write up about Cowboy Jack. Considering the huge amount he contributed to country music and other genres, and the number of stars he set on their careers, it seems a shame that so few people have heard of him. I first met him in 2007, on my first visit to Nashville, and was then expected to call and see him every time I was in Nashville after that. I believe I visited him ten times in all, with the last time being just two months before his death in 2013. Two posts in my travel blog tell of my visits to see him, including the time I introduced him to Jack Blanchard and Misty Morgan in 2011. Back in the '70s, Jack and Misty had worked in the same building as Cowboy Jack, but never met him, only having seen him from a distance. The full story is on 'Discovering The Real America'. Thanks again. I always look forward to your next newsletter."
COUNTRY MUSIC HALL OF FAME – 2014
Make the World Go Away. I Fall to Pieces. The Chair. Don't You Ever Get Tired of Hurting Me. She's Got You. Make the World Go Away. It's Not Love (But It's Not Bad). Ocean Front Property. Miami, My Amy. Set 'Em Up Joe. A Little Bitty Tear. Is It Raining At Your House. These are a small fraction of the many hit songs written/cowritten by Hank Cochran, whose 29 Top Ten hits in 30 years made him one of the most successful country music songwriters ever. He was elected to the Nashville Songwriters Hall of Fame in 1974. Born in Mississippi in 1935, he dropped out of school at age twelve and worked on oil rigs. By age 16, he was in California to make music. Following his U.S. Army time, he started writing songs for Pamper Music in Nashville. He wrote songs such as "Don't Touch Me" and "Can I Sleep In Your Arms Tonight Mister," for his fourth wife, Jeannie Seely. Hank also recorded albums of his own music. He died of cancer in 2010, at age 74.
Ronnie Milsap was born blind into the Millsaps family in North Carolina in 1943. His grandparents took him at age one, when his mother gave him up because she considered his blindness to be divine punishment. He entered the North Carolina State School for the Blind at age six. There he learned classical and pop styles of music. While living in Memphis in 1970, he played piano and sang on Elvis Presley's "Kentucky Rain." He moved to Nashville in 1972, where he was named CMA's Male Vocalist of the Year in 1974, 1976, and 1977–and Entertainer of the Year in 1977. He established the Ronnie Milsap Foundation for visually challenged persons in 1985. He was in the first group to receive stars on the Music City Walk of Fame in 2006. Now, at age 75, Ronnie Milsap is still touring .
Popular bluegrass vocalist Malcolm B. "Mac" Wiseman was born in Crimora, Virginia, in 1925. He grew up in the Shenandoah Valley and began his career as a sideman with Flatt & Scruggs and with Bill Monroe. He was a founding member of the Country Music Association (CMA) in 1958, and its first secretary. Along with years spent as a record producer and recording artist, he managed Wheeling, West Virginia's WWVA Jamboree from 1966-1970 and hosted his own bluegrass festival in Renfro Valley, Kentucky, from 1970-1983. He has served on the board of Reunion of Professional Entertainers (ROPE) and as an officer of the Nashville chapter of the American Federation of Musicians. Now, as bluegrass elder statesman, Mac Wiseman continues to influence young musicians. He is 93 years old.