NASHVILLE TRIP REPORT
The day before flying to Nashville, I received an email from United Airlines that suggested changing my flights to avoid weather congestion in Chicago. But rescheduling before knowing there was a problem seemed like an unnecessary hassle. Kayo Paver, Perry Steilow and I showed up at the Sioux Falls airport on Friday morning and checked in for an on-time flight. Then it slid. And slid again. By the time we got off the ground, we knew we couldn't make our connection in Chicago. However, our flight from Chicago to Nashville had also been delayed. We rushed from the far end of Terminal F to Terminal B and found our flight had been delayed even further. Time to relax. We arrived in Nashville only one hour later than originally planned.
On the way to our hotel, we stopped for a visit with Coleman Murphy, whom Perry and I had met several years ago when he came to South Dakota as lead guitarist in John Anderson's band. He and his wife, Carol Grace Anderson, live in a beautiful, multi-story brick house on the edge of a forest. After our flight, Kayo and I appreciated the wine and cookies Coleman served us. What better snack could there be?
We checked into our Music Valley hotel and then walked to John A's for all-you-can-eat fried catfish. That was a must-return location from when Perry and I visited in December. We intended to return for fried green tomatoes, but our days filled up so fast we never made it back there.
The Music City Bar & Grill was our next must-return visit. While there, we heard that Mel Tillis Jr. would be playing at The Troubadour, across the parking lot. What a surprise to walk into what used to be the Texas Troubadour Theater, where the Midnite Jamboree was held for decades, and find the theater had been turned into a nightclub. We enjoyed the traditional music and Mel's band, the Memory Makers, which featured fiddle player Wade Landry, whom Kayo and I had met on a previous visit.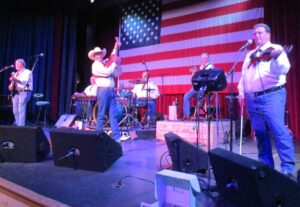 When we first arrived, and Kayo went to the bar to buy our drinks, she noticed the man next to her was dressed the same as the musicians onstage. She said, "You look like you should be up there with them." He told her he would be, in a few minutes. Then it hit her that this was the star of the show, and she couldn't remember his name. He introduced himself. He later told us his parents had three daughters when he was born, and Mel Sr. said, "I finally got me a sonny boy!" Lonnie Mel Tillis Jr. has been known as Sonny Boy for his entire 57 years.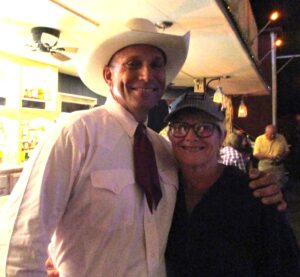 We returned to The Troubadour on Saturday afternoon for Tracy Pitcox's three-hour Heart of Texas Roadshow. Tracy not only brought his entertainers with him from Texas, he also brought his audience, two busloads of Texas tourists. I'd been looking forward to seeing Mona and Darrell McCall and was disappointed they weren't there; Mona had hurt her back and couldn't travel. The president of the Ohio Country Music Hall of Fame introduced the McCall family (Darrell, Dennis, Diane, and Dee Jee) as having 250 years of music and six decades on the Opry. "This very talented family is considered country music royalty in Ohio," he said. When they had been inducted into the Ohio Country Music Hall of Fame on June 8, Dennis hadn't been present, so he received his plaque during the Heart of Texas show. His sisters, Diane McCall and Dee Jee Overbey (widow of steel player Dicky Overbey), joined him. Diane sang during the show.
Tayla Lynn and Trey Twitty, grandchildren of Loretta and Conway, kicked off the afternoon with "Louisiana Woman, Mississippi Man." One of the performers was a young man named Zac Clifton, who sang the Hank Williams classic, "Ramblin' Man." It's always great to see the new generations carrying forward our traditional music. I finally got to meet Margie Singleton, whom I'd profiled in my newsletter in 2018 (https://dianediekman.com/dianes-country-music-newsletter-19-september-2018/). She is still singing well and recording at age 86. Tony Booth closed the show.
Sitting there looking at the stage, I reminisced about the night in 2007 when Darrell McCall and the Country Deputies held a reunion on the Midnite Jamboree as part of my book release party for Live Fast, Love Hard: The Faron Young Story. I could see the stair railing at the right side of the stage and the spot where the speaker stand had been. I remembered going up the steps and speaking to the crowd in their theater seats (which was now a dancefloor). I remembered announcer Jennifer Herron and her recognizable voice; I always enjoyed listening to her on the Jamboree. And suddenly there she was. She introduced her husband, Bobby Marquez, as one of the performers. I caught up with her later to say hello.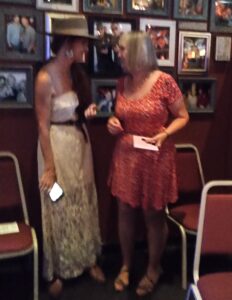 That evening, we attended the Grand Ole Opry. Thanks to Bill Anderson for getting us backstage access. I was sorry not to see him that night, but I'm sure he enjoyed the fortieth anniversary party of Mr. & Mrs. Les Singer, which is what caused him to change his schedule. I asked Perry to take a selfie of us at the backstage entrance, and we were getting in position to do that when a man walked up and Kayo asked if he could take our photo. He said he probably could and introduced himself as Chris Hollo, the official Opry photographer for the past 22 years. So we have a professional photo instead of a selfie.
Once backstage, we surprised Perry's friend, Bob Bussiere, who runs the Opry sound crew. He walked past us talking on his phone and did a doubletake: "Perry Steilow! Holy s***!" The two had been in a band together decades ago. Bob took Perry to the Circle at the front of the stage for their photo together.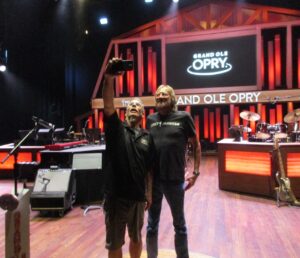 Bob explained to us that the seats in the backstage pew are sold for $500 per VIP pass, which allows ticket holders to watch the first hour of the show from backstage and have access to a dressing room and visits from Opry performers. The seats hadn't been sold for that performance, and Bob told us we could sit there. One man was sitting in the pew, and Kayo asked, "Did you have to pay to sit here?" He said, "No, I'm a musician." She asked who he worked with, and he said Jeannie Seely. It was Danny Davis, Jeannie's longtime guitar player, and he was soon standing at the front of the stage to kick off the show. We had earlier stopped by Jeannie's dressing room and chatted with her husband, Gene Ward, and fiddle player Kenny Sears. We said a brief hello to Jeannie.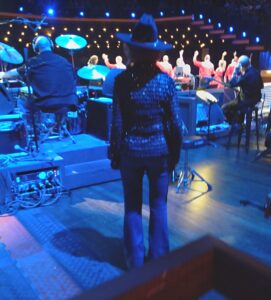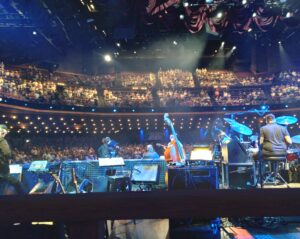 Wandering past the dressing rooms during the break between the two one-hour shows, we ran into Tracy Pitcox and Tony Booth.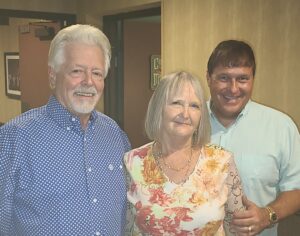 On Sunday afternoon, we drove downtown to the Country Music Hall of Fame to see steel player Steve Hinson in the Ford Theater for his Musician Spotlight. While waiting for his show, we toured the Bill Anderson: As Far As I Can See exhibit and checked out the new Chris Stapleton: Since 1978 exhibit. Then, while Perry relaxed, Kayo and I accepted Ron Harmon's invitation to tour RCA Studio B, which I'd never visited. We rode the trolley up Demonbreun Street to Music Row. It was hard to imagine the activity that took place in that small building over the years. We later walked to Lower Broadway to see if the Ernest Tubb Record Shop had reopened. It hadn't. The windows were dark and empty, and a cop was standing in front of the closed door.
The next day, Kayo and I returned to the Country Music Hall of Fame and spent three hours in the archives, with her looking through Randy Travis newspaper articles and me viewing video clips. We send our thanks to Senior Archivist Kathleen Campbell for her hospitality.
Every morning, I ran/walked three miles from our hotel, past the Opry House, to the south end of the Opry Mills Mall and back. Monday morning, I got drenched. The rain cooled the temperature, which had been in the mid-90s over the weekend.
Perry and Kayo had both ordered hot chicken at various food venues and were unimpressed by the quality and taste. I told them I'd find them genuine hot chicken. I knew about hot chicken because I'd reviewed the book Hot, Hot Chicken: A Nashville Story for the Internet Review of Books. I checked the internet for Prince's Hot Chicken Shack, where hot chicken had originated, and found its current location at 5814 Nolensville Pike in Nashville. Kayo and I drove there and placed our takeout order. During the half-hour wait, we saw a steady stream of people picking up their orders in the middle of a weekday afternoon. There were people eating inhouse, but most of them ordered takeout. Although I had no interest in trying any, Perry and Kayo agreed it was excellent hot chicken.
Kayo came back to our room one afternoon and announced she'd found a country music walk of fame in front of a golf store. She wondered if I knew what it was. We walked over to check it out. There were more than 100 entries in concrete, a spread of autographs, handprints, and shoeprints from a who's who of country music entertainers, all dated mid-1982. I recognized most of the names, and very few are still alive. When I later looked up 2515 McGavock Pike on the internet and found this photo of a wax museum, we were both happy that Edwin Watts Golf has preserved these images: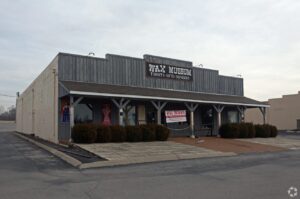 There were two more things I wanted to accomplish during our visit, and both appointments fit into our last day in Nashville. We drove to Green Hills on Tuesday morning to meet independent record producer Kyle Lehning, who has been a great help to me in writing Randy Travis's biography. Kyle produced almost all of Randy's records, as well as those of Dan Seals, and before that, England Dan and John Ford Coley. He has produced or engineered hits for many others, and he's still busily working. When he bought his house about twenty years ago, it had a nine-car garage, which is now a three-car garage, with the six rear stalls in the building turned into his studio.
We left Green Hills and drove to Ashland City to meet Patrick Smith, the Cheatham County Register of Deeds. He handed me a stack of papers that showed the property ownership of Randy Travis and Lib Hatcher in the county. I was surprised to learn the first piece of property Randy ever owned was the Braxton Lee homestead, which he and Lib purchased in late 1986 (after "On the Other Hand" had been #1) and sold in 2005. I don't know if they ever lived in the house. They purchased their Big Marrowbone property in 1987 (after "Forever and Ever, Amen" had been #1), moved there in early 1988, and sold it in 2001.
Braxton Lee was a prominent early settler who arrived in the middle Tennessee area from Virginia in 1796. His family purchased 640 acres and settled in the area that is now Ashland City. In 1811, he and his wife built a log farmhouse, large smokehouse, and a summer kitchen that still stand today. The Lee house is the oldest structure in Ashland City and is 45 years older than Cheatham County.
Patrick filled us in on the current situation with the Braxton Lee homestead. In 2018, a group of concerned Ashland City residents stopped the Cheatham County Commissioners from buying the remaining 57-acre parcel of land to build a new county jail and other county buildings. The property was then sold to developers who want to build a 300-home residential subdivision. The city is apparently more interested in income from development than in preserving history and has refused to try to purchase the property. An attempt to get it listed on the National Register of Historic Places failed because a previous owner covered the exterior with vinyl siding. Patrick is part of the group fighting for permanent preservation. First, they have to purchase the property, which doesn't seem to be for sale. This website describes the attempts to preserve the homestead.
When we finally found the address, we could see a rooftop in the distance, surrounded by bushes, at the top of a hill. Perry asked if Kayo and I were going to walk up there. Great idea! We hopped out of the car and started up the rocky, barely discernible road.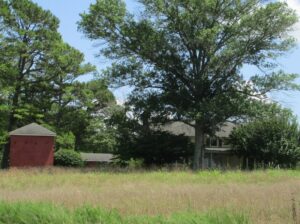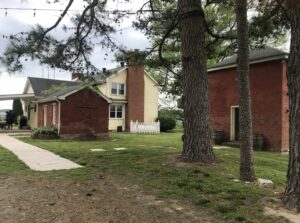 On our way back to Music Valley that Tuesday afternoon, we detoured to Jack's Bar-B-Que on West Trinity Lane for our final Nashville meal. We returned to our hotel to learn our flight to Chicago in the morning had been canceled. Expecting to spend my last evening in Nashville on the phone with airline agents, I was happy to discover we had already been rerouted through Denver.
We went to the Nashville Palace one last time, Kayo and me wearing our Navy ballcaps. When Kayo noticed a man in a Navy veteran ballcap standing at the bar, she walked over and said, "My cap wants to talk to your cap." They reminisced about their Navy days, and he is now a newsletter subscriber. Welcome to submariner Bob Dalton, formerly a yeoman petty officer second class.
Our Wednesday flight went off without a hitch. We left fifteen minutes later than our original flight and returned to Sioux Falls an hour earlier than scheduled.
NEWS
Olivia Newton-John (1948-2022)
After a 30-year battle with metastatic breast cancer, Dame Olivia Newton-John died peacefully at her ranch in Southern California on August 8. She was 73. Her husband, John Easterling, whom she married in 2008, was by her side, along with other family and friends. She has one daughter, Chloe Rose, born in 1986 during Olivia's eleven-year first marriage. In her 2018 memoir, Don't Stop Believin', Olivia talked about her goal in life being to find a cure for cancer. She described her three bouts with breast cancer (1992, 2013, and 2017) and how she started the Olivia Newton-John Cancer Wellness & Research Centre in Melbourne, Australia. She was born in Cambridge, England. Her Welsh father, Brinley Newton-John, was a college professor, and her mother, Irene, was the daughter of Nobel Prize-winning German physicist Max Born. The family moved to Melbourne, Australia, when "Liv" was a little girl. Although she returned to England in her teens to kick off her singing career, she seemed to identify only with Australia, frequently referring to herself in the book as an Aussie. She moved to the USA in 1974 because she had hit songs with "Let Me Be There" and "If You Love Me (Let Me Know)." When "I Honestly Love You" came out, she was named the 1974 CMA Female Vocalist of the Year. She acknowledged her win caused controversy. "I didn't really understand the separation of country and other music," she wrote, "since I believe music is music and just naturally crosses over. Some CMA members resented it so much, they split from the organization in protest and formed their own chapter. I felt terrible about it but not bad enough to return the award!" She was referring to the group of country stars who met at the home of George Jones and Tammy Wynette and formed the Association of Country Entertainers (ACE), which eventually faded away. From filming Grease with John Travolta in 1978 to performing at the opening ceremony of the 2000 Summer Olympic Games in Sydney, the memoir described her busy life. She was knighted in 2020 for her charity, cancer research, and entertainment achievements, being named a Dame Commander as part of Queen Elizabeth's 2020 New Year's Honors.
The Ernest Tubb Record Shop has been sold for $18.3 million to a four-person group: real estate investors Brad Bars (born and raised in Nashville) and Dale Tubb (grandson of Ernest Tubb), along with musician Ilya Toshinskiy and local attorney Grover Collins. The Nashville Business Journal reports the group bought the building and the record shop business. Tubb told News Channel 5 (WTVF) that he never worried about what would become of the record shop because "I wasn't going to let that happen. I was pretty determined to do what I had to do to preserve it." Every year, he brings his sons to the shop to get a picture in front of the building. The building and record shop were put on the market earlier this year to settle a legal dispute between the previous owners. The store has operated in that Lower Broadway location since 1951.
The Nashville Songwriters Hall of Fame has named its 2022 class of inductees, who will be honored on October 30 at the Music City Center. The Tennessean reports the five new members include singer-songwriters Shania Twain (absent from the ceremony due to being at her home in Switzerland) and Steve Wariner, who wrote his own hits of "Holes In the Floor of Heaven," "Two Teardrops," and "You Can Dream of Me." The other three hit-producing songwriters are Hillary Lindsey ("Jesus Take The Wheel" for Carrie Underwood and "Girl Crush" for Little Big Town"), Gary Nicholson (whose 600 recorded songs include "Your Love Shines Through" for Mickey Gilley and "One More Last Chance" for Vince Gill), and David Malloy ("Drivin' My Life Away" and "Suspicions" for Eddie Rabbitt).
The Nashville Convention and Visitors Corporation announced the death of Ed Hardy, chairman of the organization's Foundation Board, Music City, Inc. He died July 31 at age 73. The music industry executive was longtime president of cable network Great American Country. "Ed Hardy served this organization in so many ways," NCVC CEO Butch Spyridon said in a statement to The Tennessean, "It is very unusual to have a boss, mentor and friend all at the same time. He leaves a huge void and will be missed."
Randy Travis paid a visit to the Country Rebel Ranch to inspire up-and-coming artists Tony Jackson, Karissa Ella and Justin Holmes, according to a press release. Each artist picked a favorite Travis song to perform for him. A series that includes their performances, as well as interviews, can be seen here: https://lnk.to/cr-randyPR.
The first-ever televised performance from Belmont University's new Fisher Center for the Performing Arts will be CMT Giants: Vince Gill, an event aired on September 16. The Tennessean lists guest performers as Luke Combs, Rodney Crowell, Emmylou Harris, Cody Johnson, Reba McEntire, Maren Morris, Brad Paisley, Ricky Skaggs, Chris Stapleton, Sting, Carrie Underwood, and Keith Urban. They will share stories of working with Vince Gill and their opinions of his impact on country music. The special will include an interview with Vince, along with rare photos and performance footage. Previous entertainers on the CMT Giants program were Reba McEntire (2006), Hank Williams, Jr. (2007), Alan Jackson (2008), Kenny Rogers (2020), and Charley Pride (2021).
A pair of 46-year-old superstars will host the 56th Country Music Association (CMA) Awards show at the Bridgestone Arena on November 9: Luke Bryan and 2021 Pro Football Hall of Fame quarterback Peyton Manning. It will be Luke's second consecutive year hosting the show, scheduled to be broadcast live from 8-11 p.m. EST on ABC.
Christian singer-songwriter Amy Grant (and the wife of Vince Gill) returned home Friday after being hospitalized following a bicycle accident. The Tennessean reports she struck a pothole Wednesday while on a ride near Harpeth Hills Golf Course in Nashville. She spent Wednesday and Thursday nights at Vanderbilt University Medical Center. Her upcoming August concerts (Knoxville, Chattanooga, Johnson City, Wilmington) were rescheduled for April and June, with all tickets being honored at the new dates.
Jeannie Seely is making history as the artist with the most Grand Ole Opry appearances. Since her Opry debut in 1966, she has appeared on the show more than 5,000 times, more than any artist in its 97-year history, according to research by independent Opry historian Byron Fay. Country Now quotes Opry Executive Producer Dan Rogers as saying, "I believe I speak for staff members past and present, for her fellow Opry members, and for Opry fans around the globe when I say thank you to her for her incredibly impressive dedication to the show and that we look forward to commemorating both her unmatched commitment and 55 years of Opry membership on September 17." Jeannie joined the Opry a year after her debut.
Following a performance at the House of Blues in New Orleans, Robert Earl Keen and his band were on their way back to Texas when their leased tour bus slowed down about 3 a.m. According to Saving Country Music, the driver pulled over to check the engine, and when he opened the engine door, the bus ignited into flames. Keen and the band and entourage exited safely, pulling their essential instruments and gear out of the bus before the fire spread. Emergency personnel responded. After 41 years of performing on the road, Keen is on the last leg of his "I'm Comin' Home" Farewell Tour.
A sold-out crowd of almost 90,000 poured into the AT&T Stadium in Arlington, Texas, to see Garth Brooks, 60, on a recent Saturday night. He began his 27-song set at 9:30 p.m., an hour later than expected, and performed for two hours and 15 minutes. "When you play in a town where you pretty much started your career, you want them to be the most proud of you, but you know time is going to catch up with you at some point," he said. "I'll tell you this, Dallas-Fort Worth, Arlington, this is the greatest trip to this city I have ever had." According to the Fort Worth Star-Telegram, his normal touring band was supplemented by multiple Nashville musicians who'd helped him during his 35-year recording career. He explained he wanted them to see how their songs affected crowds around the world, and to do that, they needed to be onstage with him. He introduced everyone, with intros stretched over multiple songs, telling unique stories and providing specific details on each musician.
The Grand Ole Opry on July 30 honored Barbara Mandrell by celebrating her 50th anniversary as an Opry member. She joined in July 1972, at age 23, and retired from performing in 1997. CMT News reports a thunderous standing ovation followed Carrie Underwood's introduction of Barbara: "She has been such an inspiration to me and so many others that stand on the shoulders of great female artists like her. It's especially fitting to pay tribute to her tonight, in this sacred place we both hold so dear." Carrie, CeCe Winans, Suzy Bogguss, Linda Davis, Jeannie Seely, Janelle Arthur, Mandy Barnett, and Connie Smith all sang Barbara's hit songs.
Country Rewind Records has released Webb Pierce – A Country Boy Singing His Heart Out, an album featuring "There Stands the Glass" and "I Ain't Never," along with 13 other Webb Pierce favorites. These recordings were made solely for radio airplay, never intended for commercial release, and stations frequently discarded them after they were aired. Webb was the most popular country music vocalist of the 1950s, charting the most number one hits, with his songs staying at the top of the charts for multiple weeks. He was also one of the most recognizable, with his signature rhinestone-encrusted, lavish and flamboyant Nudie suits. According to a press release, the new album is available for streaming and download on all digital music platforms. It can also be found at https://WebbPierce.lnk.to/CountryBoySingingHisHeartOutPR.
Wynonna Judd, Ashley Judd, and Larry Strickland, widower of Naomi Judd, have asked a judge in Williamson County, Tennessee, to seal all records while authorities conduct a standard investigation into Naomi's death. A Williamson County judge granted a temporary order and set an evidentiary hearing for September 12. NBC News obtained documents stating the Judd family would "suffer irreparable harm in the form of emotional distress, pain and mental anguish should these records be released." They include photos, videos, and other graphic evidence collected by investigators. Naomi Judd died April 30 from a self-inflicted firearm wound; her daughters attributed her death to a long battle with mental illness.
CMT News reports that country trio Lady A has postponed an upcoming nationwide tour so lead singer Hillary Scott and guitarist Dave Haywood can support bandmate Charles Kelley on his sobriety journey. The Request Line Tour, slated to begin August 13 in Nashville, will be rescheduled to 2023. "We are a band, but more importantly…we're family," the group says. "We're proud to say Charles has embarked on a journey to sobriety."
The BMI Foundation's annual Nashville Songwriting Scholarship–established in 2015 to celebrate BMI's 75th anniversary–will be revised and renamed The Dolly Parton Songwriters Award, reports MusicRow. Dolly Parton says, "I have been with BMI since I published my first song as a child, so of course I'm very proud and honored to have a BMI Songwriters Award made in my honor." The Dolly Parton Songwriters Award is an annual, nationwide competition open to aspiring songwriters. The Dolly Parton Music Fund will underwrite the annual awards and support initiatives to provide or supplement music programs in public schools. Applications open in October, with the inaugural award to be presented in the spring.
LETTERS
Cal Sharp, a former Country Deputy, writes from Nashville, "Sorry to read that Grant Smith died. I called him once or twice for legal advice back when I was working for the F-bomb and he was always real nice, a great guy."
Bill Anderson writes from Nashville, "Thanks so much for posting the link to my duet with Dolly in your most recent newsletter. With all the folks who read your letters from all around the world this will certainly be a big boost for our song. I really do appreciate it. Sorry I missed you in Nashville, but hopefully our paths will cross again soon. It has just been confirmed that Universal will be releasing an American Roots version of the record on August 19th. It's the same vocal performance, but the instrumentation is geared more to the acoustical/bluegrass market with Sierra Hull on mandolin and her husband, Justin Moses, on fiddle and dobro. They are each considered tops in their field and give the record a fresh perspective. Dolly and I both love this type music, so hopefully this alternate version will connect with the fans who like the 'earthy' tones as well. There will also be a lyric video released at the same time. Feel free to spread the word."
Jeannie Seely writes from Nashville, "Great newsletter again. So sorry I didn't get to visit much with you at the Opry. That just happened to be a very busy night for me with scheduled interviews and guests. Please come back."
Debora Thomas says, "Wow that is a lovely arrangement with Bill Anderson and Dolly. Brings the tears to your eyes."
Jean Earle writes from England, "Thank you for your latest newsletter. Plenty to read there! When I got down to the LETTERS, I realised I made a mistake. I was obviously emotional about the death of Jim Marshall and once again the heat is getting to me. I gave the wrong surname to Tony in my letter. Where I got the wrong name from, I shall never know. Fortunately, Tony Byworth has forgiven me. Hope you are keeping cool and managing to keep well."
Donald Ewert says, "I just found out that Linda Martell's LP, Color Me Country from 1970, has been reissued. The vinyl is orange."
Mike Johnson writes, "Another very informative issue. Thanks for the plug in your last issue. Not much going on here except me slowly working on a new website for my art and literature works. Don't know if Donald Ewert told you, but he was hospitalized for a spell for bladder and related issues. He's home now and following the doctor's instructions. Hot and humid here on some days, but so far, not as extreme as the rest of the country. I live a couple of miles from the Pentagon. Stay safe and stay cool."
Bobby Fischer writes from Nashville, "The sketch attached is by Sylvia, great artist and now lives next door. In the '80s, I was general manager of Starcrest Records, working with Scotty Turner. We were flying high–offices in the penthouse of the United Artist tower on Music Row. I had been at my other office in the CMA building and had a knock on the door a girl named Sylvia Kirby said she needed a job she became our secretary. Then went on to work with Tom Collins, and Charley Pride got her on RCA Records. Her biggest hit was "Nobody." She drew this sketch of me, curly hair and all."
Diane: I couldn't insert your .pdf file of Sylvia's drawing. It would have to be .jpg.
Moragh Carter writes from the United Kingdom, "Thank you so much for including my letter about my Digby Deep book in your latest newsletter. That was so kind of you and the publicity will, I'm sure, help my sales greatly. I have sold a few copies face-to-face so far, with several other people expressing interest, but every bit of publicity will help. It will probably help more than we will ever know, as you have such a large audience. I'm truly grateful for the publicity you have given it."
David Markham in England says, "Thanks for your Newsletter on the best backup singer Nashville ever heard, Ms. Janie Fricke. And what a great entertainer she and Johnny were. He was young when he had his heart attack, 67? The both of them went down well when they came over to England and played Wembley. Janie was a fine musician she would play the banjo, guitar and she had a fine country voice. I used to write to her when she lived in Texas. She sent me a Signed Picture that I still have. You can't bring those days back without the artists. I'm not well; I think I've got the flu. Please forgive the shortness of my letter."
Dominique 'Imperial' Anglares writes from France, "I am back home and I am glad to enjoy that newsletter. Always a great source of information. Sorry to know about Jim Marshall's passing. Time is nobody's friend. Warmest regards from your French friend."
Aileen Arledge says, "I really enjoy your newsletter and have for many years. I used to have an act named Tracey Lynne, but she is not doing much the past few years. Your newsletter keeps me abreast of what is going on in country music these days. I just love it, thank heavens for you. I want to mention I remember seeing the McCarters when they were real young out in the street in Sevierville. They were really good then and cute as a button. Also, I saw the trio Chapel Hart on America's Got Talent when they auditioned, and they were great a very promising act. I loved them and so will everyone else. Dolly and Bill are great; I love the song."
Martha Moore of So much MOORE Media reports, "Traditionalist Country singer and American Idol alum (Season 19) ALEX MILLER is super busy again this summer and will be opening for many Country Stars: Jamey Johnson at the Wisconsin State Fair (August 4), Brooks & Dunn at the Iowa State Fair (August 12), Niko Moon at the Kentucky State Fair (August 27), Sawyer Brown at Venue in the Valley (Leitchfield, KY, Sept 4) AND will be headlining again this year at The New York State Fair (Syracuse, Sept 1)."
Carol Grace Anderson in Nashville says, "Another great collection of informative nuggets about country stars. I love reading your newsletters. Sorry I missed you and Perry's Nashville visit. I know Coleman enjoyed visiting with you and showing you around. I hope I'm here when you visit again."
Sandy Cooper in Lawrence, Kansas, says, "It sounds like you really enjoyed the concert last night. And thanks for the correction about Tony Dow's death. Someone got ahead of themselves. I hope you're having a good summer."
Robert MacMillan writes from Arisaig, Scotland, "Thanks for the continuous flow of country music news – it's much appreciated. Sad to learn of the death of Tony Goodacre. Tony championed the UK country scene singing and performing the length and breadth of the UK (and beyond) on a regular basis and in particular recording material written by UK songwriters. He published several of my songs and even recorded one and I will always be indebted to him for that. Tony was a true stalwart of the UK country scene. I was also disappointed to learn of the death of Bobby Flores – a fiddler par excellence whose playing lit up many a stage. He took time out to do a telephone interview with me for my radio show back in 2013 and I met up with him when he performed at the Northern Nashville Country Music Club Festival in Caithness later that year. I have recently re-discovered a VHS tape the late Bill Hulme of Marty Robbins Remembered sent me many moons ago. He's written on the tape box 'Marty Robbins – Dallas Shows.' I cannot recall the tape's content. Can you or one of your subscribers help with information on this? I no longer have a video recorder so can't run the tape and I have no recollection of the Dallas Shows. I recently viewed on the UK Spotlight TV Channel Ronny Robbins performing a medley of some of his dad's hits: Ribbon of Darkness/Big Iron/ 20th Century Drifter/ Carmen. I guess it was an excerpt from an American TV Show – can Ronny help with details?"
Diane: Can any readers answer Robert's questions?
CORN PALACE
The Music of Randy Travis Concert comes to the Corn Palace in Mitchell, South Dakota, on Sunday afternoon, August 28, at 2 pm. James Dupré will be singing Randy's songs, backed by Randy's band. Randy Travis and Mary will be present. You can order tickets at https://www.etix.com/ticket/v/16199/corn-palace. See you there?