MARTY ROBBINS BAND REUNION
Seven members of Marty's inner circle attended the Marty Robbins band reunion in Nashville on 18 July. Joe Vincent played steel for Marty in 1953-54. Earl White (now an Opry staff musician) was one of the original Tear Drops, Marty's first official band. Jack Pruett played lead guitar from 1956 until Marty's death. Okie Jones drove the bus and ran the recording studio. Marty hired Haskel McCormick on banjo for a year while Twentieth Century Drifter was on the charts. Joe Babcock joined the Glaser Brothers when Chuck left for the Army in 1959, and he stayed with Marty until 1965. Marty's son, Ronny Robbins, completed the group. Thanks to Joe Babcock for reserving Shoney's meeting room and to my sister, Kayo Paver, for helping me host the reunion. Jim Glaser couldn't be at there because he was in Norway, and Bobby Braddock was involved in the Country Music Hall of Fame "Poets and Prophets" ceremony for Matraca Berg. Several others who planned to attend had last-minute conflicts.
Okie Jones, Mrs. Pruett, Jack Pruett, Earl White, Haskel McCormick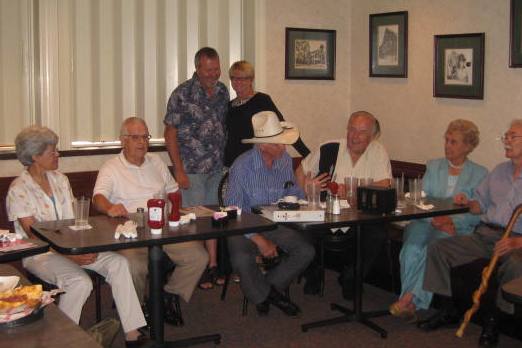 Mrs. Vincent, Joe Vincent, Ronny Robbins, Kayo Paver, Joe Babcock, Okie Jones, the Pruetts
NASHVILLE IN JULY
During our Nashville week, while Kayo and my daughters explored the thrift shops around town, I was at the Country Music Hall of Fame library, going through the research material collected by Barbara Pruett for her 1990 bibliography, Marty Robbins: Fast Cars and Country Music. (Barbara told me, "You make me happy to know that all of the material I donated is being used the way I hoped it would.") Thanks to John Rumble for granting me access to the Country Music Foundation archives. I could spend weeks in that place! I also visited six different offices at the Davidson County courthouse and was impressed with the helpfulness and friendliness of all the clerks and with the computerized research systems. Kayo and I stopped in the Ernest Tubb Record Shop one evening, and I introduced myself to the clerk even though we didn't expect this 20-year-old to care about Faron Young's biography. Instead he told me it's a great book, he's read it, and he's a huge Faron Young fan. I thanked him for keeping the legends alive into the next generation.
JESSE LEE JONES AND BRAZILBILLY
Friday night Kayo and I were walking along Lower Broadway when we heard "El Paso" coming out of Robert's Western World. That's where we spent the rest of the evening. Jesse Lee Jones (the current owner of the club) and his band were so good that we returned Saturday night to listen again. They do classic country music, with an occasional (and too short) touch of western swing and traditional western music. Jesse grew up in Brazil and he calls Marty Robbins his hero. David Tanner on upright bass is especially impressive with his singing and songwriting. Here's more info: http://www.robertswesternworld.com/brazilbilly.html. Marty would be pleased, I'm sure. A man at the table next to us was wearing a Korean War Veteran cap, so I introduced us as retired Navy, and he introduced his USMC son. The Marine mentioned being on Iwo Jima, and I said I'd been there, too. But he meant the aircraft carrier and I meant the island.
LETTERS
Jeanne Goldstone at jeanne.goldstone@ntlworld.com has a request: "This is a shot in the dark – but I wonder if you can help me.  I am looking for the sheet music (preferably EZ Play format) for two of Faron's songs: 'Have I waited too long' and 'Foolish Heart' from the album The Best of Faron Young. I have searched the internet without any success. Many thanks and I love receiving your emails about my favourite singer."
Arie den Dulk writes from the Netherlands, "We went to a concert of Dawn Sears last night. Dawn sings for Vince Gill and together with her hubby they are members of The time Jumpers. I've seen her perform in the Station Inn in Nashville twice. She performed a Faron Young song, I forgot the title. They are booked to play in Norway on the 11th. They could be back on Monday as they had only 2 gigs in Europe If you see her on Monday, please ask her which song she sang."
Response: The only Monday night I was in Nashville (11 July) is the only Monday in July that the Time Jumpers weren't at the Station Inn. I was sorry to miss Kenny and Dawn and the group.
Dominique Anglares writes from France, "Thanks for the welcome news letter and for that cool NASCAR pic of Marty. Working on a big paper about Shreveport's record labels and musicians, I come with some info about Hank Williams, Slim Whitman, Webb Pierce's early sidemen. William Herbert "Lum" York (November 16, 1918 – August 15, 2004) played bass for Hank Williams as soon as 1944. When Hank went to the Opry, Lum joined Bill Monroe before working with Lefty Frizzell, George Morgan, Goldie Hill and Marty Robbins to name a few. At the time of his death he was living in Baton Rouge (Louisiana). Watch out to find him room in your forthcoming book about Marty."
Carol Blair says, "I found this scrap of paper with this info on it but unable to recall where I copied it from. Anyhow, it is apparently a CD by Faron Young…..title is weird….PRO ARTIST Faron Young…..code # SKU 14015264 and a price of $13.98. Any idea on this CD and where it can be found? By the way, the new CD Here's Faron Young & Occasional Wife, I think is one of his very best. Have my copy almost worn out."
Mike O'Neill reminds us, "Please let your newsletter readers know that they can see pictures and old videos on You tube, just type in Marty or Faron's name."
Response: I agree that is a great resource. Our young waitress at Shoney's on Saturday had never heard of Marty Robbins, and she assured me she would type his name into YouTube to learn about him.
David Corne writes from the United Kingdom, "Just a note to say how much I enjoy reading your website. I post videos on youtube and currently have in excess of 300 (nearly all Marty Robbins). I post under the name of tarquin45 and am proud and privileged to be able to help keep this great man's music alive. I look forward with anticipation to what I know will be a great book on Marty."
Jean Earle in the UK says, "Thank you for the latest newsletter…good to see the happy picture of Marty. I have been enjoying reading the story of Brenda Lee, Little Miss Dynamite. Her career as you may know started back in the 1950s when she was very young. In her book Brenda writes of the many artists that she met in the shows and became good friends with. Young artists from the "pop-world", established singers like Perry Como and Frank Sinatra and many Country stars, Patsy Cline, Mel Tillis, Johnny Cash, Gene Autry, the list goes on and on…..it was a wonderful time. One person she especially mentioned from her early years was Faron Young. She writes nearly a whole page about her friendship with him. Brenda's book is well worth reading…..for the Pop and Country fans."
Maheen Wickramasinghe in Canada reports, "This new Marty Robbins group on Yahoo was started today by my friend, Rosella. I told her you are writing a new book on Marty and want all your subscribers to come join us to discuss about Marty: http://groups.yahoo.com/groups/marty_robbins_fan. Send a blank email to marty_robbins_fans-subscribe@yahoogroups.com. Rosella also created a Yahoo group for Faron. To subscribe, send a blank email to faron_young_fans-subscribe@yahoogroups.com."