IN THE SPOTLIGHT – ERIN ENDERLIN
Erin Enderlin made her first trip to Nashville at age 16, when she attended Fan Fair in 1998. She carried a backpack containing a Trapper Keeper full of songs she'd written. "Just in case, y'know, somebody needed a song," she explains. "I carried it all over the fairgrounds with me."
She told me that story when I called her last week. I'd been so impressed with seeing her at the Bill Anderson songwriter session at the Country Music Hall of Fame and Museum that I wanted to introduce her to my Spotlight readers who hadn't heard much about her.
Her hometown is Conway, Arkansas. (Conway Twitty combined that name with Twitty, Texas, to get his stage name.) Erin fell in love with country music as a child and started playing singer/songwriter nights and hanging out with music folks. Churches in central Arkansas hosted periodic church coffeehouses as fundraisers. Locals performed the music, and volunteers sold coffee and cookies. "I grew up playing a lot of those coffeehouse little things," Erin says.
After graduating from high school, she moved to Nashville in 2000 and attended college at Middle Tennessee State in Murfreesboro. Balancing her singer and songwriter roles, she has written songs with Bill Anderson, Jon Pardi, Bobby Tomberlin, James Dupre, Larry Cordle, Terri Clark, Rory Feek, Jon Randall, and other familiar names. She has recorded two albums. Before the pandemic shut everything down, she played about 120 out-of-town dates a year. Recently she's been playing more in Nashville, such as on the Opry and at the Bluebird.
"Monday Morning Church," cowritten with Brent Baxter, is her biggest songwriting hit so far. Alan Jackson took it to number five on Billboard in 2004. Upon meeting Erin, he said, "Nice song. Keep it country."
When Reba McEntire recorded one of Erin's songs, "that was really awesome," Erin says. "Reba was always a big favorite of mine growing up." She adds, "I've gotten to work with her some in publishing." They co-published a writer, Alex Kline. Erin formed a production company, Cotton Gin Productions, with Alex to handle Alex's projects. "I really believed in her as a producer," Erin says. "She just had her first number one, which actually made her the first solo female to ever produce a number one in country music."
I told her I'd just published a news blurb about the first all-woman team (writer, producer, and singer) to take a song to number one. That's the one Erin was describing. Canadian country artist Tenille Arts sang and Alex Kline produced. "Alex was really the most special out of that," Erin jokes, "cuz it's really about the producer."
Erin has her own new music out there. "If folks are interested in seeing me live, they can follow me on Bands In Town," she says. I hadn't heard of that site, but it appears to have nationwide coverage and be a great place to look for concerts. You can also check Erin's website. If she ever makes it to this part of South Dakota, I'll be in the audience.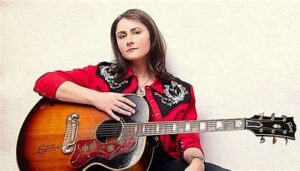 NEWS
Penny Jackson Ragsdale, wife of Ray Stevens, died at her Nashville home on December 31, following a long battle with cancer. She was 78 and had been married to Ray for more than 60 years. They have two daughters, four grandchildren, and two great grandchildren. Taste of Country had reported that Ray canceled his New Year's Eve show at his Nashville nightclub, the CabaRay, to be with Penny. A message on Ray's Facebook page said she "has had a prolonged illness and has suddenly and rapidly progressed to the end-of-life stage, and Ray is devastated."
Guitarist Gary Adams, 78, former member of the Marty Robbins Band, died January 7 at Adena Greenfield Medical Center in his hometown of Greenfield, Ohio. Gary and two brothers performed as The Adams Boys and toured with many national country music acts. They were once the George Jones backing band, The Jones Boys. Gary is survived by five brothers; he was preceded in death by three sisters and one brother.
The Recording Academy released a statement to announce the postponement of the 64th annual Grammy Awards, due to the surge in COVID-19 cases. "The health and safety of those in our music community, the live audience, and the hundreds of people who work tirelessly to produce our show remains our top priority," the statement says. "Given the uncertainty surrounding the Omicron variant, holding the show on January 31st simply contains too many risks. We look forward to celebrating Music's Biggest Night on a future date, which will be announced soon."
The Boot reports the announcement of a Garth Brooks Stadium Tour concert in San Diego on March 5. Petco Park, home of the San Diego Padres, is an unusual venue for Garth because it's a Major League Baseball stadium, rather than a football stadium. He has upcoming Stadium Tour dates in Orlando, Florida, Fayetteville, Arkansas, and Baton Rouge, Louisiana, as well as five shows at Croke Park in Ireland. He will also be playing two sold-out acoustic shows in Las Vegas in February.
Hindsight 2020, Volume 3: Angelina, the newest Tracy Lawrence CD, will be available January 28, reports MusicRow. It completes Tracy's three-part Hindsight 2020 collection that celebrates his 30 years of making country music. The title track, "Angelina," has already been released. Tracy will do a nine-date tour with Clay Walker later this spring. Alexandra Kay and Randall King will be opening acts.
Rolling Stone, the Tennessean, PEOPLE, and numerous other outlets have been reporting the "breaking" news that Tom T. Hall died by suicide. Some take credit themselves for the discovery, and most give credit to Saving Country Music for breaking the story. Which it did. Here's what happened. After publishing an article that listed 2021 country music deaths, the Saving Country Music blogger was surprised by posts from his readers that commented on the suicide and provided sources. Such as, "I originally read this at Stacy Harris's music row report." And, "Diane Diekman's newsletter also quoted this report." So the disbelieving blogger did his research and wrote the story that's now zinging around the world. Did Saving Country Music acknowledge journalist Stacy Harris as its source? No. Only that an internet search showed "a fairly pervasive rumor, tied in part to one poorly-worded and undated report."
Guests at Donald Trump's annual New Year's Eve gala at his Mar-a-Lago resort in Palm Beach, Florida, included Jason Aldean and wife Brittany, the Tennessean reports. Jason played golf with his host and later wrote on Instagram, "I got to spend a couple days with the G.O.A.T…this man is unbelievable and I wish (you) all could see what he does behind the scenes. #classact."
Real Gone Music will release a new B.J. Thomas album on February 4. According to a MusicRow report, In Remembrance — Love Songs & Lost Treasures is an 18-song CD that includes 13 unreleased songs, along with rare photos and outtakes recorded with songwriter/producer Steve Dorff. After a battle with cancer, B.J. died last May 29 at age 78.
A Merle Haggard biography is now in bookstores. Hachette Books has published the 464-page THE HAG: The Life, Times, and Music of Merle Haggard, written by Marc Eliot, whose previous biography subjects include Clint Eastwood, Cary Grant, and The Eagles. "Eliot deftly contrasts the ruthless music business with Haggard's own human frailties," according to a Library Journal review. "Details on album tracks and personnel, as well as the songwriter's craft, add valuable information, as do the chapter notes and bibliography, discography, and list of awards. Saving Country Music lists interview subjects as including Dwight Yoakam, Marty Stuart, Frank Mull, numerous members of The Strangers band, and Fuzzy Owen (who died in 2020).
Longtime music manager, agent and promoter Randy Jackson died December 21 in Alpine, Texas, at age 75. He suffered from cancerous tumors in his head and face. He began his career as a talent agent for the Hubert Long Agency. He then worked with Loretta Lynn and Conway Twitty, served as road manager for Johnny Rodriguez, as an agent for Charley Pride, and as Janie Fricke's manager. He and Janie were married during the 1980s. He returned to his college alma mater, Sul Ross University, in Alpine, where he and his current wife, Sherry, tutored athletes and supported the football team. Randy produced and promoted music concerts throughout Florida and Texas. His final concert took place three days before his death; it was a sold-out show for Asleep at the Wheel at the Cailloux Theater in Kerrville, Texas. Thanks to Dave Barton for sending me the news release.
In 1955, the American Federation of Musicians built an office at 1806 Division Street in Nashville. Marty Robbins, whose own office building was close by, later bought it and made it into his studio. After his death, a group of musicians and producers purchased it in 1985 and named it Omnisound Studios. It has been an active Music Row recording studio ever since. In 2015, it was awarded Top Studio of the Year. According to the Nashville Post, Florida-based Waypoint Residential has filed a document with the Metro Water Services Department, describing plans for a mixed-use building on that lot. There would be 143 one-bedroom units, 77 two-bedroom residences, and 14,000 square feet of commercial space.
A recent photo of Terri Clark and Kane Brown posted on Instagram has led fans to ask the pair to record together, with comments such as "The duo we never knew we needed" and "A collaboration would be lovely!!!!" Country Now reports their friendship began when Kane bought Terri's former home near Nashville. She'd purchased the property in 2014 and built a house, which included a staircase and mantel piece made with logs from one of the old buildings. Kane and wife Katelyn are adding a studio, a playroom for their two children, an additional bedroom, and a garage. The photo was taken when Kane invited Terri over to check out the renovations.
The Oklahoma-basedTurnpike Troubadours have reunited and are scheduling tour dates. They will perform at Billy Bob's Texas in Fort Worth and at Cain's Ballroom in Tulsa, along with several already scheduled shows. Taste of Country reports, "The string of shows marks the band's return after a three-year hiatus, during which frontman Evan Felker became sober, remarried his wife, Staci, and welcomed their first child together."
A recent tweet from Shania Twain reads, "Let's Go Girls!!!! Proud of you @taylorswift13. Historical records are meant to be made and then broken. The baton is meant to be passed on to new generations. Unstoppable young female country artists are 🔥 in spite of the hurdles ✊." CMT News reports Taylor Swift broke Shania's record for being the female artist who spent the most weeks at the top of the Billboard Country Albums Chart. She held the No. 1 position for 97 weeks, and Taylor is at 99 weeks.
The joke between Bill Anderson and Peter Cooper during their interview at the Country Music Hall of Fame on December 4 was that Bill wanted to get home to watch his Georgia Bulldogs play the Alabama Crimson Tide. Unfortunately for Bulldog fans, Alabama won that day, 41-24. But I'll bet Bill is cheering right now. The two teams played again on January 10, the final SEC game of the 2021-22 season, and the Bulldogs won, 33-18. That victory over the Crimson Tide put them at the top of the college football world and gave the Georgia Bulldogs their first national championship since 1980. "Georgia had a much better game plan when it came to defending the Alabama offense this time around," Athlon Sports reports. "In addition to winning his first national title at his alma mater, Georgia coach Kirby Smart defeated his former boss in Alabama coach Nick Saban." Congratulations, Bill!
LETTERS
Jeannie Seely writes from Nashville, "Awww thank you again for mentioning me… great interview with Bobby. He's such a great guy as well as a talented writer and entertainer. And I'm way past due on making banana pudding for him and Ron Harman 🥰. Enjoyed your newsletter as always. All the best in the new year!"
John Krebs sends this correction from Texas: "Just for the record, Webb Pierce died a few months shy of his 70th birthday. Webb used to claim he was born in 1926 but it was really 1921."
Dominique 'Imperial' Anglares writes from France, "Thank you very much for this news. Some good, some bad, that's the game. Thanks for all the good work done through that year that will end soon. I wish you and all the readers, writers and artists all the best for 2022."
Donald Ewert says, "Happy New Year from Milwaukee! I'm looking forward to another year of your great newsletters. In this latest one you mentioned that only a few women have produced records. I would like to add to that list Jeannie Seely. She produced Little Jimmy Dickens's great album, Country Music Hall of Fame. Jeannie also was one of the backup singers on the album. A song Jeannie wrote, 'She Always Got What She Wanted' is the first song on the album which I ordered from Little Jimmy himself and he autographed it! Happy New Year Jeannie & Gene!! P.S. I believe the first female country artist to also produce records was Bonnie Guitar."
Diane: Thanks for mentioning Jeannie's production. She tells me, "Yes… I produced his Hall of Fame cover album." Bonnie Guitar co-founded the Dolton record label and brought the Fleetwoods and the Ventures to fame in the early 1960s, at the same time she was recording herself. She had many "firsts," and producing an album may have been one of them.
Bobby Fischer reminisces, "They were filming the Hee Haw Honeys segment. Gunilla Hutton called and said let's go to lunch on their break. So I took Gunilla, Misty Rowe, and Donna Douglas to a cafe I go to. As we walked in, my pals did a double take, like what are those lovely ladies doing with that clod? Sam Louvello was a friend of mine. He produced Hee Haw and put a couple of my songs on it. 'The Unluckiest Songwriter in Nashville' was one, with George 'Goober' Lindsey. Those were the days my friend we thought they'd never end (hey that's a good song idea somebody should write it)."
Bob Glidden asks, "Could you please add me to you Country Music mailing list?"
David Markham writes from England, "Thank you so very much for your well-written newsletter. I know a lot of back breaking work went into writing this letter. But Diane your letter on who you've written about means nothing to me as I don't know anyone. I knew the Late Dottie West with a signed picture years and years ago. And Brenda Lee kindly sent a few of her signed colour pictures. I'm a Collector of Country Artist and many more and as you know, Faron Young and Family for 36 years. I was pen friends with Mel Tillis who kindly sent me many signed pictures of his family. Happy New Year To you and all your family. I'm very happy we're Country Friends."
Doug Starr in Sioux Falls says, "I am not surprised that you receive such laudatory emails about Diane's Country Music Newsletter. It contains the information country music fans want and appreciate and is written in a readable style."
Jackie Thomas says, "Love it, always so good. Have you ever done a story about David Frizzell, who's still out there playing and singing? He came out with a new Christmas album, Barnyard Christmas, love it!"
Diane: Stay tuned for my next newsletter.
VIDEO OF THE WEEK
This episode of The Glen Campbell Show, filmed in 1971 and aired January 11, 1972, features Merle Haggard, Buck Owens, Jerry Reed, Mel Tillis, Johnny Cash, June Carter Cash, Freddie Hart, and Minnie Pearl. Glen calls it his dream show, a country music spectacular. Here's an 8-minute excerpt that demonstrates how well Merle Haggard could imitate other singers, and it includes a medley by the whole group. This is the 50-minute show. It's hard to believe this was FIFTY years ago. And sad to think they are all long gone.
IN THEIR OWN WORDS
I don't remember who put me in touch with Gary Adams and Mike Cutright, but I called them both for interviews about their time working with Marty Robbins in 1982. I called Gary at his home in Greenfield, Ohio, on September 2, 2008. It was our only conversation. Still, after all these years, it comes as a shock to hear of his death on January 7, 2022.
My job with Marty started with Wayne Hobbs who played the steel. He called my brother, Don, and he didn't want to take the job, so he asked me. I wasn't even aware that Mike Cutright was going to be down there, because Wayne Hobbs had called both of us, and we both showed up at Marty's office at the same time. Of course, me and Mike's been best friends for years. We kind of laughed about it, and we auditioned for him, and then he was undecided because he only wanted to hire one. He couldn't make up his mind, so he wound up hiring both of us.
The last song he recorded, "Baby, That's Love," I wrote that. That was on his last session. The strange thing about the very last show we did, it was in Cincinnati. Me and Mike live here in Ohio, so we met him down there at the show. He was telling me, "I just recorded your song yesterday. I really did a good job on it. You're really gonna like it." That was about the only time I got to talk to him. It was really a strange day because everything was out of tune, the piano was out of tune, and we just–for some strange reason–we couldn't get in good tune.
He was gonna have the bus redone. We were getting ready to take six weeks off for Christmas. He said to be sure and get all our stuff off, because they were gonna put the bus in the shop. I remember telling Mike on the way back, "We're not gonna get back on that bus." He said, "What do you mean?" I said, "I don't know, just–we're not." I just had that feeling. Sure enough, the following day when he got back, he had that heart attack. It was a horrible event, that we just had to endure.
It was just a privilege to get to work for him. Of all the entertainers I ever worked for, he's what I classified as a real, true star. He treated his fans the way they should have been treated, and wasn't bigheaded or stuck up. He was kind of a cocky smart aleck but I always liked that anyhow. He knew he was good, and so did I, so we had no problem there.
Johnny Paycheck grew up here in Greenfield, Ohio. He's the one actually got me in the business to begin with. Right after I got out of high school, I went to Nashville and told Johnny I was coming down. At that time he was Donny Young. It was 1961. Of course his real name was Donny Lytle, from here in Greenfield. I've known him since I was 4-5 years old.
One time I pulled into Shoney's, close to 16th Avenue, and my car wouldn't start. I was supposed to meet Marty there in the office, about two or three blocks away, so I walked on over. Marty was in there by himself. I said my car won't start. We walked back over there, and in front of Shoney's, he climbed underneath the car, trying to get it going. Pretty soon them people sitting at Shoney's seen who it was, and they come out and swamped him. He didn't make no bones about it; he knew how to fix it, he said, and got under there. I didn't know anybody else I've ever worked for that would have had sense enough to even try something like that.
The reason I missed him was because he was a true musician. Then he was a singer. There is a difference. Marty had the musicianship about him. I never seen anybody–George and Paycheck and all of them–now Paycheck was kind of that way, but Marty really loved music, where the rest of them, they just did it for a living, as far as I was concerned. But Marty loved it. He'd set there and sing an hour before he'd go on stage. He'd lock himself in the dressing room and sing real loud, clearing out his throat. Me and him and Cutty would be in the bus and sing two or three hours after a show just about every night. I never seen anybody that liked music as well as he did, besides me, and I was really impressed with that. And he not only played piano, but he played pretty good lap-type steel guitar, Hawaiian style.
I remember he and I was in the back of the bus singing there one time, and I thought, I'll just show you how much I can sing like you. I was singing harmony with him, and it scared him a little bit. He said, "Now wait a minute. I don't like you to sound too much like me." I mean, I was crossing the t's and dotting the i's for him. He said, "It sounds better if you don't try to sound like me." I said, "I wasn't trying." He was something else.
The one thing I really liked about Marty is he didn't drink. He was a straight-laced hardcore good person all the way around. I sing a lot of his stuff these days, and sound a little bit like him–I don't try to sound like him, but I do. I always enjoy doing his stuff, simply out of the memory of the way he was.
My wife just passed away in January, and I'm kind of just bouncing around. We'd been married over 42 years. Four years ago, I had an almost fatal accident and that pretty much stopped my playing. I got rear-ended and slammed into a brick wall, and then smacked into the side, all in one wreck. They pronounced me dead four different times. The doctor said you had one problem. I said what's that? He said, "You wouldn't stay dead." It was March 4, 2004.
I've been a guitar player since three years old, and that car wreck crushed my left arm, and they put metal rods down there, and my motor skills never come back like they was, in my left hand. In the past year or two I've been practicing on steel guitar, because I can hold the bar. So that's what I've been doing.
Me and my brothers, we was George's first band–the Adams Boys. Me and Don and Arnie, we all played on "The Race Is On," and recorded all the things with George Jones back in the early '60s. Paycheck, he played steel sometimes, and then George would fire him the next day, and then hire him back the next month, and it just kept going. It was nice to get into a stable organization with Marty, with none of that stuff happening.
If you ever do a biography on Paycheck, call me. Me and him and Darrell McCall, we all grew up together. Darrell was from Hillsboro. That's where I've been the last 25 years, and I just moved back to Greenfield this year. Darrell and I and Paycheck was kids together.
Marty was a good Christian man. I remember him testifying there, a couple of shows back before the last one. I'm sure you've heard that story where he was having his heart operated on and saw Jesus. I was Pentacostal, too, so I knew exactly what he was talking about. He was a very devout man, him and his wife. That's the faith they were in, and I think kind of a common bond we had. I'd shared some experiences with him, and he'd share his. It's one of the reasons I think we bonded so well together in such a short time. I'm looking forward to seeing him on the end of the next life. I know where he'll be.