CONCERT REVIEW – SUZY BOGGUSS
Coteau Entertainment recently hosted Suzy Bogguss at the Performing Arts Center in Sisseton, South Dakota. It was a show worth driving 170 miles to see. Just Between Friends gave their usual excellent opening performance.
Suzy played a 90-minute set, with the backing of Elio Giordano on upright bass and Craig Smith on rhythm and electric guitar. Craig came from Scotland to attend college to play the guitar. He learned well, there's no doubt about that. Elio has worked with the Mavericks, and he does sales and promotions for WSM radio in Nashville. Suzy's husband of three decades is Doug Crider, who served as sound man for the show. A noted songwriter, his 187 BMI songs include "First Step" for Tracy Byrd. He wrote the BMI-award-winning "Letting Go" for Suzy.
She told us Doug wrote the song about her and her mother at the time she graduated and left home. When she recently rerecorded "Letting Go," it had a whole new meaning for her. Now she was singing from the perspective of the mother losing a child instead of the young woman going forth into adventure.
While growing up in Illinois, Suzy and her friends drove around town listening to Merle Haggard on the 8-track player. Her dad gave her his fishing car when she turned sixteen, and the music came with the car. Merle became such an influence that, years later, she recorded an album of songs he'd written.
The story that struck me the most was her post-college venture. After graduating from Illinois State University in 1980, she drove alone out to Wyoming, where she spent months exploring new territory and making music with her guitar and amp. She would enter a small town, walk into a business, and offer to entertain the customers. At one trading post, she sang to earn a leather jacket. She said she still has friends from those days. That's gutsy beyond my imagination.
Several times during the evening, Suzy commented on the amazing acoustics. For her final encore song, she and her sidemen unplugged their guitars and stepped to the front edge of the stage. She led the audience in singing "Red River Valley." I don't know if the sound carried to the back of the almost-full house, but it was an intimate experience in the third row.
Suzy and the promoters agreed she will return for another show. In the meantime, those in the Sisseton area will be able to see Jimmy Fortune on Saturday, August 4.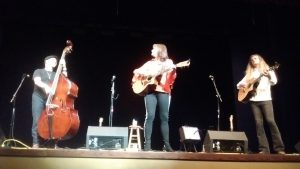 NEWS
Wayne Secrest, 68, of Confederate Railroad died June 2 after a lengthy illness. Poor health had forced him to stop touring late last year. He was one of six musicians who founded Confederate Railroad in 1987. The band initially played bars and clubs in the Atlanta, Georgia, area, and worked as backing band for David Allan Coe and Johnny Paycheck. Their biggest hit was "Queen of Memphis." I liked "Trashy Women" and "She Took It Like a Man."
In the early 1990s, Steve Smith and a partner paid under $10,000 for Tootsie's Orchid Lounge on Lower Broadway in Nashville. The Tennessean reports, "Smith, who in the early years did everything from stocking Tootsie's bar to working the door, is now one of Lower Broadway's honky-tonk barons. A quarter-century after he bought Tootsie's, the bar sells 11,000 beers on a busy Saturday night." Tootsie's celebrated its 57th anniversary last year. New nightclubs are opening on a regular basis. But how are musicians treated in this tourist boom? Dave Pomeroy of the Nashville musicians' union says, "The clubs, servers, tour companies and taxi drivers are all making more money than ever before, but in most cases, it does not trickle down to the players. The supply versus demand factor works in favor of the clubs."
Bill Anderson is currently in New York City for the Songwriters Hall of Fame induction on Thursday night. He posted on Facebook that all three of his children would be attending with him. Gus Arrendale of Springer Mountain Farms chicken, Bill says, "is bringing his personal jet from Georgia to Nashville to transport my friend, Vickie, and my daughter, Terri, to New York, neither of whom would be strong enough health-wise to travel that far on their own. My daughter, Jenni, and my son, Jamey, along with his wife, Beth, are coming along too." Steve Wariner will sing and do the actual induction.
During her second Sunday afternoon as Willie's Roadhouse deejay, Jeannie Seely told this story: When she was married to songwriter Hank Cochran, they owned a houseboat on Old Hickory Lake. One night after the Friday night Opry, Jeannie drove to the lake to spend the night on the boat. It wasn't close enough to the dock for her to board, so she called and called to her husband, without response. Finally, she sang, "Can I sleep in your boat tonight, mister?" Hank immediately came on deck. But instead of pulling the boat closer, he left Jeannie standing on the dock, and he said, "No, sing it like this: Can I sleep in your arms tonight, mister?" And a song was born. "Can I Sleep in Your Arms" reached number 6 on Billboard for Jeannie in 1973.
A new coffee company in Steamboat Springs, Colorado, is named for a classic Marty Robbins song. The Big Iron Coffee Company, established by Bowen Rodkey and Nina Mundy Rodkey in January, is a wholesale business with a 10-kilo Proaster machine and a public tasting room. Daily Coffee News describes the décor as, "Decked out from floor to ceiling in beetle kill pine with the rustic austerity of a wild frontier general store, the mini-cafe's single-group chrome Modbar mounted on the counter stands in sharp contrast to the ram's skull mounted on the wall behind it."
Netflix is teaming with Dolly Parton to produce eight made-for-TV films, with each installment based on one of her classic songs. Dolly will appear in select films. "As a songwriter, I have always enjoyed telling stories through my music," she said in a statement. "I am thrilled to be bringing some of my favorite songs to life with Netflix. We hope our show will inspire and entertain families and folks of all generations, and I want to thank the good folks at Netflix and Warner Bros. TV for their incredible support." Rolling Stone Country reports Dolly is currently working on music for the film Dumplin', in which a plus-sized teenage daughter of a former Texas beauty queen enters a pageant as a protest. The film stars Australian actress Danielle Macdonald as Willowdean "Dumplin'" Dickson and Jennifer Anniston as her mother. Its release will be accompanied by a soundtrack album on Dolly Records/Sony Music Nashville.
Real Country is an upcoming singing competition with Shania Twain as co-executive producer. Taste of Country reports the eight-episode series on USA Network will have judges Shania, Jake Owen and Travis Tritt selecting solo artists, groups and duos to perform in weekly showcases. The winners of the showcases will compete on the grand finale for the chance to be crowned as breakout stars. The show will tape in Nashville this summer. "I've never been shy about how I feel about country music, so I can't wait to join Real Country to share my experiences and thoughts," Travis stated. "Like I always say…if you don't want my opinion, don't ask me a question." Shania hopes to "pay it forward" by helping to discover new country music trailblazers. "I feel it's time for me to add my own support in finding our greatest undiscovered talent," she says. "I'm on a mission to find artists who will keep country music diverse and dynamic — the kind of diversity that inspired all of us."
At the 17th annual Americana Honors & Awards, on September 16, the Americana Trailblazer Award will be presented to k.d. lang. Following the award ceremony, she will headline a show at the Ryman Auditorium as part of her Ingenue Redux Tour.
The Canadian Country Music Association will induct Terri Clark into the Canadian Country Music Hall of Fame on September 9. A native of Medicine Hat, Alberta, Terri has sold more than five million records in a career spanning more than 20 years. She said in a statement, "Being celebrated as one of Canada's most influential country musicians is a recognition I do not take lightly and one I will forever be proud of."
During the middle of his concert at the VIP experience in Atlanta, Georgia, Luke Bryan recognized his old next-door neighbor sitting in the front row. "Bernice Wiggins?" he asked in surprise. He laid his guitar on the stage and jumped down to give her a hug. Luke was born in Leesburg, Georgia, and moved to Nashville when he was 19.
LETTERS
Ray Harrison writes from Tucson, Arizona, "I was proud to have been a part of the Gary Church weekend before last and we had a truly great time with stories of Gary and his sense of humor. A really great and talented man."
Tom Merrill says, "Thank you for doing the interview with Wylie Gustafson. I saw him on an RFD TV show and really enjoyed his music. What a voice and loved the classic country tunes he did that I found on YouTube. Thank you for what you are doing to keep real country alive. Marty Robbins is my favorite of all time. Can't get 'The Story of My Life' out of my mind."
Kate Davis in Medford, Oregon, says, "Thank you so much for the story on Wylie Gustafson. It's nice to hear news of the 'unknown' superstars – those entertainers who work hard, have huge followings, do great shows and do 'all the right things' but never become a mainstream household name. Wylie is a superstar to all who've seen his show."
Jim Owen writes, "Read in your newsletter you didn't know much about Ronnie Mack. I was working with Mel at the time Ronnie was there and he was a three-ring circus. Good, bad and crazy. Fabulous songwriter, STOMP THEM GRAPES and several other hits for Mel, plus other artists, police records because he was sometimes unstable, great personality, no way not to like him. Woman crazy, and the uncanny ability to usually pick the worst of the lot. He took his own life and it was one of the few times I ever saw a tear in Mel's eyes. Mel gave me a great compliment when Ronnie died. He said, 'You and Ronnie were my favorites, and now he's gone.' Then with that perfect Mel Tillis timing, he said, 'W-W-When are you leaving?'"
Cowboy Joe Babcock writes from Nashville, "Jimmy Buchanan is a good friend of mine and has played on my last two western swing albums, the 2nd of which will be released this summer. Jimmy is a great fiddler, very innovative and also plays every Sunday in the church band at my home church, Oak Valley Baptist, Franklin, Tennessee. Jimmy hired my group, The Nashville Edition, for sessions back in the '70s. He was playing with Mel Tillis and also did some producing back then. Be watching for my new western swing album, Swing Town, which will be out this summer."
Kathleen Campbell, Print Collections Librarian at the Country Music Hall of Fame® and Museum, says, "I would love to be added to your list. If possible, I'd also like to get whatever back issues you may have so that we can save them in our collection. Thanks for the work that you do."
Diane: My newsletters are archived at https://dianediekman.com/category/newsletter
John Rumble, Senior Historian at the Country Music Hall of Fame® and Museum, writes from Nashville, "Thanks for mentioning the passing of veteran Nashville engineer Glenn Snoddy in your newsletter. I know your space was limited, but I thought you might like to know that while at WSM, Glenn sometimes assisted fellow WSM engineers Aaron Shelton and Carl Jenkins, who organized the Castle Recording Laboratory with WSM Chief Engineer George Reynolds shortly after the end of World War II. The Castle enterprise used WSM studios until 1947, when the three partners opened a studio in the Tulane Hotel downtown, not far from the National Life and Accident Insurance Company Building, which housed WSM's studios. Glenn's work at Castle included assisting on Hank Williams's final MGM Records session. At this 1952 recording date Hank cut 'I Could Never Be Ashamed of You,' 'Your Cheatin' Heart,' 'Kaw Liga,' and 'Take These Chains from My Heart.' Following his work with Owen Bradley, Glenn also ran Acuff-Rose Publications' studio. At Woodland, Glenn managed the studio for its owners. Lou Bradley (no kin to Owen and Harold Bradley), described Glenn as 'arguably the best engineer Music Row has ever seen. He could mix, fix and build equipment, and manage other engineers. And he was skilled at cultivating clients and keeping recording talent happy, too.' On a personal note, Glenn was gracious and helpful to me when I was beginning my tenure with the Country Music Hall of Fame and Museum. I'll always be grateful to him for his continued encouragement through the years. Thanks for including the information on Joe Taylor's passing. Keep them cards and (news)letters comin' in!"
Gene Burkhart says, "Great newsletter. I recorded a CD for a friend of mine in Sun City, Arizona, 3-4 years ago. It was reviewed by the editor of Country Music People in Great Britain. It was given 4.5 stars out of 5. The recording was done by Billy Williams. Billy spent several years in Nashville. He was Mel Tillis's band director and Lyle Lovett's band leader also. The writer of most of the songs is Clyde Jorgenson. I enjoy your newsletter very much."
Les Leverett in Goodlettsville, Tennessee, says, "Great one again Diane. Thanks so much."
Rose Frisbee writes, "Thanks for mentioning Ralph Emery. Brought back many great memories of both listening to his radio show and visiting him at the station. He was always fun. His co-worker Chuck Morgan was also a fun person and a great Marty Robbins fan. Your readers might be interested to know Chuck is now announcer for the Texas Rangers. When Ralph left, Chuck came on. Made for great listening especially when Marty dropped in or called. Thanks again for a great newsletter."
John Morris in Canada says, "First of all great job with the newsletter as always. I may be able to help a bit with information on Jim Buchannan. He was a member of the Jones Boys, George Jones's great group of course, from 1992 till up in the 2000s. Not sure exactly when he joined or left but I met him a number of times at different concerts from August 13th 1993 till August 27th 1997. There were 5 concerts in that time period and Jim was always a lot of fun and all the boys were true class all the way and that goes for everyone I met who worked for George, and George and Nancy themselves. I have so many stories from when I met them. At one show in Peterborough, Ontario, my guide dog Jake got his sign signed by George and even got a pet or two. Sorry for the long message, I just get carried away with great memories."
Maheen Wickramasinghe writes, "Bill Anderson, to me, is a super wonderful gentleman and a very nice person. He truly is one of the most talented singers and songwriters in the history of country music. Young people are now starting to listen to Bill and admire this super nice human being."
Bill Blough says, "I feel like I know you from reading your newsletters for so long. I missed getting my vote in for some young singers that will 'fill the shoes.' On the female side: Teea Goans and on the male: Mo Pitney. There's several more but they're a great start."
Alan Potter writes from the United Kingdom, "I loved your remarks about Vince Gill, not only a great singer but a true gentleman. I was a backstage guest at the Opry & interviewed him, what a nice guy & he kissed my wife Betty (she told everyone who would listen about that!). And they were photographed together, too….he was just so down to earth and genuine. He's a regular on my country radio shows. Just love the voice."
Carolyn Berry says, "My friends and I would like to know about Ricky Van Shelton. Can you catch us up on him? I love your newsletters. They are great."
Diane: He's one of my favorites, too. I've tried in the past to get in touch with him. I'll try again.
Ratt Reno, retired deejay, checks in from Iowa: "As always, I enjoyed the latest edition of your fantastic newsletter. In it, the Fuzz Tone on Grady Martin's guitar on Marty Robbins cut of 'Don't Worry' was mentioned. Through the years, there have been several versions of what caused that sound on the recording. In Michael Kosser's book, How Nashville Became Music City USA:  50 Years Of Music Row, he writes a quote from Gordon Stoker of the Jordanaires, who sang the background vocals on Marty's session: 'Different people have different stories about Grady's guitar, but I was standing there and it was a bad tube in Grady's amp. Rather than switching to another guitar amp, Don Law, the producer, liked the sound and used the strange sound on the cut. I was there, so I know what happened.' The sound came from Grady's guitar, not an electric bass. Through the years, I've played with bands who do that song and most guitar players tune the low E string down an octave to imitate the sound. Possibly Grady did that too but that is unknown. I'd guess he did. Another note: Most guitar amps in those years used two 6L6 tubes in what's called a Push-Pull amp, putting out a full sine-wave. With one tube out, the audio output would be only half a wave, rather than a full wave, causing the distortion. If I remember correctly, I read one time that Grady tried cutting into speaker cones to create different sounds, too. As I recall, he did that during a session with Dottie West…Don't quote me on that…I can't remember what I had for breakfast."
Perry Steilow in Crooks, South Dakota, says, "Spectacular, as is to be expected these days."
Jody Nix writes from Big Spring, Texas, "Love the picture of Mel Tillis and Ray Price."
Glenda Parks in Kingston, Tennessee, says, "I recently discovered your site and I love reading the news of country music. Would you please add me to your newsletter list?"
Pete Turner writes from Mornington, Australia, "A friend sent me one of your newsletters and l was impressed. Can you please add me to your mailing list? Whilst you & my friend Don Holland are both ex-Navy, l am ex-Army. A Sqd. 3rd. CAV.  Vietnam. P.S. Jerry Lee Lewis should be in the Country Hall of Fame."
Dominique "Imperial" Anglares writes from France, "Thanks for that much appreciated new edition of your great newsletter. Greetings for the work done and thanks to all the contributors. It's always great Country reading time. Thanks for the care given to my words. Take care and keep the good work going on."
BOOK REVIEW – THE STORYTELLER'S NASHVILLE by Tom T. Hall
This 1979 memoir, The Storyteller's Nashville, is the story of a man who "had known from the age of four that I would drive to Nashville and become a song writer." Tom Hall did just that in 1964, when he arrived in Nashville with $46, a guitar, and the rose-colored Cadillac he'd bought because "someone told me that writing my first song would not buy me a Cadillac." He met his future wife when he attended a BMI awards dinner where his songs (recorded by Johnny Wright and Jimmy C. Newman) won awards. Tom was "sitting across the table from Mother Maybelle [Carter] and Dixie Dean, as she was then called. She was a trifle on the plump side and she was eating a baked potato. I said, 'Is that why you're so fat?'" Dixie was editor of the Music City News at the time, and she eventually agreed to marry this romantic songwriter: "We were sitting, having a sandwich in the Pancake House on Division Street near the Vanderbilt campus when I asked her," he writes. "I explained that we were pretty well adjusted to one other, and I had a little money in the bank." Also in that same year, 1968, he "became an entertainer." His label head thought Tom Hall wasn't a catchy enough name, and the T. was added.
COUNTRY MUSIC HALL OF FAME – 2008
"The Storyteller" (so named by Tex Ritter) Tom T. Hall wrote his first song at age nine in Olive Hill, Kentucky. He played in a bluegrass band in high school and joined the Army in 1957. While stationed in Germany, he performed on the Armed Forces Radio Network. Back home, he worked as a radio deejay and then moved to Nashville in 1964 to pursue a songwriting career. A few of his many songs recorded by others include "Hello Vietnam" (Johnny Wright), "Harper Valley P.T.A." (Jeannie C. Riley), "The Pool Shark" (Dave Dudley), "Margie's at the Lincoln Park Inn" (Bobby Bare), and "Little Bitty" (Alan Jackson). Jerry Kennedy signed him to Mercury Records in 1967, with his first release being "I Washed My Face in the Morning Dew." A few of the hits he wrote for himself include "A Week in a Country Jail," "The Year That Clayton Delaney Died," and "Old Dogs, Children and Watermelon Wine." He joined the Grand Ole Opry in 1971 and was elected to the Nashville Songwriters Hall of Fame in 1978. After retiring from the music business, Tom T. and his wife, Miss Dixie, focused on advancing the careers of bluegrass artists. They lived on their Fox Hollow farm outside Nashville until Dixie's death in 2015. Tom T. Hall is now 82.
The daughter of a career Marine Corps officer, Emmylou Harris was born in 1947 in Birmingham, Alabama. Her musical fame began when Gram Parsons invited her to sing harmony and join his band. Through the country-rock genre, she brought millions of new young fans to country music. She earned a reputation for discovering outstanding new songwriters and musicians, such as Rodney Crowell, Ricky Skaggs, Tony Brown, Emory Gordy Jr., James Burton, and Sam Bush. The female singers of the 1980s and 1990s who considered her their primary influence included Suzy Bogguss, Mary Chapin Carpenter, Deana Carter, Terri Clark, the Dixie Chicks, Patty Loveless, Kathy Mattea, Pam Tillis, Trisha Yearwood, Iris Dement, Nanci Griffith, and Lucinda Williams. Emmylou moved to Nashville in 1983, where she became active in arts and charitable functions. In addition to her own numerous hits, she has frequently recorded duets and has sung harmony on hundreds of recordings. She served on the Board of Officers and Trustees for the Country Music Hall of Fame and Museum. She founded an animal shelter in Nashville and, at age 71, devotes much of her time to charitable causes.
One of the pioneers of country music, long overdue for Hall of Fame recognition, was finally inducted in 2008, forty years after his death. Ernest Van "Pop" Stoneman, born in Virginia in 1893, became one of the first commercial country artists with his hit recording of "The Titanic" in 1925. His success encouraged Ralph Peer of Victor Records to schedule the Bristol, Tennessee, sessions in 1927. The Carter Family and Jimmie Rodgers made their first recordings there. During the Depression years, Ernest and Hattie Stoneman struggled to raise their 13 children in the Washington, D.C., area. After World War II, "Pop" began organizing a family band eventually known as the Stoneman Family. I can remember watching them on TV in the 1960s, while Pop sat onstage in his rocking chair. By then, he had given up his roles of featured singer and autoharpist. He died in 1968, the year after the Stoneman Family won the CMA Vocal Group of the Year award. When I talked to Roni (best known for her banjo and comedy on Hee Haw) a year ago, she told me she and Donna are the only two still alive. They still perform.
My all-time favorite vocal group also finally made it into the Hall of Fame in 2008. A 1955 high school group in Staunton, Virginia, reformed in 1961 to become the Statler Brothers. All native Virginians, Harold Reid (born in 1939), Phil Balsley (1939), Lew DeWitt (1938), and Don Reid (1945) joined Johnny Cash in 1964. They were part of his show for eight years, including his ABC-TV show. He got them signed to Columbia Records, with their first hit being DeWitt's "Flowers on the Wall." Jerry Kennedy signed them to Mercury Records in 1969, and he produced the recordings that made them CMA's Vocal Group of the Year from 1972–77 and in 1979, 1980, and 1984. (I cheered every year they won.) Lew DeWitt left the group in 1982 because of Crohn's disease; he died six years later. His replacement was also a Virginian, Jimmy Fortune, born in 1955. Their future hits included numerous Fortune songs: "Elizabeth," "My Only Love," "Too Much on My Heart," and "More Than a Name on a Wall." The group retired in 2002, and Jimmy Fortune has toured as a solo act since then.