Today would have been Carl Smith's 90th birthday.
FEATURED ARTIST – TOM T. HALL
I've been trying to contact Tom T. Hall for a while now for an interview. Bill Anderson told me, "I have not spoken with Tom T. in quite some time, but Peter Cooper has been working with him on a book project. Why don't you reach out to Peter at the Hall of Fame?"
I contacted the country music journalist and author, and Peter agreed to forward my request to Tom T.'s assistant. She responded, "Mr. Hall is very flattered that you would want to interview him but he no longer does interviews. He said you should interview Peter about Tom T. Hall, that Peter knows more about him than he does! And that you can believe anything Peter tells you."
So I did, and here's what Peter Cooper said:
Tom T. Hall, known to country music fans as "The Storyteller," is retired and living in Brentwood, Tennessee. He has been busy of late, finishing a revised memoir and a book of poems.
 The memoir is The Storyteller's Nashville: A Gritty & Glorious Life in Country Music. It is a window into a Nashville that no longer exists, and also a window into the mind of one of America's greatest songwriters. I was pleased to write the introduction for the revised edition of a book that I have spent a lifetime reading, over and over. "Tom T. Hall captures the language, the mentality, and the soul of our people better than anybody who ever wrote a song," says Country Music Hall of Famer Bobby Bare, and I believe Bare is correct in his assessment.
 Tom T.'s book of poetry is called They Would Not Be Songs, and it is available at www.amazon.com. Some of his poems are hilarious, some are harrowing, and all are wise.
NEWS 
For the first time in seven years, Lloyd Green played a public show. He and guitarist Billy Sanford performed at the Family Wash on March 1, as part of Rusty's Country Cavalcade. This is a collection of primarily session musicians assembled by steel guitarist Russ Pahl. "At the sessions, players are special guys. But in the real world, they're chopped liver. I've always thought they should be treated more like artists…they all have artistic spirits," Pahl told The Tennessean. "Both Lloyd and Billy lost their wives last year. I thought, 'Maybe it'll be good to get those guys out…There's this whole East Nashville scene where people are enjoying old country music.' " After the years spent caring for his wife, Lloyd says, "All my friends were encouraging me to get back into music. This is a first, tentative step."
Don Markham, 85, died February 24 of undisclosed causes in Oildale, California. A close friend of Merle Haggard and a longtime member of the Strangers, he played saxophone and trumpet and appeared on most of Merle's recordings after 1973. He retired in 2013 due to poor health.
Don Warden, manager of Dolly Parton since she became a solo performer in 1974, died March 11 at age 87. A founding member of Porter Wagoner's band and the steel player on The Porter Wagoner Show from 1960-1974, Don was inducted into the Steel Guitar Hall of Fame in 2008. "I've known and loved Don Warden since I joined The Porter Wagoner Show in 1967," Dolly wrote on her website. "He was like a father, a brother, a partner and one of my best friends. I feel like a piece of my heart is missing today. Certainly a huge piece of my life is gone."
The new general manager of the Grand Ole Opry is Sally Williams. This is one of her functions under the title of Senior Vice President of Programming & Artist Relations for Opry Entertainment. She is responsible for all booking, programming, artist relations and artist collaborations for the Grand Ole Opry, Ryman Auditorium, and other Opry Entertainment Group venues. Colin Reed, CEO of Ryman Hospitality Properties, told MusicRow, "I have never been more excited about the opportunity we have to expand the Opry's reach and share its story with more people than ever before. Sally is uniquely qualified to lead this new division." She has received numerous industry awards and recognitions for venue management, talent buying, and event promotion, and is currently serving as the 2017 chairman of the County Music Association.
Jerry Lee Lewis is suing his daughter, Phoebe, and her husband, Ezekiel Loftin. Legal documents, according to TMZ, say she schemed to spend his fortune while she managed his career from 2000-2012. He says she forced him to tour despite his poor health, and she gave him a "heavy cocktail of psychotropic drugs" to keep him under her control. When at home, she kept him in a moldy house where he had to wear an oxygen mask. Jerry Lee first sued the husband, TMZ reports, "for allegedly spending at least $5 million of his money on luxury cars, real estate and plastic surgery." He added his daughter to the suit, saying he wants his money back, and he wants to block the Loftins from using his name or likeness.
Bass singer Hurshel Wiginton, 79, died March 6 after several years of declining health, reports The Tennessean. He was a founding member of the Nashville Edition vocal group, along Joe Babcock, Dolores Edgin and Ricki Page. The quartet sang on approximately 12,000 recordings from the 1960s-1990s, including Dolly Parton's "I Will Always Love You" and Dottie West's "Country Sunshine." The Nashville Edition appeared regularly on Hee Haw from 1969-1989.
When Ronnie Dunn drove into Death Valley recently to pursue his passion for photography, he inadvertently entered a protected area. Country Music Nation reports the later Facebook exchange between Ronnie and his fans. A police officer issued him a citation and made him rake over the tire tracks he'd made. He said he had followed the tracks of another vehicle to get there and had no idea he was doing anything wrong. When a fan suggested there should be a sign to warn visitors to stay out of the undesignated area, Ronnie said he'd missed the posted sign. "Not that it matters but I wasn't out there 'doing donuts,'" he wrote on Facebook. "STILL, the law is the law. Officer Solomon meant business."
A remake of Johnny Paycheck's "Take This Job and Shove It" has been recorded by a California country rap duo, the Moonshine Bandits–Big Tex and Bird. To sing on the record and star in their video, they called on the song's writer, David Allan Coe. Nash Country Daily reports the video was filmed at the Ohio Reformatory (the Shawshank Prison in the movie The Shawshank Redemption), where David Allan Coe once served time for car theft. The video includes a scene with him inside his former cell.
The new Madame Tussauds Nashville location will include a wax figure of Reba McEntire. "Each Madame Tussauds figure takes months for professional artists and sculptors to create," reports Sounds Like Nashville. "Researchers take more than 300 measurements to re-create icons from around the world." The Nashville location will highlight artists in various musical genres — Country, Rock n Roll, Jazz, Blues, Pop.
An unexpected serenade surprised Carrie Underwood on her 34th birthday, reports Taste of Country. "Loretta Lynn just called and sang me happy birthday!" Carrie posted on Twitter on March 10. "How is this my life? #bestpresentever #happybirthdaytome #legend."
A New York City judge has issued an order of protection against an obsessed fan of Taylor Swift. Page Six reports he has been lurking around the condo building on Franklin Street for the past three months. Taylor bought the luxurious Tribeca penthouse, 10,000 square feet in size, for $20 million in 2014. Her criminal complaint against the stalker says he first showed up in December, requesting a sit-down with the star. He was told to get lost. He returned four more times and entered the building. He was captured on surveillance footage in the hallway outside her penthouse door and on the building's roof. He rang her door buzzer for an hour straight on one day and 45 minutes the next day. He called her management company 59 times, demanding to be put in touch with Taylor. He is being held on $20,000 bond for stalking and burglary charges.
LETTERS
Johnny Western posted on Facebook (3/12): "Gene Autry sang 'I'm back in the saddle again.' Now, that is me! My final meeting with Dr. Kip Sharpe was right on. He showed us my final x-rays and the hip replacement turned out great. No more walker or cane, but advised to ease back into life without them as we are now just 6 weeks past surgery. Yippi ki yay!!!!"
Jean Earle writes from the U.K., "Thank you for your newsletter…always enjoyed…I clicked on the link that was given to you and your readers by Jim Marshall…..It was to view some of the 'Great Reunion' videos. What a WONDERFUL trip down memory lane. To see all those lovely artists…some sadly no longer with us…was really very emotional, but such a lovely chance to see them all again…Thank you to Jim for giving us this information and to your newsletter for telling us about it. One show caught my eye was when Bill introduced a young singer who was on a tribute show for Merle Haggard…his name was MO PITNEY. What a fine voice and charming personality…What can you please tell me about this future STAR!!!"
Diane: Mo Pitney has had hits with "Boy & a Girl Thing" and "Country." Bill Anderson, Bobby Tomberlin, and Mo wrote "Country." When it charted in 2015, it made Bill the only songwriter who has ever had a hit song in seven consecutive decades. Mo's website is http://www.mopitney.com. He will be in Ireland in August
Stewart Carter and Linell Carter send this request: "Patricia Rich of The Kickshicker Band in Amarillo stated that you put out a great Newsletter of Country Music news. Please add The Carters to your Newsletter List."
Bertha Collins Dunn says, "Patricia Rich sent me a copy of your last newsletter I would like to receive it as my husband and I love the classic country music."
Marcia Morgan writes, "Please put me on your list for newsletter."
Juan Sosa asks, "Could you please add me to your list of newsletter subscribers?"
John Krebs in Houston, Texas, says, "Just so you know there are a bunch of great Ralph Emery interviews being posted on You Tube lately including Faron. Thanks for the newsletter I always enjoy it.
Becky "Beckaroo" Hobbs writes from Nashville, "I sure enjoy your newsletters. Thanks for keeping me in the loop. John Anderson played the Texan Theater in Greenville tonight. I see that my friend, Lonny Schonfeld (who works there), just posted this on his FB page. I guess Randy came to see John's show tonight. It made me think of you. Also, I didn't get to go, because I was out of town, but Alabama sang 'Angels' on the tribute show to Randy in Nashville a few weeks ago. There are links to it on youtube. The whole audience was singing along. I know it does your heart good to see Randy doing better."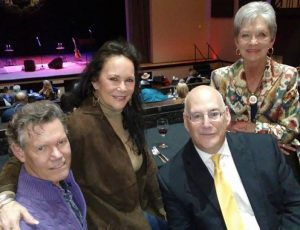 COUNTRY MUSIC HALL OF FAME – 1974
Owen Bradley and Pee Wee King were inducted into the Country Music Hall of Fame in 1974. Owen Bradley grew up in Nashville and was a professional musician by age fifteen. He became the Nashville-based producer for Decca Records in 1947. Two of his first big successes were "Chattanoogie Shoe Shine Boy" for Red Foley in 1950 and "It Wasn't God Who Made Honky Tonk Angels" for Kitty Wells in 1952. At a time when women weren't expected to be stars, he made them stars—such as Kitty Wells, Patsy Cline, Brenda Lee, and Loretta Lynn. Brothers Owen and Harold Bradley were the first to build a recording studio on what would become Music Row. Owen became head of Decca's Nashville division in 1958, and he and Chet Atkins at RCA developed the Nashville Sound. He retired two years after his 1974 induction into the Country Music Hall of Fame and became an independent producer. He continued producing almost until the end of his life, dying in 1998 at age 82.
Pee Wee King (born Frank Julius Anthony Kuczynski) also performed at age 15, playing the accordion in his father's polka band in Wisconsin. He formed the Golden West Cowboys in 1937 and moved to Nashville to join the Grand Ole Opry. He brought trumpet, drums, and electric guitar to the Opry stage. He and his band members wore elaborate western suits designed by Nudie. His portfolio of more than 400 songs included "Slow Poke" with co-writer Chilton Price and "Tennessee Waltz" with co-writer Redd Stewart. He appeared in four movies and numerous TV shows, including six years of The Pee Wee King Show on ABC. He died in 2000 at age 86.