After eight years of publishing my Faron Young/Marty Robbins e-mail newsletter, and talking about Twentieth Century Drifter: The Life of Marty Robbins and Live Fast, Love Hard: The Faron Young Story, it's time for a change. I'm now publishing a variety of country music news bits, so "keep those cards and letters coming."
NEWS
Jack Blanchard and Misty Morgan, of "Tennessee Birdwalk" fame (and many better songs), are in a difficult situation. Their Florida mobile home park has been sold to a developer, and the residents are being forced to move out on short notice and with no compensation. Jack and Misty's friends have set up a relocation fund for them. In addition, they are worrying about their daughter who has sinus cancer, and the radiation isn't working. You can read their news and listen to some good music on their website at http://www.jackandmisty.net/. Jack also has a Facebook site.
If you want to read what Jeannie Seely did to stay busy in 2013, she posted a summary letter on her website, http://www.jeannieseely.com/. I was pleased to see her at the Opry last May when we were in Nashville.
Ricky Van Shelton celebrated his 62nd birthday on January 12, which would also have been Ray Price's 88th birthday, I was really sorry when Ricky left the music business in 2006. I thought he had one of the best voices in country music.
LETTERS
Diane Jordan in Nashville says, "I think your best friend's idea is a great one, and I'll be looking forward to your newsletters containing a 'variety of country music news bits'! Though I've been out of recording and performing for a long time, I love to hear what's happening with all those great people I knew and worked with."
Johnny Seay writes, "So glad you're keeping the News Letter going in whatever form, Diane. I always learn something I didn't know from it. Like, Johnny Western's wife Jo having Surgery. Johnny's a friend of mine and I will call him all because of your News Letter."
Terry Counts says, "Truly we don't want to quit hearing from you…you're too good a writer. I like your newsletter and I think you should KEEP IT UP….till your new project discovers you..it will, you know…do let me hear from you. Even when you don't have anything much to say."
Linda Elliott Clark writes from Alexandria, Virginia, "I think it is a great idea to do the news bits. I heard about Ray Price. Did you by chance get a picture with Mel Tillis?  I have not heard or seen him for a number of years now.  He has always been one of my favorites, and I can remember so well seeing him several times in Maryland in the good old 60s. Those were the days for country music! Keep doing what you're doing and stay well."
Response: Linda, here's the photo I took of Mel and Ray at the concert in Maryland in 2008. Unfortunately, I didn't get one of Mel and me.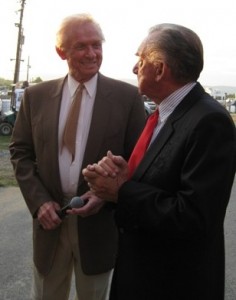 Ernie Reed writes, "Just to let you know, I am living back in Nashville but still working for Mel Tillis. Next time you are in this neck of the woods, please give me a call."
Geoff Lambert says, "Not been with you for as many years as some folks but really appreciate what I have received from you over the last couple of years. Anytime you get an urge to write anything about country music is all right with me. Out of curiosity do you have in your archives any of your earlier sheets which I might not have seen?"
Response:  They are all posted on my website in the newsletter section.
Mike O'Neill suggests, "If you plan to do one more book, how about Ray Price or Chet Atkins? I would like you to write about some of the lesser known country performers like Doc and Chickie Williams. They were on the Jamboree USA for 40 years. They toured the U.S. and Canada. You may want to look into the Everly Bros and Chet Atkins helped them get started there. Father worked with Chet at RCA."
Alan Potter writes from Great Britain, "As always I find your articles interesting & informative. Hope you do get around to writing more lives of the stars. Sadly, I've been overworked this year. So many great stars died & I did tribute programmes to each of them: George Jones, Slim Whitman, Tompall Glaser, Ray Price, Cal Smith, Jack Greene, Phil Everly, Rita McNeil, Lorene Mann, Marvin Rainwater etc."
Hannah Rockey says, "Happy to get your news letter. I'm so proud that Frank Jennings got in The British Hall Of Fame. When I lived in England I went to his shows all the time and he is so well deserving of this. He talked of Faron often when I was at his shows. One time I was at Faron's shows when I came to live over here and I got the chance to talk to Faron and he told me one year he was arriving at the show at Wembley in England and he thought they were playing his (Faron's) record and he thought that was a nice welcome for him. When he got into the stadium it was Frank Jennings singing. Faron said he was blown away. Frank Jennings stayed friends with Faron for many years. There are some of Frank Jennings' videos on Youtube. Find the ones of Faron in his younger years and see how much he sounds like Faron. Frank kept Faron's music alive in England and he is still doing shows."
Carolyn Van Norman Babin writes, "I have not received a news letter from you in so long I can't remember, but Dominique in France sends me an issue when it is one he thinks I will really enjoy or refers to someone I knew, etc…Love that man. I know I will probably never meet him in person or his family especially since I turned 83 last year will not be taking a trip like that. . . . Nancy Fatheree (shortly after she married Little Jimmie Lee) and I met and we were pretty close friends in the early 50s after Faron and I broke up. We went places together and on their tours together. I was in hopes when she and I came in contact a few years ago again that I could travel with her back to France.  She and Sister went there in the past and stayed with Dominique Anglares. Anyway, if not a lot of extra work, please add me on your mailing list again…. I always enjoyed hearing from you and reading the comments in your newsletters."
Dominique "Imperial" ANGLARES writes from France, "Thank you very much for that newsletter and greetings for the work done. The new format should fit perfectly until you will have find a biography subject to work on. A new project should be another mountain to climb and time consuming. So let's get with the new format as long as you wish. I bring you my best wishes for joys and succes for that new year. Today, that's Elvis birth date and it is a nice time to remember his meeting with Faron in Nashville on December 21, 1957. Several pictures were taken that night at the Ryman Auditorium showing Elvis and Faron together with Tom Perryman, Hubert Long, Ferlin Husky, Hawkshaw Hawkins and the honorary Colonel Parker. Of course, Faron and Elvis knew each other since long and has worked several shows together in 1955 and 1956. These two may have dated the same sweethearts at different times."
Steve Clark says, "I like your new newsletter, please keep the info coming. A few months back, I heard Whitey Shafer on Bill Cody's radio show on WSM. He was talking about his early days in Nashville, with Lefty Frizzell. I was almost rolling in the floor laughing. I wish Whitey return to good health asap."
Kelly Hankins wonders, "Great switch-over. Have you thought about who you might write about next?"
Response: I've thought about it a lot. I'm looking for a subject with a large readership. I tried Merle Haggard, but his publicist told me he does not want his biography written. So maybe later on that one. I'd like to write about Randy Travis, if I could get in touch with him. Although I don't need permission to write someone's biography, I can do a better job with some level of cooperation.
Ralph Larson writes from San Antonio, Texas, "Please continue your newsletter as it is one of the few links to traditional country music I have. You always have interesting facts to share and I learn something in each issue."
Colleen (Coke) Kampfe, in nearby South Sioux City, Nebraska, sends this note: "Certainly hope you stay with this new project; we have lost so many of our news outlets to keep us up to date on the happenings with the younger artists, but have all but totally lost the news updates on our elderly country artists. We could not believe that our local Sioux City Journal paper, let alone the Omaha Herald, did not cover anything on the passing of Ray Price! That was downright sad. Especially since he had passed by this area many, many times and entertained us. It was so very good to see you acknowledge Ray and do the update on him. Have you given any thought to doing a Ray Price biography? Feel you would be the right person for that project. Have so enjoyed your other two books and had certainly hoped you were maybe in the midst of doing another. Hope you are able to keep with the country music newsletter. Thanks for all you do; we look forward to hearing from you."
Ron Hogan (former steel guitarist with the Country Deputies) writes, "I still enjoy your updates on all my musician buddies that I have lost track of. I have a suggestion.  You should write a bio on Little Jimmy Dickens.  I worked for him about a year and it was hard but a ball.  Being that he is still with us, he is a wealth of history/info.  Not many like him left."
Karon Hamilton says, "I sure would enjoy the news! Especially about the 'older classic musicians'. It seems like not many of the news shows are actually reporting about the older wonderful musicians. I have both of your books and really enjoyed them. Keep up the good work!"
And from Wanda Anderson in Nashville, "Enjoy your messages and news, whenever and whatever. Truly respect your ability to continue sharing what comes along. I do hope you are progressing for another book on another country artist. There are so many that need to be respected and were so important in the growth or country music. The book on Marty was exceptional. Thanks for that."
SONG OF THE WEEK
Brad Paisley, in addition to being a great singer and entertainer and guitar player, is a great songwriter. I love his cleverness and sense of humor. Listen to "Flowers" as one example: http://youtu.be/fJuJ7N7ckys