NEWS
One of the Geezinslaw Brothers has died. Sammy Allred, a native of Austin, Texas, died May 10 at age 84. He and partner Dewayne "Son" Smith came to national attention on the Louisiana Hayride in the late 1950s and Arthur Godfrey's radio show in the early 1960s. Sammy later had a show on KVET Radio in Austin. Keith Bilbrey posted on Facebook: "Just learned of the passing of Sammy Allred of the Geezinslaw Brothers and a radio legend in Austin, Texas. Absolutely one of the funniest guys I ever had the pleasure of working with." Tracy Pitcox wrote: "Saddened to learn of the passing of legendary disc jockey and entertainer Sammy Allred today. The Geezinslaws were one of the most entertaining duos in the industry."
Booking agent Joe Taylor died May 14. The Joe Taylor Artist Agency website calls the company "the oldest country booking agency in the world." Joe Taylor founded the company in 1964, after working briefly with the Wilburn Brothers Agency, during which time he took Loretta Lynn to get her first Nashville publicity photos. Clients of the Joe Taylor Artist Agency, according to friend Bobby Tomberlin, "included Little Jimmy Dickens, Porter Wagoner, John Anderson, George Jones, Connie Smith, Johnny Paycheck, Jeannie Seely, Jan Howard, Jim Ed Brown, Kitty Wells and the list goes on. He helped Alabama back when they were Wild Country. He represented a lot of the Hee Haw cast and helped them secure cast membership on the show. He traveled all over the world with his artists. He managed Stringbean and Johnny Russell. While Kris Kristofferson was a janitor at Columbia, he would play his new songs for Joe." Joe lost his sight ten years ago. His son, Brent, joined the agency in 1984 and now oversees operations.
Tennessee has a probate law that guarantees a surviving spouse 40 percent of the estate of a person who dies without a valid will, if the couple was married at least nine years. The Tennessean reports Kimberly Campbell has filed to assert that right. She and Glen Campbell were married in 1982. Her motion also requests a year's support allowance. Glen's 2006 will named Kim as executor, with her and five of Glen's eight children as beneficiaries: Debra, Dillon, Nicklaus, Shannon, and Ashley. The will specifically excluded William, Wesley, and Kelli, who have filed a lawsuit to contest the will. Before the probate judge rules on the challenge, he must decide whether those three have legal standing to challenge the will. Kim's new six-page filing states, "This election is being made in a protective manner in the event the pending will contest is successful." I have never read anything that explains why Glen decided in 2006 to disinherit three of his children. Do any of you readers know?
A band trailer used by Bob Wills, "King of Western Swing," has been donated to the Oklahoma Historical Society. Bob bought the trailer for $119.50 in Tulsa in the mid-1930s. Tulsa World reports Mark Richard Smith of Sweetwater, Texas, made the donation. The trailer had been given to him several years ago. Jeffrey Moore, OKPOP executive director, explains, "Bob Wills had a fleet of four Buick coupes. The trunks didn't have enough room for the larger musical equipment. So, this trailer was used to carry the drums, the drum kit, the standup bass, the guitars and their amplifiers." Bob Blackburn, Oklahoma Historical Society executive director, said, "I think it represents Bob Wills' innovation in the whole music business where music went from localized performances to having the ability to go mobile, go on the road and reach a national audience." The trailer will be displayed at OKPOP, a popular culture museum scheduled to open in 2020 in the Tulsa Arts District. The museum already has a Bob Wills collection, including his tour bus, unreleased audio recordings, two fiddles, clothing, and personal family items. The performances of Bob Wills and the Texas Playboys were aired by Tulsa radio station KVOO from 1934 to 1942. The band played at Cain's Ballroom in Tulsa every Thursday and Saturday night. Bob died in 1975 in Fort Worth, at age 70.
A recent post on Facebook said, "Willie Nelson has falling ill and his son Eddie Nelson requests prayers for his father." Snopes reports, "The post appeared to be what Facebook terms 'engagement bait,' content designed to provoke shares and interactions regardless of whether or not it is true, with the end game of driving traffic to a specific site or page (the topic of which is often swapped out for something else later) in order to make it look as though a product or an idea is far more popular than it actually is." This post looked like an image but was a video. Willie doesn't have a son named Eddie. There are no current reports of health problems. The "has falling ill" grammar should have been a clue to anyone tempted to forward the note.
"Farm No. 266, Johnny Cash Boyhood Home" was added to the National Register of Historic Places on May 4, Rolling Stone Country reports. The application was submitted by Arkansas State University, which spent $575,000 to purchase and restore the five-bedroom house in Dyess, Arkansas. National Register historian James Gabbert stated, "The property has two separate but related and intertwined areas of significance — the association with the [Federal Emergency Relief Administration] and the Dyess colony, and the effect that being a part of that colony had on Johnny Cash's development as an artist."
At age three, Mason Ramsey began entertaining anyone who would listen. At age 11, he is a star, after a video of his Walmart yodeling debut went viral. He stood in the mattress aisle of a Walmart in Harrisburg, Illinois, and sang the Hank Williams classic, "Lovesick Blues": https://youtu.be/bOZT-UpRA2Y. He quickly became known as the "Walmart yodeling boy." He has appeared on The Ellen DeGeneres Show and the Grand Ole Opry. He released his debut single, "Famous," on April 27:  https://youtu.be/NukmFF__G-g. Country Music Nation reports, "Mason's tapping foot and notable red bowtie pull the young crooner's image together. Now, with thousands of followers, he's got a record deal, a new song and true to the song's title, he's famous." You'd think his producers could have found a more appropriate song for an 11-year-old than a love song about wanting to be famous, girl, for loving you.
The Fort Sanders Sevier Senior Center in Sevierville, Tennessee, is now the My People Senior Activity Center. Dolly Parton returned to her hometown for the dedication ceremony to rename the facility in honor of her parents, Robert and Avie Lee Parton. The center features exercise classes, quilting, wood-carving, and other activities that make it a place where seniors can stay active and intermingle. According to the Knoxville News Sentinel, Dolly surprised guests when she showed up to tour the facility and sing a song. The executive director said, "We've been trying to keep it under wraps because we have 3,000 members, and we knew if the word got out, we'd have three or four or five thousand people here."
LETTERS
John Krebs in Texas says, "Wow, never heard of Joshua Hedley, I'm impressed. First new country artist since Junior Brown that really grabbed my attention."
Eric Calhoun writes from Los Angeles, "Bob Ruby, nice to see your letter, and keep spinning those hits on the Big I-105! I used to get the station in Baltimore. I'm originally from Philadelphia, home of 92.5 WXTU."
Diane: If you'd like to hear our conversations about Marty's songs, I posted the files on my website at https://dianediekman.com/media-room/.
Jean Earle writes from England, "I was pleased to receive the latest newsletter. One item really caught my eye. The sale of the Poster…for such a huge sum of dollars. It is hard to believe…..I decided to look through one of my Elvis Presley books as I remembered seeing a poster for another show, in another auditorium in the same year. Memphis in February 1955….Two shows 3.00pm & 8.00pm. Maybe the posters are not as RARE as the new buyer may think. The book is On the Road To Stardom by Jim Black….1988.  I remember being rather pleased to see that Faron and Ferlin were both higher up the programme than the young Elvis. Keep up the good work."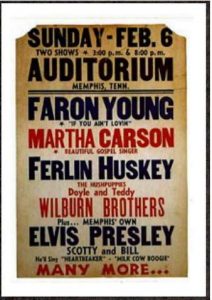 Joanie Brooking from Iowa writes, "I love reading your Newsletters. They often tell me something I haven't heard. This past weekend I attended NTCMA Bob Everhart's Oak Tree Opry at Anita, Iowa, April 27, 28 & 29th. The four shows had some great new singers I wasn't familiar with. What a breath of fresh air. Kim Plender from South Dakota was cute and funny with her Bib Overalls song and Kimberly Kaye also from S.D. had some great original songs. I really enjoyed both of them. From Missouri was Josh Daniels with a great Conway Twitty type of voice. Don Deimer from Colorado plays a 12-string guitar beautifully and does many original songs. Funny ones. Bass player was both good and funny also. There were thirteen other singers and I regret I can't name all of them. Okay, I will: Bob & Shelia Everhart Iowa, Lee Mueller Kansas, Jerry Hughes Nebraska, David Green Iowa, Alex Vanderbeek Nebraska, Francis Hahn Iowa, Ron Dupuy Iowa, Earl Binns Iowa, Terri & Annie Avery Iowa, Jim & Shirley Hughes Iowa. This show was dedicated to Richard Anderson and wife Harriet. They are the comedy duo for the Opry. Harriet plays bass and sings while Rick plays guitar and harmonica. Currently Rick is in Hospice for lung cancer. His favorite song is "Somewhere Over The Rainbow." Lee Mueller played a wonderful dedication on banjo. Perfect."
Larry Jordan reports: "I wanted you and your readers to know about a great new CD that's just come out that contains scores of previously *unreleased* live performances by many of Music City's biggest stars. It's called Saturday Nights In Nashville With Country Music Greats (an EU import) and there are 35 tracks, featuring Don Gibson, Johnny Cash, Patsy Cline, Ray Price, Porter Wagoner, Marty Robbins, Jim Reeves, Hank Locklin, George Morgan, Faron Young, Jean Shepard, Jimmy C. Newman, Roy Drusky, Hawkshaw Hawkins, Kitty Wells, Grandpa Jones, Billy Grammer, Hank Snow, Cowboy Copas, Bobby Lord, Margie Bowes, Mac Wiseman, Ernest Tubb, Moon Mulican and the Old Hickory Singers. Also featured are the Anita Kerr Singers, Jordanaires, Chet Atkins, Floyd Cramer, Hank Garland and more. The audio restoration was done by an engineer who also does work for the National Archives, so the sound quality is awesome, and far better than anything that is posted on the internet. When I was a teenager I used to travel 650 miles by Greyhound bus from my home in Iowa down to Nashville just to sit there in the Ryman and watch many of these great stars. This CD brings back those memories. There's a site that has posted an audio link that you can click to hear samples. Everybody needs to hear this! https://good-music-store.myshopify.com/products/saturday-nights-in-nashville-with-country-music-greats
Dominique "Imperial" Anglares checks in from France: "Thank you very much for that publication and for the room given to my friends Charlie Thompson and Miss Mary Ann. Lovely and talented folks. Very sad to learn about Randy Scruggs' passing. Not much older than I am. It hurt. We recently lost Laura Lee Perkins (April 6, 2018) and Willie Jacobs (April 18, 2018), both recording artists for Imperial Records. Laura Lee has two classic rockin' singles issued in 1958 and Willie Jacobs (as member of The Strikes) has two singles issued in 1957. Two of his songs 'If You Can't Rock Me' and 'Baby I'm Sorry' were covered by Ricky Nelson, also on Imperial. That's probably the main reason why Lew Chudd has inked that talented combo from North Texas State College."
Justin (Jud) McCarthy in Boca Raton, Florida, says, "Sunday April 29th, I attended the annual South Florida Sweet Corn Fiesta in West Palm Beach, Florida. Playing classic country was Quent Benedict and his Krystal River Band. Playing the electric steel guitar in the band was Bobby McGhe. Bobby's wife Darline is a trustee of the South Florida Country Music Club in Greenacres, Florida. She would like you to add her to your distribution list so she can share your newsletter with members of her club. . .. My heart dropped four beats this past year when I learned Don Williams, the Gentle Giant, passed away. He has been my all-time favorite country singer since I began loving classic country in 1947. My favorites began with Ernest Tubb, Lefty Frizzell, Hank Snow, Jean Shepard, Webb Pierce, and since have included Willie and the Boys, Dolly, George Jones, Charley Pride, George Strait, and the list goes on and on."
Tony Byworth writes from the United Kingdom, "Thanks, as ever your informative newsletters. Just thought you'd like to know Morello Records in the UK are re-issuing four more Marty Robbins albums – The Drifter, Saddle Tramp, What God Has Done, and Christmas With Marty Robbins – on a two-CD set."
COUNTRY MUSIC HALL OF FAME – 2006
Born in Nashville, Tennessee, in 1926, Harold Bradley still makes Music City his home. He served in the U.S. Navy from 1944-46 and then returned home to study music and play in older brother Owen's dance band. He became a studio musician, mainly on acoustic rhythm guitar, although his lead guitar, banjo, and electric bass guitar can be heard on many of the hundreds of hits he played on over the years. In 1955, Harold and Owen opened Bradley Film and Recording on Sixteenth Avenue South. Their studio in a Quonset hut, along with RCA Studio B, established both Music Row and the Nashville Sound. Nashville's chapter of the National Academy of Recording Arts and Sciences (NARAS) named Harold its first president. His other roles included bandleader and record producer. From 1991-2008, he served as president of Nashville's American Federation of Musicians chapter. I met him in 2012 when he came to my book release party for Twentieth Century Drifter: The Life of Marty Robbins.
James Hugh Loden, born in Alabama in 1928, grew up in a family of professional entertainers. As Sonny James, the Southern Gentleman, he would eventually have 72 chart records, 43 of them in the Top Ten, with 23 of those going to #1. While still a teenager, he mastered the guitar and also won several fiddle championships. Chet Atkins introduced him to Ken Nelson, who signed him to Capitol Records in 1952. Ken suggested James Loden use his nickname of Sonny and adopt the easier-to-remember stage name of Sonny James. "Young Love," recorded in 1956, made him famous. From 1960-1979, he spent more time in the Number One chart position than any other artist in country music had done — a total of 57 weeks, including 16 consecutive #1 singles between 1967 and 1971. In 1973 he produced Marie Osmond's "Paper Roses." Sonny James was inducted into the Country Music Hall of Fame in 2006 in the "veteran performer" category. He died in 2016 at age 87.
When George Strait was chosen in 2006 for the "modern performer" category, this long-time fan of his was thrilled. But since he's younger than I am, it made me realize the Hall of Fame wasn't just for old people anymore. Born in Texas in 1952, George Strait grew up on his family's 2,000-acre ranch. He and sweetheart Norma eloped after his high school graduation, and George enlisted in the U.S. Army. While stationed in Hawaii in 1973, he joined a country band and found his true calling: singing country music. Back in Texas, he changed his plans of pursuing a college degree in agriculture and chose a music career with the Ace in the Hole band. Club owner and former record promoter Erv Woolsey helped him sign with MCA in 1981. Then came "Unwound" and the biggest career in country music history. Because George doesn't write his own music, his reliance on songwriters has made a few of them wealthy over the years. In 1995, he released the box set, Strait Out of the Box, to celebrate fifteen years as a recording artist. I still play those cassettes. My daughters gave me his 2-CD set, George Strait 50 Number Ones, in 2004. Although he retired from touring and recording several years ago, he does occasional performances. King George may ride again.