NEWS
The two-year Cowboy Rides Away Tour concluded Saturday night, June 7, at AT&T Stadium in Arlington, Texas–home of the Dallas Cowboys. George Strait drew 104,793 fans, the largest crowd for an indoor concert in North American history. He broke the record set by The Rolling Stones at the Louisiana Superdome in 1981. Asleep at the Wheel performed a one-hour set prior to his show. Alan Jackson, Vince Gill, Martina McBride, Miranda Lambert, Jason Aldean, Kenny Chesney, Eric Church, and Faith Hill all performed with George and then joined him on stage for the encore. He closed with "The Cowboy Rides Away." George did actually talk–he told the crowd, "This has been such a special evening for me. Thank you for all the years of support." Although he won't tour anymore, he plans to do occasional shows and recording sessions.
People Magazine reports that Randy Travis attended Dolly Parton's Blue Smoke World Tour concert in Thackerville, Oklahoma, last week. "There are some people you just love and admire for their talents. Tonight, one of those people [is] here," Dolly announced. "Randy Travis, wherever you are, I hope you are enjoying the show." Here's Luke Myszka's photo of Randy with Dolly and Janie Fricke, backstage after the concert:
Kenny Rogers, in his words, "had a bit of skin cancer removed" from his face on May 14. He posed for a photo with a Band-Aid covering the surgery spot, and he encourages everyone to get checked for melanoma. His touring schedule was not interrupted, and he headed off for a concert in Knoxville, Tennessee.
Dolly Parton performed for 10,000 country fans at her sold-out show at the ECHO arena in Liverpool, England, on June 8. Reviewer Jade Wright wrote in the Liverpool ECHO, "In a two and a half hour show of hits, she showed stamina, vocal range and dance moves that would be impressive in a woman half her age. As performers go, they don't make them like Dolly anymore. And that is why we love her." During the 26-song show, with only a 20-minute break, Dolly "played the guitar, a banjo, a dulcimer, a whistle and – most surprisingly of all – a tiny jewel-encrusted saxophone, which she used to play Yakety Sax, better known as the Benny Hill theme tune." Dolly told the ECHO, "I live in my bus. I have it all set up with washer, dryer, refrigerator, kitchen, and I have all my junk and my stage clothes and my wigs. It's easier [than staying in a hotel], and you don't have to worry about people coming into your room and looking at your dirty drawers and your hose hanging up." One restaurant created a Dolly's Dixie Stampede cocktail, and patrons who showed their concert tickets were treated to a drink of vodka, lime juice, pineapple juice, grenadine and Chambord.
BBC News reported that Dolly Parton hand-delivered the millionth book from her Imagination Library while in Liverpool. She gave a Braille copy of Beatrix Potter's The Tale of Peter Rabbit to a five-year-old boy. It was the first book for blind and partially-sighted children the project has supplied in the UK. The Imagination Library, launched in Sevier County, Tennessee, in 1996, now runs in the USA, Canada, Australia and the UK. The program seeks sponsors to pay for pre-school children to receive a book every month. In the UK alone, 45,000 children have been given books.
Country group Shenandoah had a bus accident on June 7 while travelling in Texas from Stafford to Beaumont. A drunk driver in front of the band bus slammed into the back of a vehicle carrying a fuel tank, and the tank exploded. Drummer Mike McGuire reported, "Witnesses behind us told authorities that the flames totally engulfed our bus at one point and you could not see it." No one in the bus was injured, nor were the intoxicated driver or his passengers.
Taylor Swift concluded her international RED Tour on June 12 in Singapore. Her Tokyo concert on June 1 marked her third visit to Japan, and a sold-out crowd of 20,000 filled Tokyo's Saitama Super Arena. At home, Taylor recently donated $50,000 to the Children's Hospital of Philadelphia. The money will go towards purchasing a music therapy cart for young patients to create and produce their own music. "We can think of no better way to use her gift than to grow our Adolescent and Young Adult initiative designed to support the emotional well-being of our teens with cancer," a spokeswoman said.
Alan Jackson announced his 25th Anniversary Tour for the spring of 2015, with dates to be announced later. It is not a farewell tour. The Country Music Hall of Fame and Museum will open an exhibit in August to tell Alan's story and feature personal items and memorabilia.
The Reunion of Professional Entertainers (R.O.P.E.) held its Brunch With the Stars on June 4 in Nashville. Performers included Charlie McCoy, Dickey Lee, Jeannie Seely, Bobby Lewis, Rattlesnake Annie and Marty Haggard. Here's Jeannie Seely and husband Gene with Jean Shepard and Mac Wiseman:
In a recent Rolling Stone interview, Vince Gill said, "You have to look at a young person today and understand their influences were nothing like mine. I'm almost 60 years old. And so 50 years ago what taught me how to play and sing, it's gone. . . . You take a young kid, guess who their mentors are? Tim McGraw and Toby Keith, and the biggest people from 15 years ago. So I'm not ever going to be critical of a young person that doesn't know [country's] history. I didn't either." He softened but didn't retract his comment from the 2012 ACM Honors ceremony in Nashville: "I feel inundated these days with music that's telling me how country it is. And what I long for, more than anything, is to hear how country it is."
When asked what prompted him to go outside to meet the Westboro Baptist Church protestors at his Kansas City concert, Vince said, "I went out there to stick up for decency, to stick up for human kindness. . . . I did not confront them. They confronted me. I just wanted to see what their sign said. If one of them boys had had a sign with the wrong words on it, it would have ended much differently. [Laughs] I've got just enough Okie in me that there would have been a poster enema involved." That meeting solved a mystery for him: "When I first married Amy, we played a Christmas show in Oklahoma City, my hometown. And I got picketed for marrying Amy. After my run-in with them 13 years later, it finally became so clear to me that they were the ones who were at my show in Oklahoma City. I saw the signs and I thought, 'Well, hell, that's those clowns.' All this time, I had a chip on my shoulder, because I was so pissed off that my hometown picketed me. And it wasn't my hometown at all."
LETTERS
Les Leverett reports, "As always, enjoyed this edition of your newsletter. Thanks for mentioning the Annenberg Space for Photography exhibits in Los Angeles. My daughter, Libby Leverett-Crew, accompanied me on the trip. We had a fabulous time. It was so good to meet some of the other photographers whose work I have admired for so many years. They arranged for me to do a short interview on the Fox station. Ego be danged, you can access that by googling Les Leverett on Fox, and the interview on the USA Today site by googling Les Leverett on USA Today. Hope it doesn't turn your stomach. After the reception Thursday night, we enjoyed a full hour's show by Lyle Lovett and his Acoustic Band."
Mary Mitchell writes from Woodland Park, Colorado, "I am truly sorry to hear about Weldon Myrick. Great on guitar. I have a song he sings, 'Walk Me To the Door.' What a voice he had. I love it. RIP Weldon."
Randy Jackson requests, "I was just sent a copy of your newsletter.. can you include me on your mailing list?"
Terry Counts writes, "Hi ya…another great email issue!!!!! Question; I recently read somewhere that Kenny Rogers has cancer which upset me a lot…I'm working on a festival for him next year and they were so sad…Have any of your readers seen this article? As always … YOU'RE GREAT!"
Diane: I posted Kenny's skin cancer story above.
Linda Elliott Clark says, "What a great update. It was interesting to read what Tom T. Hall has been doing since he retired from the music business. So, so many great talents from my years of listening to country music."
Jean Earle writes from the U.K., "Just wanted to share with you…39 years ago today, June 11th 1975, we met Faron for the first time. We were invited into his office, then on Pine Street. Fantastic morning…how happy I was!! How the years have raced by!"
Robert MacMillan writes, "I received your June newsletter via a friend and noted that you had tried to make contact but that your communication got rejected. Perhaps you could try again by responding directly to this email."
Diane: I did. I still receive your emails, and mine to you still get rejected.
Sandra Nicholson writes, "I have enjoyed your newsletters and corresponding with you. I took my car in for service today and as I was paying, the clerk saw my copy of Twentieth Century Drifter. She said her sister had purchased every record he ever made. I am going to Nashville next week and have been trying to find out if there is any visible evidence of Marty Robbins to see. I have contacted CMHOF but haven't received a call or email. I know about his former office on 18th Avenue and where the cemetery is. Guess those are the closest I will get to what remains. Do you still have pictures that you didn't publish in the book? If so, would you please post some in your newsletter. I would love to find a picture of his office. I have been searching for a full album CD of Don't Let Me Touch You. All I can find is the LP. Do you know who to contact about getting one released? I did read what Ronny said about not being able to get audios of the shows released, but as good an album as it is, I can't believe it wasn't released as a CD."
Diane: See below for an address. Here's the only photo I have of Marty's office. It was taken by Stacy Harris for her 1981 interview for Country Song Roundup.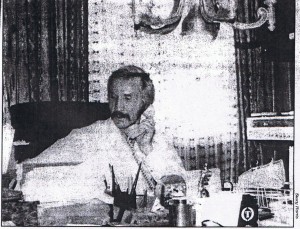 Tom Barton writes, "Rex Allen, Jr., back in the '70s I think, recorded a song along the lines of 'Ain't No Way (To Make a Bad Love Grow).' Would you confirm that with him, and see if there is any way to get a copy of it? I have looked on Amazon, etc. to no avail. I have always loved his singing… Great feature article!" He adds, "Sony/Columbia's stance about ANY of Marty's recordings belonging to them stinks. Contractually, yes, maybe they are entitled, but after 30+ years you would think they could relax some of the provisions. I just would like to write a letter to someone at Sony/Columbia to express my overall disgust at this, and the effect it has likely had of suppressing any unreleased material."
Diane: I suggest writing to Gary Overton, the chairman and CEO of Sony Music Nashville, at 1400 18th Ave S, Nashville TN 37212. The office number is (615) 858-1300.
SONG OF THE WEEK
Charlie Walker's biggest hit was the Harlan Howard song, "Pick Me Up On Your Way Down." It went to number 2 and stayed there for 22 weeks in 1958-59. It's the epitome of a good country song, and I especially like that the notes go up to "up" and down to "down." It's always been a Charlie Walker song to me, and I had no idea so many other people sang it. Especially women—from Wanda Jackson in 1958 to Martina McBride and Teea Goens in 2012, with Connie Smith and Teresa Brewer and others in between. Mel Tillis, Ray Price, Jerry Lee Lewis, and Buck Owens on his album, Buck Owens Sings Harlan Howard, are some of the men, along with The Tractors. Two singers, Carl Smith and Bobby G. Rice, charted on Billboard in the top fifty. I made a surprising discovery while doing this research. Patsy Cline recorded "Pick Me Up On Your Way Down" on November 8, 1956. It's a different song, written by Mae Axton, Glenn Reeves, and Burton Levy. The words and melody of the title line are the same in both songs.