IN THE SPOTLIGHT – DALLAS WAYNE
When I called Dallas Wayne the other day and asked what is his current highest priority, the 62-year-old Willie's Roadhouse deejay immediately responded, "I've got to lose fifty pounds by Sunday because we're going on the Outlaw Country Cruise, and I want to make sure I look good in a Speedo." Then he added, "I don't think it's gonna happen."
To seriously answer my question, he told me about the new vinyl double album he's just released: Songs the Jukebox Taught Me, Volumes I & II. "It was fun putting that project together," he said. "You get to go back and do things old-school, as far as mixing and mastering. A little different breed of animal than CDs." For those who don't have turntables, the album contains a digital download card. (Go to http://dallaswayne.com for more information.)
The album cover is a photo of the Seeburg jukebox he has in his studio. "I drug it out on the porch of my studio to take the publicity pictures," he says. "It's loaded with classic country 45s, and I like playing it, but I can't listen to it in this little enclosed space. The walls are shaking."
On the upcoming Outlaw cruise, the Heybale! band that recorded the two Jukebox albums will perform an 80-minute set of those songs. "We're going into our 19th year at the Continental Club in Austin," Dallas says. "It's our therapy to get together every Sunday night and play. Our shows at the Continental Club are three hours straight through, no break."
Dallas just celebrated his eighth anniversary as a fulltime member of Heybale! Previously a fill-in performer, he took over the lead vocal slot when the singer and rhythm guitarist died. Other members are Redd Volkaert on guitar, Earl Poole Ball on piano, Kevin Smith who plays bass for Willie Nelson, Tom Lewis on drums, and "a revolving cast of steel players," Dallas says. "It's a fun little band."
I asked how he got hooked up with Jeannie Seely, who appears on the album. He told me they'd done shows together for a long time–duets out on the road. "I just fell in love–well, everybody falls in love with Jeannie Seely," he says. "She's such a gracious, fine woman." He tried for several years to talk her into doing a radio show for Willie's Roadhouse. Finally, she agreed to a Sunday afternoon show. "She's says she's having fun doing it," he states. "I hope she's not lying to me."
Jeannie deserves a spot in the Country Music Hall of Fame, Dallas believes: "Nothing would make me happier than to see her go in next. When you talk about a fifty-year legacy of supporting this music and loving it and helping it grow and keeping it healthy."
Dallas spent 35 years as singer and songwriter and musician before going into radio fulltime. That included living in Finland for four years. In 1989, he was on tour with a bluegrass band called Special Consensus when a Finnish record producer asked him to make an album. Expecting a one-time effort, Dallas agreed. "We backed into a series of hit records over there," he says. "On the pop charts. We ended up with a number two record off that first album, right behind Bruce Springsteen for two months." Within a month, his group went from playing Finland's seven country bars to being booked in hockey arenas. "It got to the point where I would go over there and tour for two or three weeks," he recalls, "and come home to the States to rest, and then three weeks later, another tour would start–in Germany or Sweden or wherever."
His wife, Jo, traveled with him during her vacations from work. After several years and three albums, he asked Jo, "Where do you want to live?" She said, "Same country as you."
About that time, Warner/Chappell Music opened an office in Finland and Dallas became a staff songwriter. Four years later, he and Jo returned to the States when he signed with Hi-Tone. "Jo and I have been together 34 years last month," he says. "Been married 31 but been together 34 years. I tell her she's the best wife I ever had. She doesn't take that as the compliment it was intended."
This June will mark 14 years for Dallas as a SiriusXM radio personality. He was still touring fulltime when approached with the offer to deejay for the Outlaw Country channel. He was told, "It's a good fit because we're already playing your records. We don't want deejays; we want entertainers to do shows."
Dallas and Jo had been living in Austin for a year by that time. Part of the reason for accepting the job was the thought of a sightless future. Dallas had already lost his right eye because of a retinal disease. "I was getting ready to have surgery on the remaining eye, for the same problem, which is how I lost the right eye in the first place," he told me. "I was really, really nervous." He decided radio would be a good career "because I can sit in a chair and do that. I don't have to worry about trying to read a screen at the airport to find out where my flight is for my next gig."
Fortunately, the surgery turned out well. He can enjoy both worlds. "Even though I still played over a hundred dates last year as a musician," he says, "I think of myself these days as primarily a radio guy. I love it so much. It's a ridiculously easy way to make a living–just sit around and play the music you love, talk to folks through the microphone."
He reads my newsletter religiously. "I will tell you right now, and I will admit wholeheartedly," he teases, "every month I get a lot of my show prep from it. I thank you for helping me do my show." He adds, "I love the letters section cuz you'll get something from some musician I haven't thought of in thirty years. It's nice to see they're still around."
Dallas says, "I would like to thank the folks who subscribe to the newsletter for supporting this music." He describes last week's sold-out show when he opened for the Oak Ridge Boys. "These people in the theater have gone the extra mile," he explains. "They've paid their money; it's a commitment. As long as we have these classic artists and this demographic of audience, this music is going to be around for a long time."
We briefly talked about Mo Pitney and Teea Goans. "If Teea had come along in the '70s, she'd be a superstar today," Dallas proclaims. "She's just that good. Same for Mo. He's a brilliant singer. With people like that, this music is going to stay for a long time. Fingers crossed."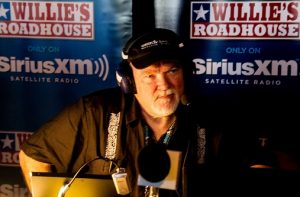 NEWS
Maxine Brown (1931-2019)
The final member of the famous country trio, The Browns, has died. Maxine Brown Russell, 87, passed away on January 21 at Bowman Hospice in Little Rock, Arkansas, from complications of heart and kidney disease. (Jim Ed died in 2015 and Bonnie in 2016, both of lung cancer.) The Sparkman, Arkansas, natives sang together in school and at church functions as youngsters. Their many hits included "The Three Bells," "The Old Lamplighter," and "Scarlet Ribbons." After Grand Ole Opry membership and a decade of hits, The Browns disbanded in 1967 when Maxine and Bonnie returned to Arkansas to raise their children. Maxine's 2005 autobiography, Looking Back to See: A Country Music Memoir, told the story of their struggles on the road to stardom. The Browns were inducted into the Country Music Hall of Fame in 2015. Funeral services for Maxine are being planned.
Sanger D. Shafer, better known as Whitey Shafer, died January 12 at age 84. Born in Texas in 1934, he grew up in a gospel-singing family, listening to Bob Wills and Ernest Tubb on the radio. After serving in the U.S. Army, he moved to Nashville in 1967 to record and write songs. He became friends with his musical hero, Lefty Frizzell, and the pair wrote songs such as "I Never Go Around Mirrors," "That's the Way Love Goes," and "Bandy the Rodeo Clown." Saving Country Music reports that Whitey's three 1980s divorces inspired the songs of "Does Ft. Worth Ever Cross Your Mind," "All My Ex's Live In Texas," and "I Wonder Do You Think Of Me." He also wrote Moe Bandy's first hit, "I Just Started Hatin' Cheatin' Songs Today." Whitey Shafer was inducted into the Nashville Songwriters Hall of Fame in 1989.
Reggie Young, 82, whose guitar work can be heard on hundreds of hit songs, died January 17 at his home outside Nashville, reports the Memphis Commercial Appeal. He was 14 when his family moved to Memphis from Arkansas in 1950. After serving his draft time in the U.S. Army, and working with Johnny Horton, he became the house guitarist at Royal Studios/Hi Records in South Memphis. In the 1960s, he became one of "The Memphis Boys," the house band at American Studios, to record Elvis Presley, Neil Diamond, B.J. Thomas, and many others. Moving to Nashville in the early 1970s, he played on sessions for, at a minimum: Merle Haggard ("Pancho & Lefty), Willie Nelson ("Always on My Mind"), Waylon Jennings ("Luckenbach, Texas"), Hank Williams Jr. ("Family Tradition"), Kenny Rogers ("Lucille"), and Reba McEntire ("Little Rock").
Bonnie Guitar, 95, after suffering from congestive heart failure, died January 13 in her home state of Washington. Born in 1923 in Seattle, Bonnie Buckingham began playing guitar at 12, learning from her older brothers. As a teen, she earned the name Bonnie Guitar, reports Saving Country Music, "for her unusual skill and adeptness at the instrument in an era when guitar playing was dominated by men." In addition to a recording career, she started her own record label and signed the acts of The Fleetwoods and The Ventures. She was a legendary and pioneering guitar player, country music star, label owner and businesswoman.
The wife of Stonewall Jackson has died. Juanita Wair Jackson, 81, of Brentwood, Tennessee, passed away on January 11. She was her husband's business manager. They have one son, Stonewall "Turp" (Shannon) Jackson, Jr.
Vickie Salas, best friend of Bill Anderson, died January 16. Bill first met her when she was 19 and married to the guitar player in his band. They reconnected years later when they were both divorced. Bill writes on Facebook, "We talked a long while, made arrangements to get together at a nearby Mexican restaurant, and that was almost twelve very short and very wonderful years ago. We never married, we never lived together, but she became my everything from that moment forward." She was diagnosed with cancer in 2016 and went through chemotherapy and radiation. After a period of remission, the cancer reappeared in the form of tumors on her liver and lung. "On New Year's Eve," Bill says, "when I took her to the hospital for what was supposed to have been another routine treatment, the doctor said she was too weak to withstand any more side effects from the powerful drugs." Her funeral was held January 20. "We gave my precious Vickie quite a sendoff to Heaven this afternoon," Bill writes. "Jamey Johnson, Jimmy Fortune, Dailey & Vincent, and Mo Pitney sang her Home as only they could do. . .. It was a beautiful day in tribute to a beautiful person. Rest in peace my sweet, sweet love."
The oldest living member of the NASCAR Hall of Fame, Glen Wood, died January 18 in Stuart, Virginia, following a lengthy illness. He was 93. He and his brother Leonard co-founded the Wood Brothers Racing Team, the longest running team in NASCAR, with 99 victories, the last one in 2017. Glen himself had four wins as a driver. I talked to him on the phone in 2006, while researching the NASCAR career of Marty Robbins. Glen remembered Marty saying how he appreciated the drivers talking to him and making him feel welcome. "Marty," Glen told him, "you got it the wrong way around. It's an honor for us to be able to talk with you like this." He told me about the time Marty got him tickets to the Opry: "He came out on stage, and he played a song or two. Then he said he wanted to introduce a friend of his in the audience and had me stand up. I thought that was pretty cool. Something I never forgot." Here's a piece of NASCAR history from Glen: "I ran on that Daytona track the first time it was built, from running over on the sand, on the beach, and I didn't like running with so many cars, that you had to hold your car right to the bumper of the other one or you'd lose the draft, and I just didn't like it."
After the January 15 death of Carol Channing, 97, Rolling Stone posted a clip of her appearance on the Marty Robbins Spotlight TV show: "Dressed in a white cowboy hat and black-and-white bovine-patterned blouse, Channing opens the segment with a comic bit about her little black book with the names of over 100 men she wants to sing with while she's visiting Nashville." She and Marty then sing a medley.
When Loretta Lynn turns 87 in April, she will be honored with an all-star concert at Bridgestone Arena on April 1. The concert announcement was made a week ago at the Grand Ole Opry House. Garth Brooks was one of the group who presented Loretta with a large, purple birthday cake. According to The Tennessean, the lineup includes "Garth Brooks, Trisha Yearwood, George Strait, Keith Urban, Miranda Lambert, Pistol Annies, Jack White, Alan Jackson, Little Big Town, Martina McBride, Brandy Clark, Darius Rucker, Margo Price and Kacey Musgraves." When asked if she planned to sing with any of the performers, she said, "No, I come to listen." Nash Country Daily posted a wish from Loretta on Twitter: "I am so excited to celebrate my 87th birthday with all my friends. This is the first time I've ever had a birthday party. My birthday wish has come true. The only other wish I have is that Keith Urban jumps out of my birthday cake!" Keith Urban tweeted in response, "Your wish is always my command Miss Loretta!!!! — KU."
A ribbon-cutting ceremony last Friday in Nashville announced the arrival of TRUMAV Fitness. Tim McGraw has launched his own line of boutique fitness clubs, in partnership with Snap Fitness. The flagship store in the Gulch at 603 9th Avenue South is owned by Wirth Campbell. "TRUMAV is a community," Tim told Forbes. "It's about working with great people, great trainers, and a great environment to figure out the things that work to make you a better person and motivate yourself and the people around you." They will monitor the Nashville club for six months before expanding regionally and nationally. In contrast to the night clubs opened in Nashville by his fellow country entertainers, Tim says, "The honky tonks are fine and good and great, but for me, that wasn't where my interests lie."
Nashville's Bridgestone Arena hosted the all-star tribute concert, Willie: Life & Songs Of An American Outlaw, on January 12. The Tennessean reports more than two dozen acts shared the stage to play their favorite Willie Nelson songs: Chris Stapleton, Alison Krauss, George Strait, Dave Matthews, Sheryl Crow, Kris Kristofferson, John Mellencamp, Jimmy Buffett, Emmylou Harris, and many others. Willie and the entire cast closed the four-hour show with "Will the Circle Be Unbroken," "I'll Fly Away," and "Roll Me Up and Smoke Me When I Die." Willie: Life & Songs Of An American Outlaw will be presented as an A&E network special later this year. The show marked the first time George Strait and Willie Nelson ever performed together. Country Music Nation announces, "The two country music icons stood on stage and sang together for the very first time." They performed a song they wrote for the occasion, "Sing One With Willie." Other co-writers were Bubba Strait and Buddy Cannon. The lyrics have George admitting he's had a wonderful career, but something was missing…. he "ain't never got to sing one with Willie." The song will be on George's new album, Honky Tonk Time Machine.
John Berry, who had a number one Billboard hit with "Your Love Amazes Me" in 1994, has announced a health setback. According to a press release, he made it through a 21-city tour in spite of a tonsil infection that started in November. A CAT scan after the tour revealed a tumor in one of his tonsils. He went in for surgery on January 10 to have both tonsils removed. The biopsy report confirmed malignant tumors on both tonsils. "The expected treatment is only five weeks and has over a 90% cure rate," the press release states. "John and his wife Robin have asked that the community lift them up in daily prayers . . . as they go through these next few months."
As Alan Jackson prepares his 2019 touring schedule, he is offering his fans an opportunity to choose two of his opening acts. He has provided a list of artists who regularly play at his Nashville honky-tonk, AJ's Good Time Bar. According to Nash Country Daily, there are 21 artists and voting ends February 8.
A freak accident at the 2017 Garth Brooks concert at Bridgestone Arena almost cost a Kentucky woman an eye. Billboard reports Jean Ann Crenshaw was looking upward, waiting to grab a balloon during a balloon-and-confetti drop, but the balloons failed to drop. When an Iden worker used a metal pole to pry the rigging loose, he dropped the pole. It hit Crenshaw below the eye, requiring stitches and surgery. Iden's insurance company, State Farm, recently agreed to pay Crenshaw a $65,000 settlement–$25,000 for medical fees and $40,000 for additional damages. Iden's general manager, accepting responsibility, said the company had never had an accident in 2,000-plus balloon drops and twenty years of business. The employee who dropped the pole was reprimanded but not fired.
Tanya Tucker has bubblegum pink hair. She shared her new appearance on Instagram, with the caption, #pinkhairdontcare."
CBS News calls Marty Stuart "the keeper of Nashville's memories." His private collection of country music memorabilia has reached 20,000 pieces and is valued at roughly 25 million dollars. He began collecting in the early 1980s, when he was in a junk store in Nashville and found Patsy Cline's train case, on sale for $75. "And I thought, this is wrong," he tells CBS News. "This is wrong." He decided "to preserve, hang onto, promote and further the culture of country music any way I could." His collection has been moved from three Nashville warehouses to his hometown of Philadelphia, Mississippi. He hopes to break ground in 2021 to build a permanent display building for his treasures: The Congress of Country Music in Philadelphia, Mississippi.
LETTERS
Terry Burford writes from KZHE Radio in Magnolia, Arkansas, "The show is ready at kzhe.com. Click on my name."
Diane: I enjoyed our conversation, Terry, and the discussion about Faron and Marty. Thanks for the interview and for posting it on your website.
Sherwin Linton writes from Minneapolis, Minnesota, "Once again a great newsletter. I enjoyed the story of the Atlanta sessions and that historic building, which I hope can be saved. Once a piece of important history like that has been destroyed nothing can replace it and I have seen too much of that over the years. If some people would have had their way, The Ryman would have been hit by the wrecking ball. I read with great interest the letter from Leon Boulanger's nephew. I know Leon real well from the years we both played The Flame Cafe in Minneapolis. I have some pictures that he is included in, and I have archived some old film from 1965 into a DVD in which he appears. When I played in Post Falls, Idaho, in 1966, I went to Spokane and to a barber shop. The barber found out I was a musician and he said he used to play in a band in Alaska in the mid-1940s. He showed me a picture of the group and I saw Leon in the photo playing guitar. I asked the barber who that was, and he said, 'That was Lucky Boulanger.' I told him I knew him as Leon Boulanger. The barber made a copy of the photo for me and when I got back to The Flame, I surprised Leon with it and he signed it for me. I am sure I still have it. Leon was the house band leader in the main room at the Flame Cafe in Minneapolis. He played a Mosrite Double Neck Guitar similar to Joe Maphis, although Joe's was a custom model. Leon was an excellent guitarist and fiddle and mandolin player. He played on some of my early records in Minneapolis. He really knew music and he taught me a lot. He was also a very good singer and was the emcee of shows at the Flame for several years. The Flame was the biggest Country Music night club in the U.S. with four bands in two rooms, six nights a week plus major national Grand Ole Opry or West Coast Stars doing three shows nightly. Every country star played The Flame except for Johnny Cash, because he was out of their budget. If Leon's nephew would wish to contact you, I can put some things together for him, though it may take until spring as I have a heavy road schedule. I appreciate people who value their heritage and want to learn about their relatives. Happy 2019."
Norma Jean writes from Texas, "Thank you for the newsletters. I've enjoyed them very much. I worked with Leon Boulanger for two years back in 1957. He and I traveled with Billy Gray's Western Swing Band. It was one of my first jobs when I started out on the road. I had just graduated from high school. I lived in Dallas part of the time to be close to the band. Leon was a wonderful fiddle player and singer. I have pictures but haven't had time to find them. I left Billy's band to sing at the Ozark Jubilee."
Gerald Walton in Oklahoma City says, "Just wanted to say how I enjoyed the article on Norma Jean. Our kids were in the same class in the late '60s in OKC."
Rick Belsher in Edmonton, Alberta, Canada, writes, "Love all the background and history of the artists, and about writing songs. Especially enjoyed Hillous talking about Faron Young. With Ray Price, and Mel Tillis, he is one of my all-time favourites. The man could sing shuffles and ballads, with feeling. Just had a great, great voice, and from what I understand, loved to be on stage. Saw him once in Edmonton years ago. Was quite a character too. What I especially like about this newsletter is artists write in, just like ordinary people, they aren't stuck up or arrogant. They really appreciate us fans."
Jean Earle writes from England, "Thank you for the newsletter …sadly rather a lot of deaths reported this week. I was pleased to see you had room for my little contribution, thank you. Faron was generous with the time he spent with his fans. I wonder how many of the newer country artists will find the time to do likewise… somehow I doubt it, even if the fans are lucky enough to get near enough… past all the security guys. We always appreciate the time you must spend, filling the pages of your newsletter."
Dominique "Imperial" Anglares writes from France, "That first newsletter for 2019 is welcome but that's a heartbreak to learn about my friend Jimmy Work's passing. I wonder if he had my season card as sent each year. Blue Grass will no more be tickling his Feet. Jimmy Work can be classified among the best Hillbilly performers from the early '50s with Lefty Frizzell, Webb Pierce or Faron Young. He was a gifted songwriter and a great stylist but his work, including the classics 'Tennessee Border' and 'Making Believe', never opened the Country Music Hall of Fame to him. Luckily, in 1985 and 1988, Bear Family Records from Germany manufactured two great LPs packaging his Decca, Capitol, and Dot recordings. At the same time, several papers bring his name back in Hillbilly and Rockabilly collector's circles through Roll Street Journal (UK – 1984) or Country Music USA (France). Having many of his original records, I wrote to Jimmy Work in 1988 and the answer came with those words: 'It was nice to hear from a country music fan so far away. I am glad you like my music'. I am glad he did record those songs and to be able to pay him tribute 20 years after that first letter in a French magazine named Rock and Roll Revue. A full tribute updated will be printed in American Music Magazine on their Spring 2019 edition. That new work from me was only possible thanks to Craig Maki and Keith Cady for their stunning book, Detroit Country Music – Mountaineers, Cowboys and Rockabillies, published in 2013."
Alan Potter writes from the United Kingdom, "As always another great newsletter. Saddened only by the loss of more vintage country stars, your newsletter is without doubt the most informative of any journal we country lovers can get."
Joan Brooking in Iowa says, "I have received your newsletter for 3-4 years now and I always enjoy the information you share. Writing 'Four in the Morning" at four in the morning, for example. I enjoy writing and it just flows like water when the mood is right. I always note the time and date. My songs seem to follow my lovers and has been. Claude Gray is a friend of mine and I had a Return-to-Sender Christmas card I had sent to Henderson, Texas. Can you track him down for me? I opened for him once at LeMars, Iowa, in 2015 at O'Malleys Dinner Club, I believe. A Kasey Jones song 'I'm Waiting for the Guy to Die' was one song I did that he thought was questionable but the crowd loved it. Keep your letters coming."
Diane: Claude has a website. I don't know how up-to-date it is. He appears to be active on Facebook.
Floyd Tidd says, "Really enjoy your Country Music newsletter."
Margie Singleton Walton writes, "Great stuff Diane. Keep it coming."
Lee Shannon in Florida says, "My wife and her girlfriend went to the Wembley Festival in the mid-seventies and enjoyed it very much. Their one complaint was they could not get ice for their Coca Colas. A local gentleman heard their comment and said he would get them some ice. He was gone for some time but, eventually, did return with ice."
Sheree Homer introduces her new book: Under the Influence of Country is a biography profiling thirty-six classic country and rockabilly artists. Exclusive interviews, archival reference material, and unearthed images showcase tales of life on the road, in the studio, and the genesis of landmark recordings. Some examples include Jerry Reed playing guitar on Elvis Presley's recording of 'Guitar Man'; Bill Anderson sharing the bill with Roger Miller on his first tour; Faron Young and Ernest Tubb having a passion for card playing; Hank Cochran penning Jeannie Seely's hit 'Don't Touch Me' after driving past a mental institution; Mickey Gilley recording his first number one song, 'Room Full of Roses,' as a throwaway B-side; The Oak Ridge Boys being offered 'Achy Breaky Heart' before Billy Ray Cyrus; Jerry Seinfeld opening for Kenny Rogers; Charley Pride having his photo hidden from disk jockeys, so they wouldn't discriminate; Loretta Lynn losing copyright to many of her hit songs; and David Frizzell and Shelly West's 'You're the Reason God Made Oklahoma' being turned down by every major record label. Never before has such a prolific set of singers and musicians been compiled."
Kristy Bruce requests, "Would you mind to please include this note in your newsletter in case any of your readers would like to join the Faron Young fan group on Facebook? They can find it by searching on Facebook for 'Faron Young; A Man and His Music.' We share photos, songs, and stories about Faron and always welcome new members.
Diane: Kristy, you're doing a great job with that page. Thanks for starting it and for caring about Faron's legacy. I enjoy reading the comments from the Shreveport folks who knew Faron way back when.
Stacy Harris, Publisher/Executive Editor of Stacy's Music Row Report, writes from Nashville, "A few thoughts on your recent newsletters. Jim Reeves are fighting words. I learned that when I reviewed two of the three most widely-read books on the subject. I'd never seen so much positing and questioning of 'the truth' about the singer. I wasn't involved in the internecine squabbling between fans, fan club members, and Reeves book authors and sources, but there was more than one attempt to draw me in which I felt troubling, since though I did know Mary, I never met Jim.
Re: a relationship between Gene Pitney and Mo Pitney. Several months ago, I asked Martha Moore to help me look into this and she responded with an email indicating that, according to Mo's sister, Holly, Gene was a distant cousin. As a genealogist, I began my own search for truth that would enable me to say with certainly which 'th' and/or how many times 'removed' cousins they are. Lucky for everyone who cares about this sort of thing, both Pitney families have resided in the USA for several generations. But even taking Gene's family back to Great Britain, after looking at a handful of generations (and ruling out a maternal connection) I have yet to find a common Pitney ancestor. I'd like to run my information by an interested Pitney family member who might be the missing link between me and the holes in my Pitney family research.
Re: Steve Hall. While I realize Steve was reported to have died from 'natural causes,' life expectancy has increased to a point where people no longer die at age 64 from 'natural causes.' I'm guessing heart disease claimed him. No inside information, but he wasn't particularly tall and, like many, might have wished to lose a few pounds.
Re: William Shatner. Published reports to the contrary, William Shatner appeared on the Grand Ole Opry at least once before February 15, 2019. I know. I was there, backstage at the Opry, some two decades ago when Shatner made a 'surprise' appearance at the Opry, when I ran into the actor. Having never seen Star Trek, I didn't have much to say to Shatner; my biggest memory of meeting him that evening, with respect to the actor, was being startled by his appearance. Though his demeanor suggested otherwise, and in spite of the fact that I didn't detect alcohol on his breath, I thought Shatner had been drinking. I surmised as much, surprised by Shatner's bright red, puffy face. Little did I know Shatner was experiencing a full-blown rosacea outbreak. Surely, if asked, Shatner would confirm his real Opry debut is in his past, rather than his future, but if you want further verification, you'll likely find it in Johnny Shealy's precise logging of years of Grand Ole Opry show performances. Shealy's meticulous show statistics- including calendar dates, segment times, segment hosts, performers' names and set lists- are easily accessible, the posthumous donation lovingly preserved as one of the Nashville Public Library's special collections.
Finally, could Johnny Western let his fellow Diane's Country Music Newsletter readers in on how he came to record the Have Gun, Will Travel theme song?"
IN THEIR OWN WORDS
To learn about Faron Young's days on the Louisiana Hayride, I called Horace Logan in June 2000. He had established the KWKH radio show in 1948 and stayed with it for a decade. The show became known as "Cradle of the Stars" because of all the country singers who made a start there. Horace told me about his famous remark, "Elvis has left the building," which is also described in his 1998 memoir, Elvis, Hank, and Me. Somewhere in my boxes of cassette tapes, I have the recording of Horace's voice speaking those words on December 9, 1956. Horace died of pancreatic cancer at age 86, in 2002.
The first time I met Faron, he was still going to Fair Park High School in Shreveport. His parents owned a little quick-food place, like a Dairy Queen or something of that type. Faron started to work with Webb Pierce and wound up fronting Webb's band. At that time Webb's band had Floyd Cramer as pianist, Jimmy Day as steel, Goldie Hill as girl singer, Tommy Hill as guitarist, Faron as front man. He came on the Hayride as a member of Webb's band, cuz Webb was already on the Hayride. I would say, off-hand, that Webb Pierce discovered him–I didn't. I just appreciated him.
There were an average of sixty people on each show. It went on 52 times a year. I worked just with the leaders of the bands. Sometimes I didn't know all the members of the band, but I sure knew Faron. No question. I didn't get much time to spend with any one of them, except a few that were close personal friends. Like ol' Johnny Horton–I went fishing with him so much.
Each main artist was scheduled for a total of six minutes in the first half and six minutes in the second half. Twelve minutes in the whole four hours. It made stars out of them. It was hard for them to do it, but they had to do it or they didn't get any attention. Everybody on the show was pretty darn good, and it worked. That was the whole format of the show. These people were unknown. They were not like Roy Acuff or somebody that could go out there and stay thirty minutes and bore the hell out of everybody. They had to establish themselves almost instantly.
Anybody that came on was scheduled to do two numbers in the first two-hour show, and then two numbers in the second two-hour show. If they didn't encore, that's all they got, period. It forced them to reestablish their eminence every Saturday night. They had to encore, and that's what made stars out of them. They had to do their dead-level best every Saturday, or fall on their butts, is what it amounted to.
I scheduled their songs with the idea–if they had a ballad and a up-tempo, I scheduled the up-tempo second, so they could possibly encore with it. I scheduled so I thought they could encore. And we watched the audience like a hawk. Now, at one point, Webb was hiring a few young people to sit out in the audience, scattered around, and applaud for him. And Tillman Franks, his guitar classes was scattered around the audience. We'd watch for that. It had to be a genuine encore before they got it.
Faron was asked by the Opry, which was normal, if he wanted to come up there. At that time the Opry was able to present them with daily programs which they'd receive money enough to live on without making any personals, until they could get on their feet and get going. That's the way it happened with Faron. He accepted and went to Nashville. I consequently lost touch with him, other than seeing him occasionally at funerals and things like that.
Any time you want to talk, you let me know. I can't remember everything, but I can remember a surprising amount of it.
SONG OF THE WEEK
Blues singer Huddie 'Lead Belly' Ledbetter was incarcerated at the Louisiana State Penitentiary in 1933 when musicologists John and Alan Lomax started recording his performances. The most famous was "Goodnight, Irene." Although the song was actually published in 1886, BMI lists Huddie Ledbetter and John Lomax as writers. Nat King Cole recorded it in 1946. The Weavers, an American folk band with Pete Seeger as a member, had the first hit, reaching number one on the Billboard pop chart in 1950. It was a busy summer for Irene. Frank Sinatra's cover peaked at #5 on the same chart. The country version by Ernest Tubb and Red Foley spent three weeks at number one on Billboard's country chart. Moon Mullican's recording at the same time reached number 5. He rewrote some of the lyrics and registered the song with BMI as his composition. Moe Bandy, who was six years old in 1950, sang "Goodnight, Irene" when his parents entered him in a talent contest.
BOOK REVIEW
The story of the Weavers is told in Jesse Jarnow's recently published book, Wasn't That a Time: The Weavers, the Blacklist, and the Battle For the Soul of America. While the lives of the band members are covered, the focus is on the damage done by Congress's House Un-American Activities Committee in the early 1950s and the blacklists that ended so many careers during the Red Scare. Pete Seeger and his bandmates championed workers and underdogs, an attitude that marked them as Communists. Just as their songs began reaching the top of the charts, they were blacklisted, dropped from their record label and unable to get bookings for shows. Still, they are responsible for bringing forth songs such as "Goodnight, Irene," "If I Had a Hammer," "The Lion Sleeps Tonight," and "Wasn't That a Time." What shocked me in reading this book was learning how the VFW and American Legion (I'm a life member of both) participated in the censorship that destroyed so many people. What I enjoyed was the fresh perspective on the rise of country music popularity in the early 1950s. Overall, the book serves as a reminder of how we must be vigilant to protect our Constitutional right to freedom of speech.