CONCERT REVIEW – JEANNIE SEELY
Jeannie Seely entertained for ninety minutes at the Performing Arts Center in Sisseton, South Dakota, on October 15. The audience in the almost-full theater chose to spend Sunday afternoon with this Grammy Award winner and 50-year Grand Ole Opry member. Jeannie was accompanied by Tim Atwood, Opry pianist and Nashville session musician. Tim played keyboard and sang a few songs of his own. They wrapped up with several duets.
The opening act was an excellent classic country band, Just Between Friends. The nine members live in the Sisseton area and open all the shows at the Performing Arts Center. That is their main gig, as they all lead full lives away from music.
Tim and Jeannie obviously enjoy working together. They have been friends for many years, and their trading of lines during their performance showed their comfort. They do 7-8 shows together each year, with the time carved out of their own schedules. Gene Ward, Jeannie's husband of seven years, sat at the edge of the stage. The retired Nashville attorney was on crutches, following recent back surgery. Although Tim's wife, Roxanne, wasn't there, I recall meeting her years ago in Nashville while I was working on Faron Young's biography.
Jeannie is an ENTERTAINER. Unlike many performers who have been around for decades, she doesn't have to tell us how good she once was–or post old photos to remind us she'd been beautiful. She only needs to be on the stage in front of us, and we can see she still is. One of her songs was called "Who Needs You, Honey." It included a verse about smoking a joint. She'd chosen it for the Charlie Daniels Volunteer Jam, where she was concerned about the image she'd be portraying. "I didn't want to walk out there and look like some sweet little old lady," she said. "I'm not sweet."
For the encore, Jeannie brought out Just Between Friends to help her and Tim sing "Amazing Grace" as a tribute to those killed or wounded in the Las Vegas shooting.
Perry and Kayo and I were honored to be invited to join the group at a prime rib dinner after the show. We enjoyed listening to Gene's stories and would have liked to hear the ones he didn't tell. As Webb Pierce's attorney, he'd handled Webb's four divorces. He also represented Faron in a DUI court appearance.
We're looking forward to what next year's schedule at the Performing Arts Center might be.
NEWS 
The Country Music Hall of Fame's three 2017 members were inducted Sunday evening during the Medallion Ceremony at the Country Music Hall of Fame and Museum. Loretta Lynn made her first public appearance since her stroke, because Alan Jackson had requested she be the veteran member to officially welcome him. "This is the first time I've been out of the house, Alan," she said. "And you're the only thing that would have brought me here." George Strait escorted her to the stage. Jerry Reed's daughters chose Bobby Bare to officially induct their father, who died in 2008. Vince Gill did the honors for his longtime friend, songwriter Don Schlitz. The evening concluded with Connie Smith leading the singing of "Will the Circle Be Unbroken." She and George held Loretta's arms to help her stand, while they and Alan sang.
Ryman Hospitality is embarking on a $12 million expansion of the Grand Ole Opry House, The Tennessean reports. This will add parking, larger retail space and an enhanced area for backstage tours. In the last several years, Ryman Hospitality has spent $14 million on the Ryman Auditorium, $8.6 million to renovate the Wildhorse Saloon, and $20 million to prepare a building to house the Blake Shelton entertainment complex Ole Red. There is also a $90 million water park under construction.
Donald Ray Webb, 76, died October 13, surrounded by family, at his home in Wabash, Indiana. His obituary listed his siblings as four sisters (Loretta Lynn of Hurricane Mills, Peggy Wright of Hendersonville, Brenda Gatzimos of Nashville, and Betty Hopkins of Hendersonville) and one brother (Herman Webb of Van Lear, Kentucky).
Dolly Parton marked the release of I Believe In You, her first children's album, by visiting the Monroe Carell Jr. Children's Hospital at Vanderbilt University. She also donated one million dollars. The Tennessean reports she wrote every song on the album, and its proceeds will go to Dolly's Imagination Library. Money from the song, "Chemo Hero," will be used to fund medical research.
Leroy Van Dyke, who joined the Grand Ole Opry on October 20, 1962, marked his 55th anniversary with an appearance on the Opry's Thursday night show at the Ryman Auditorium on October 19. "After six decades in the music business, I'm still so proud of the day I became a Grand Ole Opry member, an incredible personal highlight and career milestone," Leroy said in a press release. "I have always felt at home among my family, friends, and fans there, and I look forward to returning to the Ryman stage where I made my Opry debut and was first introduced as an Opry member."
The Texas Country Music Association (TCMA) presented Mark Chesnutt with its first ever Trailblazer Award, during its 2017 awards ceremony in September. Due to an unexpected illness, he was unable to attend. His good friend and co-writer ("It's a Little Too Late" and "Thank God For Believers"), Roger Springer, accepted the award in his honor. The TCMA, according to the press release, "is an organization dedicated to the promotion and support of both established and new artists, songwriters and musicians from Texas, as well as those who perform in the state."
The first annual Dottie West Birthday Jam was held October 18 at 3rd & Lindsley in Nashville. It was a benefit for the Nashville Musicians Emergency Relief Fund. Jeannie Seely hosted the show, and all the performers had a connection to Dottie–such as Shelly West, the Wild West Band, and the Gatlin brothers. Although this event honored the memory of Miss Country Sunshine herself, future events will be dedicated to different performers each year. Jeannie wrote on Facebook, "It's bedtime at our house but I just have to say THANK YOU to Ron Harman, Scott Sexton and Roxane Atwood for organizing this great event tonight honoring Dottie West and raising funds for the Musicians Union Emergency fund. Thanks also to the amazing musicians, especially Dug Grieves, for their efforts to make us all sound good . . . I think there's a pretty happy angel up there in Heaven tonight."
George Strait, 65, has scheduled two additional 2018 performances in Las Vegas at T-Mobile Arena. He performed six sold-out "Strait to Vegas" shows there in 2016, and an additional 10 shows in 2017. Onecountry.com reports the February 2-3 shows will be opened by George's friends Lyle Lovett and Robert Earl Keen.
When a Talk Business & Politics reporter visited the childhood home of Johnny Cash in Dyess, Arkansas, his timing was great. Johnny's sister, Joanne Cash, stopped by. She became the tour guide for the tourists who were in the house at the time. "The first thing she noticed," the reporter writes, "was the piano she used to play with her mother, Carrie. Often they played while Johnny sang. As she spoke, she suddenly noticed the original floor linoleum, uncovered when the house was restored." Arkansas State University has restored the house to its original condition. Joanne and Tommy Cash provided project leaders with details of the home. The project, which included a new administrative building, cost $3.5 million.
October 20 was "Heal the Music Day" in Nashville. Artists donated 5% of their earnings for the day to Nashville's non-profit Music Health Alliance–an organization that provides free services to get healthcare for Nashville musicians. The idea came from Rodney Crowell, who donated money several years ago from a show he did with Vince Gill and Emmylou Harris. Since then he has focused his fundraising efforts entirely on their cause, and he has enlisted his friends to join him. "It became my cause," he told Wide Open Country. To date, the MHA has helped 6,000 music professionals in Nashville and has saved more than $16 million in medical bills and premiums.
A new Charlie Daniels album, Memories, Memoirs and Miles – Songs of a Lifetime, has been released. A press release calls it "the musical companion" to his newly published memoir, Never Look At The Empty Seats.
Nipper and his Victrola phonograph are once again advertising Nashville's historic RCA Studio A. The Tennessean reports that crews mounted replicas of the old signs, described as "Nipper, a terrier mix dog that was RCA's old mascot, looking at a Victrola phonograph." The words, "RCA Victor Recording Studios," are lighted. The signs are part of a $500,000 preservation effort that returns Studio A to its 1960s appearance. Studio A, at 30 Music Square West, sits next to the old RCA Studio B.
LETTERS
Ashley D'Silva writes from "Down Under": "Thanks so much for a great and newsy newsletter. We here in Australia are pretty much starved for news and I for one look forward so much to your fact filled email. I have been a country fan for about 50 years, enjoying anything with a good Twangy Steel and Telecaster.  I have played the pedal steel (in my room) for about 10 years and just love the music. Please continue the good work."
John Pokoski writes, "I enjoy all your newsletters but I really appreciate the notes you add in each issue about the additions to the Country Music Hall of Fame in a given year. I have been there several times but it is always too difficult and time consuming to try to read and remember all the plaques on the wall. Reading a few in each newsletter is just right for me. Very interesting. Thanks!"
Mary Mitchell says, "Thanks, Diane, for mentioning my favorite of the traditional artists. Carl Smith truly had a great band and voice."
Dominique "Imperial" Anglares writes from France, "Thank you very much for that new edition. Great to read about Bill Mack's support. His Facebook page is very interesting and I stroll there daily. Sometimes I left a little comment or a rare picture. Greetings for the good work done since a such long time."
Gerald Walton in Oklahoma City says, "Thanks again for a very good newsletter it is so great to get news about real country music. Keep up the good work."
Doug McLeod says, "Leroy Van Dyke is one of the best and his Country Gold show is an absolutely dynamite production if you haven't seen it. LeRoy and Gladys are two top-notch Patriots and they have some of the best 'gold' acts and performers in their show. Click on his website, leroyvandyke.com, and you'll be amazed at the rich history of this fine man, Korean War veteran and keeper of the Classic Country flame. I'll be listening to WSM the 19th, streaming live on the Internet, celebrating a remarkable career of 55 years as an Opry member. Thanks Diane for your part in keeping the 'flame.'"
Dave Barton in Nashville, Tennessee, asks, "Have you seen the new Subway commercial with Leroy Van Dyke singing the Auctioneer Song that he wrote back in the '60s? Good for him; that should be a good payday. It's on the network TV."
Diane: I saw it this weekend for the first time.
Gustavo Monroy in Arizona wonders, "The Arizona Library pointed me in your direction. I'm researching local records. A Rosa's Cantina in El Paso which MAY have opened in 1957 still stands today. I'm searching for historically accurate documented evidence, photos or interviews. How confident are you Marty Robbins didn't come up with Rosa's Cantina in his El Paso song by stopping at the establishment in El Paso, Texas? Did he or did he not stop there before releasing his song? How did this story develop that he visited the cantina? Is it even remotely possible he might have stopped there?"
Diane: My guess is that the story was developed by someone who wanted to bring business to the modern-day cantina. Marty said this in an interview, two weeks before his final heart attack: "There was nothing really true about the story except that I found out after I had written the song, a man came from New York and did research on that and at the turn of the century there was a place in El Paso called Rosa's Cantina. And part of the building still stands. At one time it was the hottest nightclub in El Paso. But I didn't know that. But it's one of those funny things that happens in life."
SOUTH DAKOTA BANDS
Just Between Friends is a band I would love to be able to book for a show at the VFW in Sioux Falls. But they'd need a bigger venue. This Sisseton group of musicians came together several years ago when they started bringing Nashville acts to the Performing Arts Center. Janeen Kohl is the band leader; her husband, Ron, plays bass and also sings. He'd been combining grain for the three weeks leading up to Jeannie Seely's show. The Kohl grandson played with his John Deere combine on the floor in front of us during the concert. Janine, Linda Loberg, and Melanie Yost alternated singing lead, harmony, and as a trio. Wade Johnson sang and played keyboard. On one song with vocals by Curt Dahl, Wade pulled out his trumpet to trade off with the dobro played by steel guitarist Rick Schroeder. Steve Johnson, on lead guitar, was recently in the newspaper for returning two lost guitars to a Kenny Rogers band member. Dominic Weber is the drummer. The band recently performed at a cancer benefit for Dominic's wife, Lisa. With the vocal and musical talent these nine musicians possess, they could put on wonderful classic country shows if they ever choose to do so.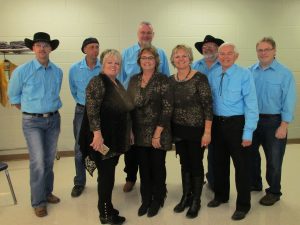 Front: Melanie Yost, Janeen Kohl, Linda Loberg, Curt Dahl
Back: Steve Johnson, Rick Schroeder Wade Johnson, Ron Kohl, Dominic Weber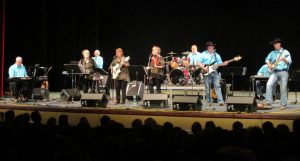 COUNTRY MUSIC HALL OF FAME – 1992
Born in Saratoga, Texas, in 1931, George Jones sang for tips as a child in the streets of Beaumont. His alcoholic father provided a poor role model. George joined the Marine Corps after being jailed for nonpayment of child support. Home again in Texas in 1954, he began cutting records for the local Starday label. He moved to Nashville, where his hits on Mercury Records included "White Lightning," "The Window Up Above," and "Tender Years." He and Tammy Wynette, his third wife, married in 1969. They both recorded for Epic Records, with duets such as "Golden Ring," "Near You," and "Two Story House." After their 1975 divorce, George's alcohol and cocaine addictions ruled his life. He became known as "No Show Jones" because he missed so many performances. The million seller "He Stopped Loving Her Today" revitalized his career in 1980. His fourth wife, Nancy Sepulvado, following their 1983 marriage, helped turn his life around. George received the Kennedy Center Honors for lifetime achievement in 2008. He was on his highly publicized farewell tour in 2013 when he was hospitalized in April with fever and irregular blood pressure. He died at Vanderbilt University Medical Center in Nashville on April 26, at age 81. The planned concluding performance of his tour, at Nashville's Bridgestone Arena on November 22, 2013, was a memorial instead.
The second induction into the Country Music Hall of Fame in 1992 was a woman who played a major behind-the-scenes role in making Nashville a music center. A Nashville native who began as a radio station receptionist, Frances Williams Preston was hired in 1958 by Broadcast Music Inc. to open a BMI southern regional office in Nashville. She was so successful in licensing performing rights for songwriters and music publishers, and assisting them in their careers, that she led BMI to preeminence. When the Nashville BMI Building opened on Music Row in 1964, she was named a vice president. After moving to the New York office in 1985, she became president and CEO. She led the company's growth in domestic and foreign licensing, and she advocated for fair compensation legislation and copyright protection. Frances Preston died of congestive heart failure in 2012, at age 83, at her home in Nashville.