NEWS
Bakersfield.com reports the death of 67-year-old Mark Yeary, a California native who spent 19 years as pianist and occasional record producer for Merle Haggard and the Strangers. He died January 17 after suffering a heart attack at his home in Arizona City, Arizona. "He played music Thursday night," his longtime girlfriend said in a phone call. "He seemed chipper and happy." In 1992, he had decided it was time to leave the Strangers. He moved to Branson, Missouri, and then to Arizona. A stroke in 2008 limited the use of his right hand.
During the 62nd annual Grammy Awards presentations on Sunday, Tanya Tucker, 61, received her first two Grammy awards. While I'm Livin' was named Best Country Album, and "Bring My Flowers Now" won Best Country Song. Her co-producers, Brandi Carlile and Shooter Jennings, and her co-writers, Phil and Tim Hanseroth, joined her onstage. The Tennessean reports her as saying, "You know, after almost 50 years in this business, after many dreams, it's unbelievable to me that I'd have a few 'firsts' left. So, after 14 trips, 14 nominations, this is the first win." She was nominated in four categories this year, one of which was Best Country Solo Performance. Willie Nelson won that category for "Ride Me Back Home," the title track to his latest album. The country music, Americana/roots, and bluegrass categories were all announced during the Grammy Awards Premiere Ceremony on Sunday afternoon. Rolling Stone calls them "the off-camera awards."
The Grammy for Best Contemporary Christian Music Performance/Song went to Dolly Parton and For King & Country for their collaboration on "God Only Knows." Taste of Country reports the Australian duo (Joel and Luke Smallbone) remixed their song to include Dolly. They had previously used other singers on earlier remixes. Dolly did not attend the Grammy's Premiere Ceremony.
The Americana Music Association held a Pre-Grammy salute to Willie Nelson Saturday night at the Troubadour in West Hollywood. The Tennessean calls it "an inspired night of appreciation and rediscovery of Nelson's catalog." The dozen-plus acts who sang Willie's songs were led by John Prine, who performed three of his favorites: "I Gotta Get Drunk," "I've Just Destroyed the World I'm Living In," and "Pretty Paper."
CMT.com announced on January 21: "Effective immediately, all music video hours on CMT and CMT Music channels will have complete parity between male and female artists. That means 50/50. That was the message from CMT on Tuesday (Jan. 21) as their #CMTEqualPlay initiative was launched. So from now on, this means that female artists are guaranteed to account for half the videos played on CMT's platforms. That's an increase from the 40/60 (female/male) ratio previously used. (Now if we could just get country radio — where female singers account for only 13 percent of airplay — to follow our lead.)"
In a recent Variety interview, Taylor Swift talks about her mom's cancer. Andrea Swift, now 62, was first diagnosed with cancer in 2015, and she went into remission after treatment. The cancer returned last March while Taylor was filming her upcoming Netflix documentary, Miss Americana. "While she was going through treatment, they found a brain tumor," Taylor tells Variety. "And the symptoms of what a person goes through when they have a brain tumor is nothing like what we've ever been through with her cancer before. So it's just been a really hard time for us as a family." Taylor will not be doing her typical nine-month world tour to promote her new album, Lover. Instead, she will play four stadium dates in the USA and the festival circuit in Europe. Her new album features the Dixie Chicks singing "Soon You'll Get Better," Taylor's song about her mother's illness.
Multi-instrumentalist, singer, and songwriter Chris Darrow, 75, has died. Further details about his death are unknown. Christopher Lloyd Darrow was born July 30, 1944, in Sioux Falls, South Dakota. He grew up in Claremont, California, a suburb of Los Angeles. His father was a jazz clarinet player; Chris started playing a ukulele and switched to guitar at age 13. After playing in various bluegrass, rock and psychedelic bands, he joined the Nitty Gritty Dirt Band in 1967. He and Jeff Hanna left that band in 1969 and formed The Corvettes, which became the backing band for Linda Ronstadt. The Boot reports he also worked as a solo artist and session musician throughout his career.
The Nashville Award Program has chosen Stacy's Music Row Report for the 2020 Nashville Award in the Media & Entertainment category. The Nashville Award Program was established to recognize the best local businesses and honor the achievements and accomplishments of businesses throughout the Nashville area. A press release states, "Each year, the Nashville Award Program identifies companies that we believe have achieved exceptional marketing success in their local community and business category. These are local companies that enhance the positive image of small business through service to their customers and our community." Stacy is a longtime reader of this newsletter. Congratulations, Stacy!
When Gene Watson was performing on Friday night's Grand Ole Opry at the Ryman Auditorium, Vince Gill walked onstage and said, "Would you mind singing 'Farewell Party'? The Opry told me if you would, you could be the next member of the Grand Ole Opry." Gene posted on Facebook at 8:58 PM on January 17: "This has always been a dream of mine to be a Grand Ole Opry member. And tonight it happened. I'm still trying to comprehend it all. 55 years ago, tonight, I stepped out on that stage for the first time. I sure was shocked when Vince Gill invited me this evening to be a member."
The newest album by John Anderson, Years, will be released April 10 on Easy Eye Sound. John, 65, co-wrote all 10 songs. The title track, written with Pat McLaughlin, David Ferguson, and album producer Dan Auerbach, has already been released. Rolling Stone calls it a "sobering yet soothing meditation on a life well-lived, a piano-driven power ballad that swells and soars with the aid of Anderson's distinctively aged Southern drawl." John tells Rolling Stone the album took shape in the midst of a serious health crisis from which he has recovered. He says, "We went in the studio, and I remember saying, 'I'm going to do this like it might be my last.' It still could be, but now the chances of that are getting slimmer and slimmer every day. I'm doing better so I'm not hardly thinking that way anymore." John will appear on Blake Shelton's upcoming Friends & Heroes arena tour that begins February 13 in Portland, Oregon. One of the album cuts, "Tuesday I'll Be Gone," is a collaboration with Blake.
The Country Music Association (CMA) awarded Alan Jackson with the Joe Talbot Award during the Friday night Grand Ole Opry on January 17. The award recognizes outstanding leadership and contributions to the preservation and advancement of Country Music's values and traditions. It has been presented to seven individuals since 2001. CMA World reports, "Jackson is the fourth artist to be recognized with this award, joining Merle Haggard, George Jones and Marty Stuart as fellow recipients. Jackson is a 16-time CMA Awards winner and was inducted into the Country Music Hall of Fame in 2017."
The Eighth Annual CMA Touring Awards ceremony was held January 21 at Marathon Music Works in Nashville. Jon Pardi hosted the event that awarded 16 industry professionals from the 2019 touring season. Marty Stuart presented Tony Conway, CEO of Conway Entertainment Group, with the CMA Touring Lifetime Achievement Award.
A Roger Miller tribute concert has been announced. The King of the Road: Celebrating the Music of Roger Miller event will celebrate his musical legacy on March 22 at the Grand Ole Opry House. Performers will include Willie Nelson, Toby Keith, Trisha Yearwood, Kris Kristofferson, Wynonna, Rodney Crowell, Larry Gatlin, and many more. Buddy Miller is the musical director.
Coming in concert to the U.S. Bank Stadium in Minneapolis, Minnesota, on August 22 is the not-so-retired George Strait. He has announced four stadium dates with Chris Stapleton and Little Big Town, as well as four 2020 performances on his 5-year Strait to Vegas residency.
NBC News reports singer/songwriter David Olney, 71, died onstage during the 30A Songwriters Festival in Santa Rosa Beach, Florida, on January 18. He was giving his second performance of the day during an in-the-round song-swap show with Amy Rigby, who later posted on Facebook, "Olney was in the middle of his third song when he stopped, apologized, and shut his eyes. He was very still, sitting upright with his guitar on, wearing the coolest hat and a beautiful rust suede jacket." The 30A Songwriters Festival takes place in 32 venues along coastal Florida's scenic Highway 30A and attracts folk, Americana, and roots performers. Olney recorded 20 albums and had his songs covered by Emmylou Harris, Linda Ronstadt, Del McCoury and his former roommate Steve Earle.
At Billy Bob's Texas in Fort Worth, Aaron Watson was inducted into the Texas Cowboy Hall of Fame on January 16. A native of Amarillo, he has released more than a dozen albums over his 20-plus-year career, including his 2015 No. 1 album, The Underdog. "Texas and cowboys have had a huge impact on making me the man, artist, and businessman I am today," he says. The Texas Cowboy Hall of Fame, according to Nash Country Daily, "was created to honor individuals who show excellence in competition, business and support of rodeo and the western lifestyle in Texas." Other members include George Strait, Willie Nelson. Robert Earl Keen, and Lyle Lovett.
The Tennessean reports a Twitter conversation about the lack of women on country music radio. It began with a man tweeting he heard two songs in a row by female artists on a Los Angeles station "without any pause or interruption at all," and he joked, "Can't they get fined for that?" A Michigan radio station, 98 KCQ Country, responded: "We cannot play two females back to back. Not even Lady Antebellum or Little Big Town against another female. I applaud their courage." The backlash included this tweet from Kacey Musgraves: "And yet, they can play 18 dudes who sound exactly the same back to back. Makes total sense."
Raised by Wolves, Bound for Glory: A Texas Tribute to Hal Ketchum is the title of an upcoming tribute concert and fundraising campaign for Hal Ketchum, who is battling Alzheimer's disease. The event will take place at Gruene Hall in Gruene, Texas, on February 23. Hal gave his final performance in October 2018 at Gruene Hall, where he had made frequent appearances since 1985. According to Rolling Stone, a GoFundMe account has been started to help with medical costs and living expenses.
Gibson Brands, the iconic guitar company based in Nashville, is recovering from Chapter 11 bankruptcy and a $500 million debt, reports The Tennessean. The company filed for protection almost two years ago, after years of financial turmoil and a failed attempt to expand into consumer electronics and lifestyle branding. JC Curleigh, former Levi's president and M&M brand strategist, became CEO and president in late 2018. The son of a Naval aviator and a lifelong fan of John Prine, he is leading the 126-year-old company through post-bankruptcy. Curleigh tells The Tennessean he turned attention to what the company could control: Instrument quality. Gibson also moved from producing "model year" guitars to focusing on "original" and "modern" collections. "We're not the car industry," Curleigh jokes. The company employs 350-400 factory workers and another 120 in the custom shop. In December, Gibson produced about 380 guitars daily in Nashville. A plant in Montana focuses on building acoustic instruments. Gibson closed a Memphis production facility after its lease expired. Subsidiary Gibson brands (Epiphone, Kramer, KRK) also operate out of Nashville. Through its nonprofit Gibson Foundation, the company has pledged to donate 1,000 guitars in 1,000 days to groups such as under-served schools and military veterans.
Tanya Tucker, reports PEOPLE, "has spent a lifetime making headlines for being unlucky in love. But now she's determined to put an end to all that, and she has good reason: a ruggedly handsome singer-songwriter named Craig Dillingham." The two native Texans, now 61, first met 48 years ago at a Fort Worth, Texas, radio station when they were 13. She had released "Delta Dawn," and he was an opening act for Ray Price. Over the years, they were in and out of each other's lives. Then last July, Lee Ann Womack invited Dillingham to a show in Michigan where she and Tanya were performing. "I got off the bus," Tanya recalls, "and he walked up and I went, ahhhh! We've been together ever since." Tanya has had a series of public relationships and was engaged three times–to Glen Campbell, to a rodeo cowboy, and to producer Jerry Laseter, the father of her 20-year-old daughter, Layla. She and Ben Reed, the father of Presley, 30, and Grayson, 28, never considered marriage. "I have nothing against marriage," Tanya says. "It's the opposite. I think it's very sacred, and I don't want to do it but one time."
LETTERS
Pete Turner writes from Australia, "Wonderful Newsletter as per usual. Over the last few months I have been pulling out Randy Travis LPs & replaying them over & over. Just adore that 'Digging Up Bones.' Although the Bushfires are well East of where I live, the smoke haze really gets into the lungs. However, the decimation of our wildlife is so sad. Many of the wild horses (Brumbys) have died."
Tom Kaufman in Denton, Maryland, says, "Had meant to write you earlier, but after reading this latest newsletter of January 15, I figure I had better update you…as well as your readers in regard to that Circle Television Website. After exploring that page (after clicking that zip code button) I discovered that if I went way down the page, I actually did find where to type in my zip code. But it didn't do me a lot of good, for the closest channel I could find is a channel 57.5. I believe this is in Philadelphia, just far enough away to be out of my reach. I may do some experimenting with the antenna; perhaps if I move the antenna around to the Northeast (and if the over-the-air signals are just right) maybe I can catch this network. But what I'm really hoping for is that maybe one of the channels in Baltimore (or better yet, Salisbury, Maryland) will pick it up. Thanks again for another fine newsletter."
Eric Calhoun writes, "I have been unable to find the Circle on Spectrum and I'm missing out on programming. Sorry to hear Rascal Flatts are calling it quits after 20 years. I love their music. Looking forward to Ronnie Dunn's new album."
Doreen Brown writes from Canada, "Enjoy very much your newsletters and also chatting with you at the table while in Fremont; and honoured to have been inducted into America's Old Time Country Music Hall of Fame; it was a fun w/e I will never forget. Enjoy reading your newsletters and the latest relating to Faron Young; met him several years ago at our Palace Pier backstage in Toronto; it burned down since that time."
Carolyn Berry in Charlottesville, Virginia, says, "I really enjoy these newsletters. They are so informative. Keep up the good work."
Pejay Mirtschin writes from Nathalia, Victoria, Australia, "I was told about and shown your great Country Music Newsletter by a dear friend and former Country Music presenter on community radio. He has sadly since given up the radio presenting but is still a good mate, I however am still on radio and do a 3Hr program each week featuring many of the great artists you talk about in your newsletter. What I am asking please Diane is could you add me to your mail out list so I can receive your newsletter."
Mike McCloud says, "I very much enjoy reading the newsletters when they come out. I actually look forward to getting them. Thank you for publishing these fine newsletters and keep 'em coming."
Douglas Joe Guy, RMC, USN (Ret), writes from Knoxville, Tennessee, "I just received and read the newest newsletter and as usual, it was as good as it gets. I thought I would bring you up to speed on my writing adventures. Your accomplishments in the field helped inspire me along with your kind comments and plug in your newsletter. As of this month, I have put 14 books in my series on Amazon in the last 19 months. The line from Ronnie Dunn in this newsletter really struck home, 'I've got to get some of this stuff out of my system, selfishly, before it's too late.' I am 73 now and I have so many stories to get out there before it's too late."
IN THEIR OWN WORDS
The three Johnson sisters–Loudilla, Loretta, and Kay–from Wild Horse, Colorado, were co-presidents of the International Fan Club Organization (IFCO). They showed up at my book signing for Live Fast, Love Hard: The Faron Young Story at the Ernest Tubb Record Shop in 2007; I was thrilled to meet them and honored that they felt it important to be there. Loudilla and I then became Facebook friends. Loretta died in 2009 at age 67, Loudilla in 2014 at age 75. Kay lives in Colorado. I initially contacted IFCO via email when I was just beginning my Faron Young research. Here's part of the email correspondence in 1999, signed by "Loretta Johnson for IFCO."
IFCO is the International Fan Club Organization. We've been around since 1965. In 1963 we had started a fan club for then, little-known, Loretta Lynn whom we had met when she lived in Washington state and recorded for Zero Records. We had quite a few artists who said if they could have a fan club like the one we had for Loretta, they'd like to have one. So, we started having consultations with artists as well as managers and individuals who wished to set up fan clubs as a business. We felt there was a gross lack of respect for this aspect of the business. Hence, IFCO was born. We held our first dinner/show in 1968 and every year since. The first ones were held in small hotel dining rooms; first at the Hermitage Hotel Ballroom; believe we had 350 or 400 there. Tex Ritter and his wife were there, Skeeter Davis, Nat Stuckey, Barbara Mandrell (a very YOUNG Barbara), and more. Great fun! Just the beginning of what is now almost forty years of fan club work. We no longer run individual artists' fan clubs. Loretta got new management in 1995 and they'd 'fired' most of the people who worked for her, then. We were not on salary; never had been and just did it out of friendship. I don't know if that's anything I should tell, that we were basically fired from doing a 'free' job (Smile). But, we have IFCO, and fans can subscribe to get our IFCO Quarterly, which we call IFCO Club House. We 'monitor' the clubs to make sure they issue the materials promised.
We presented the Tex Ritter Award to Faron June 8, 1983. It was the 10th Annual IFCO Tex Ritter Award. Of course, Faron got a standing ovation. And cried! We all waited for his comment after the award was presented to him (and a TOTAL surprise), which was, "Yeah, you all like to see an old hard-ass, like me, cry!" He did give a moving acceptance speech. We had worried how we'd keep Faron around the stage long enough to present the award. He sang his songs and as he was exiting the stage, my sisters and I walked toward the stage, took him by the arms and kind of steered him back toward the podium. He looked puzzled but didn't resist. He thought we wanted to talk to him with the audience listening, I think, to stall for time or something. It TOTALLY took him by surprise.
Faron had a natural instinct toward what the public wanted; what they desired to see. He was on top of that situation and far ahead of his time. I love the "Faron Stories" we've always heard from people like The Wilburn Brothers, Johnny Russell, etc. Doyle Wilburn would laugh so hard at something that Faron had said that he'd have tears rolling down his cheeks. And, by the way, our Mom was madly in love with him until the day she died (July 15, 1999). If a Faron Young record came on, she'd make everyone 'be quiet' so she could hear 'my Faron'. She and a lady in Colorado Springs, Dolly Kelley, would pretend to "fight" over Faron all the time. When she celebrated her 80th birthday, Faron called her on the phone to wish her a Happy Birthday. We had arranged this to happen with Billy Deaton. But, Faron called her TWICE as he got her answering machine once; called her back when he could talk. She asked, "Is this the REAL Faron Young?" And Faron quipped, "This is the HE himself!" He talked with her about 20 minutes! She was SO thrilled and bragged about that from then on.
I hope the info helps and appreciate you doing this for Faron. Pappy Dave Pinkston (his radio name was Pappy Dave Stone); the FIRST man in the WORLD to have had the foresight to have the FIRST all-country radio station. He put KDAV on the air as sun-up 'til sun-down country in Lubbock, Texas. He had the likes of Waylon Jennings as DJs and Buddy Holly had a radio show on there. He'd book Elvis into the area for $25.00. WONDERFUL history in this man. Anyway, he's NEVER been recognized for this; it should be an embarrassment to the industry to NOT have done that. We've been pleading with them to do this for YEARS. He IS in the DJ Hall of Fame but look at what he did for COUNTRY music! He owned 5 radio stations, four in Texas and one in Colorado, KPIK. He booked a LOT of Opry shows; knew a lot of the artists and played golf with them as he lived out by the Kissing Camels Golf Course. He also could probably tell you some good ones about Faron.
There USED to be a fabulous event called the Wembley Festival; a promoter/organizer named Mervyn Conn and his father started it. We had gone to that for about 8 years. The organizers had gotten a bit greedy, however, charging as much as $10,000 per 6'X 8′ spaces (I believe it was the size we were allowed) and it was just FAR too expensive to continue supporting it. It had started up before Fan Fair and I think is the brainchild of where Fan Fair came from. I know they started the same year that we had organized IFCO's Shows; however, theirs was more on the scale of what Fan Fair is now. Ours was shows in ballrooms and hospitality suites. What did we know; three farmer's daughters from Colorado.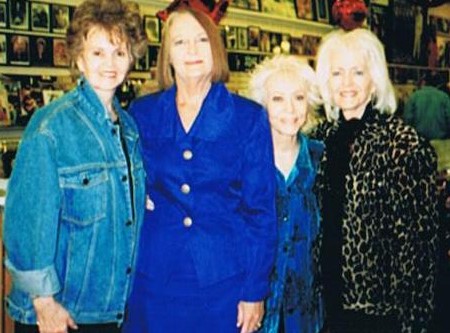 BOOK REVIEW
When I noticed the book Growin' Up Country, edited by Charlie Daniels, in the public library the other day, I checked it out and took it home to read. The 2007 book contains short essays from 59 people on "What makes country life country." They are collected in eight groups, with topics such as home, the great outdoors, faith, and hard work. Ray Benson started Asleep at the Wheel while he and his buddies were living dirt-poor on a West Virginia farm. Bill Anderson says, "I grew up country in the city. . .. I learned early in life that country is not a place on a map." Former President Jimmy Carter says, "My grandchildren and I are still walking and hunting in the same woods and fishing in the same creeks as I did with my father." Clint Black tells about "13-year-old boys without life vests, or BRAINS, who jump feetfirst into the rapids for the ride of their lives" and come face-to-face with a water moccasin. Jim Glaser, John Conlee, Helen Cornelius, and Janie Fricke are a few of those who grew up on a farm. The book jacket and title looked familiar, but it wasn't on my list of books reviewed for this newsletter. Finally, it occurred to me to check my bookshelf. Sure enough, there it was. And autographed by Sherwin Linton in 2007. Sherwin is in the book, talking about "Music" and growing up in South Dakota. He recalls his first swimming lesson, at age four, when his big brother took him up a railroad water tower and down inside the tank.