GUNFIGHTER BALLADS AND TRAIL SONGS
Fifty-eight years ago, as our nation moved into 1960, "El Paso" was riding at the top of Billboard's country AND pop charts. In 2016, the Library of Congress chose the Marty Robbins album, Gunfighter Ballads and Trail Songs, as one of its 25 annual additions to the National Recording Registry. I was asked to write an essay about the album. You can find it here: https://www.loc.gov/programs/national-recording-preservation-board/recording-registry/index-of-essays/
NEWS 
Grand Ole Opry announcer and former WSM radio host Hairl Hensley died December 31 at age 81. An East Tennessee native, he worked as a broadcaster at WNOX in Knoxville before moving to Nashville. There he started at WKDA and WMAK, became program director at WLAC, and was hired by WSM in 1972. He spent the next 35 years as a Grand Ole Opry announcer. In 1975, he was named CMA Disc Jockey of the Year. He was inducted into the Country Disc Jockey Hall of Fame in 1995 and the Tennessee Radio Hall of Fame in 2014.  A celebration of life service will be held on Friday.
Bluegrass Today reports, "The bluegrass world has lost one of its last connections to the first generation of bluegrass artists with the passing today of Curly Seckler. He had turned 98 years old on Christmas day, and died peacefully just after noon in his sleep." Born John Ray Sechler in North Carolina, Curly got his big break in 1939 when Charlie Monroe hired him to sing Bill's high part after The Monroe Brothers split. From 1949 to 1962, Curly toured and recorded with Lester Flatt & Earl Scruggs. From 1971, he worked with Lester Flatt & The Nashville Grass until Lester's death in 1979. Curly continued The Nashville Grass for another ten years, before going solo. By 2012, health issues made it difficult for him to perform. He was inducted into the IBMA Hall of Fame in 2004 and the North Carolina Music Hall of Fame in 2010.
The "Father of Muscle Shoals Music," Roe Erister "Rick" Hall, died of cancer on January 2, a few weeks before his 86th birthday. He had been living in a local nursing home, but returned to his Muscle Shoals home before Christmas. Hall started FAME (Florence Alabama Music Enterprises) Studios in the 1950s in Muscle Shoals, Alabama. Known as record producer, songwriter, music publisher, and musician, he was inducted into the Alabama Music Hall of Fame in 1985. Some of the many artists he worked with were Wilson Pickett, Aretha Franklin, Etta James, Otis Redding, The Osmonds, Paul Anka, Tom Jones, Mac Davis, Jerry Reed, Barbara Mandrell, Shenandoah, and Ronnie Milsap. FAME Studio, which is still actively operating, was added to the National Register of Historic Places in 2016.
The Roger Miller Museum in downtown Erick, Oklahoma, has closed because of financial difficulties. The Beckham County Record reports that visitors continued to come to the museum, but operating funds were not sufficient. The newspaper reported, "The Museum Board has announced with regret and sad hearts, that the museum will officially close on December 31, 2017, due to funding issues." The building will be donated to the 100th Meridian Museum. Roger Miller died of lung and throat cancer in 1992 at age 56. The museum opened in 2004.
Entertainment Tonight reports that Carrie Underwood not only broke her wrist after falling on the front steps of her home in November, she required 40-50 stitches on her face. "There is also another part of the story that I haven't been ready to talk about since I have still been living it and there has been much uncertainty as to how things will end up," she wrote in a recent post to her fans. "In addition to breaking my wrist, I somehow managed to injure my face as well." Carrie, 34, canceled a benefit show after the accident, and husband Mike Fisher returned early from a hunting trip.
"El Paso" still plays in El Paso, Texas. The News Observer reports that North Carolina State defeated Arizona State 52-31 in the Hyundai Sun Bowl at Sun Bowl Stadium in El Paso on Friday. When the Marty Robbins classic song "El Paso" blared over the speakers through the stadium, the victorious team's coach, Dave Doeren, grabbed his wife and began dancing with her on the turf. "It's a great song," he said. "I had to dance to that one."
"OKIE JONES: A TRIBUTE" by COWBOY JOE BABCOCK
[This is an excerpt of Joe Babcock's tribute to Okie Jones. Email me if you'd like the entire document.]
My old friend Okie Jones has passed away. Okie drove the bus and I was the navigator, all over the country, back in the '60s while we were working with Marty Robbins. I would write out all the highway numbers and turns and Okie would drive all night, barreling down the highways and byways, through cities, deserts, mountains and farms, arriving in the morning to get a few hours of sleep, eat a meal, do a show, then get back in the bus and do it all over again, 500 miles at a time. I would stay up till about 3 or 4 am, standing in the well or pit to the right of Okie next to the door. The rest of the guys were in the back of the bus with the eternal poker game that went on for the 6 years I toured with Marty. It never ended. They would go to bed about 4 am and then the game would start up again the next night after the show.
We only got lost one time and that was my fault but we still arrived in time for the show. The owner of the theater was waiting for us and he was livid. He tore into me for making us late and as I was trying to defend myself Marty sauntered out of the bus all dressed up, ready for the show. He heard what was going on and immediately tore into the theater owner with a tirade that defies description, yelling a few choice invectives and giving him a dressing down that left the poor soul pretty much speechless. Then Marty calmed right down, went in and did a great show, joking, laughing, singing, the Marty we all knew and loved, putting on a great show and everybody was happy again. That was Marty, full of life and at times volatile. The theater owner learned a lesson; don't fool with one of Marty's boys.
Okie was born August 14, 1930, in Fort Worth, Texas. His Mom and Dad moved a lot and Okie never graduated from school. However he was a mechanical genius and did plumbing and electrical work in his youth which he put to good use later when he worked with Marty and completely reworked the bus. Okie was very smart and could fix anything. Okie was also a very talented entertainer and writer. When he first came to Nashville he worked the Opry and was frontman for Jimmy Dickens and his band.
Well they're back together now, Marty, Okie, the band, maybe traveling a heavenly circuit of some kind, or singing for the King. The memories of those days on the road with Okie are as vivid as if they happened yesterday. We made a lot of good music and made a lot of people happy and I was honored to be a part of it, road warriors, musicianairies, picking and singing for the folks, a band of country boys, living a dream of playing the Opry and traveling that old white line.
Okie passed away on November 20, 2017, of a heart attack and complications from Addison's disease. He was in the care of his loving wife Madeleine till the end. They had been married 32 years and lived happily on their farm in Tennessee. Okie Jones, you will not be forgotten by all of those who loved you.  Rest in peace.
LETTERS
Chris Pierce sends this correction: "As much as I loved Leon Rhodes, he wasn't an original member of the Troubadours. They first formed in 1943 when Leon would have been just 11. Always enjoy your newsletter."
Sherwin Linton writes, "Great newsletter Diane. Thanks for coming to our show at Royal River. It is sad to learn of Leon Rhodes passing. We did some shows with ET in 1961 and Leon was new in the band at that time. Ernest recorded 'Walking The Floor' many times for different labels and I am sure Leon played on more than one recording of it. On ET's original 1941 recording for Decca I believe the guitarist was Butterball Page. Bing Crosby recorded it back then and had a huge hit also. A favorite song of Ernest Tubb was 'Rainbow At Midnight" and I still include it on our shows from time to time. I remember hearing the song on the radio when I was eight years old and we lived in the town of Hazel, South Dakota. On a cold winter afternoon I would go down to the little depot, where the agent would have the radio on and I would sit in the wanting room with the pot belly stove. My dad was a section foreman on the Great Northern and I would wait for him and his crew to come in from their work on the track. I learned the words to 'Rainbow' and many other songs of that time. So many good ones. A couple years later I  loved 'Mona Lisa' by Nat King Cole. Good memories and songs and I can still hear them all in my head."
Roy Bodden states, "I beg to differ with Tony Booth. But Leon Rhodes was not on Ernest Tubb's original recording of 'Walking the Floor Over You' back in 1940, it was 'Smitty' Smith. But I would dare say that Ernest's most popular lead guitarist was Billy Byrd. And, of course, Ernest also had another legendary Byrd on his sessions back in the late '40s by the name of Jerry on steel. They all contributed to the legendary Ernest Tubb sound and that legendary 'four note' ending on 99% of Tubb's recordings. Back in the '40s and early '50s you could tell who the vocalist was even before they sang the first note. Just about every country singer had their own unique sound. Remember Eddy Arnold with his 'ting-a-ling' sound. Today they all sound the same. Both in vocals and so-called band arrangements. You can't tell one from another. I don't even listen to so-called country anymore. I gave up on it (for the most part in the 1960s). It was only Merle, Marty, George and Buck that saved country from a slow and mournful death. Even  2 of my all-time favorites Hank Snow and Eddy Arnold were victims of the generic and so-called gosh-awful 'Nashville Sound.' Well, anyway, they say it gave country a new audience, but it sure did lose me. In spite of the awful Nashville Sound, my wife and I just could not give up on Hank and Eddy. We loved them too much, and we kept buying their recordings. We tried to focus on their vocals, instead of the majority-of-times, gosh-awful arrangements. They wouldn't even let Hank Snow use his guitar riffs, which were legendary in itself. By the way I love Chet Atkins, and I guess I've tried really hard over the years to forgive him for the part he played in the Nashville Sound. OK, I'll get off my soap box now."
Rick Belsher in Edmonton Alberta Canada writes, "Once again, this newsletter is chock full of interesting history about the TRADITIONAL COUNTRY MUSIC industry. I am most interested in anything about Ray Price.  Diane is so lucky to be wired into all this history.  Will have to buy Whiskey River Take My Mind."
Mary Mitchell responds to the Question of the Week: "Everyone has a right to their opinions. Would not change my mind. I would be more angry is my Artist went from Country to RAP. So let live what they choose."
Whistlin' Bill Anderson writes, "Just a quick note to wish you a Merry Christmas and a Happy New Year…..and thanks for all you do to keep us ol' timers in the public eye."
Alan Potter says, "I understand that the Bellamys got the idea & title of the song 'If I said you had a beautiful body' from hearing Groucho Marks saying it to a contestant on one of his TV quiz shows."
Rosemary Eng writes, "My local PBS station has aired the Ken Burns/Lynn Novick 10-part series on the Vietnam war. What a surprise I had watching episode 8 when Jan Howard appeared. She related the story of her bell ringing and being asked to march in Memphis to protest the war. They thought she would join them since her son, Jimmy, died in the war. She told them one of the reasons Jimmy died was so they had the right to demonstrate. Then she stated, 'I won't be joining you but if you ever ring my doorbell again, I will blow your damn head off with a 357 Magnum!' Love and respect Jan so much!"
Peter Neilson in Somerville, Victoria, Australia, says, "Received the newsletter and as usual it's full of great topics and news. Best wishes for Christmas and have a fantastic and healthy 2018."
Cowboy Joe Babcock writes from Nashville, "Thanks for the note on Brenda Lee. She will be our host again for our annual gospel music show, 'Sunday Mornin' Country,' which is held at the Grand Ole Opry House at the close of the country music festival in June."
Jerry Field says, "Awesome News Letter as usual. I want to wish you and your family a Merry Christmas and a very Happy New Year."
June Thompson writes, "Wishing for you and your family a blessed Christmas and coming new year. Thanks again for your country music newsletter."
Lee Shannon in Port Charlotte, Florida, says, "Re: the letter from Sharon Hale in your December 20 newsletter about the omissions of those Ray Price helped; she mentioned Johnny Bush. As the reunion planner for the USS Colahan for our 2014 reunion in San Antonio. I hired a young singer named Rance Norton and his excellent band for our dance party. Rance has a wide repertoire of classic country songs but if a person closed his/her eyes when he sings "Whiskey River," you would swear it was Johnny Bush singing. He and his band did a superb job for us and kept the dance floor full all evening. Good to know there is someone carrying the torch. Rance records for Heart of Texas Records in Brady, Texas."
Ron Reagan reports, "I was clued in last night to the fact that the Country Music Hall of Fame website has been uploading some new Hank Williams material, some of which even I haven't heard. They are pretty scratchy on some of them, but they are well worth a listen. There is one of Hank hosting the Prince Albert portion of the Opry on 1952-03-22."
Martin Nemecek asks, "I am interested in getting a copy of the book, 20th Century Drifter, in an audio version, is it available?"
Diane: There is no audio book available for purchase. One has been done for the National Library Service for the Blind and Physically Handicapped, for those who have access to that resource.
Larry Martell in Scottsdale, Arizona, requests, "Please add me to your email list."
Tim Leet says, "Please subscribe me to the country music newsletter I found it on another email and got this address and would like to subscribe to it."
Glen Baker asks, "Would you please add my new email address to your email list? I have a radio show on line and I play some newer country music but I play the classic country as well. My belief is that the old country music is great. I tell my listeners if it weren't for the classic country artists, there wouldn't be country today. The younger generation that listens to my show has never heard some of the classic songs but now they say they like it just as much as the newer country. I hope this trend continues."
Dominique "Imperial" Anglares writes from France, "Thank you very much for that newsletter closing another year. Nice to read about Leon Rhodes but also Harlan Howard, Brenda Lee and Cindy Walker. Brenda Lee came in Paris, France, on February 17, 1959, and was welcomed by Gilbert Bécaud, a famous singer/songwriter (What Now My Love? / Let It Be Me). She came to play the famous Olympia, staying several weeks. Here's a nice little cartoon from 1962 dealing with that first trip in Europe."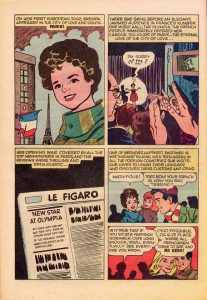 COUNTRY MUSIC HALL OF FAME – 1998
Four new members were added to the Country Music Hall of Fame in 1998, three deceased singers and one active business professional. Born in 1924 in Waverly, Tennessee, George Morgan grew up in Barberton, Ohio, where he learned to play guitar at age eleven. In the 1940s, he built his singing career on the WWVA Jamboree in Wheeling, West Virginia. He joined the Grand Ole Opry in September 1948, to replace Eddy Arnold. Although recently signed with Columbia Records, he had no hit record. Because of a musicians' strike, he couldn't record until January 1949. There he recorded a song he wrote, "Candy Kisses," and it became a #1 hit. 1949 proved to be his biggest year on the charts. At one point, the Top Ten contained three of his singles ("Candy Kisses," "Rainbow in My Heart," and "Please, Don't Let Me Love You"), along with two covers of "Candy Kisses" (by Elton Britt and Red Foley). Also that year, his recording of "Room Full of Roses" reached #4 and crossed over to the pop charts. George performed regularly on the Opry for the remainder of his life. He died unexpectedly in 1975, at age 51, from complications following open-heart surgery. But he did get to see daughter Lorrie Morgan make her Opry debut in 1973.
The King of Rock & Roll was the second deceased entertainer to be inducted in 1998. Elvis Presley, born in Tupelo, Mississippi, in 1935, spent most of his life in Memphis, Tennessee. He began his career as a country music performer, with a style that included gospel and rhythm & blues, and it appealed to a youthful market that far outreached the country audiences. He cut his first commercial record in July 1954, at Sun Records in Memphis. By the time his contract was sold to RCA in November 1955, he was breaking out of the country market. His first RCA single was "Heartbreak Hotel." His manager, Tom Parker, negotiated a movie deal, and Elvis made four movies before spending two years in the U.S. Army. The 1960s were devoted to making movies rather than live performances. He returned to the charts with "In the Ghetto" and "Suspicious Minds." In July 1969, he began performing again in Las Vegas. Prescription drug abuse and various medical problems affected his last decade. He died unexpectedly on August 16, 1977, at Graceland, his Memphis home. He was 42 years old.
A former insurance salesman with the National Life and Accident Insurance Company (parent company of WSM Radio), E.W. "Bud" Wendell became manager of the Grand Ole Opry and then president and CEO of WSM in 1978 and of Gaylord Entertainment in 1991. When he became Opry manager in April 1968, his very first show was canceled due to the assassination of Martin Luther King Jr. He was named general manager of the Grand Ole Opry and Opryland theme park in 1974, just in time to oversee the move of the Opry from the Ryman Auditorium to Opryland. Under Bud's leadership, The Nashville Network (TNN) was launched in 1983, Country Music Television (CMT) in 1991, and CMT Europe in 1992. Opryland Hotel became Nashville's largest convention facility, and the Opryland Music Group acquired the massive Acuff-Rose publishing catalog). His leadership also brought about the renovation of the Ryman Auditorium and the opening of the Wildhorse Saloon. Named in his honor, the E. W. Wendell Building now houses Gaylord Entertainment's corporate departments. Bud retired from Gaylord in 1997 and was inducted into the Country Music Hall of Fame the following year. He and Steve Turner have both served as chairmen of the Country Music Hall of Fame and Museum's Board of Officers and Trustees. In 2017, at the conclusion of its $87.5 million capital campaign, the Country Music Hall of Fame and Museum dedicated the Bud Wendell and Steve Turner Boardroom in honor of the chairmen. Bud Wendell was born in Akron, Ohio, in 1927.
Virginia Wynette Pugh was born in Mississippi in 1942 and raised by her cotton-farming grandparents. She became Tammy Wynette when she walked into the office of Epic Records producer Billy Sherrill in 1966, where he signed her to a recording contract. At the time she was a 23-year-old divorcee with three daughters and an income of $45 a week. "Your Good Girl's Gonna Go Bad" in 1967 was followed "I Don't Wanna Play House" and "D-I-V-O-R-C-E." she and Billy Sherrill cowrote "Stand By Your Man" in 1968. Tammy Wynette married her third husband, George Jones, in 1969. Georgette was born to them in 1970. George and Tammy, known as the President and First Lady of country music, recorded a series of duets and then divorced in 1975. Tammy died of a blood clot at age 55 in 1998. Later that year she was inducted into the Country Music Hall of Fame.