NEWS
Canadian folk singer Gordon Lightfoot, 84, died May 1 at Sunnybrook Hospital in Toronto, Canada. He first gained fame in the early 1960s when Ian and Sylvia Tyson recorded two of his songs, "Early Morning Rain" and "For Lovin' Me." His reputation soared when Marty Robbins recorded "Ribbon of Darkness." He had his own hits, such as "Sundown," "Carefree Highway," "Rainy Day People," and "The Wreck of the Edmund Fitzgerald." The New York Times obituary calls him a "Canadian national hero, a homegrown star who stayed home even after achieving spectacular success in the United States and who catered to his Canadian fans with cross-country tours." He was born in 1938 in Orillia, Ontario, where his father managed a dry-cleaning plant. As a boy, he sang in a church choir, on local radio shows, and in singing competitions. He attended Westlake College of Music in Los Angeles and then returned to Canada. He lived in Toronto and is survived by his third wife, Kim Hasse, and six children. In 2002, just before going onstage in his hometown, he collapsed when his abdominal aorta ruptured and left him near death. He resumed his live performances in 2005 with the Better Late Than Never Tour.
Claude Gray died April 28 in Skokie, Illinois, at age 91. Born in 1932 in Henderson, Texas, he enlisted in the US Navy in 1950, a month after graduating from Henderson High School. He served four years as a quartermaster on an oil tanker homeported in Sasebo, Japan. After his discharge, he began his country music career, which slowed only in his last years when his health began to decline. His many country hits include "I'll Just Have a Cup of Coffee, then I'll Go," "How Fast Them Trucks Can Go," and his signature song, Willie Nelson's "Family Bible." He was inducted into the Texas Country Music Hall of Fame in Carthage, Texas, in 2019.
Songwriter and session guitarist Keith Gattis, 52, was killed in a tractor accident on April 24. A GoFundMe account has been set up to benefit his wife, Penny, and children McKenzie (8) and DeLaney (4). Born in 1971 in Georgetown, Texas, Keith played in the Austin area as a teen and moved to Nashville after college to pursue music. In the early 2000s, he was band leader for Dwight Yoakam and played bass and electric guitar on a Yoakam album. He wrote "El Cerrito Place," a hit for Kenny Chesney; the two co-wrote "When I See This Bar." Keith and Randy Travis wrote "Tonight I'm Playing Possum" shortly after the death of George Jones. He co-wrote the George Strait songs, "I Got a Car," "Let it Go," and "Goin' Goin' Gone." A celebration of life was held April 30 at the Spring Hill Funeral Home in Nashville.
The Country Music Association presented Vice President & Executive Producer of the Grand Ole Opry Dan Rogers with the 2022 Irving Waugh Award of Excellence on March 28, during the CMA Board meeting in Washington, D.C. According to MusicRow, "The Irving Waugh Award of Excellence is presented to an individual who is the originator and caretaker of ideas and actions that have dramatically broadened and improved country music's influence on a national or international level for the benefit of the industry." Rogers came to the Grand Ole Opry as an intern in 1998 and rose through the ranks to his current position in August 2019. He oversees communications, overall show production, talent relations and logistics for the Opry. He joined the CMA Board of Directors in 2023.
Live at Billy Bob's Texas is the title of the new Tracy Lawrence album, recorded during a concert last October. He will celebrate the release of the 18-track record on May 12 with a jam-packed show at Billy Bob's. Tracy has played over 30 shows there during his career. "I have a lot of family and friends in Texas that come out and the history of this venue makes for a really fun show," MusicRow quotes Tracy as saying. "I'm excited for fans to be able to hear the energy that my band helps me create while on the road."
The Von Braun Center in Huntsville, Alabama, celebrated George Jones with a host of country stars last Tuesday night, reports American Songwriter. Wynonna Judd and Jamey Johnson sang the Jones-Wynette duet, "Golden Ring." Brad Paisley closed the show with "He Stopped Loving Her Today." Others in line-up included Dierks Bentley, Justin Moore, Lorrie Morgan, Mark Chesnutt, Michael Ray, Sam Moore, Tanya Tucker, Trace Adkins, Tracy Byrd, Tracy Lawrence, Travis Tritt, Aaron Lewis, Charlie Starr of Blackberry Smoke, Dillon Carmichael, Gretchen Wilson, Joe Nichols, Randy Travis, and Sara Evans.
The house Carl Smith purchased in 1952 in Madison, Tennessee, when he married June Carter, is currently on the market for $3.5 million, according to MusicRow. June kept the house after their divorce and lived there until she married Johnny Cash in 1968. "Mother" Maybelle Carter also lived in the house. Known as The Smith-Carter House, it was listed on the National Register of Historic Places in 2018.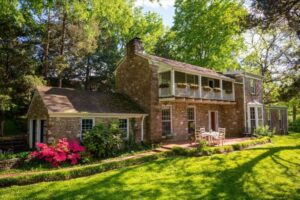 A member of the National Thumbpickers Hall of Fame, Bruce Osbon of Lyons, Indiana, died March 3 at age 83. The Indiana native packed up his family in 1965 and moved to Nashville to live his dream of playing on the Grand Ole Opry. He then played, recorded, and toured with Porter Wagoner, Dolly Parton, Billy Walker, Nat Stuckey, Dottie West, Skeeter Davis, Jim Ed Brown, Mel Tillis, Charlie Louvin, and Martha Carson, among many others. He also played in numerous churches and was a longtime member of the Nashville Cowboy Church. According to his obituary, "Before during and after his guitar years, Bruce tuned pianos in many homes and businesses around Nashville."
Warner Music Nashville Chairman Emeritus, John "Espo" Esposito, stepped down from that role April 19 to "happily embrace retirement," reports MusicRow. He'd assumed that title at the beginning of 2023, when Ben Kline and Cris Lacy became his successors as Chairman & CEO. He will now be Chairman of the Board of Trustees for the T.J. Martell Foundation for Cancer Research.
The Hollywood Bowl in Los Angeles presented a two-night extravaganza this past weekend, April 29-30, billed as Long Story Short: Willie Nelson, A Star-Studded Concert Celebrating Willie's 90th Birthday. Willie Nelson hosted his 90th birthday party, The Tennessean reports, "with a guestlist spanning rock 'n' roll icons, country crooners, Americana pickers and hip-hop hitmakers." Kris Kristofferson came out of retirement Saturday night to join Roseanne Cash in singing "Loving Her Was Easier (Than Anything I'll Ever Do Again)." Sturgill Simpson made his first onstage appearance since a vocal injury sidelined him in late 2021, singing "I'd Have To Be Crazy." Keith Richards joined Willie onstage Sunday night to sing "We Had It All" and "Live Forever." George Strait joined Willie to sing "Pancho & Lefty" and "Sing One With Willie." Stars ranging from Miranda Lambert and the Chicks to Snoop Dogg and Tom Jones helped Willie celebrate turning 90. The entire cast gathered onstage to close Sunday night's show with a medley of "Will the Circle Be Unbroken," "I'll Fly Away," and "It's Hard to be Humble." After they sang "Happy Birthday," Willie responded, "Happy birthday to me!"
The Grand Ole Opry has a new tour exhibit in the Acuff House, reports MusicRow. "Famous Friends" features celebrities, cultural figures, and artists from a variety of genres who have visited and performed on the Opry stage. The collection of costumes, photos and personal items includes Tony Bennett's 2006 song chart for "Cold, Cold Heart," a Ray Charles tuxedo worn in the 1990s, Leslie Jordan's outfit worn during his Opry debut in 2021, one of Steve Martin's earliest banjos, the yo-yo used by former President Richard Nixon during the opening night of the Grand Ole Opry House in 1974, and Sissy Spacek's script for "Coal Miner's Daughter."
Brad Paisley will headline Nashville's Independence Day celebration, Let Freedom Sing! Music City July 4th. The event will feature one of the country's largest July 4th fireworks shows, which will be synchronized to live music from the Nashville Symphony. The concert and fireworks show are free and open to the public. MusicRow reports Let Freedom Sing! is partnering with The Store, the free-referral based grocery store founded by Brad and his wife, Kimberly Williams-Paisley. The Nashville Convention & Visitors Corp (NCVC) will donate a dollar from each t-shirt sale to The Store.
LETTERS
Tony Byworth writes from the United Kingdom, "Thanks for the newsletters. Having just read about Moe Bandy's induction into the Texas Cowboy Hall of Fame in your latest, I thought it might interest you to hear that four of Moe's albums – I'm Sorry For You My Friend; Cowboys Aren't Supposed To Cry; Soft Lights And Hard Country music; Love Is What Life's All About – have been released on a double CD by Morello Records in the UK. I provided the detailed liner notes."
Sam Lewis in Nashville, Tennessee, says, "I thought you might be interested to know of the passing of Bruce Osbon. He played for many years with Porter Wagoner and Dolly Parton. He is in the thumb pickers hall of fame for his unique style of guitar. Bruce also backed up Jim Ed Brown, Mel Tillis, the Louvin Brothers, and many more. He was a great musician, and a wonderful human being."
Diane: Thanks for letting me know. I added him to the News section.
Jana Jae writes from Oklahoma, "Great newsletter, Diane. I love Audible.com, and your two books on there are next on my Wish List."
Carl Rollyson says, "A newsletter with music! Very cool. I'm listening."
John Edmonson writes, "It's been a while since I've responded to your informative and pleasurable reading newsletters; so, I'd like to take this opportunity to extend a personal shout-out with gracious kudos to the superintendent of Hillsborough County for stressing the importance of education to school-age Swiftie humanoids who, in my opinion, appear to be in dire need of worthy heroes. Additionally, your multifold article, which includes Bud Light beer, increased alcohol spirits and contentious subject matter strikes a personal nerve. I do, however, feel that alcohol consumption in moderation is acceptable. Likewise, Travis Tritt and other like minds are unquestionably parallel to my way of thinkin'. Thanks for publishing a great newsletter; keep the home fires burning, I read every one of your newsletters with anticipation and appreciation."
Douglas Joe Guy. RMC USN (RET), says, "Captain, I have a new logo I'm using to promote my books, I have 26 in my series now, a long way since you promoted my first one, The Capri Girl, nearly five years ago. I am still appreciating the jump start you gave me on that one. The logo will be appearing on my print copies, tee shirts, and anything else I can put it on. I'm still loving every edition of your newsletter."
Eric Calhoun says, "After some time off, I am back reading your newsletter. The Philmore Productions Net-By-Phone account is disconnected. I am going to set up a Blind Shell 2 Classic phone account shortly, in its place. I miss Lorrie Morgan; I still remember her rock-n-roll influences. I loved her Watch Me CD, for which I need a new copy at some point. My favorite song on that album is Track 5, 'Someone To Call Me Darlin'.' While it never hit the charts, it's a song about friendship and about how to be able to be called darlin'. I complimented her on that song when she spent some time at Country 93.9 KZLA. For those looking for a new phone, I hope you'll allow me to give the website to all visually impaired subscribers: blindshell.com."
IN THEIR OWN WORDS
My second interview with Joe Vincent was over the telephone on September 18, 2006, when I called to ask about his days working with Marty Robbins, before he joined Faron Young. Since he didn't use email, we didn't stay in touch after that. Joe died April 6, 2023, at age 92.
I got out of the Army in 1953, and I hadn't been out of the Army just a very short time till I went up to WLAC. I went to work with Marty probably late '53 or very early '54. I was working with a guy at WLAC called Big Jeff. He was a local country music boy here in Nashville. Jimmy Wilson–Spider Wilson–played guitar, Ed Hyde played fiddle, and Judy Dearberry, she was a girl singer, and George McCormick (worked with Porter Wagoner for years), he was playing rhythm guitar. Marty Robbins came to the radio station one Saturday morning looking for a steel guitar player, and wanted to know if I could play like Roy Wiggins. Jeff says, well, yes he can. And I didn't know whether I could or not. Marty sang a few songs of Eddy Arnold, "Bouquet of Roses," I believe it was. We played a few songs, and he said, "Are you in the union?" I said, "No, I'm not." You didn't have to be in a union to work with Jeff at WLAC. That was a non-union radio station. He said, "We need to get you in the union." I said, "Well, okay." He said, "Meet me down at the union hall," which was down on Church Street then, at the Exchange Building. "Meet me down there about ten o'clock." They closed at noon on Saturday. Lester Flatt and Earl Scruggs were there joining the union the same day I was. I didn't know them. Marty paid my dues. That was that morning.
That afternoon he said, "Get your bags packed, cuz we're going to Dallas, Texas." So I went home, packed all my stuff, and he picked me up. They had a studio down in Dallas called Jim Beck's Studio. While we was down there, we worked some club work. He used the staff band. He liked the old Roy Wiggins-style guitar playing. I cut about 10 or 11 songs with him, before I went with Faron. That would have been probably about two sessions. That was before they cut albums.
I worked with Marty for about–I guess it was close to a year. And then Faron got out of the Army, and Hubert Long was booking Faron, and also booked Marty on some shows. With Faron there was the Wilburn Brothers and Gordon Terry. They didn't have a steelman, so on the shows that Hubert had booked with Marty, I went ahead and played steel with Faron. So later on, Hubert says, "I'd like you to come to work with us." I said, "Well, okay." So there I went. That would have been around '55, I imagine.
I'll tell you who all was in the band. There was Ray Edenton, which was the rhythm guitar player, and Lightning Chance played some bass, Don Haggard played the fiddle for a while, then Don Slayman took over. I think Don Slayman has passed away, and Lightning Chance has, and I think Ray is still living. He was known around here as one of the superpickers.
I done a lot of early morning shows with Marty at WSM when he was in town. About 5:30 in the morning. He was living in West Nashville. He lived in a little community where he lived in one house, the Wilburn brothers lived next door, Don Helms lived across the street, and Sammy Pruett, which was the guitar player for Carl Smith, lived next door. And right around the corner was Jeannie and Jack Pruett. Jack finally went to work with Marty later in his career and stayed with him 'til he passed away.
He was kind of a let's-have-some-fun-boys, that's the kind of guy he was. He was a lively person, really a good-hearted guy, and good to work with, but liked to pull a lot of pranks on you. Never seen him take a drink. As long as I was with him, I never seen him take a drink. I'll tell you what he did do. His wife was very, very into church, and in West Nashville he bought her a big old house out there, that they turned it into a church, so she could have some–maybe some homeless people come in for services and things. It was an old house, but they turned it into a church.
You're the first one who's ever contacted me about Marty. As a matter of fact, a lot of people don't know I ever played music, because I just don't go around "I used to do this, I used to do that." I just let them wonder what I done. I really did have a good relationship with Marty, and I really did like him. He was just a wonderful person. It's just heartbreaking to know he passed away at an early age.
I recall one incident that happened when we were in Texas. We checked into a motel and got one room, which had two double beds in it. This was back in the '50s before they had the big plush stuff. They had gas heat. I've always been scared of gas, cuz I thought you'd suffocate in it. I was so tired I thought I was dying. I thought I was dying, and I was just going to sleep. Boy, I was so glad when I woke up the next morning. I tried to move, and I couldn't move, I was so tired. I thought the gas was–cuz they had a sign up about natural gas heat, be sure and have the ventilation–and I thought I was gone. I was so glad to see him the next morning.
Just the two of us. We did a lot of work in Austin, Texas. Warren Stark at the Skyline Club. We used the staff band when we was there. He worked the Skyline Club in Austin a whole lot.
NASHVILLE SONGWRITERS HALL OF FAME – 1987 AND 1988
1987 – Roy Orbison, born in 1936 in Vernon, Texas, began traveling as a musician while in his teens. Inspired by Elvis Presley's success and encouraged by Johnny Cash, he signed with Sun Records in Memphis in 1956 and then with Fred Foster's Monument Records in Nashville in 1959. He other-worldly tenor voice can be heard on the hit songs he co-wrote: "Crying," "Running Scared," "Only the Lonely," "Blue Bayou," "Oh, Pretty Woman." He was inducted into both the Rock and Roll Hall of Fame and the Nashville Songwriters Hall of Fame in 1987. He died of a heart attack the following year, at age 52, in Hendersonville, Tennessee.
1987 – Sonny Throckmorton, born James Fron Throckmorton in Carlsbad, New Mexico, in 1941, lives in Texas and is 82 years old. During a nine-month period in the late 1970s, he had a remarkable 150 songs recorded. That was just after he left his job as a staff songwriter at Tree Publishing and moved to Texas, thinking he had failed as a commercial songwriter. Buddy Killen called and told him he needed to get back to Nashville because everybody wanted a Throckmorton song. He'd originally moved to Nashville in 1964 and had his first songwriting hit in 1966, with Bobby Lewis's recording of "How Long Has It Been." It took until 1977 before the next hits: Dave & Sugar singing "Knee Deep in Loving You," Jerry Lee Lewis with "Middle Age Crazy," and Merle Haggard with "If We're Not Back in Love by Monday." He recorded his own album in 1978, Last Cheater's Waltz. T. G. Sheppard released "Last Cheater's Waltz" as a single in 1979, and it went to number one. Others of Sonny's chart toppers included "Trying to Love Two Women" (Oak Ridge Boys), "I Feel Like Loving You Again" (T.G. Sheppard), and "Why Not Me" (Judds). He wrote "I Wish I Was Eighteen Again" for George Burns. He then moved back to Texas in the late 1980s and stayed there.
1988 – Indiana native Howard Hoagland "Hoagy" Carmichael, born in 1899, earned a bachelor's degree and then a law degree at Indiana University while spending his spare hours playing jazz in local bands. He moved to West Palm Beach, Florida, to pursue a legal career. But in 1927 he heard a local band's recording of a song he'd written, "Washboard Blues." He was so excited by the recording that he abandoned law for a music career. Songs he co-wrote with a variety of lyricists included "Heart and Soul," "The Nearness of You," "I Get Along Without You Very Well," "Lazy River," "Skylark," "Georgia on My Mind," and "Stardust." He starred in his own TV series, Saturday Night Revue, and was a regular on the TV western Laramie. He was inducted as a charter member of the national Songwriters Hall of Fame in New York in 1971. "Georgia on My Mind" was adopted as the state song of Georgia in 1979. Hoagy Carmichael died at age 82 in Rancho Mirage, California, in 1981.
1988 – Troy Seals of Bighill, Kentucky, was born in 1938 as a member of a talented extended family that includes Dan Seals, Seals & Croft member Jim Seals, and Little Texas member Brady Seals. In the late 1950s, Troy's band, Troy Seals & the Earthquakes, backed early rock & rollers including Conway Twitty. Moving to Nashville in 1969, he worked as a session guitarist and in construction; he built Quadraphonic Studios for David Briggs and Norbert Putnam. In the 1970s and '80s, he became one of Nashville's predominant songwriters. He and Eddie Setser wrote "Seven Spanish Angels" as a tejano-tinged tribute to Marty Robbins after his death in 1982. Willie Nelson and Ray Charles recorded the song in 1984. Other hits written or co-written by Troy Seals include "Lost in the Fifties Tonight," "Don't Take It Away," "Maybe Your Baby's Got the Blues," "We Had It All," "There's a Honky Tonk Angel Who'll Take Me Back In," and "I've Got a Rock and Roll Heart." I couldn't find any information on what he is doing now. He is 84 years old.