IN THE SPOTLIGHT – JOE NICHOLS
"What's A Guy Gotta Do (To Get a Girl in This Town)" is my favorite Joe Nichols song. It's wonderful dance music and pleasing to my ears. Joe's three quite-familiar number one Billboard hits are "Brokenheartsville," "Tequila Makes Her Clothes Fall Off," and "Gimmie That Girl." When I requested a phone interview, it took three attempts before we finally connected. "It's been a really busy year," Joe said when he called from Pueblo, Colorado, where he was doing a show that night. He's been on tour mostly since June. He's looking forward to having "a little bit of peace and quiet" in December, with his family.
Joe, 44, is considered a 21st century traditionalist. He pays homage to the singers he grew up admiring as he tries to bring their sound into the modern world. When he mentioned doing his first concert with Randy Travis, I asked for the year. "It would have been years and years ago," he replied. "Early 2000s, I couldn't tell you the exact date." Taken aback, I said, "You consider something in this century to be years and years ago?" He chuckled.
While growing up in Arkansas, Joe was exposed to a variety of music. "We had a lot of tapes, all over the board," he says. "From Michael Jackson to Bob Wills to this new guy, Randy Travis." He remembers Randy's debut album, Storms of Life, as one of the best records he'd ever heard in his young life. When his little sister was born in 1987, she spent the first weeks of her life in the hospital. His mom stayed there, and his dad drove the family to and from the hospital every day. "We had Storms of Life on every time," he recalls. "Played that a bunch."
I asked how he was chosen for the "Tonight I'm Playin' Possum" duet on Randy's Influence Vol. 1: The Man I Am album (which was released three months after Randy's 2013 stroke). Joe said Kyle Lehning told him, "Randy's going to do this song; would you be interested in doing a duet with him?" Joe recalls his answer: "Man, that would be an honor. I don't care what the song is. It would be a huge honor to do a duet with Randy Travis." They recorded it shortly after George Jones died in April 2013, three months before Randy's stroke. Joe remembers thinking, "If I've ever felt the nudge from upstairs to do something, this is it."
Joe's website mentions him receiving a letter from Buck Owens, so I asked him about it. Joe said he worked the Crystal Palace in Bakersfield several times, and Buck would always get on him for the length of his hair. He remembers Buck saying, "I like everything about you, kid, but you gotta cut that hair. I know it's cool to be shaggy, but you'd have so much more potential if you'd just get a little cleaner." When Buck saw Joe's next album cover, III, representing Joe's third major-label album, he wrote Joe a letter that said, "Son, I'm really proud of you. I love the way you're keeping it country. And thank you for cutting that daggum hair." Joe received the letter the Monday after Buck died. "I heard the news, and I checked the mailbox the next day," Joe told me, "and it was there. Like, this is not real. It was pretty incredible."
Speaking of albums, Joe has one coming out in January. The title track of Home Run was released several months ago as a single. "That song's doing pretty well," Joe says. "It's been a really cool ride. Getting the video shot, getting the timing set, schedule set, promo stuff for the single, and then touring." Although he enjoys touring, he says one of the good things to come out of the pandemic "that I really, really love, and I never would have gotten the opportunity to do that, is spend more time with my family. That's what I plan on doing in December, and maybe in January, spend some time with those kiddos." His young children are seven and nine, and he has a 23-year-old daughter who "was born when I was a kid" and has recently graduated from Washington State. "I'm really, really proud." he says, adding, "I miss them so much when I'm on the road. My wife, too. I miss them like crazy."
Check out his website at https://joenichols.com to hear the traditional music and great voice of Joe Nichols.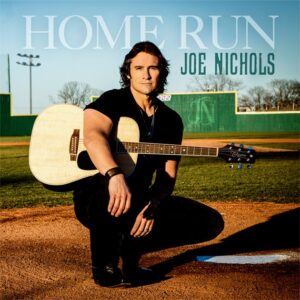 NEWS
Rose Lee Maphis, 98, died October 26 after spending her entire adult life involved in country music, reports the Country Music Hall of Fame and Museum. She began performing at age fifteen on a Maryland radio station. In 1952, she married Joe Maphis in California. Known as "Mr. and Mrs. Country Music," the couple spent nine years on the Town Hall Party TV show. They co-wrote "Dim Lights, Thick Smoke (And Loud, Loud Music)." They moved to Nashville in 1968 to perform on the Grand Ole Opry. Joe died of lung cancer in 1986. Rose Lee then worked in the costume department of Opryland theme park, before becoming a volunteer at the Country Music Hall of Fame and Museum in 2011, at age 88. She served as a museum employee from 2014-2018.
Legendary bluegrass banjoist Sonny Osborne, 83, died October 24 at his home in Hendersonville, Tennessee. He had recently suspended his "Ask Sonny Anything" column at Bluegrass Today, following a stroke on August 16. He'd dropped out of high school in 1952 to join Bill Monroe and the Blue Grass Boys. When his brother Bobby returned home from military service, they formed the Osborne Brothers in 1953. Their best-known song is 1967's "Rocky Top." In 1973, they were the first bluegrass act to play at the White House. The Osborne Brothers joined the Grand Ole Opry in 1964 and were inducted into the Bluegrass Music Hall of Fame in 1994. Sonny retired in the early 2000s. Bobby, 89, is still performing.
Courtney Potts of Columbia, Tennessee, tells Taste of Country she was on the side of the road with a blown front tire and two young children when a gray truck pulled up beside her. "I got out and did a double take as soon as I heard his voice," she says. It was Luke Bryan on his way with sons Bo and Tate to his nearby hunting land. He told her to follow him up the road, because he'd nearly hit her coming around that dangerous curve. They then dug through her truck to find the spare tire. He used his tire jack.
An upcoming two-night Garth Brooks performance at the Ryman Auditorium, Garth, The Ryman & You, sold out so fast that 22,000 fans did not get tickets for the November 19-20 shows. Outsider reports Garth responded by scheduling a Just Garth, the Opry House & You performance on November 18. A press release says this special event will feature an intimate setting during which "Brooks will share stories behind some of his most iconic and popular hits." To allow for social distancing, the venues did not sell tickets to full capacity. Additionally, attendees must bring proof of completed COVID-19 vaccine or a recent negative COVID-19 test. Unvaccinated attendees must also wear masks.
At a show in Memphis, Kane Brown twisted his ankle and tumbled from the stage, Taste of Country reports. He was jumping from the stage when his foot landed in a divot. He hopped forward and fell on a security guard. He limped back to the stage and finished the show in obvious pain. He assured fans he'd be at his concert the following night in Atlanta. Fortunately, he then had a two-week break before continuing his nationwide Blessed & Free Tour that includes dates at NBA arenas into February.
The National Cowgirl Hall of Fame in Fort Worth, Texas, has inducted East Texas native Miranda Lambert, 37, as its 250th member, CMT News reports. The museum honors "women of the West, and from around the world who have displayed extraordinary courage and pioneer spirit in their trailblazing effort." Miranda meets the standards because of her extensive number of music awards. There's more to being a cowgirl than riding a horse. Miranda learned to ride at age 30. She says, "I think when reading all about it and realizing what this museum means, and this Hall of Fame embodies is, there's cowgirls of all kinds. And it's really about grit, determination, drive." The 2021 class includes a world champion breakaway steer roper, a visual artist, a cowboy hat designer, and an Olympic medalist equestrian.
The 5,000th broadcast of the Saturday night Grand Ole Opry took place on October 30, with live performances from the Grand Ole Opry House in Nashville. WSM radio carried the broadcast, as it did in 1925 when the "barn dance" program debuted in downtown Nashville, The Tennessean reports. Bill Anderson kicked off the opening medley with Roy Acuff's "Wabash Cannonball." Connie Smith sang the Hank Williams song, "Jambalaya," Darius Rucker sang Bill Monroe's "Blue Moon of Kentucky," Terri Clark sang Loretta Lynn's "Coal Miner's Daughter," The Gatlin Brothers sang Patsy Cline's version of "San Antonio Rose," and Chris Janson wrapped up the six-minute medley with "The Devil Went Down to Georgia" from Charlie Daniels. Vince Gill played the acoustic guitar once owned by Sam McGee of The McGee Brothers. During the midpoint of the show, Jeannie Seely (dressed in a sparkling "5,000" sweater) introduced "Will the Circle Be Unbroken" by saying, "At the Opry we're all blessed to have an anthem we turn to in the good times and the bad." Connie Smith, Jeannie Seely and John Conlee, with their combined 150 years of Opry membership, invited new Opry members Dustin Lynch and Chris Young to help them on the song. An acoustic set by Garth Brooks and Trisha Yearwood closed the 5,000th broadcast.
Taste of Country reports Willie Nelson has released an open letter to his fans, asking them to contact their Congressional representatives to put pressure on the Bureau of Land Management to end wild horse roundups, increase the use of safe and humane fertility control methods in wild horse populations, and pass the SAFE Act to protect free-roaming wild horses in the United States. "Wild horses, like other wild animals, were meant to be wild and free," he writes. He reminds readers that Congress unanimously passed the Wild Free-Roaming Horses and Burros Act fifty years ago to protect land inhabited by wild horse and burro populations. However, he says, later regulations have created conflicting interests for "the Bureau of Land Management, ranchers, energy developers and wild horse advocates." Willie has more than 70 horses at his 700-acre Luck Ranch in Spicewood, Texas. They were rescued from a slaughterhouse and are hand-fed twice a day. "My horses are probably the luckiest horses in the world," Willie recently told San Antonio's KSAT.
The Nashville Songwriters Hall of Fame inducted 10 new members during its annual gala at the Music City Center's Grand Ballroom, reports The Tennessean. The November 1 ceremony doubled its usual size as it celebrated both the 2020 and 2021 classes. Toby Keith, Amy Grant, Steve Earle, Bobbie Gentry (who retired in the 1980s and didn't attend), and Rhett Akins were inducted, as were Kent Blazy, Buddy Cannon, Brett James, Spooner Oldham, and John Scott Sherrill.
During a ceremony at the National Museum of African American Music, CMT News reports, Garth Brooks presented a commemorative plaque to Dion Pride to honor Charley Pride with the RIAA Lifetime Achievement Award. "We're all very, very proud of my father's accomplishments," Dion said. "But for me as his son, all of his accomplishments are a sheer by-product of the love he had for country music." Garth sang, "Where the Cross Don't Burn," a song he recorded with Charley in 2020. Garth told the audience the song represented "the progression of love where love gets you past the differences and focuses on what you have in common."
Chris Stapleton, 43, has rescheduled several concert dates after being placed on vocal rest. According to PEOPLE magazine, Chris announced on social media that two October shows in Nashville and one in Cincinnati would be pushed back. He said, "On doctor's orders, I will need to continue my vocal rest through the weekend in order to fully heal." This follows his one-hour-notice cancellation of a show in Sioux Falls, South Dakota, due to laryngitis. "I was hoping my voice would improve with time today, but it has only gotten worse," he wrote on social media that night, along with the announcement that the show would be November 14. The two sold-out Nashville dates at Bridgestone Arena were rescheduled to December 10-11. The Cincinnati show will be moved to 2022.
NBC Nightly News will be broadcast from Nashville this Thursday evening, as anchor Lester Holt travels "Across America" in a series where he also visits Austin, Texas, St. Louis, Missouri, Washington, D.C., and Phoenix, Arizona. When The Tennessean asked in a phone conference if he was bringing his bass guitar, he said he has a small travel bass, "if nothing else, just to plunk around with it in the hotel. And if the opportunity arises to play elsewhere, I'm in." He has played bass since he was 15 years old, beginning with his school's jazz choir. During a 2011 trip to Nashville, he backed Luke Bryan at the Grand Ole Opry.
When Kayo and I visited the North Carolina Music Hall of Fame during our visit to Kannapolis in July, the museum manager told us Tony Brown and Roberta Flack had been chosen to receive the first Lifetime Achievement Awards–for past inductees being recognized for their lifetime of achievements in the music industry. She said Randy Travis will probably get the award within the next few years, and we should return then. Well, Tony and Roberta have now received their awards, presented by the North Carolina Music Hall of Fame at the historic Gem Theatre in Kannapolis, North Carolina, on October 26. MusicRow describes Tony's over 50-year career as co-founder of Universal South Records, former president of MCA Records Nashville, and producer of "numerous hits for George Strait, Reba McEntire, Vince Gill and many more. He signed artists such as Rodney Crowell, Steve Earle, Lyle Lovett, and The Mavericks. Overall, his work has yielded over 100 No. 1 singles and record sales exceeding 100 million."
A press release announces that Country Rewind Records has issued Bob Luman – Honky Tonk Man to retail and digital music platforms. This album consists of recordings that Grand Ole Opry star Bob Luman made exclusively for radio broadcast. These specific recordings of his hit songs have never before been commercially available. The original master tapes were brought up to twenty-first century audio quality. In addition, his daughter, Melissa Luman, added her vocals. So did Buddy Cannon, who played bass in Bob's band in the early '70s. Steve Wariner also contributed; he had toured with Bob Luman after Bob cut some of his songs. Buddy Cannon says, "The memories flooded over me singing with Bob again on this great project." Melissa says, "The graciousness of Buddy Cannon and Steve Wariner coming in to do some harmonizing has made this project so special to me. I sure wish my dad and my mom were here to see it!"
In honor of October's Red Ribbon Week, reports MusicRow, Tennessee Governor Bill Lee declared October 23 a day of recognition for country artist and Broadway performer Gary Morris for his work in drug prevention. He recently partnered with the Educational Foundation of the Drug Enforcement Administration, and his virtual fundraiser raised over $150,000 to provide younger generations with tools and education to help prevent drug use. "I am both humbled and surprised by this honor from my adopted state of Tennessee," he stated. "I have seen the ravages of drugs and have always been happy to donate my time to drug awareness and prevention." "
LETTERS
George Owens, former Country Deputy, writes from Nashville, "Thank you for your mention of Larry 'Wimpy' Sasser last month in your newsletter. Larry and I go way back. I hired him when I was Guitar player and harmony singer and band leader for Del Reeves and the Good Time Charlies. We remained friends many, many years after that. We talked just this past spring and I am very saddened that he's no longer with us."
Andy Williford wonders, "I noticed Ronnie Tutt passed away, but what about D J Fontana? You know he grew up with Faron and me, and I am guessing D J was in the beginning. After all he is in the Rock & Roll HOF."
Diane: D.J. Fontana was playing drums on the Louisiana Hayride in Shreveport in 1954 when he became Elvis's first drummer. After the Blue Moon Boys band broke up in 1958, D.J. occasionally worked with Elvis for the next decade. Ronnie Tutt joined Elvis's "Taking Care of Business" band in 1969 and remained until Elvis's death in 1977.
Chris Belle says, "I'm so proud of Travis Tritt. It's not an easy thing to stand up for what is right when it hits you in the wallet, and many musicians have caved to social pressures. I've always liked his music, his soulful powerful voice, and blend of country and southern rock. I don't know if Travis reads this newsletter, but you have a blind brother musician down here who thinks you're top drawer and will always be a fan. Thank you Diane for printing this. It's so encouraging. And your wonderful letter always keeps us informed and connected to the people and music we love. There's nothing in the world like this country music family."
Bill Black writes from Scotland, "It's so sad to hear Travis Tritt saying he is doing everything he can to allow the coronavirus to spread. If he really cared for his fans, their families, and the American public, he would set an example of being safe in the way he conducts himself. There's not much point in upholding your right to be free when it could mean you're not around to enjoy it."
Marie Nik says, "I just ordered your book on Faron. I know you are a busy lady but is there a chance you could find Faron's Canada dates for '70s, '80s, and '90s? After the shock of Faron's passing and two car accidents, my head is a little foggy. Also, if you know where I could locate George Owens."
Diane: I hope you found what you were looking for in the list of Faron's Canada dates I sent you. I also forwarded your note to George.
'David Corne writes from the U.K., "In regard to the relationship between Jim Reeves and Marty Robbins, I have always been of the impression that it was somewhat frosty. I have seen in print a quote from Mary Reeves that Jim had a 'professional jealousy' of Marty's singing, yet on other occasions Jim has been effusive in his praise of his vocal ability. Ralph Emery tells of a time when Marty was being interviewed on his show when 'El Paso' was number 1 and 'He'll Have To Go' was number 2. This is the quote from Ralph's book Memories: Jim Reeves and Marty Robbins had recorded back to back, number one, crossover records. Robbins held the number one spot during November with 'El Paso.' Reeves took over from Robbins a month later with 'He'll Have To Go.' The songs were number one and number two the night those guys graced my show, but the visit wasn't entirely gracious. Robbins was the first to arrive and we talked for about 30 minutes having a high old time. Then Reeves showed up. I greeted him from my chair as he came through the studio door. "Ladies and gentlemen, it's Jim Reeves!" I said "Come on in Jim and sit down." There was a pause. "After he's finished," Reeves mumbled, motioning toward Robbins. "What's wrong with him?" I thought to myself. Robbins was his ebullient self, but his happy state belied his real feelings. He too had sensed Reeves's reticence. Without fanfare one of the biggest stars in American country music one of the biggest stars in American country music history rose to his feet, dismissed himself graciously and left the studio. He left about 4 hours earlier than he normally did. Reeves took Robbins's seat while it was still warm, picked up the telephone and graciously answered fans' questions most of the night. He just didn't want to talk to Robbins. I don't think it was anything personal—just professional jealousy. Jim wanted all of the attention. One star was simply unwilling to be on the air with another.' As I said, there were times when Jim Reeves openly praised Marty, but I have also read before that you wouldn't mention Jim's name to Marty, which was a shame because the pair were two of the greatest singers ever to set foot on stage or in a recording studio. Pity they were both too old to bang their heads together!"
David Markham in England says, "I'm a Traditional Country and Western Fan from 1963-2021. Thank you for replying to my letter and others. Can I just say Marty and Jim would never say to each other I'm a bigger star than you Jim or I'm a bigger star than you Marty. They were both worldwide Country music Artists to all their Fans. So Marty was a bigger act than Jim, fans don't understand Jim wasn't really a country singer. He wanted to be a Ballad singer. So the late Charley Lamb jumped in and said to Jim if you want to be a Ballad singer, all the musicians and steel guitars got to go and you'll have to wear well-dressed suit and boots. There's nothing I don't know about Jim, etc."
Terry Munson writes, "As always you never fail to keep us updated on all things happening in the world of country music. Thanks for a job well done."
Dominique 'Imperial' Anglares writes from France, "Another much appreciated Country Music Newsletter. Sorry to let you know about the passing of Nita Lynn Zhan, born Juanita Earline Morris, in Owensboro, Kentucky, on January 17, 1937. She entered into Glory at 5am on October 13, 2021. At an early age she performed on KARK and KLRA radio in Little Rock, Arkansas, before moving to KWKH, KTBS and KSLA in Shreveport, Louisiana. She worked a lot with Jimmie Davis and Paul Howard in the '50s. She only recorded, with Jimmy Parrish, "Too Quick To Condemn" and "Kiss and Make Up" issued on Allstar 7205-45 in May 1960. In the '60s, Nita left the industry raising her sons, Robin E. and David Keith Vosbury. Another nice woman and fine artist who will be missed."
SONG OF THE WEEK
When I recently heard "Nashville Rebel" played on an internet radio show, it carried me back to 1967 and the summer evening my dad took his teenaged daughters to the latest country-western movie, Nashville Rebel. Kayo and I were enthralled with the new singing star. In my opinion, that was Waylon Jennings at his best. You can find the soundtrack here. Produced by Chet Atkins, the album contains the names of numerous legends.
FREE PROMO CODES FOR FARON YOUNG AUDIOBOOK
I have several free promo codes for anyone in the USA or UK who would like to download the Live Fast, Love Hard: The Faron Young Story audiobook. If you don't already have an Amazon.com or Audible.com account, you will need to use your credit card to open one. You can cancel the account after downloading the book. Email me if you'd like one of the codes.