IN THE SPOTLIGHT – JANET ROBBINS
Janet Robbins (Robinson) is the daughter of Marty Robbins. When I contacted her to get an update for my newsletter, I was surprised to learn she's living in England. She and her Alaskan Malamute-Husky, Max, arrived there on the Queen Mary on August 4, 2017. "If you're going to move to another country," she says, "going across the Atlantic on a ship is the way to do it."
She had first visited Glastonbury in 1991. "I had the thought that, oh, I'm going to live here later in life," she told me. "It was sort of a passing thought. Life goes on." When she lived in North Carolina and New York, she felt as if there was "another bigger move and I can't figure it out." She moved to Northern California for the second time, wondering if that might be it. "No," she states, "I pretty much knew that when I got there."
In the summer of 2016, she woke up one morning and thought: Glastonbury? Could that be it? She didn't expect such a move to be possible. She would never fly Max, and didn't the UK have a quarantine? Her quick research told her there was no quarantine, and the luxury liner Queen Mary had kennels aboard. "So I thought this might be doable," she recalls. Her resulting short trip to England in August gave her "a pretty good sense of it being a good move."
The visa process almost stopped her. "The government process," she says, "that's when it really got hairpulling. Man, oh man. It wasn't enough to not make it worthwhile, but it was almost." She obtained a business visa, which included requirements such as employing two fulltime UK citizens. "It really is about are you going to help the economy," she explains.
She is in the process of buying a house in Glastonbury. Her dream has long been to establish a gathering house to bring together various types of arts and to show how they intersect. She will be launching a creative and spiritual arts salon and accommodation house called Soul Biscuit.
We discussed the confusion of when to say England, Great Britain, or the UK. "My address is Glastonbury, Somerset, United Kingdom," she told me. "Somerset is the county, which is important in designating locations here. UK is the address. England is the country."
When I asked about her music, she said, "I would like to be playing more music. I have felt a little bit in limbo. Some of the transition has been pretty challenging." But now that she's settling in, she has started a project she hopes to have ready for next year. The pieces are already written, and she plans to record them over the winter. She has high-quality software that allows her to execute the sound of strings from her keyboard. "It's strings and voice," she says. "It's quite mystical music–quite beautiful music." She will also be rehearsing the pieces to perform them out in town next summer. "There are old, old chapels that are beautiful spaces," she says. "I think it would be a really good atmosphere and setting for this music." She wants to have CDs available for audiences, but her priority is a quality performance: "Even if I recorded only a few of the pieces over the winter, that's fine. It's more important to me to have them rehearsed to a point where I'd want to take them out in town and play them."
Her follow-on goal, after playing and singing the music, would be to include projected images in her show. She's beginning to work on that aspect.
As if that isn't enough to keep one person busy, Janet is also editing a book for publication. "It's writing that has been done over the years, and I just felt like it needed a home," she says. "Even though some of the writing is twenty years old, and maybe it's not my voice now, that's okay, because it's a compilation." A poet friend who teaches writing in Europe and in the USA is helping her. "She has a good eye for editing and shaping," Janet says. "It's daunting; its sculpture."
After describing all these projects, Janet concludes, "What it feels like is that there's a big baby about to be born next year. Maybe triplets."
I wish her the best in her endeavors and her new life. To learn more about Janet and her music, go to her website.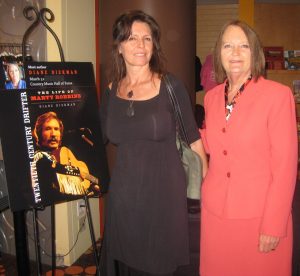 Janet and me at 2012 book release party for Twentieth Century Drifter
NEWS
Steel guitarist Felton Pruett, 89, died September 19 in Shreveport, Louisiana. He worked with Hank Williams on the Louisiana Hayride, but declined Hank's request to move to Nashville when Hank did. Felton played on KWKH's Louisiana Hayride throughout its existence, 1948-1960. "Felton played the first Hayride and the last one," his wife, Rita Pruett, told The Times of Shreveport. During his 70 years of playing steel guitar, he backed musicians such as Buck Owens, Slim Whitman, Faron Young, Merle Kilgore, and Minnie Pearl. In his day job, he worked forty years for the Union Pacific Railroad.
Fifty years ago, on September 21, 1968, Jeannie C. Riley became the first woman to top Billboard's country and pop charts simultaneously, with Tom T. Hall's "Harper Valley P.T.A." It was her first record and an instant hit. NPR's All Things Considered explains how the song changed her life. She quit her job as a secretary to tour the country and perform with legends such as Johnny Cash and Loretta Lynn. She won a Grammy in 1969. Her record label wanted her to wear a miniskirt and not mention her husband. "Right off, I could see I was being considered an image, not a person," she said. Some people sent angry letters, accusing her of trying to hurt the PTA–even though she was actually a member of the Parent-Teacher Association. In 1972, she became a born-again Christian and started recording gospel songs.
The Music Modernization Act passed unanimously in the U.S. House of Representatives on September 25, a week after the U.S. Senate passed the bill. President Trump is expected to sign it into law, providing sweeping changes to archaic copyright laws. "This is the most important piece of legislation in a generation," Senator Lamar Alexander of Tennessee said on the Senate floor. "It makes sure songwriters get paid and get paid fairly. . .. The Internet changed the music industry. . . but copyright law didn't keep up." The Senate renamed it the Sen. Orrin G. Hatch Music Modernization Act to honor the Senator from Utah who is retiring this year. "With this bill, we are one step closer to historic reform for our badly outdated music laws," Hatch said in a statement. "The Music Modernization Act provides a solution, and it does so in a way that brings together competing sides of the music industry and both sides of the political spectrum." It isn't expected to change the way traditional radio stations do business, only internet music services. Musician Jim McBride stated on Facebook, "It will cost the thieving internet music services like Spotify. They pay us about .0001 per play. It's a joke but not a funny one."
Saving Country Music reports the upcoming release of I Serve a Savior, the newest album–and first gospel album–by Josh Turner. His wife and four sons sing the title track with him. There is also a song written by wife Jennifer and son Hampton, called "The River (of Happiness)." The project includes a 90-minute live performance DVD. Filmed at Gaither Studios, the DVD contains an interview of Josh with Bill Gaither. It will be edited as a one-hour TV special hosted by Bill Gaither and aired on several networks later this fall.
The Artist of a Lifetime award will be presented to Loretta Lynn during the ninth annual CMT Artists of the Year celebration, which will be held October 17 at the Schermerhorn Symphony Center in Nashville. Sissy Spacek will present the award. CMT News reports previous winners as Merle Haggard (2014), Kenny Rogers (2015) and Shania Twain (2016).
The More Perfect podcast has issued a compilation of songs about the 27 amendments to the U.S. Constitution. The album is called 27: The Most Perfect Album. Dolly Parton wrote and sang "A Woman's Right," about the ratification of the 19th amendment, which gave women the right to vote in 1920. "I was very happy to participate in Jad Abumrad's podcast's album," CMT News reports her as saying. "Being lucky enough to be a successful woman in business, I wanted to exercise my right to write about the 19th Amendment to praise and uplift women."
The annual ASCAP Country Music Awards event, which celebrates the year's top songwriters and most-performed songs, will be held November 12 in Nashville. Lee Ann Womack is the 2018 recipient of the ASCAP Golden Note Award, which recognizes composers and artists who have achieved extraordinary career milestones. CMT News lists previous recipients as including Don Williams, Garth Brooks, Kenny Rogers, Lindsey Buckingham, Lionel Richie, Alan Jackson, Reba McEntire, and JD Souther.
The Alabama & Friends Tornado Relief Concert raised $1.2 million on September 26 to benefit Jacksonville State University in Jacksonville, Alabama. A March 19 tornado had caused $70 million in damage on the campus. Nash Country Daily reports the concert was organized by Alabama frontman Randy Owen for his alma mater. Performers included Alabama, Charlie Daniels, Jason Isbell and the 400 Unit, Shenandoah, Jamey Johnson, and numerous others.
When the SteelDrivers (Chris Stapleton's first band) and John Prine walked onstage at the Grand Ole Opry on September 25, so did someone else. Comedian Bill Murray made a surprise Opry debut. He sang harmony with the bluegrass band as Prine sang "Paradise." Saving Country Music reports that Murray has been a Steeldrivers fan since they appeared together in a movie. After the Opry show, he hung out backstage for photos. Earlier in the week, he had randomly helped people carry their bags at the Nashville airport.
When Charlie Daniels hosted his annual charity dinner to benefit The Journey Home Project, which supports veterans returning to civilian life, he included a new award. The first Charlie Daniels Patriot Award was presented to Chris Young, an avid supporter of the United States military. Chris was recognized for multiple trips overseas to perform for troops in the Middle East, South Korea, and Japan. "I am immensely grateful to our military and their families for the sacrifices they make for our country and incredibly humbled to receive the Patriot Award honor from Charlie and The Journey Home Project," Chris told Nash Country Daily. The dinner at Nashville's Palm Restaurant raised more than $200,000.
In a recent interview with PEOPLE, Loretta Lynn, 86, says she won't let her health troubles define her. Now that her new album, Wouldn't It Be Great, has finally been released, she's ready to go on with her show. About her 2017 stroke, when she realized she couldn't use her left hand or arm, she says, "It's a very scary thing when you find out you're havin' a stroke." She immediately wondered if she could sing. "Mommy said I was born singin',' she recalls. "That's all I've ever done. I couldn't believe that that could be taken away."
The Turnpike Troubadours are back in action. They performed September 22 at the Medicine Stone Festival in their hometown of Talequah, Oklahoma. Saving Country Music reports that they and Jason Boland organized and hosted the festival that almost got canceled due to weather. The Troubadours were originally scheduled to headline Friday night, but they moved to Saturday night, right before Jason Boland and the Stragglers.
Opry City Stage in New York City's Time's Square has closed after nine months in operation. It was an extension of the Grand Ole Opry brand–a four-story building with a retail store, restaurant, bar, and entertainment venue known as The Studio at Opry City Stage. According to Sounds Like Nashville, Ryman's chairman/CEO Colin Reed said the 28,000-square-foot space "underperformed our revenue expectations this year."
U.S. Senate candidate Beto O'Rourke of Texas hosted the nation's largest single-candidate political rally since 2016, thanks to a little help from Willie Nelson. The rally was held Saturday in Austin, Texas, at the Auditorium Shores amphitheater. Local estimates placed the number of attendees at almost 55,000. O'Rourke sang several songs with Willie, including "On the Road Again." Newsweek reports Willie debuted a new song, "Vote 'Em Out," and he urged listeners to follow suit on election day, November 6.
Designer Alessandro Michele honored Dolly Parton in his collection for Paris Fashion Week. Her face and name were painted on the back of an oversized denim jacket at the Gucci Spring 2019 show. "In a tribute to the most honored female country performer Dolly Parton, a sleeveless denim jacket with her image on the back, a two tone shirt and leggings," the fashion house announced on social media. Michele's collection included a Janis Joplin felt hat and a handbag shaped like Mickey Mouse, reports Taste of Country.
Last Thursday, Carrie Underwood received her star on the Hollywood Walk of Fame; it is located at 1750 North Vine Street, in front of Capitol Records. She is the 2,646th star in the Walk of Fame. What helped her win American Idol, she said during the ceremony, was the belief of judges and fans in her talent. Belief also help further her career. "So believe in people," she said. "Believe in yourselves." According to The Boot, Brad Paisley and former American Idol judge Simon Cowell attended the event.
A month-long series, titled "The Wonderful World of Women Who Write," begins this week at Nashville's Bluebird Café. It is curated by Carlene Carter, who celebrated her 63rd birthday last week and is the daughter of the late Carl Smith and June Carter. Elizabeth Cook and Lilly Hiatt will join her for the first show, according to Rolling Stone Country. Guests scheduled for October 16 are Lauren Morrow and Pam Tillis, with Gretchen Peters and Matraca Berg on the October 30 show.
The Store, a groundbreaking new free grocery store, will be built next year in Nashville. Brad Paisley and his wife, Kimberly Williams-Paisley, have teamed with Belmont University to open a store that will give fresh and nonperishable groceries to people in need for up to one year. Nonprofits and government agencies will refer customers to the Store. "This is a grocery store with dignity for people who have fallen on hard times," Brad told The Tennessean. "All of us are one unforeseen disaster away from rock bottom. It's nice to think about a place where when that happens to someone, they can use it to get back on their feet." The Store will also collect donations of new, unopened toys to help families provide Christmas for their children. The projected location is 2005 12th Ave. S., next to Belmont University's Ministry Center. Construction is expected to cost $1.2 million, with $500,000 required before starting. An initial gift from the Paisleys will kick off the fundraising.
LETTERS
Margie Singleton writes, "It was such a nice surprise to receive your email and see that you included me in your newsletter. HEAVEN OR HELL now has over 18,000 views and the number is growing daily. Thank you so much for your assistance in getting this song heard. I enjoyed my visit with you on the phone and hope we can do it again sometimes."
Erv Niehaus says, "I love your story about Margie Singleton. I love it when someone takes a stand for our Lord and the gospel."
Ralph Larson writes from San Antonio, Texas, "Thank you very much for the article on Margie Singleton as it brought back many happy memories of her singing, and updating us on her life. Just a note that another icon of country music, Melba Montgomery will celebrate her 80th birthday on October 14, 2018. I was wondering if you could bring us up to date on her? Enjoy your newsletter very much."
Mary Mitchell says, "Thanks for the information on Margie Singleton. She and Leon were really great. I have the CD they made together. I can't seem to find any more on Itunes. Never did know why Leon passed. A great loss to Country."
John Morris writes from Peterborough, Ontario, Canada, "Just wanted to add to your Margie Singleton information. In 1961 she recorded 14 songs with legendary George Jones. 12 of these appeared on a Mercury album on Mercury Duets Country Style. When Bear Family released George's big 6-CD box set with all the Starday Mercury recordings, there were 2 more duets found by George and Margie. 'One By One' and a novelty number, 'One Excuse Is As Good As Another.' Just thought you'd like to know and of course 'One By One' is originally by Red Foley and Kitty Wells. Happy birthday."
Ray Harrison wonders, "Diane, was that Cal Smith or Cal Sharp of the Deputies?"
Diane: I can't believe I did that! As many times as I read this newsletter, that error never caught my attention.
John Krebs points out, "I think you meant Cal Sharp. When the first name is Cal,,,,,,,, Smith just seems to follow naturally. I wish Cal would do a Faron 'Tales from the Road' book OR video.
Cal Sharp responds, "You wouldn't believe how many times I've been called Cal Smith since I emigrated to Nashville. Faron even introduced me like that from the stage once or twice. The cognominal difference between Cal and me is my real last name is Sharp. Funny story: I was at the Union hall in the '70s picking up my Opry check and happened to be standing in line behind Don Mills, former Texas Troubadour and now the Country Bumpkin drummer, who was picking up his and Cal's checks, and they gave him my check. Lucky I was there and knew Don, since I was sharing an apartment with Junior Pruneda, the reigning Texas Troubadour bass player. Another funny story: I was in the motel room in Branson and the phone rang and I answered it.
Me: 'Hello.'
Phone: 'Ray?' I recognized the voice – it was Cal, calling for Ray Emmett. Cal was supposed to do a couple numbers with us on Faron's show.
Me: 'No, Cal.'
Phone: 'No, this is Cal.'
Me: 'No, this is Cal.'
And hilarity ensued."
Doug McLeod says, "As always, your newsletter puts 'the news' in newsletter. For those who aren't familiar with Grady Martin's fluid guitar style, it might remind them that it was his unique phrasing and the memorable intro on Marty Robbins's El Paso that helped put El Paso on the charts, as well as helping keep it a memorable song for almost six decades. Good to see the comments on The Browns. Was fortunate to see Jim Ed Brown with Leroy and Gladys Van Dyke at their Country Gold Show in August of 2014 at the Iowa State Fair. He was a true professional and just a fine man."
Don Holland in Orlando, Florida, says, "Thank you so much for recognizing the king of country music in Australia, Slim Dusty!!!"
Eric Calhoun writes from Los Angeles, "Praying for Gretchen Wilson. I'm sorry she flipped out on a flight. I love the Oak Ridge Boys! They did a cover of the Righteous Brothers 'You're My Soul and Inspiration,' which was great. And I'd like to thank you for the story of Suzy Boggess. Glad she's doing well. What happened to Oklahoma City native Bryan White? He had one great album, nothin' since."
Kate Davis of Bear Creek Productions in Medford, Oregon, says, "Glad to hear Willie is well enough to be back doing shows. Hooray for Mo Pitney, too. He is terrific and I hope he becomes more of a household word! Happy birthday by the way."
Alan Del Balso wonders, "I have a question for Ronny Robbins. Mr. Robbins, do you have any plans in the future to have your dad's vocals added to new updated music? That would be great to hear. Thank you for your time. Great Marty Fan for over Forty years."
Dan Chambers requests, "Please keep me on your mailing list! As a member of the South Dakota and Iowa Rock Halls of Fame, I so enjoy your update on the country scene. My induction was based on my Pedal Steel work for the band Festival, so my roots are country all the way."
Gene Burkhart says, "I am very glad I was introduced to your newsletter by a friend. It is so great to receive the tons of info on the great country singers both past and present. Please keep up the good work."
Linda Mellon says, "I really appreciate being added to your mailing list. The newsletters are so full of interesting history and tidbits about country music. I'd love to meet you some day and share a long conversation over coffee."
Alan Potter in the United Kingdom says, "As always so much useful & interesting info. You are a godsend to our industry. Anyone loving country of the '40s to '90s can hear it on my shows, Tempo 1074fm & orchard care radio. Both are live programs which are then broadcast on the internet."
Roxane Atwood writes from Nashville, "Tim Atwood's third album project, Livin' The Dream, is his third CD release since leaving the Opry after 38 years of playing behind everyone else. We love your newsletter…the best in country music."
Marilynne Caswell says, "Again a most informative newsletter. I was particularly interested in Don Holland's email. I was privileged to attend the AUSTRALIAN COUNTRY MUSIC AWARDS in 1977, in Tamsworth. My late husband and I were there with Alan and Diane Hawking (Alan being half of the HAWKING BROTHERS….then the top Country group in Australia). We got to meet just about everyone in Country Music at the time. We got to meet the legendary Slim Dusty. What a great talent he was. His performance at the Olympics was awesome. Here is an interesting aside. We have two DVDs of Slim's. In one he introduces his guitar player and out came a young, blonde (long) haired man….wearing leather chaps…his name KEITH URBAN. On the second DVD Slim was making (I believe) his first and only trip to the USA. While on stage in Nashville, he introduces his band…..including again, KEITH URBAN. Slim announces that Keith was in Nashville 'trying to make it in the USA.' I think we can all agree that Keith has indeed 'made it' in the USA, and in fact worldwide. This was in the late '80s. I was also honored to book, thru my Talent Agency, the Hawking Brothers into my home province Ontario, for a six-week tour in 1976 and then after Russ's tragic death, Alan with his new band in 1981. Alan is gone now, too, but our contacts with Australia and its Country Music are still strong."
Tom Barton comments, "With regard to Maxine Brown's book, Looking Back to See, I ordered it probably eight years ago, and got a marvelous note from Maxine thanking me for purchasing it. The Browns have fascinated me, and I have loved listening to them on YouTube. Of course, Jim Ed and Bonnie have passed, but her book is excellent. I recommend it to everyone."
Lee Shannon, Reunion Planner for USS Colahan (DD-658), writes from Florida, "I finally got all the 80 emails that were waiting when I returned from our USS Colahan reunion in Rapid City. Now, my next project is reading Twentieth Century Drifter: The Life of Marty Robbins that I purchased from you at the Reunion Dance. I'll probably jump around; I started with chapter 9, Early 1960s. I've always been such a huge Marty Robbins fan. He was such a fantastic performer on stage. I recall seeing him signing autographs an hour or so after his performance. I do hope I'm not disappointed to find out he didn't live up to the lofty perch I've had him on all these years. Lee Ann & I have known Ronny for years. He is a sweetheart; a great personality and so talented. But, he'd have to be with those genes, would he not?"
SONG OF THE WEEK
In advance of Lorrie Morgan's visit to South Dakota, I'd like to showcase her singing. The best song I can think of to do that is "Something In Red." Written by Angela Kaset, it tells the story of a woman who marries a cheating man, has his baby, and continues to try to win him back. While not one of Lorrie's biggest hits, it is one of her classics. It definitely shows off her voice. I hope to see some of you at the Sisseton Performing Arts Center on Sunday evening, October 14. Just Between Friends takes the stage at 7 pm, followed by Lorrie Morgan. I expect this to be a great show.
COUNTRY MUSIC HALL OF FAME – 2016
The three men inducted into the Country Music Hall of Fame in 2016 all came from North Carolina. All three were present to accept their awards. Charlie Daniels, in the veteran-performer category, was born in 1936 in Wilmington, North Carolina. Prior to gaining solo stardom, he was a session musician. His fiddle can be heard on Bob Dylan's Nashville Skyline album. In 1979, "The Devil Went Down To Georgia" won CMA Single of the Year, and it earned the Charlie Daniels Band a Grammy for Best Country Vocal Performance by a Duo or Group. The band and song were also featured in the 1980 move, Urban Cowboy. He launched his multi-artist, multi-genre Volunteer Jam in 1974, an annual extravaganza that sometimes lasts ten hours. His 80th Birthday Volunteer Jam at Bridgestone Arena in 2016 was a sold-out event, with 15,784 in the audience. Charlie was honored as a BMI Icon in 2005, to recognize his "unique and indelible influence on generations of music makers." Charlie joined the Grand Ole Opry in 2008 at age 71. He does an extensive amount of charity work, benefiting cancer research, muscular dystrophy research, physically and mentally challenged individuals, children, farmers, and military veterans. His Christmas 4 Kids Benefit Concert has become a Nashville holiday institution. The 2018 concert will be held November 19 at the Ryman Auditorium. As can be seen on his website, Charlie Daniels is still an active performer. He celebrates his 82nd birthday later this month.
Fred Foster, born in 1931, left North Carolina at age 17 for Washington, D.C. He started writing songs while working in the food service industry there. In 1958, he founded Monument Records, which he named for the Washington Monument. He knew he had to find a song, and he asked Billy Grammer if he wanted to be the first Monument artist. The label's first hit was "Gotta Travel On." Fred played a major role in the early careers of Roy Orbison, Dolly Parton, and Kris Kristofferson, among numerous others. Dolly Parton spoke for many when she said, "Fred believed in me when nobody else did." After being mostly retired, he produced Willie Nelson's 2006 album, You Don't Know Me: The Songs of Cindy Walker and the 2007 collaboration, Last of the Breed, by Willie Nelson, Merle Haggard, and Ray Price. Fred Foster, now 87, wants his legacy to be: "He was a songwriter's friend."
Inducted in the modern performer category, Randy Travis (born Randy Bruce Traywick in 1959) was the first country artist to have his debut album go platinum and the first debut country artist to go multi-platinum. He won the CMA Horizon Award in 1986 and was CMA Male Vocalist of the Year for the next two years. In 1987, "Forever and Ever, Amen" won Single of the Year and Always And Forever won Album of the Year. In those first three years, he sold more than 13 million units. In addition to numerous CMA awards, Randy's other awards include seven Grammys, nine ACM awards, ten American Music awards, two People's Choice awards, seven Music City News awards, and eight Dove awards from the Gospel Music Association. He joined the Grand Ole Opry in 1986 and received a star on the Hollywood Walk of Fame in 2004. As an actor, he has appeared in more than twenty feature films and TV movies. He suffered a near-fatal stroke in 2013 and has struggled since then to recover. He stunned the audience at his Country Music Hall of Fame induction ceremony when he sang "Amazing Grace."