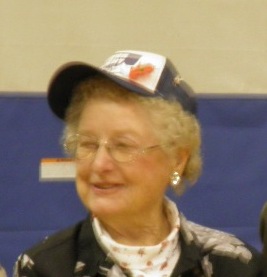 Eulogy for Mildred Diekman
By her daughter
CAPT Diane Diekman, USN (ret)
25 April 2012
 When Mildred Hanson received her Navy discharge and came home to the Hidewood Valley after World War II, she met a bachelor who had moved to the farm next door. John Diekman had been in the Army during the war. Mildred married him on Valentine's Day 1947 and moved to the farm one-half mile east, where she spent the rest of her life. The number one song on the radio at the time was Ernest Tubb's "Rainbow at Midnight," and it became their song. As you listen to the words, I'd like you to think about two young World War II veterans starting their life together. ["Rainbow at Midnight" plays. ]
Their "home in the country" is still our home. And their "baby or two" was actually five. With all the risks inherent in being farmers, I can only marvel at how simple she made everything seem and how tough she really was. She put in many years of hard work, seldom talked about worries or fears, and baked many loaves of bread.
There was the time Dad broke his arm while cranking a tractor, and the neighbors pitched in to get the field work done. Kayo fell off the merry-go-round at age seven and spent over a month in the hospital in traction. Keith fell from the top of a grain bin and broke his leg. Ron broke an arm and a leg about the time Dad sliced his leg open with a saw, and Mom cared for her two injured men at the same time. I'm the only kid who didn't spend time in a hospital; mumps and measles were enough for me. The major calamity was Kenny's liver transplant. Mom flew to Portland when his surgery was scheduled, and she didn't come home for almost two years, until Kenny was well enough to come home.
Mom believed things work out the way they're supposed to, and there's no point in worrying or grumbling. She and Dad instilled their values in their children, and raised us all to be independent, productive citizens. They supported us in whatever choices we made. Mom looked on the bright side. Her conversations often included "Nothing to complain about here" or "This is such a beautiful day." I've tried in recent years to follow her example. Whenever I feel the urge to complain or criticize, I remember Mom's patience, and it helps me hold back the critical words and speak positive ones instead.
One summer day in 1968, Kayo and I were sewing clothes for ourselves when Mom said, "While you girls are sewing, you might as well make me some maternity clothes." What a shock that was. We bought a pattern and fabric and made her several dresses. Shortly before Thanksgiving, Dad called me at Augustana College to tell me Ronald John had been born.
The winter of 1968/69 was a rough one. Mom and Dad had four kids in four different schools–Kenny in our one-room school in the valley, Kayo in Clear Lake, Keith in Watertown, and me in Sioux Falls. Plus a brand new baby. Dad used a snowmobile to transport everybody to and from the valley when the roads were plugged with snow.
That winter might not have been as tough on Mom as the winter of 1953, when Kayo was born. Dad put Mom and preschoolers Keith and me in the car during a blizzard and pulled the car with a tractor several miles to the open road to get to the hospital. Dad always enjoyed telling that story, but Mom never had any comments about it.
When I decided to adopt April and Amanda, but didn't know how to be a mother, I called Mom. She flew to Los Angeles to spend that first weekend with us. The night before Mom and I picked up the girls, she helped me finish the quilts I'd sewn for them. By the time she flew back home, we had made it through the awkward transition period.
In recent years, Mom enjoyed people-watching and playing slot machines in the area casinos. She would "take the long way" when she drove to Watertown, meaning a detour to the casino north of town. This February she fell and hit her head, but that didn't stop her. After getting out of the hospital, she and Kayo and I spent a night at a casino and Mom played the slots for sixteen consecutive hours. She repeatedly said how much she'd enjoyed herself, being there with her daughters.
Then some unknown infection attacked her, and she was hospitalized again. We sent her to Avera McKennan Hospital last week in the hope the doctors would find and cure her infection. But they found a new problem. An artery was rupturing, and the damage could not be repaired. A doctor told us Mom had reached the end of her life. She was mostly unconscious, and we visited her Thursday night, not knowing how many days she had left.
She woke up early Friday morning and asked the nurse what day it was and what time it was. Her heart stopped shortly thereafter. Now she is with Dad "in the starry blue." And Kenny is there with them.
Mom sometimes commented that she wanted to be buried in her dress blue Navy uniform. She was proud it still fit. The last time she wore it was at my retirement ceremony, when she was eighty. The admiral asked her to stand and model her uniform, and she proudly did a 3-60 in front of the crowd. Today she wears her blues for the final time.
From one sailor to another, Mom, I wish you fair winds and following seas.