Twentieth Century
Drifter 
and
Live Fast,
Love Hard
are now both available on
Amazon Kindle. Yeah!! They are supposed to be on Barnes & Noble
Nook also. Someone please let me know if you find them there.

FARON YOUNG'S FINAL CAPITOL SESSION — FIFTY YEARS AGO
On September 27, 1962, Faron Young recorded his final session for Capitol Records, 11 years after Ken Nelson signed him to his first recording contract. 

"I switched because I got a better contract

with Mercury and felt I was getting a little stale at

Capitol," Faron said in a magazine interview

. The two-song session took place in the Columbia studio and produced his last Capitol single,

"Down By the River" (by Jan Crutchfield and Teddy Wilburn),

which went to #3 on Cash Box and #9 on Billboard. The 12-song album, released in 1963, was called
The All-Time Great
Hits

of Faron Young

.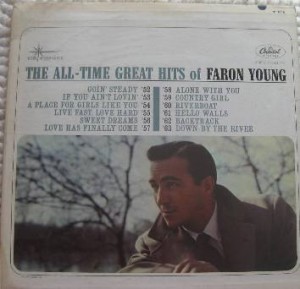 UPDATE ON HANK CORWIN, FORMER COUNTRY DEPUTY
Corky Tittle sends this note: "I spoke with Barbie yesterday morning and she said that after Hank's dialysis he was to be transferred to a private room. He has been keeping his eyes open for longer periods, and I would definitely take that as a positive. So far (as far as I know) he has not been able to communicate verbally, but Hank is a very disciplined and strong willed man, so I don't see him keeping his thoughts and feelings bottled up too much longer. Sorry I don't have more info, but thank you and everybody else for thinking of him. He has a lot of respect from people there in Nashville and that means a lot."
LETTERS
David Corne writes from the UK: "Mike McKay asked in your last newsletter about the unavailability of Marty Robbins's early recordings. There was actually an album released in 1973 on the Artco label which had the following songs which I believe were all written by Marty and are from his 'Mr. Teardrop' days, though not all necessarily in that style.
Side 1
1 I Can't Quit
2 I Pay With Every Breath
3 Tennessee Toddy
4 Mr Teardrop
5 I'll Go On Alone
6 Time Goes By
Side 2
1 I Couldn't Keep From Crying
2 At The End Of A Long, Lonely Day
3 Pretty Words
4 Castle In The Sky
5 Gossip
6 Pretty Mama
I have NEVER in all my years of buying Marty's recordings actually ever seen the above album which I guess is a Columbia album put out while Marty was on MCA or nearing the end of his contract with that label. As to wondering if Marty disliked his early recordings I would say he advanced so brilliantly from the mid '50s and all through the '60s that he preferred his '60s output which actually resulted in him being named Artist of the Decade for his stunning work over that period of time. I would, however, say with some certainty that Marty never cared for the Rock 'n Roll songs he wrote or recorded and the only song of that era he would return to occasionally was 'That's Alright.' I would personally be of the opinion that the period of the '60s saw not only great performance after great performance by Marty on record, but that the quality of his writing skill showed him at the very peak of his powers. It could be Marty was of the opinion that because many of his recordings didn't sell very well the first time around why would he want to put them out again because he was now guaranteed in the '60s hit after hit with many crossing over to sell in the Pop field. He had, because of the quality of his voice and superb writing skills, surpassed the early '50s recordings.  I would also say Marty Robbins was not only the best singer that country music ever had, but his songwriting was up there with Hank Williams and Don Gibson."
Bill Black agrees: "Re Marty's views on his early recordings the only ones he said he was 'sort of ashamed of' were the rock and roll ones which I presume he recorded because of the record label wanting something commercial at the time."
Norm Tester in Montell, Texas, adds, "Mike…In 1964 I was working at KVOR radio in Colorado Springs. Marty was in town and I had the opportunity to interview him. My favorite song by Marty is 'Pretty Words.' I did not have the record and I asked Marty if Columbia was going to release it plus his many hits from the early '50s. Marty told me Columbia told him the old masters were tied up and they would not be released. To this day I guess they feel the same way. Marty was proud of his first recordings."
John Krebs asks, "I've always wondered if there were any Master Tapes of any kind reported destroyed from the flood?"
Terry Counts has a request: "Another great write up! Thanks a lot…I am a nut over MR's cowboy songs, when I on the road back in the late '90s, some dirty rotten rat stole my CD of Marty's SECOND album of cowboy songs. I remember that one of the Christmas songs had a cut in it about Santa that was great. I've been trying to replace that CD for years…anybody get a copy of it I want it I want it!" Her address is murreldale2000@yahoo.com
David Carrell says, "I love your bio on Marty Robbins. I just finished it and am reading it again. What an amazing life and what a voice. I recently read that Jeff Chandler's wife passed away in May. I mentioned your book to my sister and brother-in-law. They went to college with Jeff Chandler and his wife. Thank you for writing the book. I first became a fan of MR when I was 5 or 6. My grandpa had all of his albums. I would sit in front of the stereo, play the albums, and sit in wooden folding chair with my cowboy boots, toy guns & holsters and cowboy hat…holding, and staring at Marty Robbins album covers."
Bev Anderson writes, "Really loved your Faron book, I laughed & cried. What a tragic ending, happens so often in our AA program when members just can't stay sober. If you have time, I would like to know what happened to some of the people in the story. Thank you for writing the book. Are you going to keep writing the life stories of all the great old talents? I will order Marty's book on Amazon, that's where I got Faron's story. I read it in a day, could not put it down til I finished it. At the end, I felt so sad for all of you who knew & loved him. When I finish Marty's book, can I ask you questions again? I wonder if the story will move me like Faron's did."
Susan Molina asks, "I enjoyed both your books. Do you have plans for another one? How About Vern Gosdin? He had such a great voice and there isn't much out there on him."
Response: I'm still looking for my next subject. I want to write about a living person, either a biography or memoir.
SIDEMAN SIDEBAR
Mike Cutright drove down from Ohio to audition with Marty Robbins in August 1982 as a replacement for Bobby Sykes. He was surprised to see Gary Adams at the audition. Steel player Wayne Hobbs had recommended his fellow Ohioans. Gary says he and Mike had "been best friends for years. We laughed about it, and we auditioned, and Marty was undecided because he only wanted to hire one. He couldn't make up his mind so he wound up hiring both of us." Mike says, "Marty had the Tex-Mex sound with the trumpets, and he decided he would have Gary Adams learn the trumpet parts on the guitar, as well as Jack Pruett, who played lead for Marty forever." On September 1, 1982, Mike met the band at the Southern Ohio College in Portsmouth, Ohio, to observe Bobby and learn the show. "Bobby in between shows got ill, and they rushed him away with the emergency squad," Mike recalls. "Having been a Marty Robbins fan since I was a little boy, I pretty much knew his songs, and they shoved me in a show uniform that was too small and I had to do the second show. I hit the road then–went and finished that portion of the six days. Then when I got to Nashville, we got uniforms that fit me." Gary and Mike would only work with Marty three months, until Marty's final show on December 1, 1982. They both still live in Ohio.